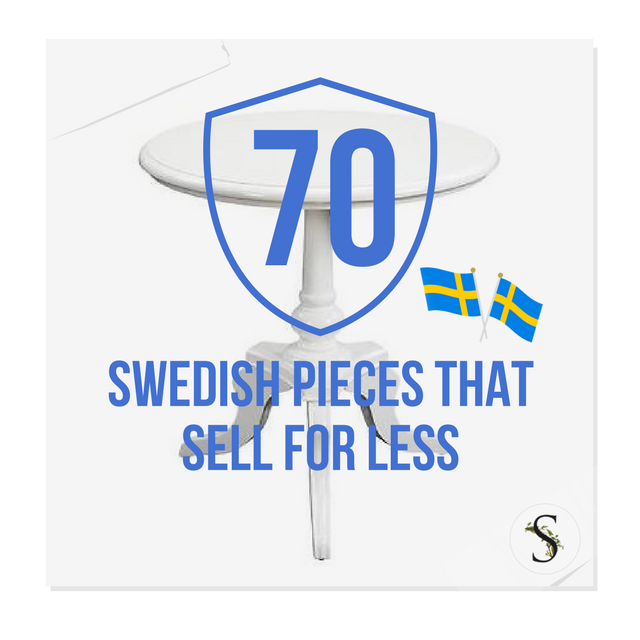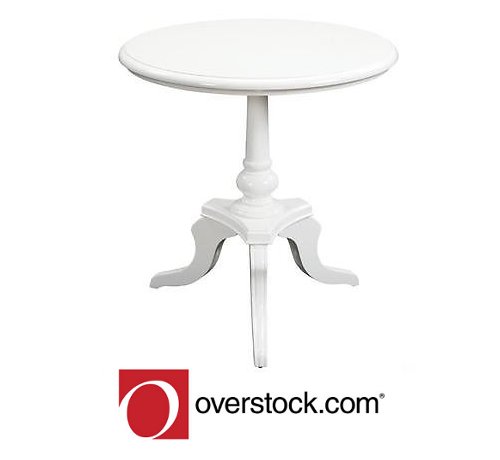 White Lacquer Finish Round Accent Table $321 From Overstock On Ebay
17th and 18th century furniture is still tremendously popular today. One of the biggest draws to Swedish and Nordic styles is the wood, the carvings and depth of detail. In a typical home in Sweden centuries ago, you would find almost everything made from wood. Wood furniture, plank flooring, wood walls, and decorative accessories made from wood. Each piece would be individually carved, and often painted, and overtime would endure natural distressing.
Gustavian Looks
Gustavian style drew a lot of attention from around the world, so much that they became known throughout Europe as the "Paris of the North." Gustavian style embraced all the grandeur that Paris had to offer, but without the money that France was able to spend. Instead of marble, they brought out their paint brushes, and learned how to paint faux marble. Instead of mahogany woods, they made their furniture from the white blonder woods found in their native land. Silk and satin was exchanged out for linen. Painted swags replaced the costly hand carved garland-like swags found on the walls in France.
Sweden's vast forest industry made it possible for citizens to be skilled in some sort of trade that involved wood. So, as the trends came out from France and England, the latest looks would be crafted inexpensively. Woodworkers could modify the designs, change out the distinctive English or French designs, and add or change the look to suit their taste. Furniture feet, leg style, color, wood was all modified for what they found most desirable in their communities. From region to region different styles of furniture and accessories were made, which also had their own character trait, and color palette.
France and England heavily influenced Europe at that time, and so it was natural that Sweden also followed suit. They adopted the Louis XV and Louis XVI styles founded in France, but made them their own. Over time, with the excavations from Pompeii, Gustavian style also incorporated the classical looks that circulated around Italy, and Greece.
How To Get The Look On A Budget
I used to paint furniture as a hobby, spending most of my days hunting through thrift stores, estate sales, and I always had my eye on craigslist for the best finds in Virginia. My husband worked full time, which allowed me the ability to shop for worn out pieces which I then updated and sold. We moved away from the city, and into the country, where blogging is now my day to day life. Over the years, I have found some pretty amazing finds second hand, but I also have come to know, they just don't compare to what you can buy new. I find I am always running across great pieces of furniture around the net which are sort of hidden away. I have come to realize that you can find really nice furniture for under $500 dollars. When you add up your valuable time, and gas- buying online simply just makes sense, especially if you are pretty particular in what you are after.
Here are 70+ links to great pieces from a couple big sellers on Amazon and ebay to give you the Swedish and French looks on a budget.
Here are just a few tips to pulling your look together…..
Arrow Ormolu Mounts From Ari Luxury On Ebay
1. Use Ormolu Mounts– If you have a pretty simple table, dress it up using decorative appliques. Europe embraced the use of gilt-bronze mounts, brass inlay and quintessential gilded enrichments that we all admire to this day.
Articles:
-Affordable French Furniture Appliques- Hersite
-How Decorate With French Empire Antiques- Hersite
-Architectural Molds- French Style Authority
2. Look For Straight Leg Furniture– If you live in America, look for the straight legged shaker style table and chairs. Straight legged tables, chairs, benches will give you the Swedish look and they are pretty easy to find in America.
Additional Articles:
– Amazingly Affordable Swedish Looking Furniture- The Swedish Furniture
-Swedish Furniture And Decorating On A Budget- Mora Clock Reproductions And More – The Swedish Furniture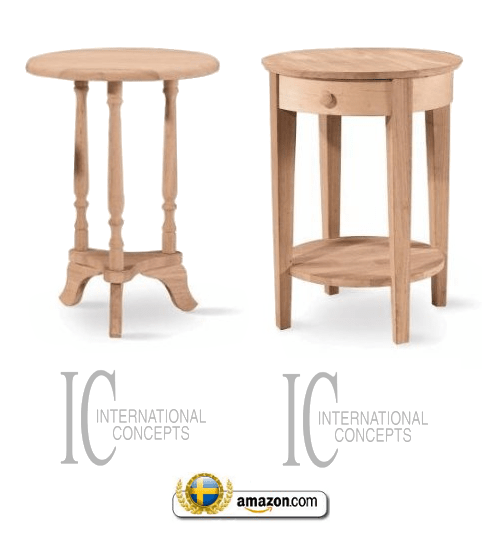 Turn this unfinished international concepts table, sells for $42 dollars into a thousand dollar table with an additional marble top and some paint. Consider white paint with gold accents for a classic Swedish style. The Second table, sold by International Concepts features straight legs with a round round table top with Drawer- $104
3. Look For Fluted Legged Furniture -Gustavian furniture is well known for their use of fluted leg tables, square back chairs, and demi lune tables. If the legs are right, often times, you can add to the look to make it Swedish.
– This dark brown side table needs some color. Gray, pink, or blue, it would look prettier painted. It has spectacular legs, and a round table top that looks like it belongs in the Louis XVI collections. Only $133 On Ebay
-This 3-piece nesting table set sells for only $110 Dollars On Ebay
I would strip off the existing paint, paint it, and then heavily distress it. Or, paint it a muted pastel and gold leaf the details. What a great price!
– Another pretty Console Table $418 On Ebay
Gold leaf the details, or use white paint on the details, and a pretty color on the other features.
4. Use The Right Colors– Paint has always been my best friend. Typical 'Gustavian' colors include gray, pale blue, and pale green colors. Consider accenting your home with light pink and pale yellow.
Additional Aricles
– The Shocking History Behind "Emerald Green Paint-The Swedish Furniture
-Top Designers Pick The Best Furniture Paint Colors- The Swedish Furniture
-Swedish Paint Finishes -How To Wash Wood-The Swedish Furniture
-Salmon Paint Shades- Decorate With Apricot, Peach and Terracotta –Hersite
5. Paint With Matte or Chalk Paint – Swedish furniture tends to have a matte, chalky or powdery look. Limewashes were once used to brighten furniture and saturated colors were used along with glue or oil to make paint.
Chalk paint sold through distributors can give the look that is commonly seen on Swedish furniture. Or, consider adding in a bit of un-sanded grout to your paint. I tend to buy it in an off white color at the local hardware store, and a tablespoon goes a long way. It will give you chalk like finish. Use brown glaze to add an antique appearance. What I tend to do is brush it on, and after 2 minutes, I wipe it off using a facecloth. It can add a tint to your overall paint finish, and give your paint a look that doesn't appear to be so new.
Additional Articles:
– Furniture Painting, Distressing & Glazing Examples-The Swedish Furniture
-What's With Chalk Paint? 80+ Pictures Of Annie Sloan Chalk Painted Furniture – Painted Furniture Online
-How To Paint French Provincial Furniture A Perfect White –French Provincial Furniture
-Priming Furniture- French Provincial Furniture
-Staining And Re-Finishing Furniture- 40+ Pro Tips- Hersite
-What We Are Not Being Told About Furniture Strippers – Hersite
-DecoArt Chalk Paint Line Sold At Home Depot – Hersite
-50+ Pictures Of Great Painted Pieces- Painted Furniture Online
-56 Greige Pieces- Exceptional Painters And Their Furniture Painted Furniture Online
6. Work With Blonde Woods- Swedish style generally only features the lighter woods, because that was what was available in the surrounding regions. Swedish country homes contain a lot of birch, white pine, beech, and alder. It is used for furniture, floors and walls, and either left natural, bleached, or painted in pale colors.
If you have a piece of furniture that is stained, consider investing in a heat gun, to remove the existing finish. By doing this, when you go to paint and distress the piece, the lighter wood color will show through than the mahogany or darker stains. It will give your pieces a more authentic appearance.
Safavieh American Home Collection Concord Console Table $112 on Amazon
Safavieh American Home Collection Brigg White and Dark Brown Console Table $196 on Amazon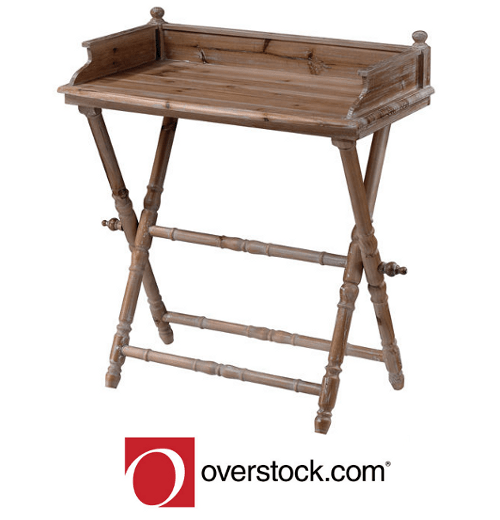 Natural Washed Tray Accent Table $381 Overstock On Ebay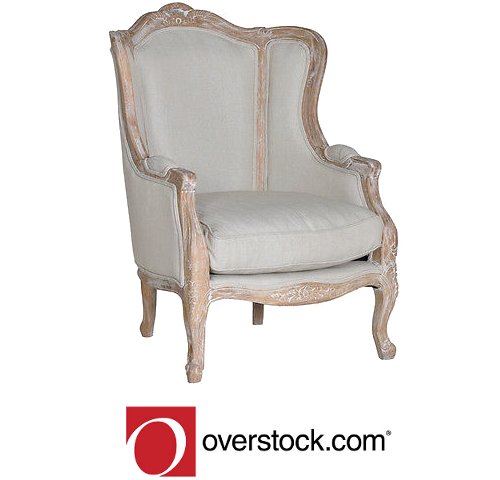 Solid Oak Paola Arm Chair $863 From Overstock On Ebay
Safavieh American Home Collection Lexington Console Table $125 on Amazon
Safavieh American Home Collection Newburgh 6-Drawer Storage Unit, Vintage Grey $184 on Amazon
Safavieh American Home Collection Newburgh 3-Drawer Storage Unit $242 on Amazon
Safavieh American Home Collection Orford Off White Low Bookcase $208 On Amazon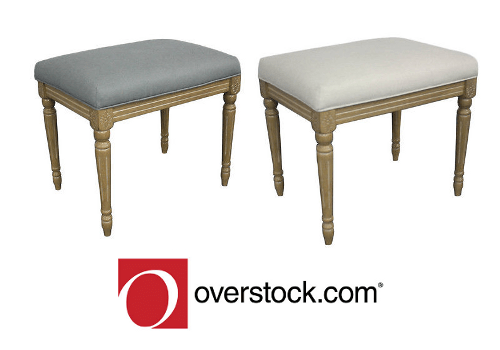 Victoria Padded Bench with Distressed White Legs ONLY $70 From Overstock On ebay
Seat dimensions: 21 inches wide x 15 inches deep

Dimensions: 18 inches high x 21 inches wide x 15 inches deep
Stratton Linen Side Chairs with Nail Head, Beige, Set of 2 $413 On Amazon
Safavieh Ashton Carved Side Chairs – Set of 2 $436 On Amazon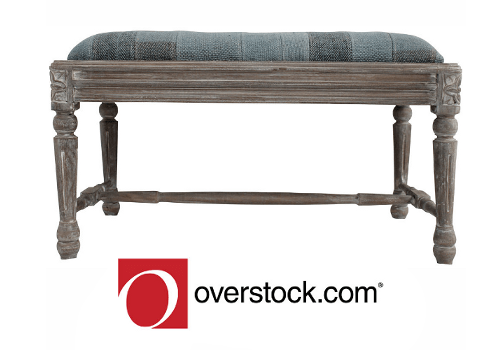 nuLOOM Casual Living Vintage Patchwork Blue Bench $275 Overstock on ebay

15.7 inches high x 31.5 inches wide x 15.7 inches in length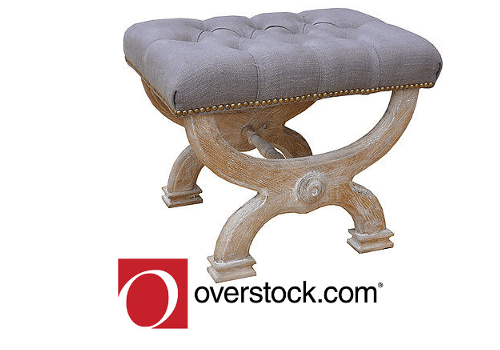 Cleopatra Solid White Oak Bench $182 Overstock on ebay
Safavieh American Home Collection Emma Four Drawer Storage Cabinet $204 Amazon
Safavieh American Home Collection Barnet Wall Shelf $148 On Amazon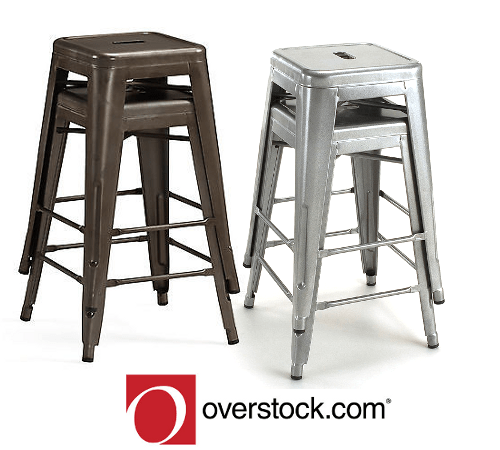 Tabouret 24-inch Metal Counter Stools (Set of 2) $72 Dollars From Overstockon ebay
Tabouret Furniture From Overstock On Ebay
Safavieh Hudson Collection Johnny Linen Side Chair, Beige, Set of 2 $479 on Amazon
Safavieh Chloe Linen Club Chair $447 On Amazon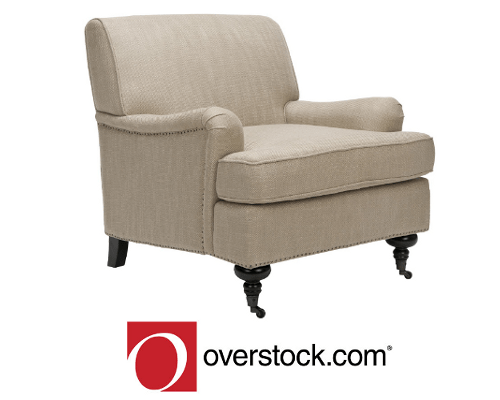 Safavieh Nottingham Taupe Nailhead Club Chair $360 at Overstock on ebay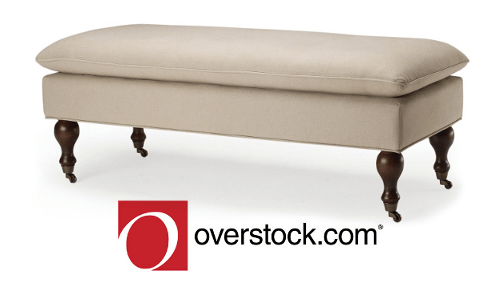 Safavieh Mansfield Linen Pillowtop Ottoman Free Shipping $211 Overstock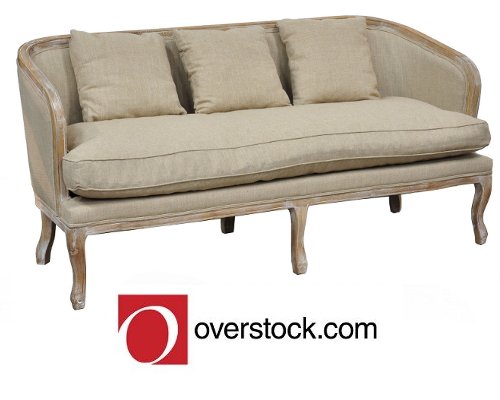 Angelie 3-seater Sofa $1149 Overstock On Ebay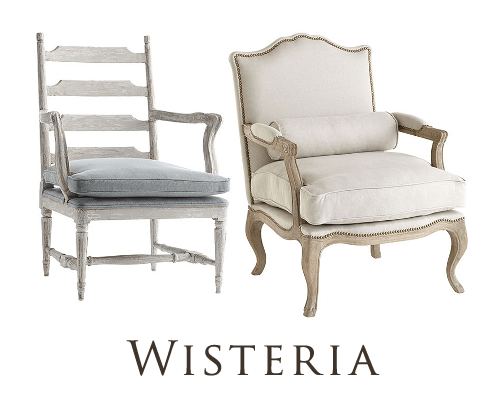 Ladderback Armchair $699 Wisteria
Lounge Armchair $799 Wisteria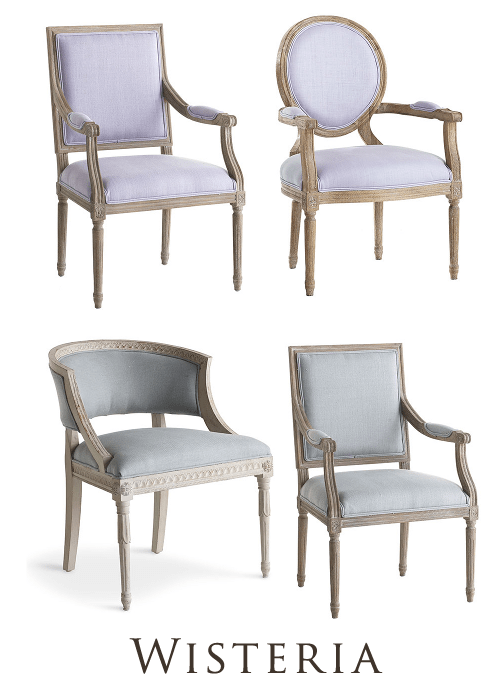 Gustavian Tub Chair $799 From Wisteria
Louis XVI Dining Chair in Royal Blue$299 Wisteria
Chateau Arm Chair in Lavender $389 Wisteria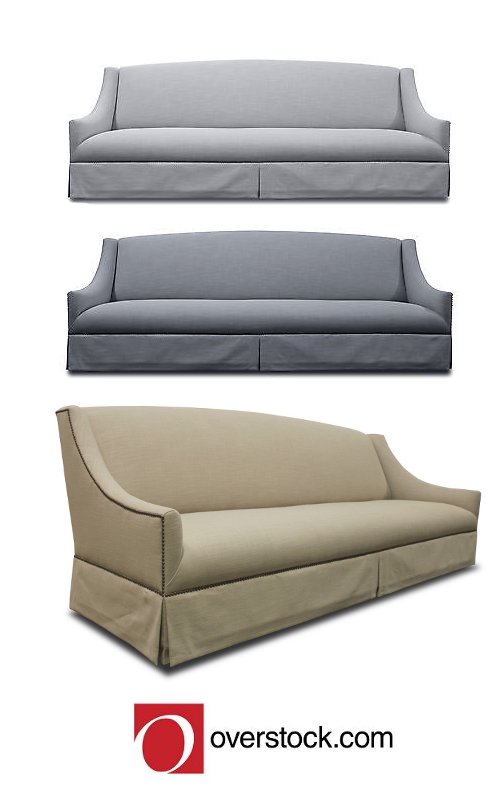 Camille Premium Linen Down Wrapped Sofa $1433 Overstock On Ebay
Lexington Oval Swivel Storage End Table $159 On Amazon
Remiremont Antique White Upholstered Bench $76 on Amazon
Cherry Wood Side Chair, Set of 2, Cream $479 On Amazon
Safavieh Mercer Collection Heather Linen Nailhead Dining Chair, Set of 2- $346 on Amazon
Safavieh Mercer Collection Stella Velvet Side Chair $305 Amazon
Featured above is the Ivory and Taupe chair sold for $270 Amazon
Becca Side Chair Finish: Upholstery: Leather- Clay with Nickel Nailheads $261 On Amazon
Alexia Contemporary Fabric Dining Chair $246 On Amazon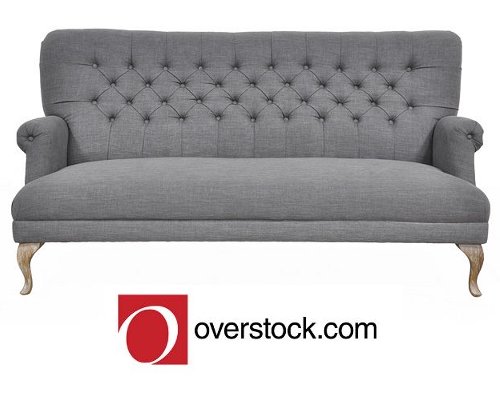 Sean Sofa $1393 Overstock On Ebay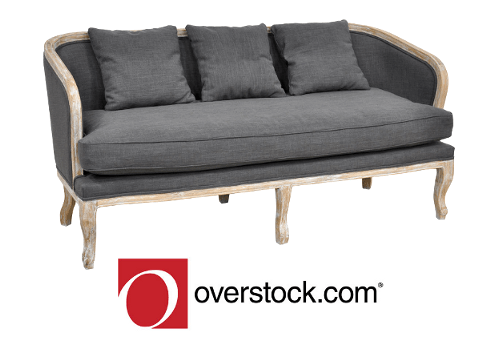 Marie Curved Grey Settee $1094 From Overstock on ebay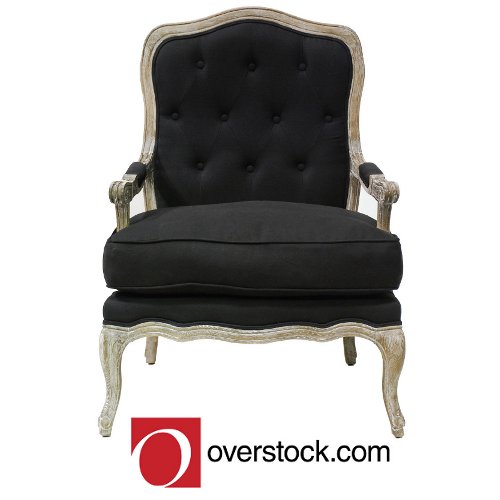 Eddie Black Onyx Club Chair $569 on Overstock On Ebay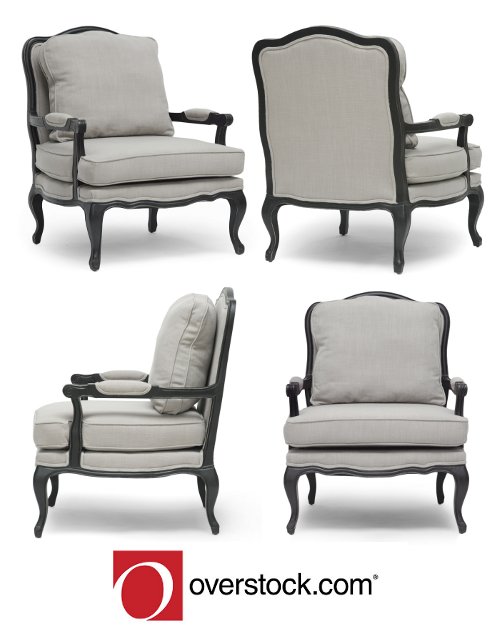 Baxton Studio Antoinette Classic Antiqued French Accent Chairs (Set of 2)
Buy them on OverstockOn Ebay
for $1050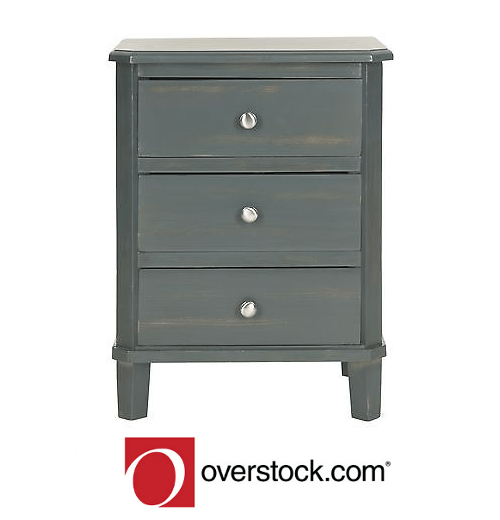 Joe Dark Teal End Table $147 On Ebay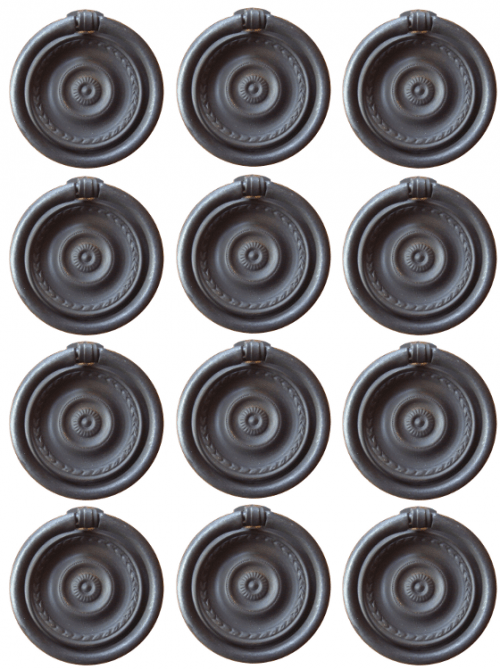 Swedish Style Pulls – 12 Pulls For $24 Dollars On Ebay
Thelma Ash Grey End Table $140 On Ebay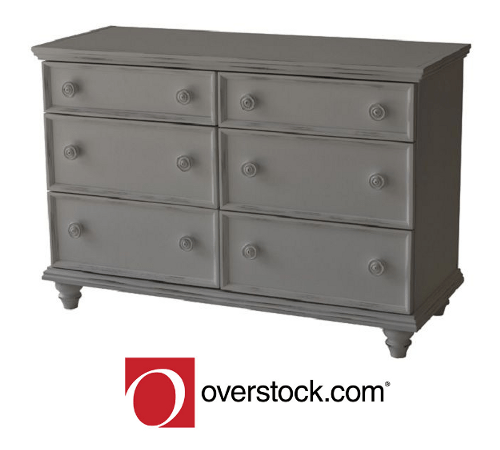 Notting Hill 6-Drawer Dresser $654 at
Notting Hill Collections From Overstock on ebay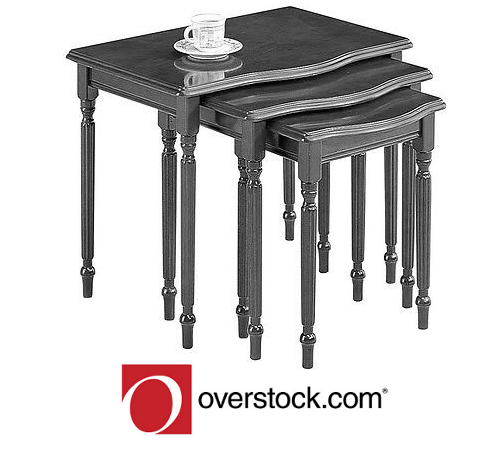 3-piece Nesting Table Set Only $110 Dollars On Ebay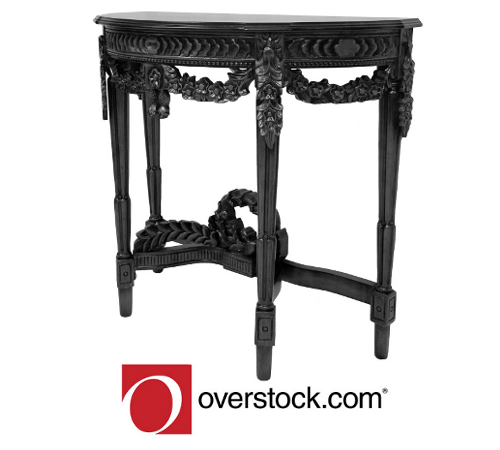 Wood Console Table $418 On Ebay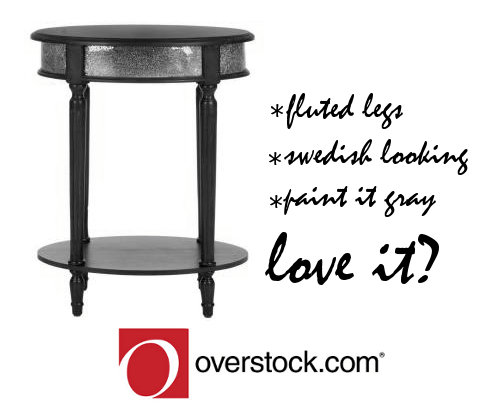 Safavieh Bernice Dark Brown Side Table $133 On Ebay
Andrew Carved Oak Side Chairs, Set of 2 $514 On Amazon
Nara Side Chair (Set of 2) $494 on Amazon
Safavieh Mercer Collection Randy Linen Bench $343 On Amazon
Charcoal Grey Castro Armchair $570 Overstock On Ebay
Oval Accent Table $307 From Overstock On Ebay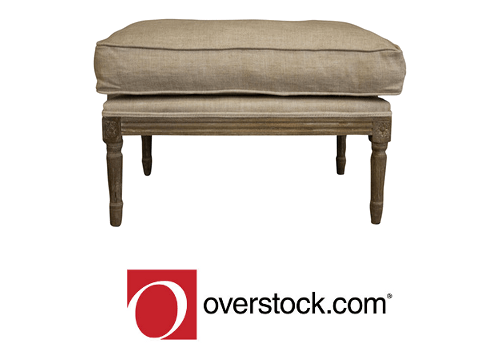 nuLOOM Casual Living Weathered Vintage French Upholstered Linen Ottoman $269 On Overstock
Safavieh Pecos Reclaimed Wood Stool in Brown$272 On Amazon
Swedish Storage Bench $1149 Wisteria
Lisa Cradle (Free Shipping) $164 On Amazon here
Orbelle Trading Ga Ga Cradle (Free Shipping $164 on Amazon here
White Naples Media Chest $256 on ebay
Search out the rest of the furniture collection on ebay
Simply replace the hardware…..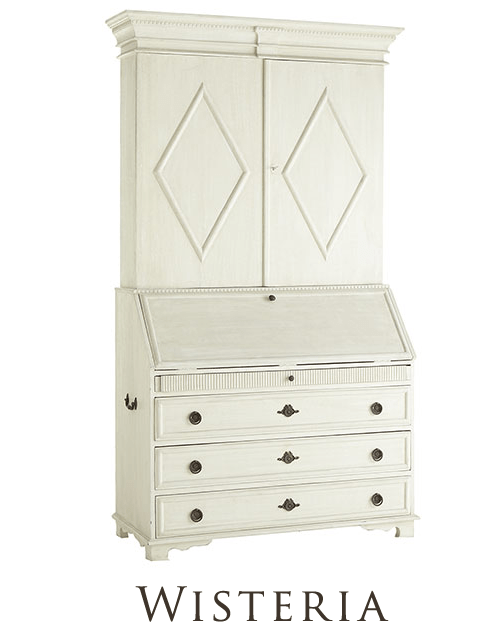 Swedish Secretary $1999 From Wisteria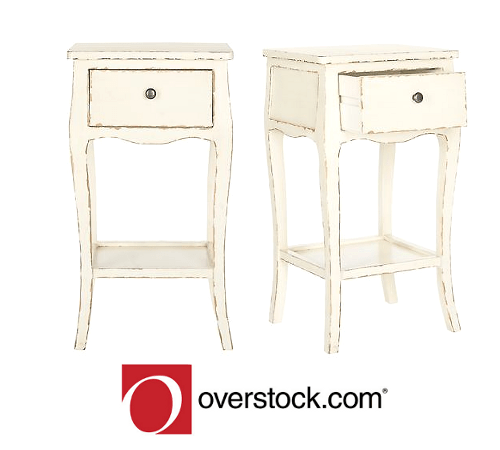 Thelma Distressed Vanilla End Table $140 On Ebay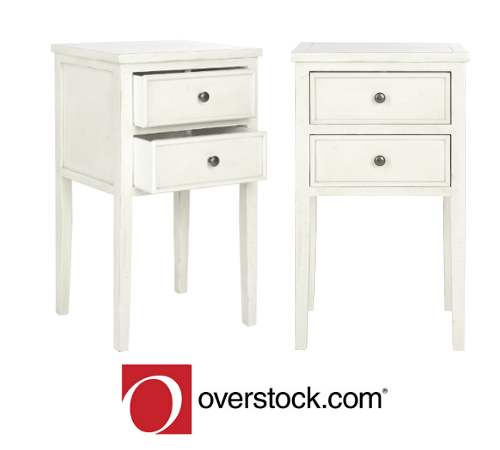 Toby Eggshell End Table $135 On Ebay
Safavieh also sells a lovely set of nesting tables that have a Swedish look to them. The dimensions are 35″ H x 20″ D x 20″ W.
Chelsea Textiles Demi Lune Table– here

Oxford Beige Linen Arm Chair $179 From Overstock On Ebay
Lauren Upholstered Queen or King Canopy Bed Only $319 From Overstock on ebay
Check out other canopy beds from Overstock here on ebay
Naples King Canopy Bed $638 From Overstock on ebay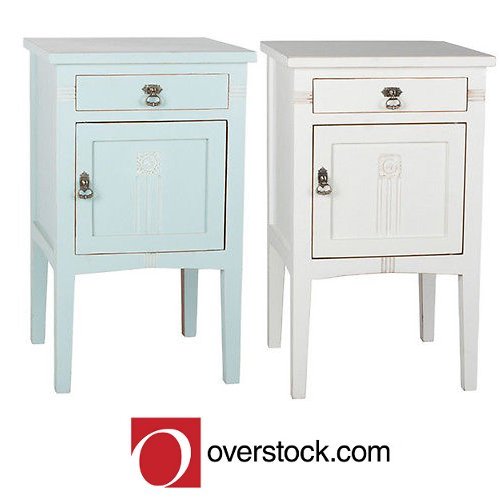 Wooden Nightstand $219 From Overstock On Ebay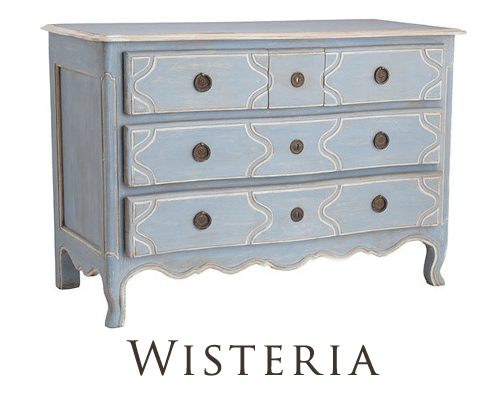 Louis XV Chest $999 From Wisteria
Safavieh Mercer Collection Danni Side Chair with Nail Head, Beige and Antiqued Oak $417 On Amazon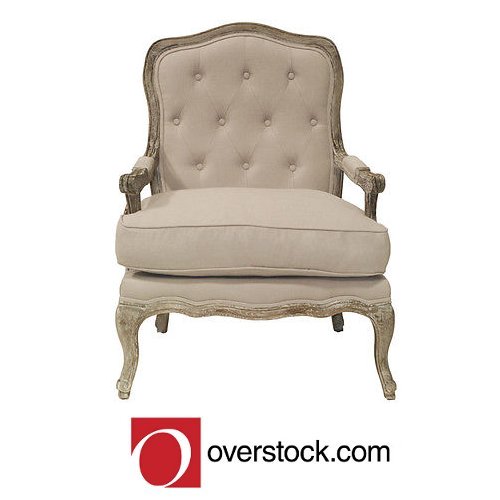 Eddie Camel Club Chair $754 On Overstock On Ebay
Safavieh Abram Dark Teal Console $130 On Ebay
Safavieh Andy Ash Grey Shelf Unit $147 From Overstock on ebay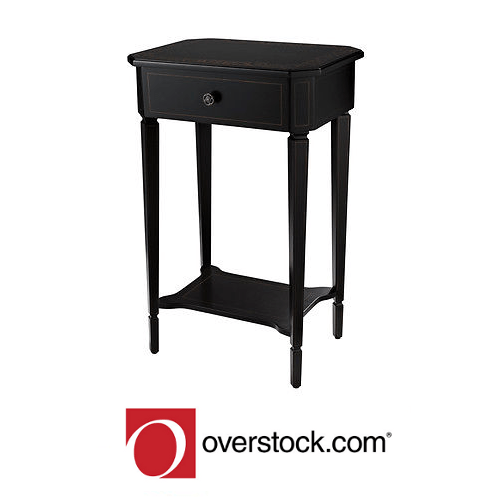 Hand Painted Black Finish Rectangular Accent Table $401 Overstock On Ebay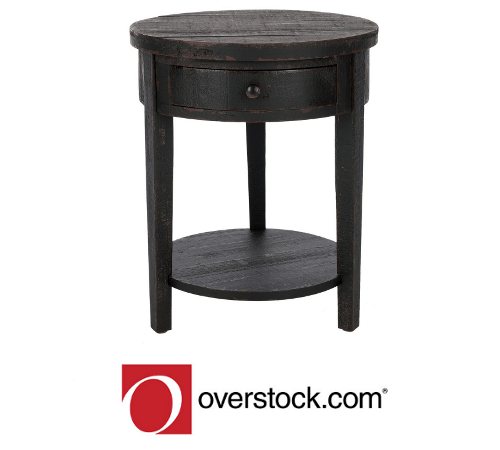 Safavieh Doris Black Round End Table $105 On Ebay
Safavieh American Homes Collection John Side Table, Antique Black $173 On Amazon
Safavieh Suncoast Arm Chairs – Set of 2 $283 on Amazon
Safavieh Dolan Sideboard, Light Oak $311 on Amazon
Safavieh American Homes Collection Susan Side Table, Dark Brown $190 On Amazon
4-Foot 6 by 6-Foot 6 Handpicked Argentinian Cowhide Area Rug, Natural Brown and Off-White $201 On Amazon
Safavieh American Home Collection Devon Walnut and Antiqued Pewter Etagere $281 On Amazon
Safavieh American Homes Collection Simon Console Table, Natural $208 On Amazon
Safavieh American Homes Collection Alexander Bookcase, Natural $195 on Amazon
Ossett Antiqued Pewter and Light Ash Wooden Storage Bench $214 On Amazon
Safavieh American Home Collection Leyton Writing Desk $342 on Amazon
Safavieh DHU205B Dhurrie Collection Handmade Wool Area Rug, 4-Feet by 6-Feet, Ivory and Green $128 On Amazon
Safavieh American Home Collection Howden Sideboard $263 on Amazon
Natural Fibers Collection Sisal Area Runner, 2-Feet by 10-Feet, Natural and Rust $75 On Amazon
Safavieh American Home Collection Sussex Light Brown Console Table $167 On Amazon
Retford Medium Oak Finished Dining Table $194 On Amazon
Safavieh Jethro Honey Natural Console
$113 at Overstock on ebay
Safavieh Amos Honey Natural Console
Safavieh Abram Eggshell Console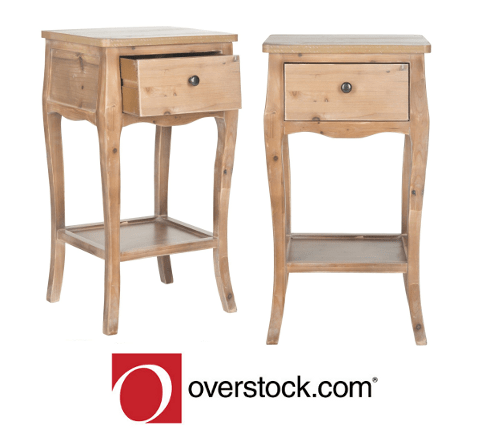 Thema Honey Table $140 On Ebay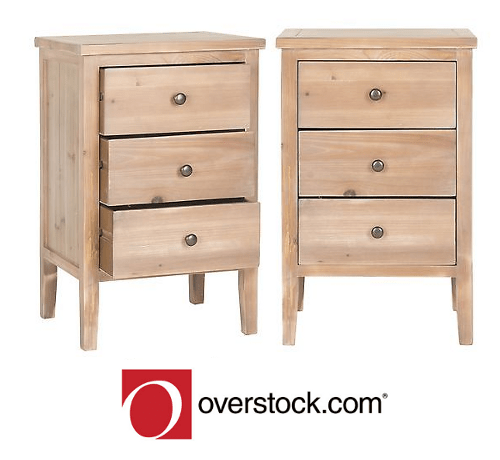 Deniz End Honey Nature Table $156 On Ebay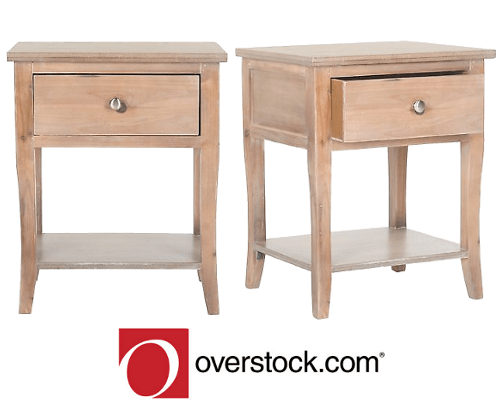 Safavieh Coby Honey Natural End Table $126 On Ebay
Midwest CBK Marquetry Print Accent Table
This product has been dis-continued

Inlay Cherry Veneer Accent Table $289 On Ebay
Safavieh Tami Night Table $165 On Amazon
Auckland White Washed Console Table $194 On Amazon
AA Importing 18243 French Wall Clock $112 here
Winfrey Hutch Cabinet $2340 Overstock on ebay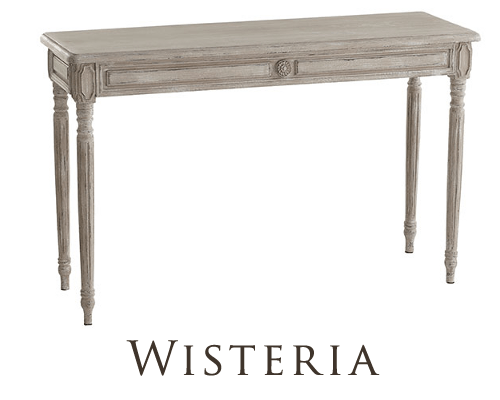 Gustavian Console Table $399 Wisteria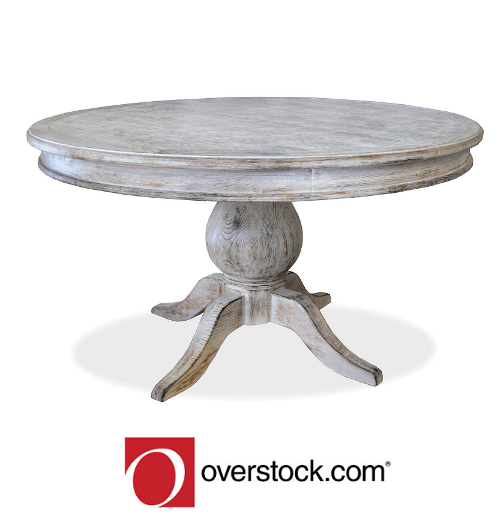 'La France' Round Distressed Dining Table $1389 On Ebay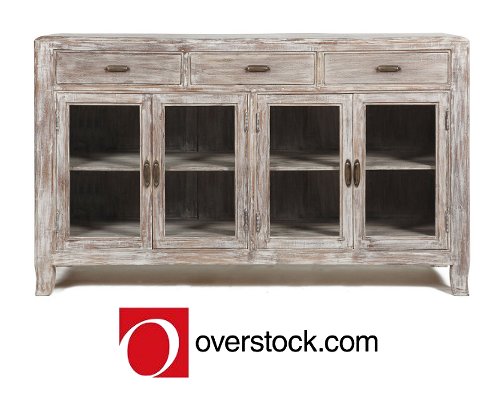 Cosmo 4 Door/3 Drawer Buffet $1232 on Overstock On Ebay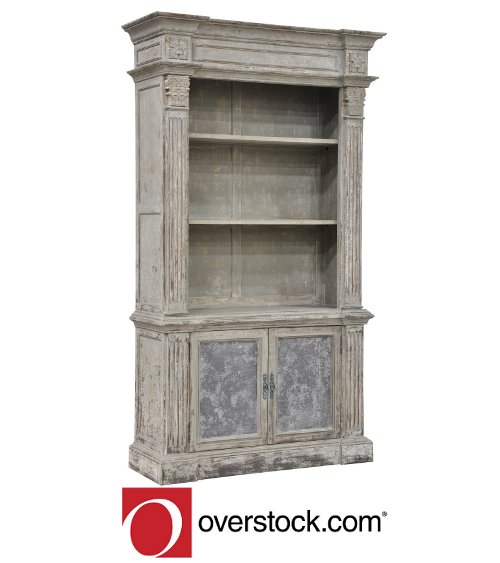 Chael Distressed Pine Bookcase $1716 From Overstock on ebay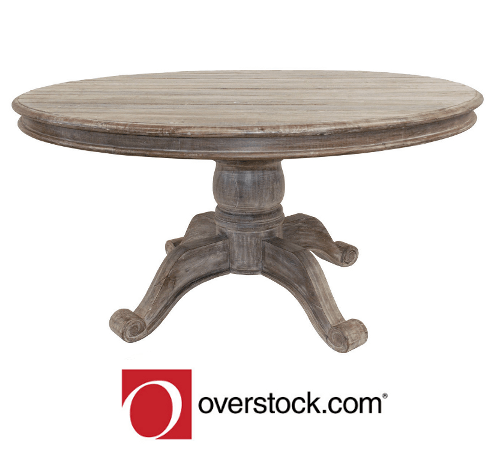 Hamshire Round Dining Table 60 inch $1400 On Ebay