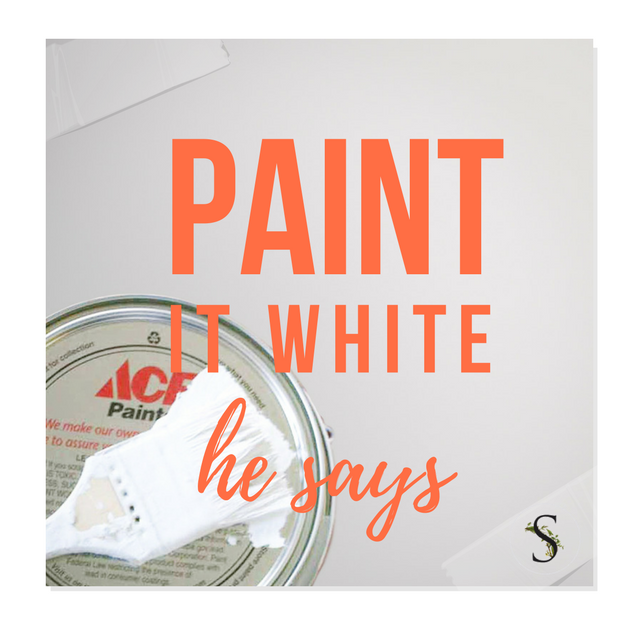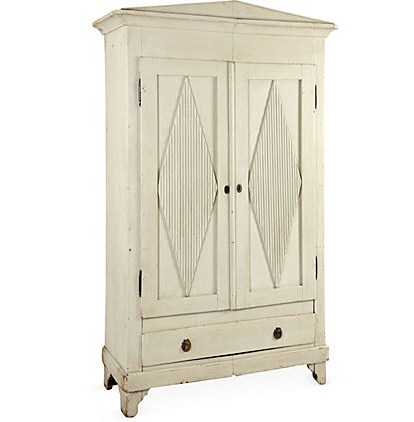 Darryl Carter on One Kings Lane- Swedish Armoire
Washington, D.C., interior designer Darryl Carter certainly has made a memorable mark on the color white. Fifteen years ago he had a busy career as a lawyer when he decided to change course and open his own interior-design firm. He made a name for himself by transforming rooms that were grounded in a neutral palettes with an appreciation for showcasing art and antiques. Swedish interiors have always been known for their white based interiors. In an interview by Veranda, designer Darryl Carter gives his best tips for using the color white in your home.
1. Pick Your Paint First
"It's not a cop out," he insists. "It's a way to harmonize a house in its entirety." Once you've chosen your paint, select textiles next—preferably a hue that closely matches the walls. "Navigate the drapery into the wall color so that you are not so aware of the window treatment," he suggests.
2. Paint Your Architecture In White
He says that architecture looks best in white. He gives an example pointing to a bookshelf cabinet in a Virginia townhouse which was painted to blend into the walls. The coffered ceiling was also painted the same color, which added a subtle architectural element to the space.
3. Don't Shy Away From White Or Cream Around Kids
He tells Veranda, that you don't have to sacrifice style and serenity because there's a toddler in the house. "There is a presumption that neutral cannot be kid-friendly," says Carter.
"Instead of shying away from softer shades, he suggests changing the materials. Try enamel finishes and high-gloss paint in high-traffic areas, as well as durable faux leather and outdoor fabrics for upholstered pieces that withstand the wear and tear of young children"
4. Unite Your Kids Rooms Into The Rest Of The House
Carter encourages parents to integrate their child's room into the larger experience of the home.
"You don't want to open the door and suddenly wonder where you've landed," he says.
In one family home, Carter created a space in the child's room which matched the overall modern style of the family's home. Over time, parents can adjust the space with different pillows and textiles as the child matures.

5. A White Backdrop Makes Antiques Feel Modern.
I love a monumental secretary in a white space," says Carter. Despite its size, he says, the piece could easily be lost in a wallpapered room.
"People often tell me that my rooms are very modern," he says, "but generally they are populated with a lot of antiques."
6. Experiment With Finishes.
"A material change in the same color can be a very subtle way to articulate the architecture of a space," he says.
In one space, the cabinets are lacquered, the walls were matte, and the floors are reclaimed barn flooring, all washed in the same shade.
7. Revamp Old Pieces With A Coat Of Paint.
"I have redefined so many things in my house with a coat of paint," says Carter. In the breakfast room of his D.C. home, the apothecary is now black. His latest temptation? Sepia paint, to give the Gustavian dining chairs a khaki color.
8. Be consistent, Inside And Out.
The exterior of a D.C. home was featured in Veranda's May/June 2012 issue. Carter wanted the exterior to honor the style and presence of its surroundings. The house was painted, then power-washed until some of the original brick showed through to suggest age.
"As you approach a house, you are getting a sense of what it is," says Carter. "I think it's important, when you open the door, that the interior is consistent with the exterior's approach. And then when you go out into the rear garden—the same thing."
More About Darryl Carter:
His Website- www.darrylcarter.com
Darryl Carter On Facebook
Interesting Articles:
– Home Decorating Ideas: Darryl Carter's DC Townhouse –Elle Decor
– Darryl Carter's New Store |DC by Design Blog
– Darryl Carter's Paint Tips – Veranda –Veranda.com
– Darryl Carter Updates A Home Near Washington, D.C. :Architectural Digest
– Darryl Carter Paint Colors-Benjamin Moore
– Darryl Carter and the thrill of the hunt –Washington Post
Darryl Carter Books
Darryl Carter Colors by Benjamin Moore, perfectly encapsulates his painting philosophy: "It's more about tonality than saturation. I always suggest the fainter color." For more on Carter's design philosophy, his new book, The Collected Home ($24, Amazon)

The New Traditional, Darryl Carter laid out the principles of his recognized design, which balances comfort with a subtle color palette to achieve a timeless style. Darryl explores the essence of what brings a home to life, from textures to furniture to unexpected objects.
The Collected Home dazzles with gorgeous photographs of rooms that are extraordinary. Darryl provides advice for approaching home design, Lavishly illustrated, this book is a must-have for anyone who desires a home that feels richly layered, full of character, and unquestionably calm.
Reviews:
As a designer, every time I see Darryl's work, I marvel at his talent to "white out" what would otherwise be same old traditional or colonial spaces. In other words, he can take your typical (and sometimes cluttered) design and edit it, clarify it to such a poetic yet livable state, that you wonder how modern it is despite the very colonial roots. Not that anything is wrong with color or traditional design (I'm a fan of both), but his work feels like the antithesis to hundreds of well-designed but boring spaces that seem to have a complete lack of innovative design given the modern world we live in. His second book, The Collected Home, is a heart-felt rendition of some of his latest work, his aesthetics and guiding principles. I particularly enjoyed the photographs that beautifully illustrate his strong emphasis on architectural integrity and how little ornamentation you really need if the bones are exceptionally designed. A personal favorite quote from the book, as he describes his first show house experience "..young and intimidated by the veteran designers also presenting their work, I thought, "This is not at all the way a home should be experienced."" Knowing the context, I can completely relate to that feeling – Raji Radhakrishnan / Murali Narasimhan
By NJLeoOH
This book inspired me. I sat through only about 10-15 pages before jumping up, moving furniture, shelves, display items, putting items away and taking others out for prominent positioning. I discovered my colors (which were there all along but I didn't see them!). Highly recommend and have shared my copy with friends for their own inspiration.
Modernism was in part a reaction to the excessive ornamentation that characterized the late Nineteenth and early Twentieth Century. Modernists craved clean lines and simplicity. Function rather than beauty dictated form. Some early modernists thinkers decried ornamentation as a crime. In pursuit of their aesthetic project, the modernists rejected 2,500 years of classical wisdom.It is into this hotly waged conflict that Darryl Carter enters. With great tact, Carter strips away excessive ornamentation and works his way back to the nature inspired origins of classical thought. He is able to find common ground between these two not so disimilar aesthetics. Carter has the artist's gift of mixing what initially appear to be dissimilar objects and finding a coherent overall vision. His "cool" approach reminds of Swedish neo-classicism. This is Carter's second book. Like his first book, "The Collected Home" is a great success. Highly recommended.
Darryl Carter via 1stdibs.
Darryl Carter- Veranda Magazine
An unusually low ceiling prevented Carter from installing a chandelier in a client's dining room, forcing him to be creative. By using a pair of tall, Baroque-style table lamps instead of a ceiling fixture, he created a different kind of focal point.
Darryl Carter- Rustic Farmhouse Elle Decor
Darryl Carter- Rustic Farmhouse Elle Decor
Darryl Carter- Rustic Farmhouse Elle Decor
Darryl Carter- Farmhouse Details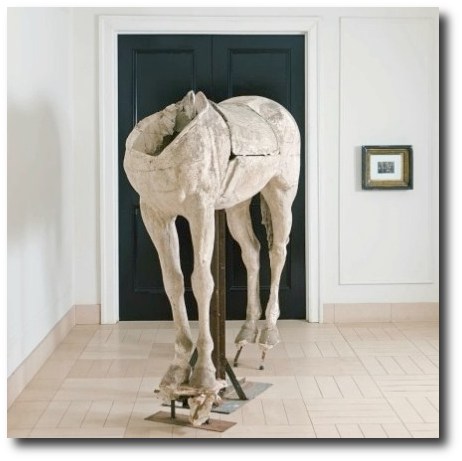 Darryl Carter- Seen On The Relished Roost Blog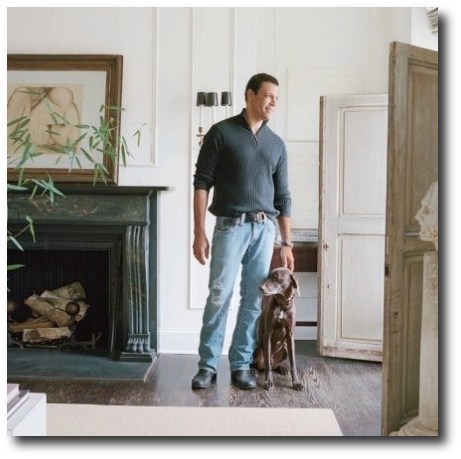 Darryl Carter- Seen On The Relished Roost Blog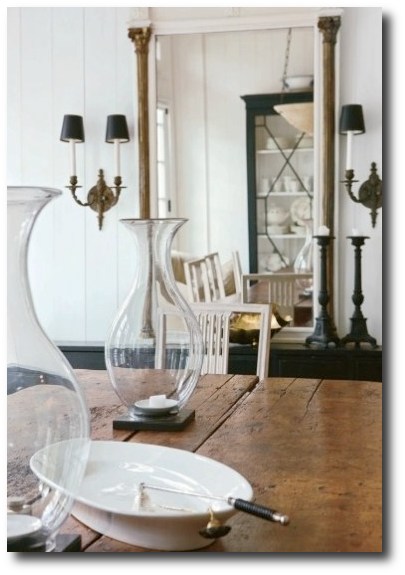 Darryl Carter- Seen On The Relished Roost Blog
Darryl Carter- Seen On The Relished Roost Blog
Darryl Carter- His Shop– Elle Decor
Darryl Carter- Veranda Magazine
Carter gives a sparse attic room a styled look with an array of artworks hung, surprisingly, on the angled ceiling. The matching white frames, tonal prints, and casual arrangement don't overwhelm the nook.
Darryl Carter- Architectural Digest
Darryl Carter- Veranda Magazine
Four pierced metal skids—surfaces used in the plaster-making process—went from serving as tools in the creation of art to being art in their own right when Carter hung them as a quadtych. "Look at things from all different angles, especially objects that are meaningful to you and things that you wouldn't typically think of as art," he writes. "Because they look intriguing, they often ignite conversation."
Darryl Carter- June 2012 Elle Decor
Darryl Carter- June 2012 Elle Decor
Darryl Carter- June 2012 Elle Decor
Darryl Carter In Veranda
Darryl Carter In Veranda
Darryl Carter- June 2012 Elle Decor
Darryl Carter- June 2012 Elle Decor
Darryl Carter- June 2012 Elle Decor
Darryl Carter- His Collected Home- Elle Decor
Darryl Carter Architectural Digest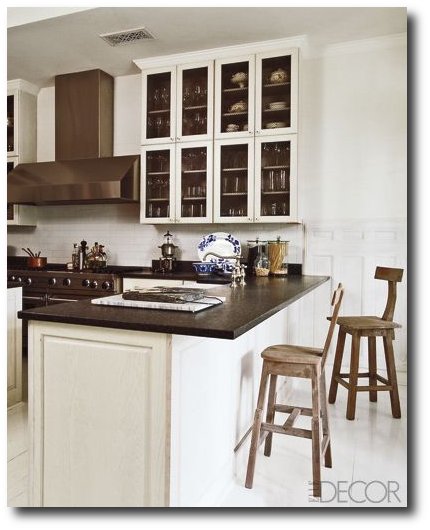 Darryl Carter- Elle Decor
Darryl Carter- Elle Decor
Darryl Carter-One Kings Lane
Darryl Carter-One Kings Lane
Darryl Carter- Architectural Digest
Cool neutrals and crisp furnishings lend a lovely, liberated air to a Tudor Revival house by architect Donald Lococo and designer Darryl Carter
Carter conceived the sofas, the cocktail table is attributed to Jansen, and a Renaissance Revival armchair stands alongside an antique French daybed; the paneling is painted in a white from Carter's line for Benjamin Moore.
Darryl Carter In Veranda
Darryl Carter In Veranda
Darryl Carter- Architectural Digest
A circa-1830 Swedish pedestal table topped with a Ming-dynasty jar centers the entrance hall of a Washington, D.C.–area house by interior designer Darryl Carter and architect Donald Lococo.
One bedroom is anchored by a 19th-century four-poster; Highland Court fabrics were used for the custom-made curtains, duvet, and European shams, and the sisal rug is by Stark Carpet.

The library features a William IV–style sofa by Lee Stanton Antiques and a Gothic-style oak table grouped with an 18th-century English wing chair, from Golden & Assoc. Antiques, dressed in an Edelman leather and a Larsen fabric from Cowtan & Tout.
Washington DC Home- Darryl Carter Country Living Magazine
Washington DC Home- Darryl Carter Country Living Magazine
Washington DC Home- Darryl Carter Country Living Magazine