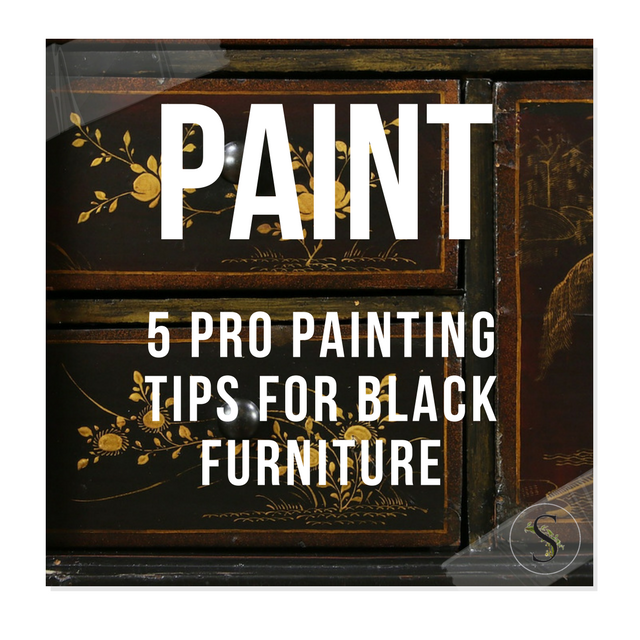 Anyone can paint a piece of furniture black, but there are certain tricks to make your painted pieces appear more valuable than they really are. Many of us feel that sensation of discovering a beautiful piece of furniture at a garage or estate sale, and then dreaming of what to do with it next. If you are anything like me, scrolling through pictures of paint chips, and color combinations can be a thrilling experience.
If you love lighter colored interiors such as white, light blue, or mint green, then black furniture might be a consideration for your interior. Painting a piece of furniture black can create tremendous contrast for your interior. Here are a couple tips to making your painted furniture look antique:
1. Use Matte Paint
You won't find shiny finishes on the old antique furniture in Sweden. This article won't cover the modern black painted furniture that one would expect to see in the 50's or 60's , but rather the aged furniture that someone could come across 100 or more years ago.
When selecting a sheen, consider starting out with a matte finish. Once the piece is dry you can add either a tinted wax or a tinted glaze to the final finish to give it even more depth. The sheen will then produce a look between flat and satin. Starting out with a low sheen will keep the overall finish looking rustic even after you apply additional paints.
2. Paint Your Hardware
While there are so many ways to feature hardware on black painted furniture, painting the hardware can be a smart way to making a black piece look understated yet elegant. Take a look at a French Provincial chest painted in olive by Knack Studios. The hardware was painted and carefully distressed. In this case, a little bit of distressing went a long way. Compare that photo, with this photo of a black painted bombe chest which is also painted in black. The hardware is painted, but not distressed. While bombe chests are considered some of the most spectacular pieces of furniture, this piece falls short for me.
– Darken your hardware with chemicals. Rockler sells a brass darkening solution that ages brass, copper and bronze metal. It allows you to change the color gradually so you can control how dark the final product turns out.
– American Accents by Rustoleum sells an Oil Rubbed Bronze spray paint that I have used on many pieces of my own furniture. After the paint has dried, simply distress the hardware with a sponge sander.
– 9 DIY Recipes For Rusty Hardware- Hersite
3. Show Off The Wood With Distressing
Adding a bit of interest to your furniture can go a long way. There are several ways to add patina. Two ways that come to mind is by distressing, and another is by layering paint.
A: Distressing is a sure way of adding depth and interest to a vintage piece of furniture. Some people like a LOT of distressing, and others like MINIMAL distressing. It is rather interesting to see how people fall into those two categories. Look at a few pictures on pinterest to decide what appeals to you. The best thing about distressing is if you go too far, simply just repaint the areas, which will tone down the distressing.
Style 1 – A Little Distressing:
Well cared for furniture that really isn't moved a lot over the years will only have a little bit of distressing. When I think of a little bit of distressing, I think of my own grandparents home. I can remember a china cabinet sitting in the exact same spot for 30 years or longer. When this same china cabinet was passed to my cousin, it was in perfect condition.
This look is favored by many painters. A little distressing can go a long way. Areas to distress would be around the knobs on a chest of drawers, the legs of chairs, the back of chairs, and around drawer sides. The trick to distressing is to look for the areas where natural wear would occur. On a desk for example, arms would naturally rest on the front portion of the desk, so that would be the area to remove paint.
Style 2: A LOT of Distressing:
This is the style that I tend to enjoy the most. It can be a tricky finish to accomplish, and I will show you how I have achieved my personal looks over the years.
When I first began painting, I always made sure I primed my furniture, because I wanted the paint to stick to the furniture. I was afraid of the paint lifting off the furniture, so I always made sure I primed. As I experimented and advanced in my painting, I found I was pretty limited when it came to distressing as black primer doesn't exist. I would buy gray primer, and see the gray paint in the areas I distressed. It wasn't until much later, (almost a year later) that I discovered if I sanded well I could skip the primer all together. Many of the pieces I worked on were wood, and not metal, or plastic. The options then started opening up for me.
A few years later when I stopped turning over furniture, and just worked on my own furniture, I discovered the real trick to getting the Swedish finishes were to remove the polyurethane, stains or paint all together. I found the raw wood went a long way to getting the results I was after.
I have always been attracted the paint finishes that looked as though they have been left out in the outside elements for several years. Layering your paint with this technique can really open up the overall finish.
Distressing Tricks:
Sponge sanders found at your local hardware store can be a great tool for distressing I have found using a sponge sanders can give you the flexibility and control than electric sanders. Using a hand electric sander can take off A LOT of paint, which often times forces you to go back and repaint some of the areas. Using a hand electric sander might come in handy if you have several layers of paint that you want to expose. Another trick is to remove the paint before the paint is dry. Many of us have used this technique because it is simply easier. With sponge sanders, purchase the ones what work with water. In this instance, have a warm bucket of water and wash out your sponge sander as you go.
4. Add Patina To Your Black Paint Finishes
When it comes to really ornate furniture such as Louis XV styled furniture, why not highlight some of the intricate details? One simple way to do this is with paint. Often times painters will try to replicate this aged look by applying a beige or gray paint to bring out the beautiful depths of heavily carved furniture.
How is this done? Glaze is the easiest way to achieve this look. Simply mix half and half paint to glaze ratio in a bowl. I have simply painted on the glaze in the past, and with a wash cloth, wiped it off within a few minutes. The glaze paint mix will dry to have a transparent look, than a solid paint look. This works great in corners of detail where dust would collect over time.
Many years ago, I highlighted an black painted empire dresser with light gray paint. I wasn't pleased with the look, because the gray painted areas looked too heavy, than natural.
I washed it off and noticed that the watered down remnants of paint that were left, perfectly highlighted the areas. It did a remarkable job of making the dresser look more expensive than it was. If you do plan on trying out this technique, dilute your beige/gray paint with a glaze, and be sure to have a damp rag to remove the extra paint. Just a little highlighting paint will go a long way.
Black Metal Furniture:
I never considered using a green wash on black until I had seen it done on an antique metal canister, so I tried it for myself. Simply mix together a bit of a grayed green color with glaze. Like the gray / beige paint in the suggestion above, you can remove the paint with a wash cloth, or create a sponged effect with the glaze on the paint to get the look of rust. Like any aged furniture, you want to try to leave the green paint where rust would normally happen. I have used it on ornate chairs, and it has really pushed the value of my furniture up a notch.
5. Add Interest By Leaving Some Areas Natural
One solid color all-over looks fantastic on most pieces of furniture. While occasionally you may come across a piece where you can break up the paint with the natural wood. Consider adding dimension to your desks, dining table, side tables, which all have tops that can be left in it's natural raw wood. Consider washing the wood (paint diluted with water) over raw wood, and painting the rest of the piece a solid black.
Paint the can be another way of adding depth. Painting only some of the areas of your furniture can allow for a more unique and interesting look. For example, the inside of a secretary can be left in it's natural wood, or painted a different color.
If you have paint tips to share, please leave a comment below. Please link to your blog or website to your articles about painted furniture. We look forward to hearing from you.
Painted Black Furniture Swedish Desk – Picture Credit Master Henry Blog
Black painted writing desk, Sweden circa 1760 with slant front and two over two
drawers. The interior in blue paint has multiple drawers and cubbies, with two
hidden compartments. Simple bun feet. (Depth when open is 34″.)
Black painted Swedish period (1650-1750) Baroque chest of drawers.- Old Is New Blog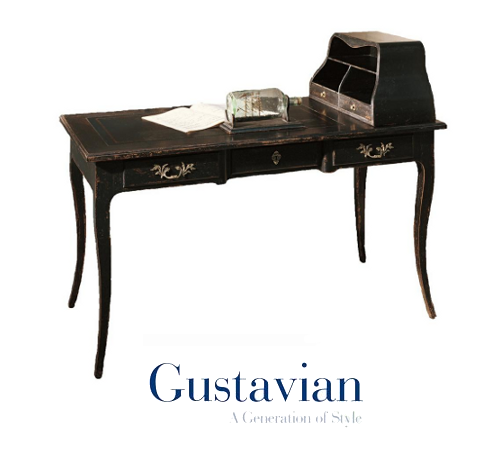 Marie Desk– Swedish Furniture By Gustavian Price: £2,600.00
Rustic Wire Baskets – Painted Furniture Glass Cloches From Næslund Antikviteter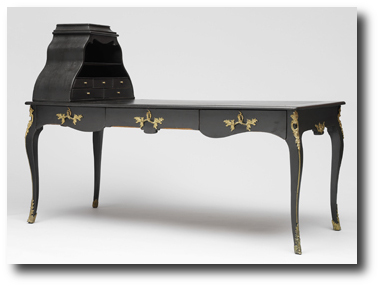 Swedish Rococo Desk. Black lacquered Stockholm Work with gilt bronze fittings.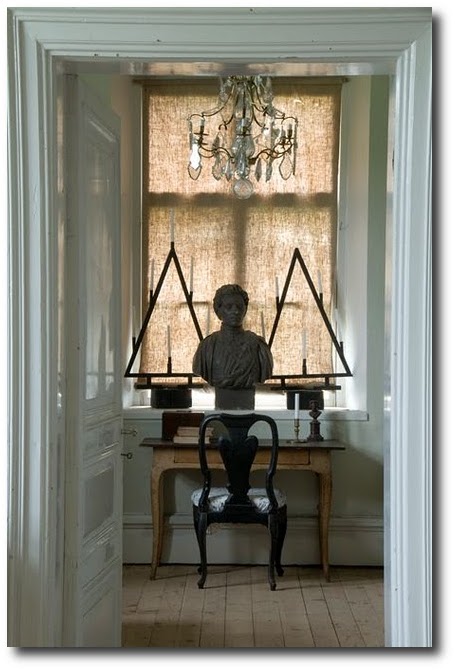 This beautiful picture credited to Lars Sjoberg was featured on the Swedish Blog Designe
Swedish Decorating With Rustic Looks – Sköna Hem
Rustic Elegance – Sköna Hem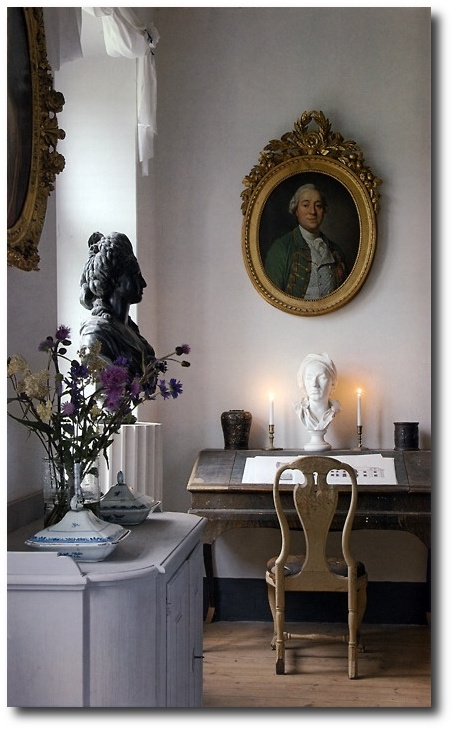 via:thedecorista.tumblr
Rustic Elegance – Sköna Hem
Chest of three drawers, Denmark circa 1750, with serpentine drawer fronts,
shaped top, and bracket base. The hardware and painted surface are original
Rustic Elegance – Sköna Hem
Black Painted Mora Clock From Tone on Tone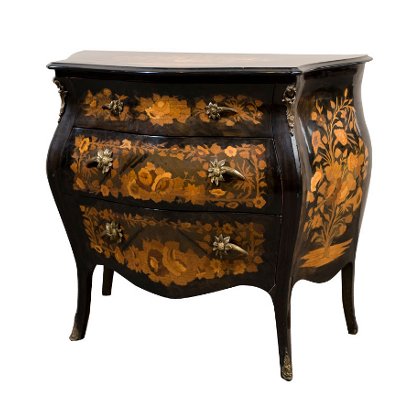 French Louis XV Hand Painted Commode –Carrocel Restorations
Each facet of this commode has intricately hand-placed inlay using old-world techniques. The inlays are absolutely beautiful. The ebony finish on the wood is a great contrast to the more vibrant inlay. Also, take note of the smooth clean lines that flow up and down the piece – met at top and bottom with solid brass floral carvings. This piece would certainly be a welcome addition to a hallway entrance, bedroom, or living room.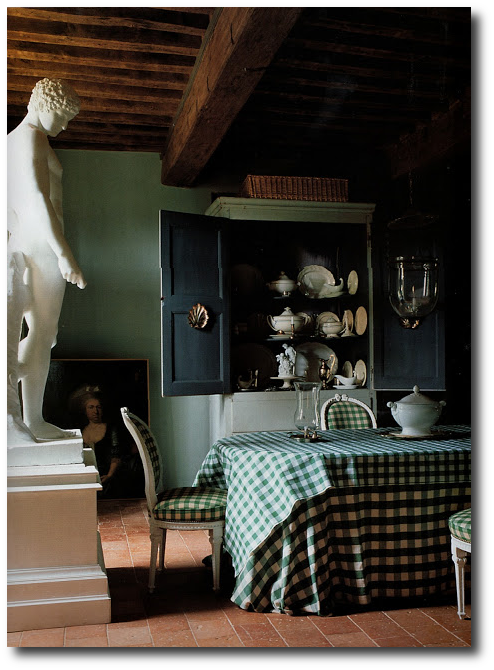 The Dining Room At An 18th Century Manor House In Burgundy
The World of Interiors, Jun 2005 genusloci.blogspot.com
Christopher Howe offers a very unique stock. Since the age of 20, he has acquired items dating from the 17th through to the 20th centuries. Most of his stock is available to view online or can be seen in his shop located on the prestigious Pimlico Road in London.
Distressed Swedish Antiques From Næslund Antikviteter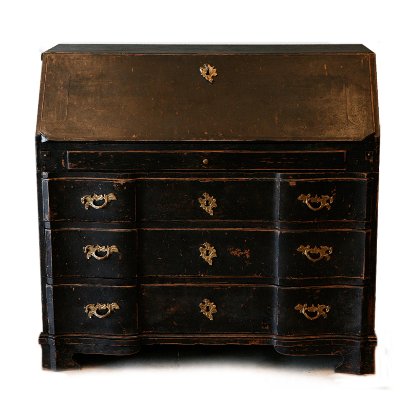 Galerie Half in Los Angeles is selling a stunning Swedish secretary which is still painted in its original milk-painted finish. The distressed paint and its brass handles really provide a great contrast against the black paint. You can see that this secretary has a really dark painted finish that you often don't get with normal latex paint. The color is striking and would look terrific against a classic gray painted wall.