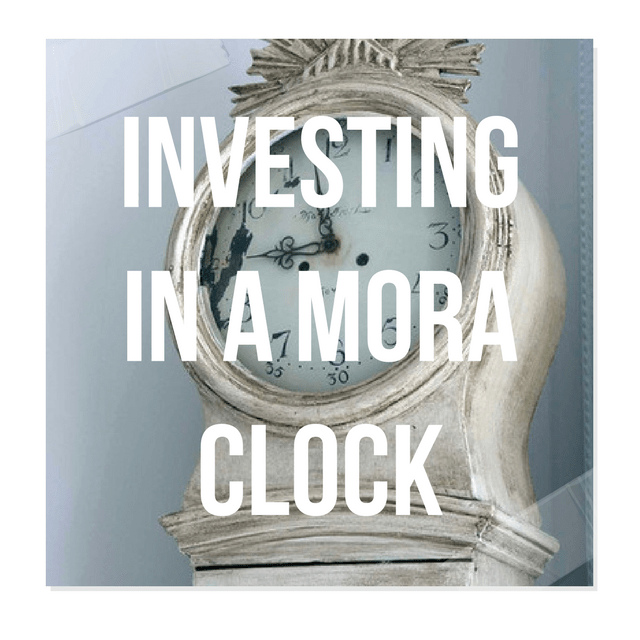 Swedishinteriordesign.co.uk specializes in Swedish Antique Gustavian, Biedermeier, Rococo and Country Painted, Veneer and Natural Wood Furniture.
In the Homes and Antiques April 2014 Issue, Swedish Interior Design was asked to spill about Mora Clocks. Here is what they had to say:
A grandfather clock by another name?
A Mora clock is specifically a longcase clock made in the town of Mora in central Sweden during the l8th and 19th centuries.
Why there and and why then?
Bad harvests in the 1700s meant that the farmers of Mora, which was a largely rural community,
had to come up with a way to supplement their income. The pendulum clock had been invented by Dutch scientist Christian Muygens in 1656 using the sketches of Galileo so there was already something of a tradition for making clocks of this sort in Scandinavia and the cottage industry quickly developed. Each family in Mora look responsibility for making a certain part: the pendulums, the faces, the brass mechanics and so on.
Tell us about the clock's defining features…
They are known (or their curvaceous hourglass shapes and are more often than not painted in pale greys, whites or blues as these colours reflected candlelight better on long dark evenings. Sometimes they will have 'kurbits' folk art designs – a form of bold, painterly decoration most
recognizable from wooden Dala horses that originate from Dalarnia, the same region that
Mora clocks come from.
How easy are they to come by?
Oddly the largest collection of Mora clocks is here in the UK. It is owned by Jo and Madeleine
Lee who run Swedish Intorior Design and have just moved their business to an old granary near Shoreham where you can find over 50 of the clocks in stock. Look out for ones marked 'AAS'. They may well be made by the first Mora clockmaker Krang Anders Andersson whose oldest known clock dates to 1792. Be wary though, the moniker has been copied onto later clocks so check for documentary evidence of his craftsmanship.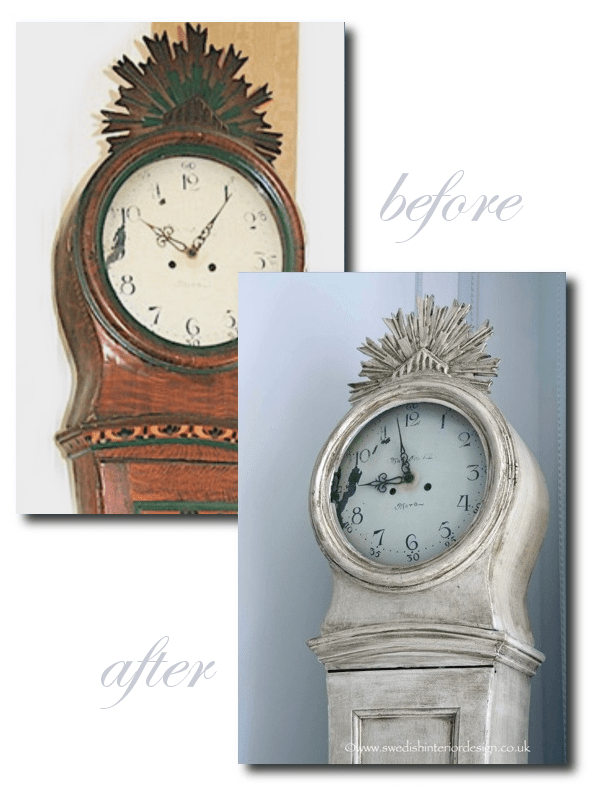 Jo spills some of his secrets of how he goes about refreshing Swedish antiques that need a facelift.
He discovered this Mora clock about many years ago, and it was one of the first pieces he found in Sweden. He loved the clock but wanted the overall look to fit into their 1886 apartment which was decorated around whites and greys.
The clock was found painted in a "Kirbits Folk Art Style…..
"It was statuesque, superbly proportioned, elegant and painted in reproduction Kurbits Folk Art style. The repaint was probably done in the early 1900s and the colours they had used and the painting style were rather garish. The original Kurbits Folk Art Style was prominent in Sweden in the early part of the 1800s and was a freehand style using feather shapes, swirls and subtle earth tome colors (reds, ochres, yellows, oranges) to create a visually sumptuous but definitely country style. You can see examples of the kurbits painting from the early 1800s by looking at the 360 degree view of the Swedish Interior Design Kitchen where we have freestanding cabinets from 1799, 1803 and so on with the original Kurbits paint."
Jo tells us how he made this clock look antique with paint:
Step 1 – "Key the entire clock with medium sandpaper (180 grit) to allow the paint to grip and look it over to decide whether there were any bits that needed gluing or fixing. Generally I prefer to leave pieces 'as is' if possible rather than fix them up to much as the life they have undergone is part of their character and makes them real"
Step 2 – "Prepare The Tools In this case a variety of brushes of different sizes to allow me to get a fine coat on to the clock without filling up the wonderful crenulations and shapes on the body with excess paint. You can get very carried away with special brushes but actually we generally use pretty standard ones – my brush heads don't have to include virgin yak tails from Mongolia! In this case I used a Craig and Rose acrylic paint (I used Regency White in the Chalky Emulsion finish), which dries nice and quick and that goes on very smoothly with a nice chalky texture. I didn't use a primer in this case but you can if you want. Alternatively, any chalk-like paint such as Farrow and Ball's Estate Emulsion, Chalk or Milk Paint could be used. With Chalk and Milk Paint, you would have to wax the piece and not glaze it as I did, which I will talk about a bit later."
Step 3 – Base Coat "A nice smooth stroke with a larger headed brush to keep an even spread and smaller headed brushes or ones where I've cut them to an angle for getting in and under things! Always be careful not to let the paint pool or drip and consider it from several angles to make sure the coverage is good. Once I'd built up the base coat, I added 2 further coats at a slightly watered down consistency until I liked the visual texture"
Step 4 Sand "Light sand to matte the paint down a bit with 320 sandpaper and then some judicious distressing either in the right places where you would naturally get a lot of use (like the handle in the pendulum door) or for effect (to highlight a special feature). I also use a razor blade too sometimes for a different look"
Step 5 Antiquing. "Now that I like the basic color and the level of distress, I decide how and if I should antique it. When well done, antiquing really adds to the feel of a piece and can highlight its decorative mouldings, giving them a 3D effect. But if overdone or clumsily applied..awful! Many people like to use wax but I prefer to make up my own antiquing fluid using an acrylic glaze as a base. I mix the acrylic glaze with a dark brown, grey, red or yellow paint so I can create an antiquing color that matches the color tones I want to effect and it still looks like the real 'dirt of ages'. So sometimes it's greyer, browner, more yellow, ochre or red – whatever you need for a special job. The key is "think" where naturally dirt would accumulate and build it up in layers and once that's done to see if you want to use it as a special effect to highlight any feature. Another light dusting with 320 sandpaper in places and then stand back and admire the handiwork"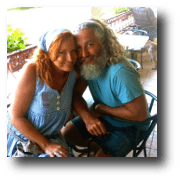 Jo and his wife Madeleine, in the left picture
You can see their unique collection of antique mora clocks, and other Swedish furniture by viewing by private appointment 7 days a week.
Call +44 1273734371 or visit the website at www.swedishinteriordesign.co.uk
Also, look up at Swedish Interior Design blog for more tips of how to decorate with Swedish furniture.
Follow Jo on Facebook, follow his wife's blog Madeleine Lee.com
Madeleine In their Swedish Home
Picture Credit- Swedish Interior Design
Beautiful creamy whites and golds seen in their home
Pictures taken in their home for a fashion editorial in Coco Indie Magazine, see more at bellakotakphotography.com
Clock 1: Unique Early 1800s antique Swedish mora clock with an incredible original trompe l'oieil wreath motif and a very unusual larger head with stunning roman numeral clock face
Clock 2: Early 1800s antique Swedish mora clock in original white paint.The mora clock is in good condition and features the makers name 'Roth of Norkoping' and elaborate beautiful handpanted gold curlicue designs.
Clock 3: Very early 1800s Swedish mora clock in original paint. Incredible ribbed crown motif on the hood and very distressed but structurally sound.
Mora Clocks From Swedish Interior Design