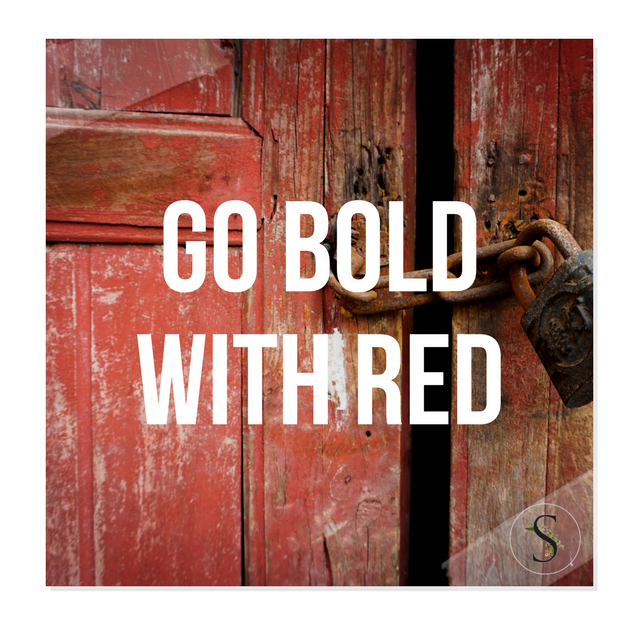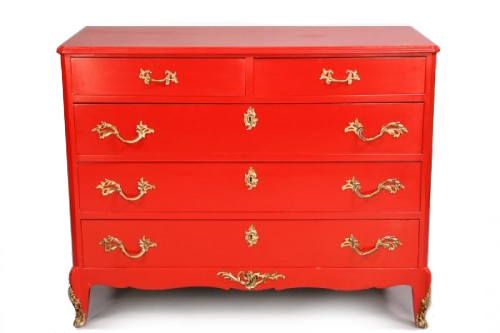 French Commode Lacquered Red From Live Auctioneers
The color red is grand, and is a color everyone considers for their home at one time or another. The color red is a symbol of privilege and wealth. Official seals often use the red, as a gesture of confidence and authority. Red can make a statement in your home in a very powerful way, although it can be hard to execute. We show you 5 ways to pull off this color with success.
5 Ways Of Using Red In Your Home
1. Use Red In The Kitchen Or Entry Way
Red is the color of passion and has been known to stimulate blood pressure and heart rate. Red also sparks passion, love, and enthusiasm, so it is color often used in romantic restaurants. What better place to encourage conversation and hunger, than at the dinner table.
Consider painting your dining room table red. Instead of painting the whole table red, leave the top untouched, in it's natural wood state. To add a Swedish touch, consider painting the details in gold. In this post, you can see how lovely a red can look in a country provincial style.
2. Use Red In A Pattern on Decoupaged Furniture
There are many ways of decorating with red other than painting your walls. One way of doing this is decoupaging furniture. Decoupaging is rather easy, and you can execute the process a number of ways.
One way is to use cut outs. Simply find an image you like from a magazine or on the Internet, and photocopy it several times over, which you can then cut out, and apply it to a piece of furniture. This Swedish tiled stove would be an excellent example of how lovely a red floral pattern would look on a chest.
You can even take fabric and glue it to a chest, with modge podge glue. Add pattern into your home, or finish off a room based around patterns by decoupaging your furniture.
Inspirational Posts On Decoupaged Furniture
How To Decoupage Furniture– The Swedish Furniture
Louis XV Style Red Lacquer Side Table From Hastening Antiques – Provincial Furniture
4 Easy Steps To Decoupage Beautiful Furniture– The White Dresser
Decoupage Is Simple! Update Your Kids Furniture– Kids Room Decor
Swedish Interiors: How To Decorate With The Color Red– The Swedish Furniture
3. Use Red In Acessories
-Add a bit of a modern glam using abstract art with bold touches of red. Consider using a heavy ornate frame with a modern poster. Modern Styled Paintings or Posters would add a modern touch in a home with plenty of antiques.
–Juju wall hats are a perfect way of adding a bold touch of red in a room. You can purchase these hats in a number of vibrant colors, which can be placed above a dresser, a console table to add in a bold touch of color into your room.
-Below you see the Stockholm apartment in Sweden with the red room. Below it shows a picture of the living room based in white with natural wood furniture. If you want a room based in lighter colors, consider a large area rug in red, like they did. An over-sized floor rug can make a bold impression.
– Another way of adding saturated color into your rooms is to accessorize with red wool blankets. Point blankets can add a rustic touch to your home, and can be thrown over the sofa, or used on the bed, or stacked on a shelf.
– Chairs are a great way of implementing red into a room. Chair frames can be painted red, or upholstered in red fabric.
-If red walls are a bit too risky for you to consider then why not consider red and white bedding? Paint your bed-frame red, with touches of gold, and consider getting a comforter, sheets,a pillowcases all in red. Or paint the frame gold and red, and go with an all white sheeting as you see below.
Original Photo From Lars Bolander's Book- Scandinavian Design
This Swedish apartment features five fireplaces, architectural double doors, high ceilings and breathtaking views of the central Stockholm, Sweden. While white, and gray is typically used in Swedish design, here we see red in the bedroom. Red rooms convey a feeling of intimacy, which makes it a wonderful choice for the walls.
Antonio Lucio Vivaldi- A prolific composer who created hundreds of works, he became renowned for his concertos in Baroque style, becoming a highly influential innovator in form and pattern.
A great picture to frame. Get this reproduction painting here
Jacques Jean Baptiste Tilliard Settee The Getty Museum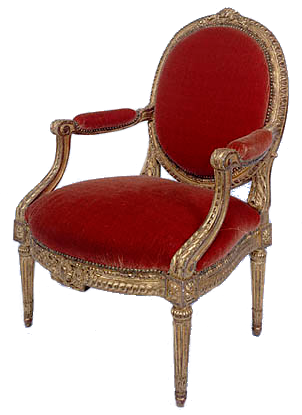 Velvet Covered Chair- The Getty Museum
Louis XVI Chairs came in a variety of shapes and sizes in eighteenth-century France, with carving frequently matching that on other pieces of furniture such as Italian Console and Mirror , settees, French mirrors, or the wood paneling. By the 1700s two types of chairs had developed for formal and more relaxed seating arrangements. Chaises furnishing chairs were designed without carving on their backs and were arranged symmetrically against the wall around the sides of a room. Chaises – running chairs could be moved around a room and were designed to be seen from all sides.
This set of antique living rooms consist of four antique French chairs and a settee ( 3 seat sofa ) was designed to be arranged against a wall. The antique wooden frames are fairly massive, yet the carving of the decorative elements is extremely fine. The decoration incorporates such Neoclassical motifs as crisp acanthus leaves, egg-and-dart molding, and straight, fluted legs.
Michael Perlmutter Architectural Photography
Swedish Apartment In Stockholm, Sweden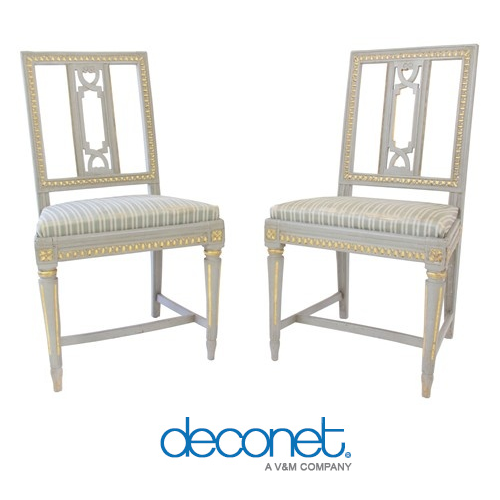 Old fine Gustavian Chairs- Buy them at Scandiadecor
Swedish Apartment In Stockholm, Sweden
Mrs Blandings posted some beautiful pictures of a home decorated in the Swedish style that originally was featured in Veranda's July/August 2001 issue.
You can see the house is based around whites with accents of green. A solid red upholstery on a white painted chair can look amazing.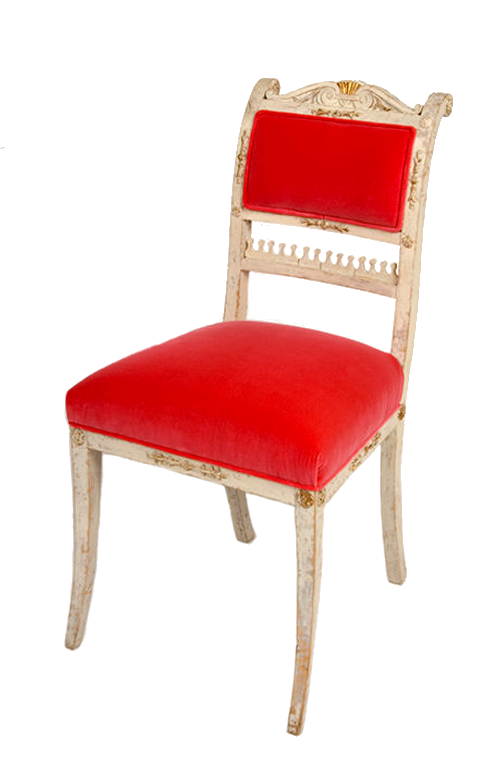 A White Gustavian Chair is upholstered in red fabric. Look how the frame is distressed.
Featured on Karina Gentinetta's Blog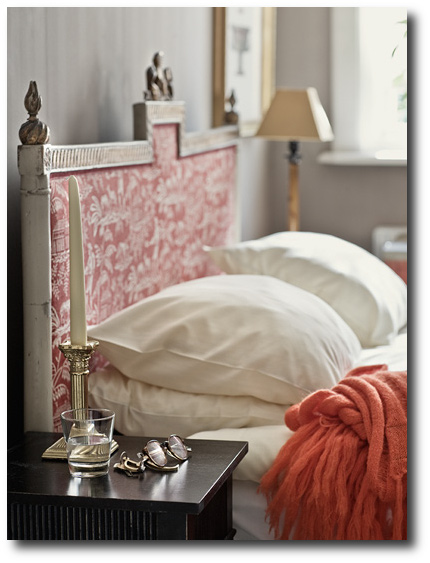 Stunning Swedish Upholstered Headboard From Wreta Gestgifveri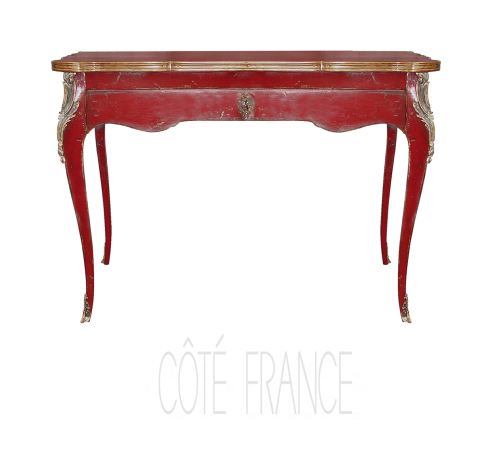 LOUIS XV Bureau with red lacquer finish- From Cote France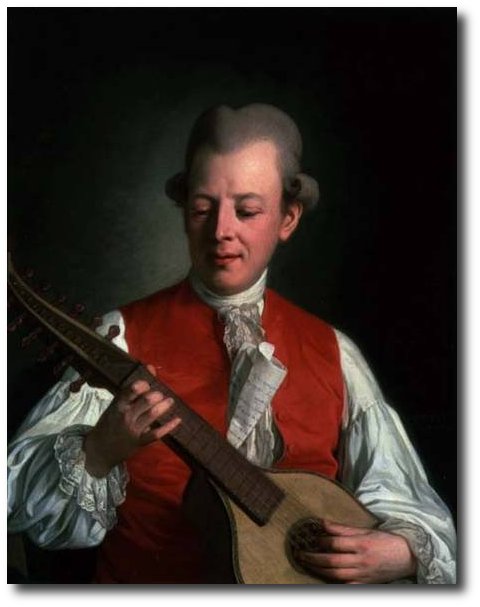 Krafft, Per (1724-1793)
Portrait of Carl Mikael Bellmann (1740-1795) Gripsholm Castle
Collection
Audience room in Gripsholm Castle, Mariefred, Sweden
Gripsholm Castle – Here
Gripsholm Castle- www.flickr.com
Mauve Colored Walls- Gripsholm Castle- members.virtualtourist.com
Mauve Colored Walls- Gripsholm Castle Here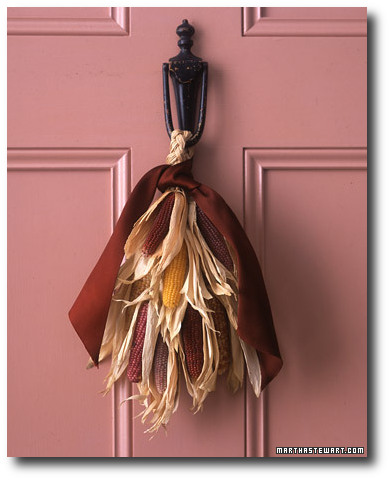 Mauve Painted Door With Rust Colored Ribbon- Martha Stewart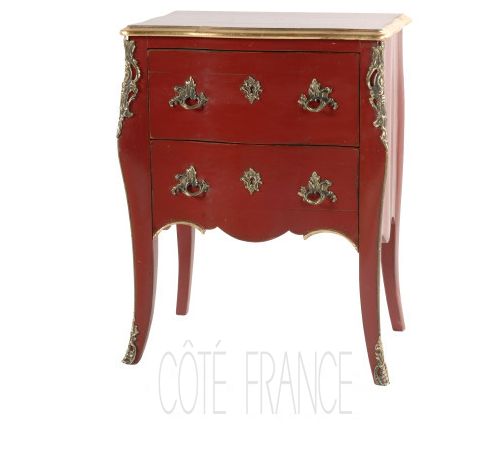 Commode in Red- French Furniture From Cote France
Mariedal Castle
Governor's Palace in Stockholm.
Stockholm Sweden Wallpaper-toptravellists.net
A visit to Cottage And Garden in Newport,Henhurst Interiors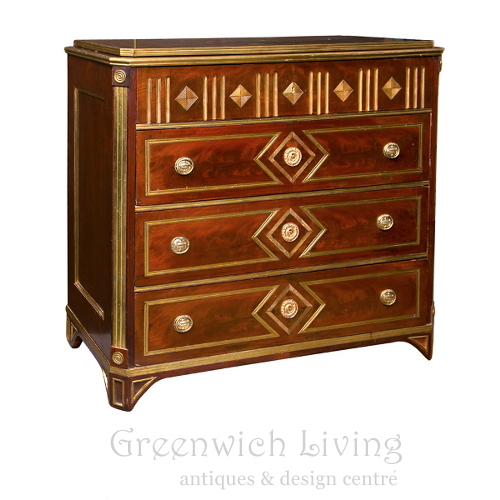 A Fine Russian Neoclassical Commode – Chest Greenwich Living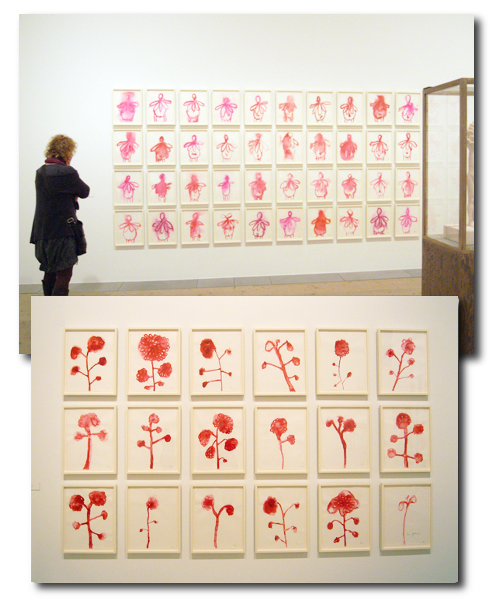 A Modern Interpretation of Botanical Prints
Louise Bourgeois exhibition at the Nordic Watercolour museum-Camillaengman.blog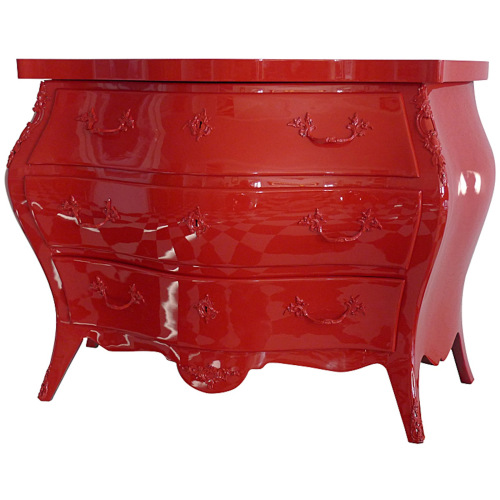 Red high gloss lacquered bombay chest. Design by Laserow Antiques & Interior Design. See this chest together with art by Carolina Gynning and sculptures by Agneta Gynning at the exhibition Gynning X 2. Featured on Old Vs New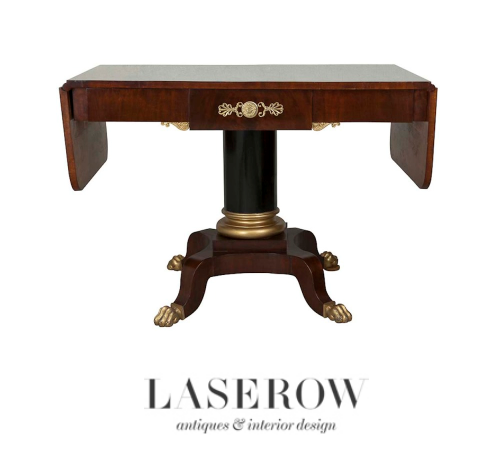 A beautiful Karl Johan table made during the period 1810-1830. Made in mahogany with gilded lion feet and column base. Drawer in frieze is decorated with a gilt bronze lion head surrounded by palm leaves – characteristic for the period. Signed SEST – standing for the cabinet markers for the castle Stockholm, Sweden
For more posts on empire furniture see these posts
Sweden's Empire Decorated Rosersberg Palace– The Swedish Furniture
Biedermeier Swedish Furniture – Nordic Style Blog
Get THIS Reproduction of King Gustav III-Magnolia Box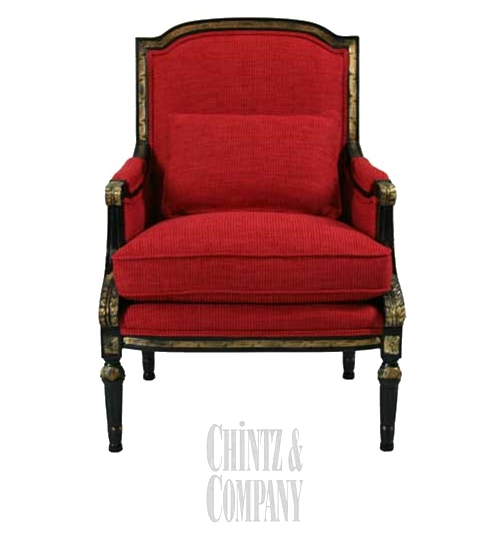 Swedish Looking Black and Gold Chair With Red Upholstery From Chintz & Company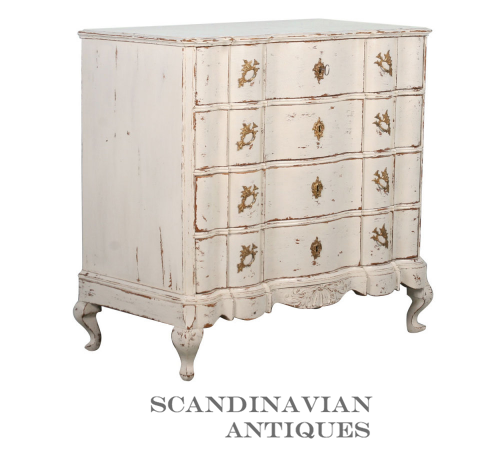 Antique Swedish White Chest of Drawers, circa 1750
This striking chest of drawers sits on cabriolet feet, the serpentine front adding to its strong appeal. The chest is oak, and was just given a white painted/distressed finish in the Gustavian style. Please note the close up photos to examine the superb painted finish; in person the piece is truly striking and one is drawn in with a desire to touch it. The chest of 4 drawers is one piece and rests upon the base and feet, which is how these large chest of drawers were designed. Scandinavian Antiques- Denver CO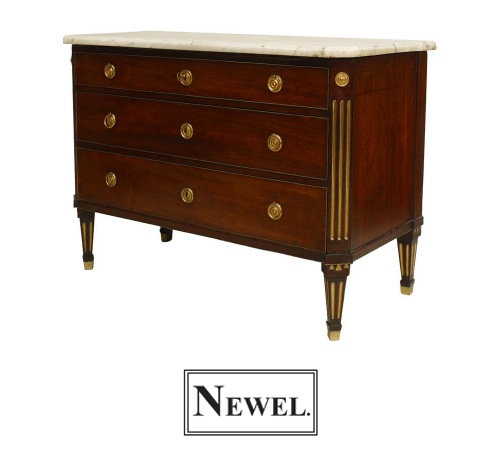 Swedish mahogany commode. The piece features three drawers, brass trim and pulls, fluted sides and legs, and a white marble top. $39,500 Newel – New York