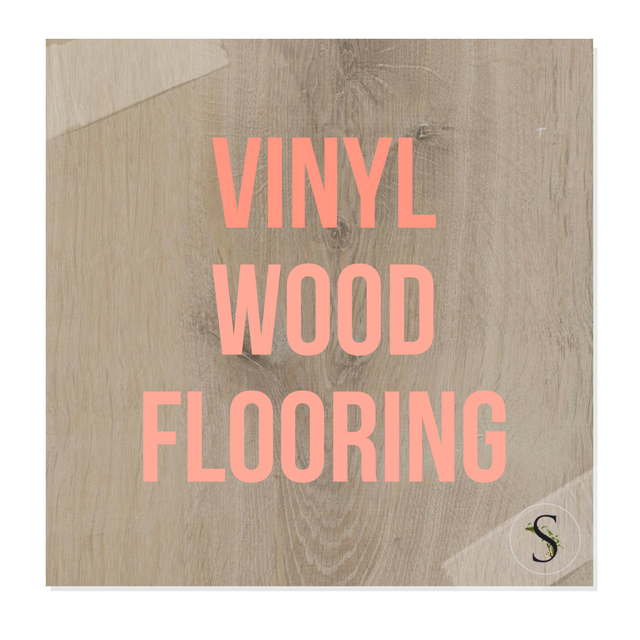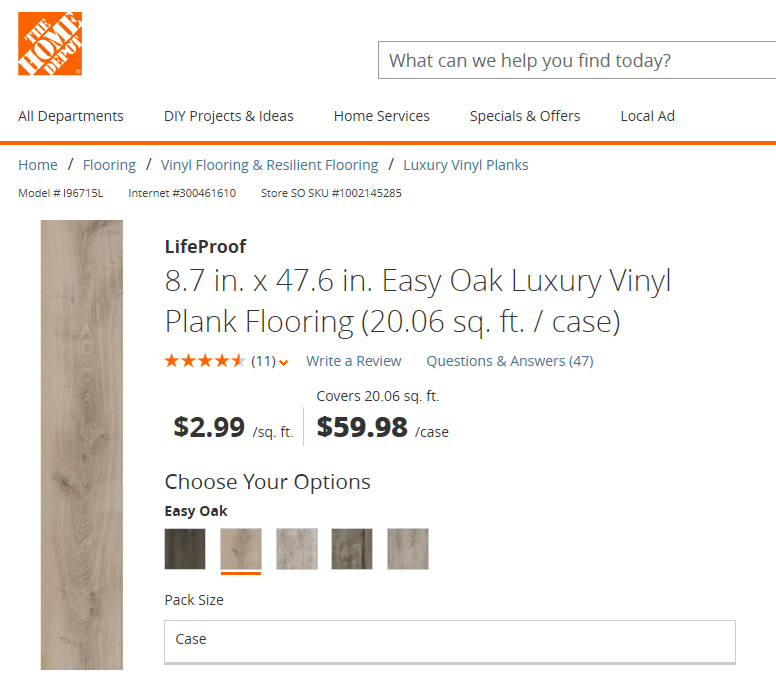 See this option at Home Depot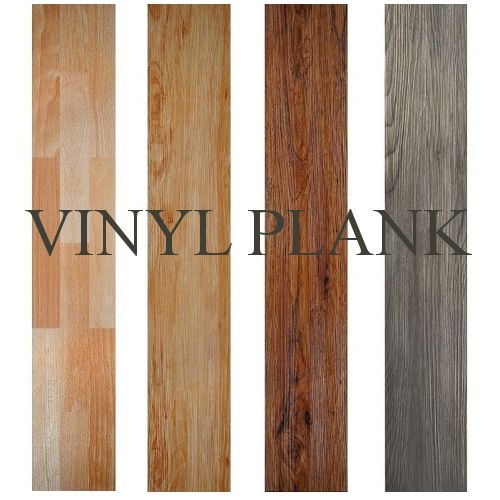 If you're a do-it-yourself type of person who isn't afraid of tackling renovations, then this is an article is a must-read if you are planning on replacing your flooring. Every home is under a budget when renovations come into play. If are a few inexpensive alternatives for the rich look of hardwood flooring.
Inexpensive Options For The Wood Floor Looks
Vinyl Plank "Peel and Stick" Flooring.
Vinyl wood plank floor is a rather new idea that has become popular in the last several years. Everyone is familiar with the "peel and stick tiles", now they have come out with a "peel and stick plank" that replicates plank flooring. If you want to save some money and install the flooring yourself, this might be an option to consider.
Pros For Vinyl Plank "Peel and Stick Flooring"
All that is required to install theses floors is a utility knife with a sharp blade and a tape measure. Peel-n-stick vinyl flooring means the adhesive has already been applied to the back of the vinyl, and all that's required to install the vinyl plank is to peel off the protective paper and firmly press the plank in place. Unlike wood flooring, vinyl wood plank floors don't require a miter saw to complete the cuts around the room. Vinyl planks can be cut to the appropriate size with nothing more than a good utility knife and a metal ruler.
-Lowes Style Selections put together a very simple video guide of how to install the Peel & stick vinyl plank floor. These tips will give you a professional look- Here
-In this video, a customer makes a video of how to install plank flooring. What I love about this video is this customer is an every day person who hasn't installed flooring before. If you are considering buying this flooring, and are worried about how to install it, this video will put your mind at ease- Here
-One Ladies Kitchen Transformation here
Many companies have mimicked numerous varieties of wood in countless colors. The reason vinyl has become so popular is the material is durable and easy to clean, and anyone can install it. You can spill almost anything on the floor, and not worry if it will stain the flooring like you would with wood.
Traffic Master Vinyl Flooring Colors
Our floor has a large sheet of vinyl flooring that is meant to look like hardwood and it has held up quite well since we have lived in our home. I could drag a large piece of furniture across the floor, and it likely wouldn't scratch like laminate would.
Large sheets of vinyl are pretty complicated to install for the average DIY homeowner, where as the individual planks make it easy for any homeowner to install with ease. You could easily do a room over the weekend yourself, and I suppose you could haul these boxes home in your car compared to rolls of vinyl.
Protile 4″ x 36″ Vinyl Plank in White Wash -36.-Square Feet per Carton $47
On the Voices Yahoo Site, One Customer gives this product an in-depth review, here are some of the comments I found interesting:
"Seeing our strong interest but still sensing some hesitancy, the Home Depot employee told us that WalMart had been installing this flooring in upgrades to many of its stores. In fact, he suggested that we go visit our own local WalMart to see TrafficMaster Allure flooring in use – they had installed it a year ago. We went, we looked closely, and we were impressed. Regardless of what you think of WalMart as a flooring reference, you know that they get lots of people through their stores and the flooring they use has to hold up. The TrafficMaster Allure flooring looked great in WalMart."
"While on the carport, several hundred dollars worth of Traffic Master Allure was subjected to two bouts of heavy rain that flooded our carport and soaked our boxes of wood vinyl flooring. We were very concerned that we had lost our flooring but we opened the ruined boxes and let the TrafficMaster vinyl planks air dry. Surprisingly, everything seemed to be fine. The vinyl wood planks dried perfectly, the adhesive was still plenty sticky, and there was no warping at all."
"Cost-wise, at $2.39 a square foot, TrafficMaster Allure is about the same price as the average floor tile, comparable in price to Pergo laminate flooring and half the price of hardwood flooring. Additional cost savings can be found because it is entirely possible that you can install this flooring by yourself – even if you aren't an experienced do-it-yourselfer. It is also much quicker to install time-wise than a tile floor. My only complaint would be in selection choices at the store. There were several color choices in stock at Home Depot and no one mentioned that even more choices were readily available online"
Not For Concrete, One Customers Experience
Cons For Peel and Stick Plank Flooring:
Apartment Therapy did up a post called "TrafficMaster Allure Vinyl Flooring" where they posted comments from a Home Depot employee left on their website. Check out the post and look over the dozens of comments left on the article, before purchasing the product.
1. Peel and Stick Plank Flooring IS Not for Concrete Flooring.
This style of flooring is meant to be used in rooms that are normally kept at room temperature, (65 to 85 degrees). If you are thinking about using it in a basement, or sun room that are rather cold, then vinyl plank flooring is not for you.
On the Buzzillions website, the picture above shows Traffic Master flooring installed over concrete, and it looks horrible. "I installed my Allure floor in Oct of 2008 over concrete floors (30 year old house, basement, previously I had carpet down with zero water issues) . In the spring of 2008 the below started. I can scrap up the glue and clean up the floor only to see the same thing happen again within 2weeks…. I'm planning to go to them to see what they can offer as a replacement"
2. The Pattern Wears Off
Vinyl wood plank floors cannot be re-finished and have a relatively short life-span compare to solid wood floors.
Depending on the thickness, manufacturer, and foot traffic volume, vinyl wood plank floors might only last a short amount of time. After the floor has reached the end of its life, it will have to be removed and a new floor installed.
Solid wood floors on the other hand afford the homeowner the ability to re-finish them several times, even allowing for the ability to change stain variations and colors as they re-decorate.
One customer leaves this comment:
"I put it down in my kitchen over a smooth surface (vinyl sheet over plywood), but after a few years the edges turned white as well as several areas where the "wood" surface wore off leaving big areas of white. We use gentle cleaners and there are only a few people living in the house so it doesn't get tons of traffic. I love the product for the ease and look, but now I have to replace my floor after only a few years!"
3. Look Closer, It Does Look Like Plastic.
Vinyl hardwood has become quite popular, because people want a nice look for less. In our modern society, almost everything is faux, and many people are perfectly content with it. Many people aren't snobs about their interior, and aren't particular about the style of furniture, color schemes, matching drapery and so forth. If you are a person that is rather particular, vinyl floor may bother you because it is plastic, and not real wood. Vinyl isn't cheap, and yet costs quite a bit of money, and it doesn't even compare to real wood. So if you think the faux look might bother you, I would suggest getting real wood.

Zoffany's Wallpaper collection, Gustavus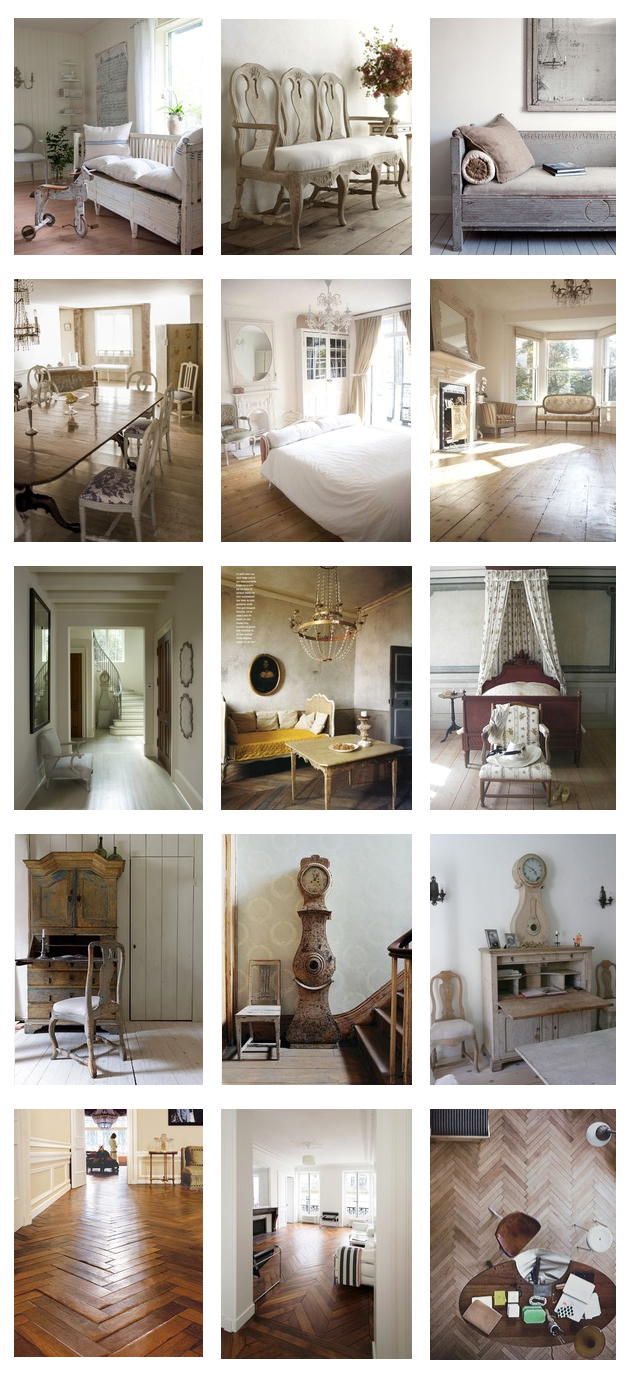 Check Out ALL the colors from Hangzhou Enzo I/E Trading Co., Ltd.