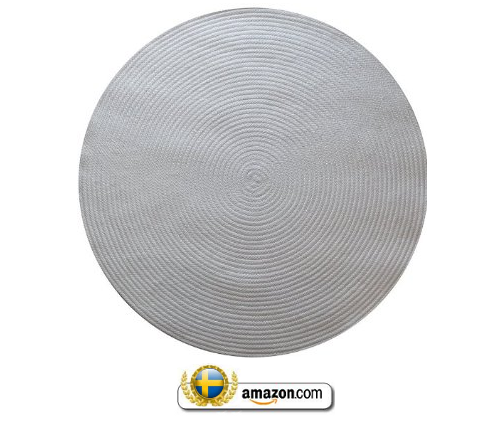 Braided Rug 80″ Round Off-White $109
The careful selection of your homes rugs can really bring alive that Swedish look you are after.  Last month, I found myself spending hours trying to select a rug that would work perfectly for our outside covered patio.  After browsing endless patterned rugs, I found myself drawn to plain, simple braided rugs.
Living in Seattle for a short period of time, I left several large sisal rugs outside under a lofted outdoor barn, only to find later they were molded, so much so, that I had to pour bleach to remove the dark black spots that were left on the rug.  So after that experience, I didn't want to chance getting the wrong rug for my outdoor patio.
Super Area Rugs on Ebay, had a large selection of rugs that work for indoors and outdoors.  The intricate braided detail was enough pattern, and also gave my space that simple look I was after.  These rugs can work for the indoors, as well as the outdoors.  I ordered an Oval version of the "Reversible Braided Rug in Blue Ice Color"  When they arrived at my door, they were rather light, made of a synthetic material, which enables them to be washed and used outside throughout the winter.
In this post Swedish Decorating MUST Haves – Natural-Fiber Rugs I show pictures of jute rugs, sisal rugs, and hemp, all great choices when selecting a rug for a Swedish home.  If you want something different, consider a braided rug.  I have found they come in very pretty light colors such as blue, ice blue, and white, amongst so many other colors.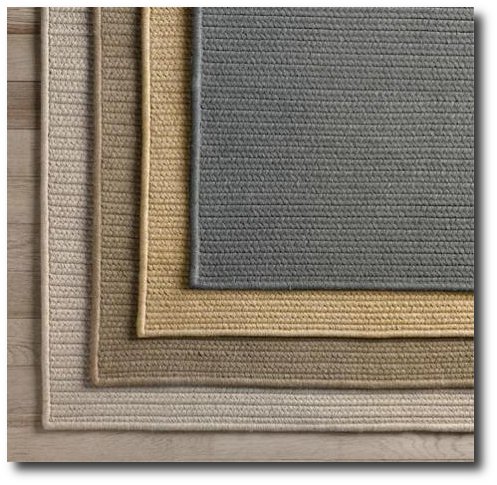 Sunbrella Solid Braided Outdoor Rugs- Find Them On Amazon
Here are some selections that would work with a Swedish style home:
– Rhody Rug Braided Rugs In French Blue–  Amazon
– Rhody Rug Braided Rugs In SOLID Navy–  Amazon
– Rhody Rug Braided Rugs In SOLID Key Lime– Amazon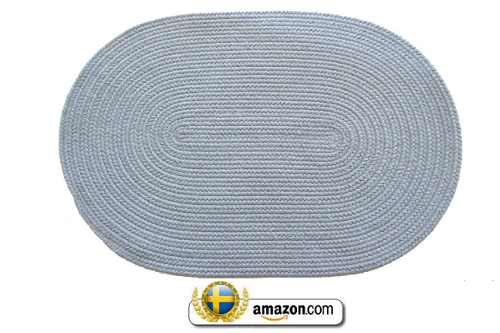 Solid Braided Rugs By Rhody Rugs- In Hydrangea Color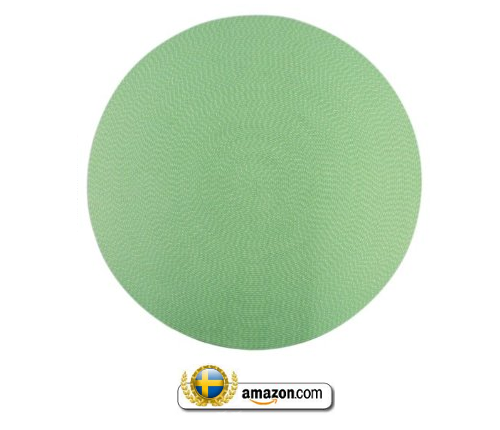 ITM Indoor/Outdoor Braided Rug, Green, 8-Feet, Round- $199
ITM Indoor or Outdoor in Periwinkle Blue – 8 Feet Round $199
ITM  Indoor/Outdoor Braided Rug, Blue, 6-Feet, Round $144
ITM Nautical Braided Reversible Rug, 5-Feet by 7-Feet, Grey $116
ITM Indoor/Outdoor Braided Rug, Dark Blue, 6-Feet, Round $165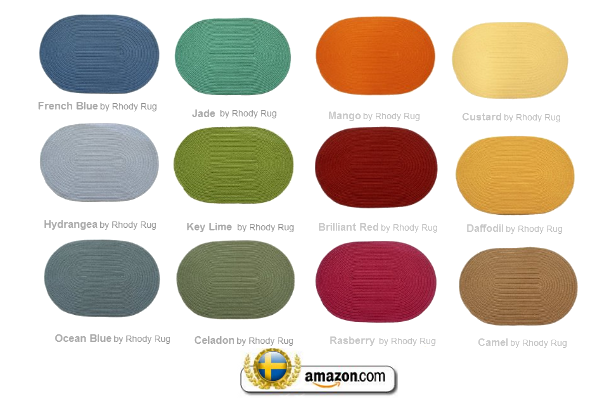 Solid Braided Rugs By Rhody Rugs- You choose the color and size!