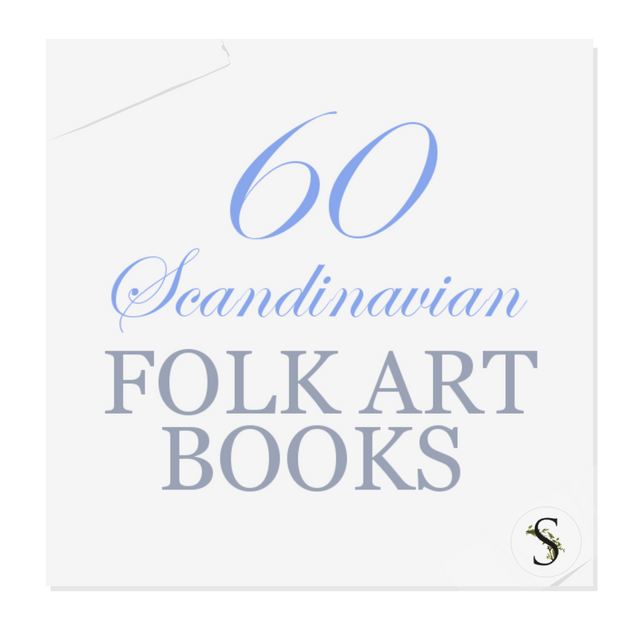 Scandinavia – made up of Denmark, Finland, Sweden, Iceland and Norway -has always had a unique mark on the arts through history. Whether it be needlepoint, embroidery, wood carving, furniture painting, knitting or any other local arts, they inspired each other in these regions, often drawing on the same color tones, motifs, and decorations.
The Nordic style craftsmanship and decorative themes can be seen unique to this northern area of Europe. Chances are if you love Scandinavian furniture, you will fall in love with so many of the different arts that are also found in this region.
Folk art, is celebrated in the international galleries around the world, but it also can be found in people's homes, garages, and attics around Scandinavia. With access to to the internet, you don't even have to know the back streets of Sweden, or speak the language to invest in high quality antique folk art. With esty and ebay within reach, you can pull together a collection for your interior without leaving your home.
"Folk art" is the most common term to describe the every day craftsmanship of people from one region or another, which depicted the artistic talent of life and times in art. Almost everyone has a hobby today, and it was more so, 100 to 300 years ago, when the family didn't gather around the television for three hours each night. People had so much more time that could be devoted to the arts when the children were home schooled, and mom and dad worked off the land. Life was so much better back then, and you could have a little piece of that history.
The art was influenced by the culture, which is why German, Italian, and even American folk art each has their own style and flavor. Many of the popular collectible folk art pieces include handcrafted toys, quilting, wood carvings, and basket weaving. Folk oil paintings can be some of the most expensive range of collectibles within Folk art. Oil paintings emerged in the late 1700's but only until the 1800's did it really begin to flourish. Folk artists were often self-taught, and considered amateur artists due to the fact that they were not academically trained in the fine arts. These paintings are some of the most collectible of the wall art, and surprise, surprise,….sometimes they are inexpensive! It is amazing what you can find on ebay, if you are willing to wait.
Here is a collection of 60 books that focus their attention on Folk art, or the Scandinavian region in general.
Don't judge a book by it's price, as I have bought some books for less than $5 dollars and they happen to be higher quality than the more current books you can easily spend $40 dollars on today.
While I haven't read all of these books, many of these books listed cost than $10 dollars….! If you are interested in learning how to knit, or work embroidery, you can create your own art with designs from the past. Check out my unique list below:
Books On Amazon:
1-Swedish Folk Art: All Tradition Is Change– Used On Amazon From $8.93
Book Review From Lauren- "I have a huge interest in this subject and so I was pretty excited when I found it in my university's library. I didn't finish it since it's a pretty thick book. Since I enjoyed it, wanted to reference back, and read further, I bought here on Amazon. Not only are the pictures nice, the information is pretty solid. The information probably won't really be considered outdated, so it's a nice addition to my own personal book collection."
2-Swedish Folk Art: Floral and Kurbits Designs – This wonderful book of Swedish Folkart is 88 pages, 62 color with coverage of all the major styles of Swedish Folk Art from 1750 to 1900. Included are 32 projects with photos of antique pieces and pages of basic kurbits and floral forms with strokework by author- Used From $15 On Amazon
3-Our Nordic Heritage Ingalill Snitt-Our Nordic Heritage presents the 18 sites in the Nordic countries which have been inscribed on UNESCO's World Heritage List – the cultural and natural heritage of mankind. Areas with this status represent outstanding and irreplaceable cultural and natural treasures. They are important to us as sources of experience and understanding of our manifold historical, cultural and natural background. Buy It Used From Amazon $18
4-Masterpieces of Dala Peasant Paintings by Svante Svardstom- Buy it On Amazon $26
5-Design Basics for Swedish Folk Art by Diane Edwards- This is a beginner book for learning the basics of Swedish Folk Art, a beautiful painted art that was done in Sweden in the 1700, 1800's and early 1900s. There are several different styles which are described in this book and there are patterns of each with complete instructions. There are several pages with illustrated strokes to show the novice painter how to approach and decorate wooden pieces with this ethnic art form. Diane Edwards has done much research into Scandinavian folk art and she has simplified the approach to this art form using acrylics and easily available brushes for today's artist.– Buy Used From $9.
6-Scandinavian Folk Designs (Dover Pictorial Archive) by Lis Bartholm-With 155 traditional motifs to choose from — all adapted by noted Danish designer Lis Bartholm — today's artists and craftspeople can re-create many of the lovely patterns that ornamented domestic furnishings generations ago. The eye-catching elements have been adapted from designs that decorated china or were painted or carved on furniture, walls, and wooden dinnerware.- Used from $2
7-Scandinavian Cross Stitch Designs by Jana Hauschild Lindberg- Add a touch of simple Scandinavian charm to your home with these dozens of elegant cross-stitch patterns. Designs range from fifth-century woven textiles to original paper cuts made by the famous Danish fairy-story teller, Hans Christian Andersen. Projects draw upon traditional Scandinavian symbols and motifs that have been handed down from generation to generation and upon the beautiful natural environment and wildlife of the region. Used From $4
8-Swedish Folk Painting of Dalarna: Wall Kurbits and Furniture Rosepainting by Patricia J Virch (1981) Used From $78, New From $144
9-To Amerika: Dala paintings by Bengt Engman – Locate It on Amazon, Or Ebay
10-"DALMALNING" Central Sweden's Peasant Painting by Lois Bostrom Nuermberger- Used from $5
11-Scandinavian Folk Patterns for Counted Thread Embroidery by Claudia Riiff Finseth- Scandinavian Folk Patterns for Counted Thread Embroidery draws needleworkers into the world of Nordic folklore and tradition. In addition to presenting a comprehensice discussion of mythology and the folk history of narrative textiles in Scandinavia, Claudia Finseth creates fifty-eight striking original counted thread designs. Nordic history, culture and tradition come to life for modern embroiderers through the imaginative adaptation of traditional themes. Many of the projects feature the classic decorations that once adorned Norwegian, Swedish and Danish homes: bellpulls, table runners, wall hangings, samplers and Christmas decorations. The designs fall into five categories, each containing numerous spin-off projects for varying skill levels and imaginations. Used From $1
12-Folk Art Designs: From Polish Wycinanki and Swiss and German Scherenschnitte (International Design Library) by Ramona Jablonski- Used From $2
13- European Folk Art Designs (Dover Pictorial Archive) by Marty Noble-Traditional motifs from Austria, Poland, Hungary, Russia, Switzerland, and other European countries include scores of charming designs incorporating florals, wildlife, and human figures in folk costumes. Ideal for adding a touch of Old World flavor to a variety of print and craft projects. 265 black-and-white designs.- Used From $4
14- Folk Art Needlecraft by Clare Youngs Expert crafter Clare Youngs has long been influenced by the folk art of cultures from around the world. Here she uses some of her favourite motifs to create 35 gorgeous projects to make. Clare uses traditional imagery as well as a more modern take on classic folk art – with beautiful results. The designs use a range of different embroidery stitches – including seed stitch, French knots, satin stitch and cross stitch – to create striking arrangements.- Used from $10
15- Russian Folk Motifs (Dover Pictorial Archive)This treasury of 226 designs for royalty-free use, all meticulously rendered from authentic Russian art and artifacts, include motifs from Moldovian carpets, stove tiles, gingerbread molds, architectural carvings, ancient metalwork, and much more. Depictions of Matryoshka dolls, ceramic toys, and woodcuts of characters from folklore appear as well. Used From $2
16- Folk Art: Imaginative Works from American Hands (American Country) by Time LIFE – This volume explores an aspect of the country lifestyle featuring folk art in 175 pages filled with ideas, information and hundreds of brilliant full color photographs. Buy it used from $1
17-Punchneedle Embroidery: 40 Folk Art Designs by Barbara Kemp and Margaret Shaw- Punchneedle embroidery is back! It still features the same quick and simple technique as before, but now with increasingly appealing designs that result in charming works of miniature art. This beautiful volume explains all the basic techniques, so even beginners will soon be able to create the 40 exquisite folk-style projects. Buy it used from $4
18- Folk Art by Robert Young and Robert Liebe- The vitality and simplicity of folk art makes it accessible and rewarding for collectors and a diverse source of inspiration for interior designers. Folk Art is the first book to draw together the wealth of folk art from across Europe, including textiles, toys and games, naive paintings, pottery, and furniture. It explores the origins and attributes of each piece, with guidance on identifying the most collectable artefacts. Buy this used from $8
20- Folk Art Style: Traditional and Contemporary Painting for Everyday Objects by Sybil Edwards The author explores three distinct genres of decorative folk painting – traditional strokework, bold painting and blending – demonstrating the brush strokes and illustrating the huge variety of finished styles which can be achieved with them. Traditional folk motifs, fine art themes, Art Deco designs, contemporary minimalism – all these and more are used as the inspiration for 20 handpainting projects. Buy this used from $1
21-Folk Art Needlepoint: 20 Projects Adapted from Objects in the American Folk Art Museum by Ruth Peltason We are drawn to American folk art for many reasons—its history, its humanity, and, perhaps most of all, its unaffected beauty. With elements both whimsical and practical, this enduring and beloved art form has become a rich source of inspiration for today's craftspeople. For needleworkers in particular, folk art is among the most popular styles to stitch. Organized thematically by types of folk art motifs—among them, hearts, flowers, and daily life—Folk Art Needlepoint offers twenty projects and variations, from pillows and paperweights to a door stop and scissors case, that celebrate the best of American folk art. Buy this used from $1
22- Folk Art of Rural Pennsylvania by Frances Lichten Hardcover: 276 pages Buy this used from $7
23-Textiles: Collection of the Museum of International Folk Art by Bobbie Sumberg Textiles explores the cultural meaning and exquisite workmanship found in the Museum of International Folk Art's vast collection that spans centuries and includes pieces from seventy countries around the world. Handcrafted work in beautiful, vivid colors typifies the clothing, hats, robes, bedding, and shoes that represent the lives and passions of the people who created and used them. Buy this used from $22
24- Folk Quilt Applique by Clare Kingslake -Folk style quilts add charm and comfort to any homes. Here, simple yet effective quiltmaking and appliqué techniques for hand and machine work are combined with a quirky folk style. Drawing on a palette of soft country colors, author Clare Kingslake has created a project collection to brighten up your home all through the year. Discover 20 irresistible projects from small and quick table mats, bags and purses, to attention-grabbing hangings and quilts. Buy Used from $11
25– Folk Art Murals of the Rufus Porter School: New England Landscapes: 1825- 1845 by Linda Carter Lefko- Here is the long awaited update of research on the Rufus Porter Landscape Mural School, greatly expanding the knowledge and understanding of this uniquely American folk art field of the 1820s to 1840s. The text provides detailed documentation never seen before in print. The book takes the reader on a virtual tour of Porter School murals in the New England states, presenting and analyzing more than 400 colorful images, which will provide inspiration for historians, researchers, designers, and painters alike. Buy this used from $60
26- Quilts: Masterworks from the American Folk Art Museum by Elizabeth Warren, Maria Conelli, Stacy Hollander and Martha Stewart- From America's preeminent museum collection, this definitive volume places the quilt firmly in the realm of art. Combining economy with artistry and everyday craftsmanship with extraordinary beauty, quilts hold a unique place in American culture. Each quilt tells a story about its maker and her community; seen together, these monumental textiles paint a broad picture of the development of a national character and uncover the hidden history of women's contribution to art. Buy Used from $37
27- Glorious American Quilts: The Quilt Collection of the Museum of American Folk Art by Elizabeth Warren and Sharon L. Eisenstat Used from $5
28- Living with Folk Art by Editors of Country Living and The Editors of Country Living (Jan 2001)- Patchwork quilts, woven coverlets, hooked rugs, painted furniture, carved decoys—these are among the most popular styles of folk art. If you've fallen in love with their old-fashioned charm, find out how to show them off effectively. Here are great display ideas for entryways, halls, living rooms, dining rooms, and kitchens—along with tips for mounting textiles and protecting baskets, china, and utensils. Buy this used from $5
29- Folk Art Primer by Jo Sonja Jansen and Edna Snyder – Buy Used from $9
30- Painting Folk Art Flowers with Enid Hoessinger (Decorative Painting) by Enid Hoessinger Demonstrates how to paint folk art flowers using ten acrylic colors and thirteen basic brushstrokes, and includes eight step-by-step projects – Used from $16
31- Folk Art of Europe by Helmut Theodor Bossert- Used from $5
32-Folk Art Friends: Hooked Rugs and Coordinating Quilts (That Patchwork Place) by Polly Minick and Laurie Simpson (Jun 2003) More than 20 quilt and rug designs showcase the authors' distinctive style- Motifs include simple stars, hearts, flags, houses, and dogs- Photos shot in Polly Minick's home show her creative ideas for displaying rugs and quilts- Used from $3
33- Treasures of Folk Art: Museum of American Folk Art (Tiny Folio) by Barbara Cate, Lee Kogan and Museum of American Folk Art (Oct 27, 1995) Celebrating the exuberance and variety of folk art, this Tiny Folio presents the museum's finest examples from colonial times to the present. Created by self-taught artists, the works in this book include paintings, sculpture, weather vanes, decoys, painted furniture, quilts, and more. 340 full-color illustrations.- Buy used from $2
34-Painted Wood Projects in the Pennsylvania Folk Art Style by Alan Bridgewater and Gill Bridgewater – his book shows how to achieve 20 painted wood projects to brighten the home, using a palette with rich reds, yellows, greens, browns and black and white. The designs in the book are based on those of the Dutch communities of Pennsylvania who transformed ordinary objects into exquisite works of folk art. Buy used from $1
35- Color Your Own American Folk Art Paintings (Dover Art Coloring Book) by Marty Noble (Jul 19, 2011) Thirty meticulously rendered versions of well-known American folk art paintings include Edward Hicks' The Peaceable Kingdom, Eunice Pinney's The Courtship, and other beloved portraits, still lifes, and landscapes. Colorists of all ages, including would-be artists and Americana enthusiasts, will find this collection an engaging combination of art history and activity. Buy Used From $2
36- Color Your Own Famous American Paintings (Dover Art Coloring Book) -Line drawings of 30 American masterpieces invite colorists to add their own hues to famous paintings — from the quiet charm of Mary Cassatt's Mother and Child to Edward Hopper's starkly realistic Hotel Room. Additional works by Albert Bierstadt, Childe Hassam, Edward Hicks, Winslow Homer, Grandma Moses, and 23 other masters- Buy Used From $1
37- Color Your Own Impressionist Paintings (Dover Art Coloring Book) by Marty Noble Use colors of your choice, or recreate the original hues, for 30 great paintings, among them Mary Cassatt's Mother Combing Her Child's Hair, Renoir's At the Concert, and 28 other reproductions of works by Monet, van Gogh, Gauguin, Manet, Pissarro, Morisot, Cézanne, and 4 other great artists. Buy Used From $1
38-Hungarian Folk Designs for Embroiderers and Craftsmen (Dover Pictorial Archive Series) by Anne Szalavary Used From $29
39- Norwegian Handknits: Heirloom Designs from Vesterheim Museum by Janine Kosel, Sue Flanders and Laurann Gilbertson (Sep 6, 2009) Vesterheim Museum in Decorah, Iowa, is one of the premiere centers for Norwegian-American heritage in the United States. As such, it houses one of the country's most extensive collections of the textiles and handknits that have woven ties between Norwegian communities in America and the Old World, between today's culture and a rich past. This book collects thirty patterns for handknits from Vesterheim—folk mittens, socks, scarves, hats, wristers, handbags, knapsacks, and sweaters—all inspired by traditional knits housed in the museum. With an introduction reflecting on the history of Norwegian-style knitting and the stories behind the handknits that inspired the patterns, the book is at once a practical guide, a repository of cultural history, and a lovely look at one of the rich traditions knit into the American fabric.– Buy Used from $6
40-Norwegian Tapestry Weaving by Maria Brekke Koppen -The classic book on Norwegian tapestry. Profusely illustrated with over 220 black and white drawings, photographs and 4 color plates. The translation combines the 1978 and 1988 editions. It includes: history, joining techniques (especially the Norwegian dovetail),looms, designing, weaving methods and finishing. Buy Used From $34
41-Norwegian Rose Painting in America: What the Immigrants Brought by Nils Ellingsgard Buy It Used From $31
42- Ornamental Woodcarving in the Norwegian Tradition by Johan Amrud Buy Used From $285
43-Woodcarving In The Scandinavian Style by Harley Refsal -Carve and bring to life wonderful, old-world people in the Scandinavian "flat plane" style of carving. Clear directions and step-by-step photographs show you exactly how to make a few simple, well-placed cuts, leaving large, flat planes intact on the wood-carved figure, for an effect rich with folk-art charm. Plus, you'll get a history of Scandinavian woodcarving and photographs and drawings of decorative pieces. 132 pages (4 in color), 225 b/w- Used From $2
44-Scandinavian Country A noted interior design editor joins House Beautiful in showcasing the purest, most appealing expressions of this classic yet understated style. ;iiScandinavian Country marries the most exciting elements of contemporary style with an appreciation of the pristine, inviting land that gave them birth. 290 full-color illustrations Buy Used From $1
45- Scandinavian Country (Architecture & Design Library) Buy Used From $5
Review 1- This book makes you wich a small house by the fjords! The photos are superbe! To welcome you in the north Europe, that's a very good book. You have the right colors, as much light as you needed and the nature all over the pictures. Flowers everywhere. A small walk through History. All in a very simple way. When you know this countrys, you know everything's writh about this book. Yet,some things are missing. If you buy this book to have information, don't expect to find many details about how to decorate a house in the scandinavian style. Not really! After this first book, you will surelly want to find other ones about the subject! Because, you're just beginning to know what north european houses are about! Not a bad beguinning! Not at all! If I were you, I'd start right here.
Review 2 -I really loved this book. As one reviewer commented, the pictures definitely make you wish for a home by a fjord. They alone are well worth the price of the book. Every so often,I page through the book again and enjoy it as much as the first time I looked through it.
I disagree with the reviewer who complained about the quality of the writing. The text explained the photographs, which made them so much more meaningful. For example, Scandinavian countries have a very short summer. Because of this people spend every moment of the long summer days they can out of doors. They don't need fancy outdoor furniture for tea or meals. A couple of chairs and a small table will do nicely. Also, because of the long dark winters, Scandinavians love to paint and deteriorate their homes in bright colors. They almost always have natural pine or hardwood floors and wood furnishings. Because of it's simple and oh so appealing decorating style, this book has influenced the way I decorate.
46- Country Living The Scandinavian Look -Inspired by the storybook home of the beloved Scandinavian artist Carl Larsson, Wisconsin native Loran Nordgren realized a dream of twenty years: the building of a magnificent home in an idyllic, rural corner of the state. It is a glorious place – of soaring ceilings and intimate rooms, of open views from room to room, of viewing lofts and internal balconies – where a family can gather, share good times, and also find solace and solitude. A virtual village, the Nordgren compound includes a main house, family cottage, and a storehouse clustered around a central courtyard. Buy Used From $1
47-Painted Rooms: Scandinavian Interiors by Sigmund Aarseth – Traditional decorative arts meet contemporary living in the Scandinavian interiors of Sigmund Aarseth.
'Painted Rooms' presents an impressive variety of beautifully painted interiors, from colorful traditional Norwegian farmhouses to exciting commercial interiors. The book shows the innovation, experimentation and individuality which has always been an important part of the Norwegian psyche. It also documents a renewed demand for colorful, decorated rooms in Norway.
The broad range of styles and techniques featured in this book makes it a valuable resource for anyone with an interest in interiors, decorative arts or Scandinavian lifestyles and traditions. It is also an indispensable reference book for decorative artists, interior designers and crafts people of any discipline. Contains more than 200 color photographs by Gudmund Aarseth Buy it Used From $21
48- Norwegian Rosemaling: Decorative Painting on Wood– Rosemaling-rose painting- is the art of applying traditional rose designs to wooden surfaces that begun in Norway centuries ago. Buy it used From $12
49- Aarseth's Rosemaling Design- The beautiful art of Norwegian Rosemaling with step-by-step instructions by world renowned Norwegian Rosemaler, Sigmund Aarseth. The book covers classic design characteristics of Norwegian Rosemaling, traditional color use and placement, how to background wooden pieces so they are historically accurate, information about brushes and stroke work and Sigmund's painting methods. There are 64 color pages of illustrations of Sigmund's paintings and color examples of historical Rosemaling. This book is a great reference for Folk Art painters and teachers. It is an indispensable guide for students and admirers of Norwegian Rosemaling, Telemark Style. Buy It New from $21
50– Design Basics for Telemark Rosemaling –Basic information on designing Telemark rosemaling for beginners and intermediate painters of rosemaling. Strokes, color mixing, designing and basic backgrounding information included with designs for 19 rosemaled pieces.- Buy New From $11
51- Telemark Rosemaling: Design Basics for Telemark Rosemaling, Volume 2 – This book follows Design Basics in Telemark Rosemaling Volume 1 in continuing to discuss painting and design in the Telemark style of Norwegian Rosemaling. This book moves beyond the basics of strokework and teaches the new rosemaler how to paint on many different types of surfaces. The book has 12 pages of color photos of the different pieces which have patterns and instructions in the book. Both oil and acrylic media are used in the paintings in this book.- Buy this new from $9
52- Rosemaling the Beautiful Norwegian Art -Two books in one! Rosemaling flourished in Norway from 1700 to 1850, and the designs are still around, gracing old wooden trunks, furniture, bowls, plates, and many other wooden surfaces. This gorgeous, classic art form is still being practiced today. Penfield's latest rosemaling title combines two previous books by renowned artist/instructor Helen Elizabeth Blanck. It shows how to perform rosemaling in simple, step-by-step instructions helpful to the novice or expert alike. Topics covered include bands or borders, scrolls, getting started, materials, color harmony, accents, and quick tips. Dozens of designs allow readers to create their own works of art. Buy it new from $14
53- Collection of Norwegian Rosemaling in America– Buy it used from $20
54- Scandinavian Painted Furniture: A Step-By-Step Workbook by Jocasta Innes Provides more than 20 examples of Scandinavian furniture painting, and shows, with step-by-step photographs, how these designs and effects can be achieved. The book offers the key to painted finishes and design motifs such as: marbled and distressed colour; layered, glazed colour; rustic grained finishes; and a range of applied decoration, from Rocco arabesques and floral pieces to the stylized brushwork used to build up traditional motifs.- Buy it used from $5
55- Scandinavian Painted Decor – With the help of internationally renowned artisan Jocasta Innes, anyone can create the beautiful and diverse decorative styles found in Norway, Sweden, Finland, and Denmark. Stunning full-color photographs enable you to explore the delights of Scandinavian interiors and painted wood architecture, from the cheerful charm of rural farmhouses and country manors to the rich splendor of palaces and churches. Learn to use traditional painting techniques, including splatter painting, marbling, and stenciling, to transform walls, floors, ceilings, furniture, and other home accessories. With this inspiring source of decorating ideas and how-to instructions, you can bring a touch of Scandinavia to any place in the world.– Buy used from $5
56- Simply Scandinavian: Painted Furniture Patterns to Pull Out and Trace-Simply Scandinavian is a workbook, with pull out and trace pattern sheets and blue chalked transfer paper for tracing the patterns onto furniture pieces. The blue may be washed off with water after painting is complete. Teaches beginners to paint in the Scandinavian tradition, suggesting types of paint, colors, tips for steadying the brush for large swirls, producing dry brush highlights, and personalizing your creation with initials and date. Jocasta Innes' simplified process of painting allows you to follow the steps of itinerant Scandiavian painters who were self taught and repeated the same simple designs in different combinations and colors to enliven winter interiors. Buy it used from $1
57- Simply French: Painted Furniture Patterns to Pull Out and Trace – Buy it used from $6
58- Painted Furniture Patterns: 34 Elegant Designs to Pull Out, Paint, and Trace – The author of Paint Magic offers a new book on the latest decorating craze: painted furniture. In this simple and practical book, she groups 34 handsome, unique patterns according to theme, each set containing ready-to-use motifs that range from wild roses to bows to lyres to laurel wreaths. Detailed instructions. 168 color plates. Buy it used for $1
59- The Woven Coverlets of Norway by Katherine Larson -The Woven Coverlets of Norway showcases one of Norway's most beautiful and enduring folk arts. A warm, thick cover has always been important during Norway's long winter nights, but coverlets also decorated the family bedsteads in one-room farmhouses, affording housewives an opportunity to display their talents. Coverlets were a central feature in the important ceremonies of a person's life as well, wrapping an infant at christening, providing a cover for the marriage bed, and draping the coffin as a last offering of comfort to a loved one. To explain the coverlet's importance as the pinnacle of the Norwegian weaver's art, Katherine Larson looks at the role textiles played in the lives of women prior to the twentieth century. Buy it used from $24
60-Paper Cutting Book: Contemporary Artists, Timeless Craft by Laura Heyenga, Rob Ryan and Natalie Avella (May 11, 2011) There's a renaissance underway in the art form of cut paper, with an explosion of raw talent and an abundance of amazing work produced in the medium in recent years. This gorgeous volume features work from 26 contemporary international artists who are creating images of astonishing intricacy, using little more than paper and blade.- Used from $10
One of my favorite AUTHORS, check out my review:
Jocasta Innes Scandinavian Painted Furniture – The Swedish Furniture
Jocasta Innes, cookery and interior design writer: born Nanjing, China 21 May 1934; married 1960 Richard Goodwin (divorced 1967; one daughter), one son (by John Michell, adopted by Goodwin), 1967 Joe Potts (divorced 1979; two daughters), partner to Sir Richard MacCormac; died London 20 April 2013.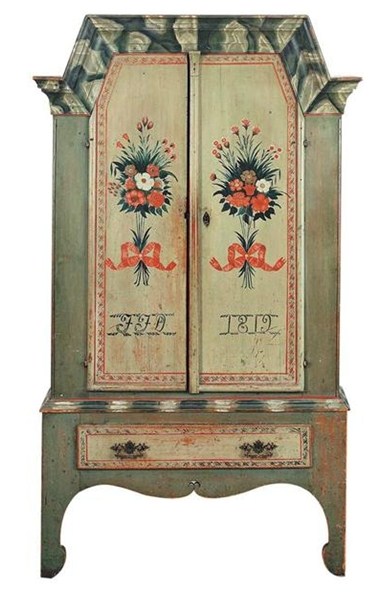 Swedish folk art cabinets were quite popular between 1770 and 1850, and were present in most country homes.
'Allmoge' cabinets like this one are a vital part of Swedish folk art tradition. Farm craftsmen were also called 'allmogen' in Swedish, which is where the style of the cabinet got it's name.The cabinets were decorated based on local traditions by craftsmen. A by-passer who also used his/her artistic talent to pay for food or a place to sleep, would also paint furniture. The colours used were made up of natural ingredients such as egg- based paint, blood and plant pigment. These natural paints would give the pieces a soft, or pale, weathered look as they aged.
A Ladle cabinet, which often was the finest furniture in most country homes, could be a combination of a bed, a desk and a clock, tables and cabinets, all made into one piece of furniture. The furniture was commonly seen throughout Sweden, although appeared most commonly from Dalarna, Halsingland and Jamtland. Info From Skona Hem
Get this look for your own home by step by step instructional guides. Here are some of the best guides on Amazon that talk in depth about the folk art style.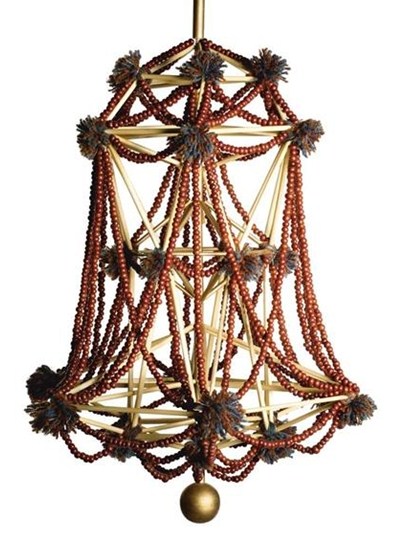 Chandelier in the grass and bearberry by Gustaf Åhman from Järvsöbacken.
PHOTO: Robert Blombäck
Self-made chandeliers became a common household decor item in the Swedish peasant home in the 1800s. These beautiful crowns were seen hung over the dining table. Many of the chandliers took on designs similar to what was created locally.
In Dalarna, the hand made chandeliers consisted of straw, yarn and björktickor which was sawn into thin slices and täljdes in heart and star shapes.
Many of Härjedalsvägen crowns were made of reeds, where the straw was threaded into diamonds adorned with thick yarn tassels.
On Gotland were chandeliers made of pig bristles bent and then the ends were joined together with beeswax and then was wrapped with colored wool.
Info From Skona Hem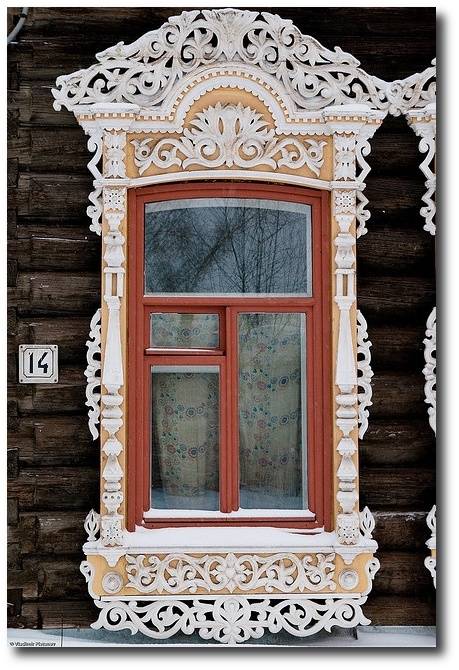 Czech Republic Tschechien Prague Prag Praha on Flicker
The Norwegian blog Ernashus cookbook author Hannu Sarenstrom.
Swedish Jugend House- Originally Seen on Sköna Hem
Swedish Cupboard Bed
Red Swedish Country Style Bench- Lindas Lantliga Blog
Red Scandinavian Tea Cup- emmelines.blogspot.com
Swedish Folk Art Costume-Visit kurbits.nu
Floral Swedish Folk Art Texiles- Visit borntoknitblog.blogspot.com.au
Red Scandinavian Interiors Seen in Katrin Cargill Interiors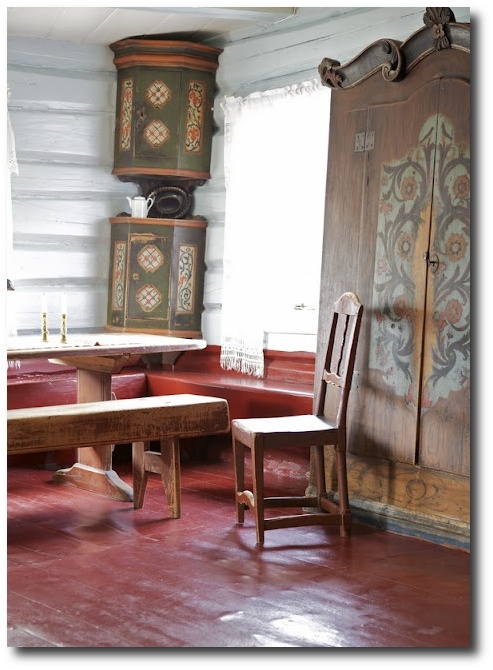 Swedish Folk Art Style- Seen On Livs Lyst Blog
Swedish Folk Art Style- Seen On Livs Lyst Blog
Swedish Folk Art Style- Seen On Livs Lyst Blog
Norwegian-American Homes at the Vesterheim Museum
Carved Norwegian Spoons-Visit plumo.com
Norwegian Folk-Vibrant colors and authentic Nordic style create a warm welcome in this traditional guesthouse.- My North.com
Bed Nooks- Nordic Folk Style
Russian motifs painted on a wooden shelf- Marieclaireidees.com
Råbystugan (old farm house from 1776-1777) by Vilseskogen on Flickr
Book- Country Style by Judith and Martin Miller Seen on The Paper Mulberry
Swedish Folk Art Style- Seen In The Swedish Room
Seen On Kevin Sharkey's Blog
Review Of Living In Norway By Debbie Cole
"Living in Norway" is a pictorial tour throughout Norway of days gone by in quiet solitude between the grand fjords with the majestic mountains on all sides. The book is divided into the four seasons: fall, winter, spring and summer. You can experience the beauty of Norway through all seasons. Winter time in Norway is long, and the daylight hours few, but the homes are gaily decorated throughout the dark winter days.
When it comes to antiques, here you can see them in their natural surroundings. This book offers hundreds of color photographs, but don't forget to read the text, it is a fantastic tour of Norway.
The "hytta" or cabins the norwegians used in the summer days are featured, many of the old hytta still exist and open their doors to guests as do American bed and breakfasts. Some of the hytta remain with the original families, others have been purchased for private use or for overnight stays. Traditional rosmalling on the walls and the "box beds" will guide you through times gone by.
An intimate tour through the summer home of Edvard Grieg and his wife will delight you and amaze you to discover that this is also the final resting place of the Greig's. But more awaits.
The modern Norwegian homes are smartly represented also, from a simple concrete structure in Oslo decorated to please someone with an eye for new-age artwork, these glimpses inside the homes of Norway and excellent stories about their histories may leave you wondering how to find these places. No fear, among the last pages of the book are addresses for each of these homes if you would like to include one of these homes on your next trip to Norway.
No matter if you wish to visit a Nordland harbor with it's peaceful calm fjord, or a Gudbrandsdalen farm which is linked to the 3 series trilogy written by Nobel prizewinner Sigrid Undset (The Bridal Wreath, The Mistress of Husaby, The Cross), you will find a rich selection of Norwegian homes, interior and exterior, modern or antique. As you read the book, it will look handsome on your coffee table. It makes an excellent gift for a family member who would enjoy reading about days gone by in Norway and living in modern Norway.
If you desire to decorate your home norwegian style, ideas abound in the book. How about a stroll along Karl Johan street in Oslo to find a excellent restaurant with a historical past? A great book for Norwegian genealogists interested in farm life also. This book is rich in text and photographs, and the book is so inexpensive
Lars Bolander's Scandinavian Design
Norwegian House-This beautiful wooden cottage is located in Geilo-Norwegian tourist destination, which is the basis of ski and sports center. The house was purchased in 1998. Over the years, was renovated and refurbished. Norwegian wooden cottage has retained its original character. Decorated walls and ceilings delight and facade house looks great. Note that the peak is a small meadow. Photos: Anette Nordstrom
Seen On The Essence Of The Good Life
Heritage Of Europe- Photo: Studio Dreyer Hensley, Kisten Visdale
Swedish Home in North Carolina
A Swedish girl wearing traditional costume, Dalarna, Sweden by Bjö© on Flickr

The Swedish House- Review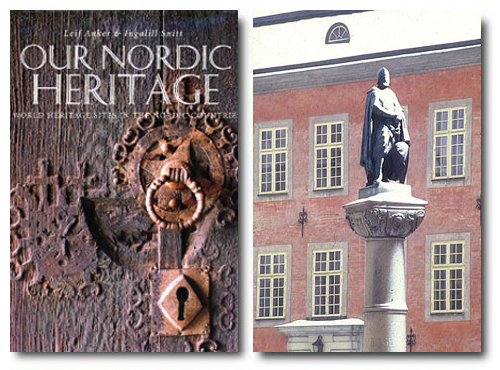 Book- Our Nordic Heritage Ingalill Snitt- Buy It Used From Amazon $18
Book – The Soul of Stockholm From Ingalill Snitt- Amazon From $2