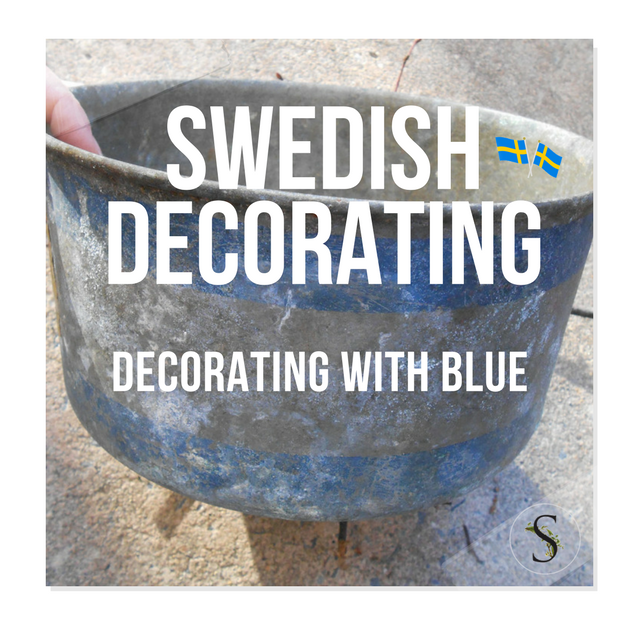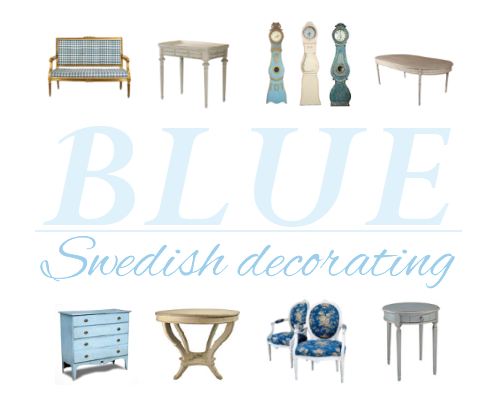 There are so many shades of blue, which one do you pick? Swedish decorating is known for their partiality towards the color blue. Blue is one of the staple colors in 18th Swedish century decorating, so if you plan on decorating with this style, we can give you a few ways to incorporate the color blue into your design scheme.
First decide if you want a formal or country appearance in your home. Knowing which look you are attracted to can help determine accessories, furniture, drapery and wall treatments.
1. Formal Blue Interiors – Blue-gray, painted finishes became popular after King Gustav ruled in 1772, and since then they still remain fashionable.
Formal Swedish Tips- Line Furniture Up Against The Wall- This is a classic Swedish touch that can give the look of finer living. If you have a room where you can line a set of three chairs against the wall, or a pair of chairs and a accent table, this will always give your room that refined, superior Swedish appearance. Push your furniture in the middle of the room, and if you have a tv, consider hanging it on the wall. I find that this arrangement always gives the look of more space. You can never have too many chairs. Collect furniture that have fluted legs, such as side tables, benches, or chairs.
Formal Swedish Tips- Buy A Long Oval Table – Here is a Henredon
oval table selling on ebay for just over $1000. Strip off the finish and paint it gray. A long, dining table echoes the simple curves of early Gustavian style. Dress up your furniture in light, greenish blue-gray paint finishes to get the high end looks found in the Swedish castles. Consider investing in a crystal chandelier, which coordinates with white or really pale blue or pastel walls and work with white upholstery. Squared picture moldings, and sconces really can add to this formal Swedish appearance. Consider stenciling your walls with green-blue leaf patterns along the inner edges of the walls, and collect old styled portrait oil paintings with dark grounds which give rooms a dark accent.
Formal Swedish Tips- Go For Gold Accents– Dress up your furniture with furniture appliques and ormolu mounts. You can make any picture frame seem so much more expensive by adding gold leaf. Gold leaf is really simple to apply. Follow this link, and I show you where I buy my gold leaf on ebay. Buy a sconce
and gold leaf it. Get ideas from this post, where I wrote about the sconces that are the most sought after from collectors world wide. A thin rectangular mirror on ebay can be a great look, which you can then add on a brass candle holder. This DIY project will give you the Swedish look for less.
– Decorative Mirror Molding, French White Bow- $21 Buy it on ebay
– Decorative Scrolls For Mirrors, and Dressers – $40 Buy it on ebay
– Ribbon Bows Mold, Decorate Mirrors and Furniture- $13 Buy it on ebay
-Ormolu French Gilded Furniture Ribbon Large- $35 Buy it on ebay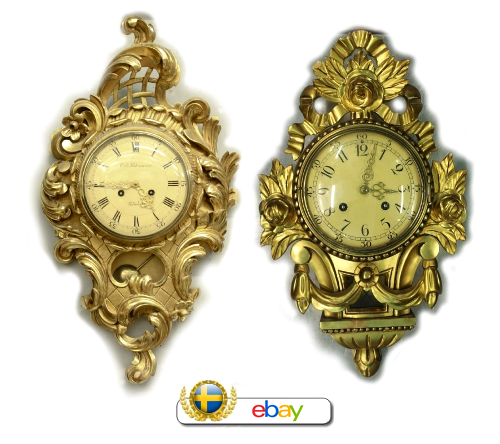 Louis XV Antique GILT WOOD handcrafted CARTEL WALL CLOCK estimated $1200- buy it for $350, buy it on ebay
Antique Gilt Wood Cartel Clock $450 on ebay– buy it on ebay
– Formal Swedish Tips- Go Brighter With Bright Blue and White- Go for a home that has white accessories and upholstery. Don't be afraid to go with bolder blues for drapery, upholstery and bed linens. Brighter blues look great in formal settings.
-20 Yard Bolt – 44/45″ White Polycotton Liberty BROADCLOTH- $61 Buy it on ebay
– Solid Poly Cotton Fabric In Bright Blue – Buy it on ebay
-Fabric By The Bolt – 40 YARD BOLT $190 on ebay- Buy it on ebay
-Sunbrella Canvas Air Blue Outdoor Fabric $21 dollars a yard- Buy it on ebay
Cane Back Cushioned Seat Side Wood Chair Fluted Distressed Hammered Nailheads
(Paint it gray, white, blue or what ever colors you are working with. Great frame, great price)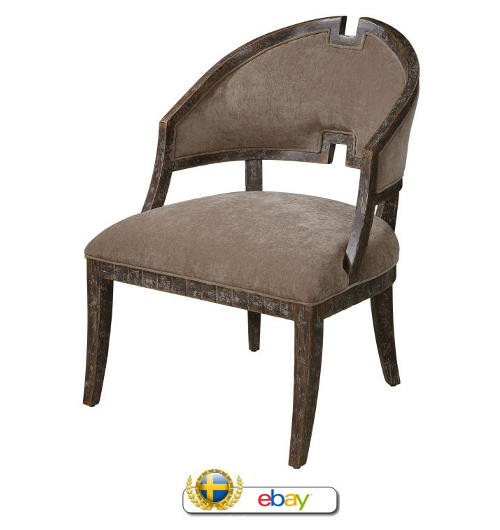 Another great Empire looking Swedish styled chair. Again, the frame would look terrific in a light gray or blue with a white upholstery. This chair sells for $665 on ebay
Here is another great accent chair, get two of these and pair it with a sofa. It is already painted white, and the white upholstery makes this chair look upscale. This chair sells at $719, which includes the shipping on ebay
Swedish Country Rustic Styles
2. Country Keys- Rustic Architecture – Country Swedish style is beautiful and worn. The countryside contains a mixture of rustic elements. Go shopping in architectural salvage yards and collect things that are worn. Wood is the key to getting the look. An old wooden door can be replaced by those builder typical doors you see in new homes. A old ladder can lean against the wall. Paint it in a darker blue and distress the heck out of it. Ceiling beams in their natural wood give an architectural feel to a home. Add some faux hallow wood beams across your ceiling. Get the look without having to hire 5 strong men to anchor it in place. Work with light wood flooring, and natural materials.
–Country Keys- Country Textiles- Skirted sofas, slipcovers in natural blends and textured walls are classic marks of styles found off the beaten path in Sweden. Ebay sells a number of Restoration Hardware's stone washed
Belgian Linen products new in their packages. You can buy new pleated drapes on ebay, along with bedding, pillow cases and more for half the cost in the stores. Raw and natural textures are the key to this look. I ordered this heavy oatmeal linen
for several of my drum lamp shades which I am re-covering. The material is heavy, and would be terrific for upholstery.
– Heavily distressed Mora clocks such as these on ebay,
give your room that traditional Swedish look.
– Warm Old Barn Finish Table (paint it, and change the color) – $229 Buy it on ebay
– Reclaimed Salvaged Fir End Side Table- $564 on ebay here
– Country Keys – Go For Color On The Rustic Side– Muddy shades of blue work with the country styles. If you like the lighter shades of baby blue, distress your furniture more than you normally would. This certainly helps when the furniture's wood is raw and stripped. The paint will blend nicely with the raw woods surface giving you a more authentic appearance. For complementary shades, pair blue with orange-red accents, along with shades of green-blues. Gingham upholstery also looks terrific in a country home, along with florals. Work with carvings, such as art that can be hung on the wall, and accessories that are carved such as standing wood birds which are painted and made from wood. Dala folk horse carvings are a Swedish country favorite. Pillows with embroidered blue-and-white folk patterns nicely work in a country home. Think about hand crafts, such as hand embroidered artwork, quilts, delft fireplace tiles, over-sized ginger jars, and colored glass.

Restoration Hardware Shower Curtains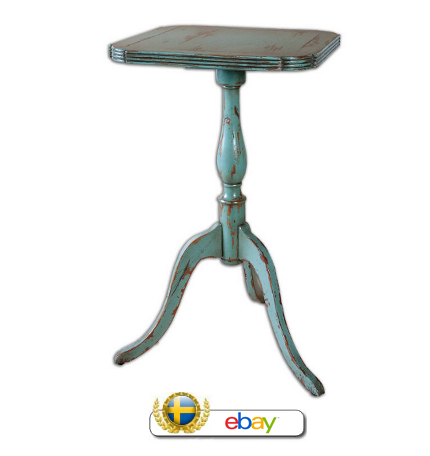 Carved Mango Wood Accent Table Mindi Veneer Hand Finish Robin's Egg Blue, this table sells for $229 on ebay Buy it on ebay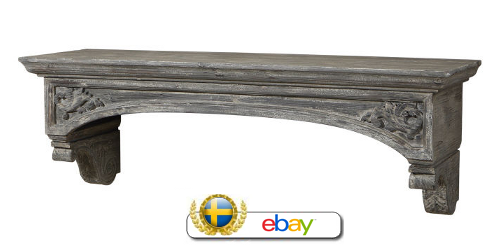 This Weathered Solid Fir Fireplace Mantel could be used as a bed crown for a rustic country Swedish look. All you need to do, is attach the drapes. Sells for $739 Buy it on ebay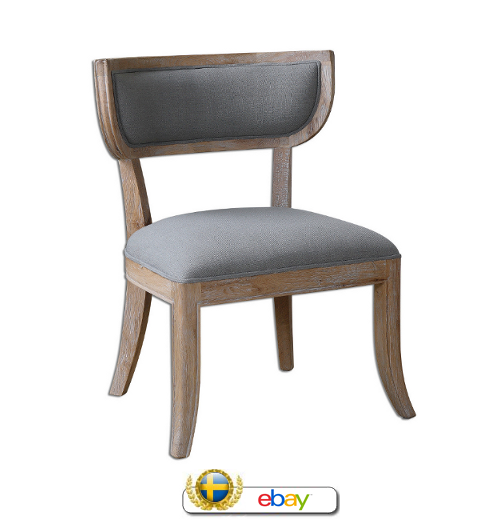 This chair features the pretty shaped backs we see in the Swedish style with a new edge to it. This chair sells for $595 Buy it on ebay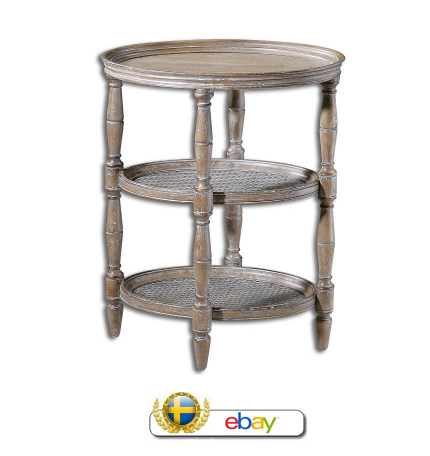 -Hand-Turned Hardwood Accent Table $439 on ebay here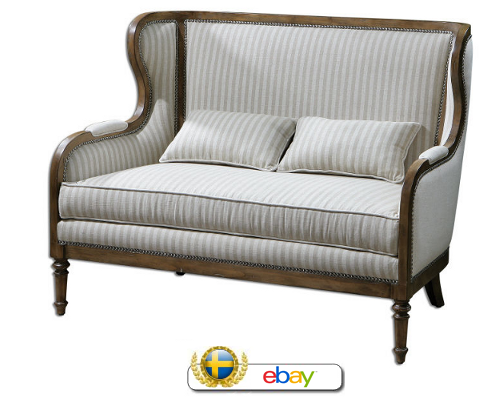 Beige Stripe Loveseat $1500 Buy it on ebay
Buy the matching chair here
– Blue Makes Everything Appear Larger- "Shades known as cool blues―like cobalt, turquoise, and ice blue―have yellow in them and tend to recede, or back away, which can help a small space look bigger. Color experts explain that cool blues encourage calmness (which is nice for a bedroom) and focus (say, in a home office). Sometimes cool blues can go a little further and be cold. But in a bathroom, where you want a crisp, clean vibe, that can be a good thing" Real Simple Magazine
– Decorate With Blue Slipcovers, Drapery, and Linens– One of the easiest ways to decorate with blue is to do it through throw pillows, slip-covers, linens and drapery. Bed coverings are simple to find in the Swedish style. Every time I am at Ikea, I notice their beautiful printed bed sheets. They have a variety of newer patterns, shapes and designs that would work with a Swedish design perfectly. Florals, stripes, and plain sheets are always a design that never goes out of style. If you love the rococo looks like I do, go for florals. Blue and white florals always take the edge of a room, and make it feel more comfortable.
– Dye Your Existing Fabrics Blue– Rit came out with a color called aqua-marine. The color is bright, and light. If you have old fabric that you no longer have use for, or the patterns colors simply aren't your style anymore, consider dying it. The aqua-marine color can be tinted a slightly different shade by adding a bit of purple to the mix. Their royal blue also is sensational. The ability to dye fabric has been used since ancient times. The earliest record of the use of natural dyes was found in China around 2600BC. Indigo, a blue dye had been known throughout the ancient world for its ability to color fabrics a deep blue. The dye was extracted from several plants, and was imported from India. The shrub was found in India, and was quite expensive to import, so England began growing the plant. Prussian Blue came about in 1774, which was created by mixing iron salt and prussite of potash and aniline and bleaching powder to create bright blue. By the 1800's, Prussian Blue was known as one of the earliest known chemical dyes.
– Finding the right hue of blue for your room is simply found by what color you enjoy the most. Then, work with the darker and lighter shades of your preferred choice for the trim, drapery, bedding and upholstery. For my bedroom, I found a set of pleated drapes on ebay in blue, and I had my paint colors matched to the drapes. It gave me a starting point. Most important, choose a color which you adore. It makes living in it day after day so much more enjoyable!
– Never Discount A Nice Quilted Throw "Benjamin Moore's Ashmead Gray transformed the master bedroom's mahogany Henkel Harris four-poster. Custom drapes from Calico Corners add a hit of pattern, and an antique leather trunk provides extra storage. The duvet and shams are by Area."– See The Picture At Country Living See beautiful quilts like the one in the picture here……
-Show Off Blue, Brown, Lilac Transferware – "A white background, with hints of pretty gray-blue, is a great backdrop for displaying collectibles and antiques. This dining room's built-in cupboards show off some of the owner's transferware collection" View The Picture at Country Living
– Go Bold In The Bathroom With A Bright Shower Curtain. In this photo, a shower curtain has three different white trims stitched on top of it. Borrow this look for your own home by purchasing a plain shower curtain, and dressing it up with ribbon.
-Use One Color Throughout – "Although singular in hue, a monochromatic color palette can have multiple dimensions. Using one color in a room creates a sleek, sophisticated look, but including a few variations on the featured hue will boost character. In this cool blue living room, vivid shades of sky blue pop against blue-based neutrals" See the picture at Better Homes and Gardens
– Cool Tones With Other Cool Toned Pastels "If you like the idea of adding more color to your room but want the bright blue to blend into the overall design, decorate your walls with items in cool colors. Because blue is a cool shade, you'll create a soothing, cohesive look for the room by incorporating colors like green and purple. Look for prints and artwork that feature shades like sage, mint or hunter green to dress up the walls, or try hanging vinyl wall decals of purple flowers and green leaves. You can even frame squares of fabric with green and purple patterns for a simple but colorful piece of artwork to hang on your bright blue walls." – Home Guides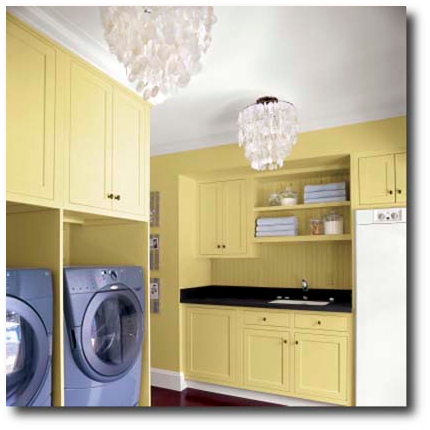 Picture Credit -Keller & Keller- Seen On This Old House
– Paint Your Architecture Blue– I saw this picture above on This Old House, and it immediately caught my attention. It is a breathtaking laundry room, isn't it? One of the best elements about this room that I love, is that the cabinetry, and the walls are painted the same color. Architecture can stand out, even if it is painted the same color of the walls. Doesn't this look fantastic? Adding extra architectural elements such as crown molding and wainscoting can give your room additional intrigue. Getting the style of furniture to fit into the desired period is often half the battle. Swedish style borrowed much of its style through this time from France, so the two styles mix together quite well. Furniture can always be painted, and dressed up with hardware, so don't discount a piece of furniture because it is not painted, instead, look at the lines of the furniture, because everything can be altered. Borrow this look by painting a piece of furniture in your room the SAME color.
– Leave Your Furniture Raw With Bold Blue Interiors– With bold punches of color on your wall, consider leaving solid wood furniture in their natural state. No makeup needed! Natural wood when paired with blue, gives a room warmth, because blue often falls in the cooler tones. Having that bit of warm contrast, doesn't make it feel like an ice palace. In fact, gold, brown and cream can also be neutrals in a brightly painted room. Adding a pretty console table that has been painted and accented in gold can unite the room giving a really elegant feel. Accessorizing with some bergere chairs framed in gold really does wonders for pulling all the elements together.
– How To Use Several Shades Together All At Once "The gentle progression of color in ombre suggests the transition from wakefulness to slumber, especially in soothing shades of blue. The headboard slipcover and matching pillowcases are shrouded in sky-blue linen that's dyed a deeper, sea-inspired tone, embodying the spare beauty of a monochromatic palette." Check out the picture at Martha Stewart.
– Display A Collection Of Wedgewood "Tin containers have been manufactured in a very cool color of Wedgwood jasperware. For display on a neoclassic sideboard, we've chosen grays, blues, and greens. Symmetrically arranged with eighteenth-century formality, stacks of the circular "Wedgwood" tins can be used for storage. On the wall, a row of lids is displayed like a collection of antique plates or prints." See the picture at Martha Stewart
– Find Vintage Neoclassical Lamps Which Can Be Painted- In this picture (1 of 9) a classic style lamp is painted a slightly more vibrant shade seen in the wall color. Painting something the same color as the walls allows you to add more accessories to the room without it appearing to be busy.
– Work With Blue Upholstered Furniture, And Then Determine Your Wall Colors – "Keep the background pure with the same color on all four walls and add unexpected pops of color using pillows," designer Steven Gambrel recommends. Here, aqua paint is just a supporting character; the real conversation pieces are the cerulean sofa and powder-blue-and-white patterned rug." See the picture here (picture 3 of 9)
– Dark or Light, That Is The Question You Must Determine First "The hardest thing about decorating with blue is that blue can be a hard color to nail down. Blue's variety of shades can either feel reserved or expressive, subtle or loud. And depending upon the undertones, blue can run the gamut from warm to cool, which change the entire dynamic of a room. When decorating with blue, consider these tricks and tips to creating an interior space that reflects the best of blue's characteristics" Read more here
– Confused With Color? Work With The Color Wheel- "Complementary Colors- Complementary colors are directly opposite of each other on the color wheel. You can create bold, yet pleasing, color combinations. Nature provides some beautiful examples: the red rose with green foliage, a monarch butterfly against the blue sky, or a purple petunia with a yellow center" See more about this at Home Decorators
– Use 3 Shades To Put Together A Blue Room"Using different shades of blue will work beautifully in a room as long as they complement each other. Blue comes in many different shades from a greenish blue to grayish and purplish tones. One should keep within the same palette, or harmonizing tones, when decorating in several shades of the same color. Use the odd number rule, such as three, when mixing shades of a color." Examiner
– Create A Bed Canopy And Add Blue Fabric– In this photo, a bed crown is paired with a slightly more vibrant shade of fabric than what is seen in the walls. Curtain hardware nicely hold back the drapery. Borrow this look for your own home.
More Great Links:
-Blue: 350 Inspiring Ways to Decorate with Blue House Beautiful
Game Rooms – decoracion.facilisimo.com
Décor de Provence: Gers, France
Gilt wood Swedish Art Deco mirror with sunburst and oil lamp motif- Buy it at B4
Swedish Furniture & Decorating From Classic Swedish Interiors Lars Sjoberg.
This lovely picture was featured on The Style Salonite Blog
Swedish Furniture – Gustavian Decorating Classic Swedish Interiors, by Lars Sjoberg
Featured on en.paperblog.com
A Swedish sofa/bench from the Gustavian period 1790-1810 in its original paint but in a desperate need of some new fabric. Old Is New Blog
A Swedish, Gustavian Console Table
Gustavian Style Chest of Drawers
Swedish Furniture – Gustavian Decorating Classic Swedish Interiors, by Lars Sjoberg
Featured on en.paperblog.com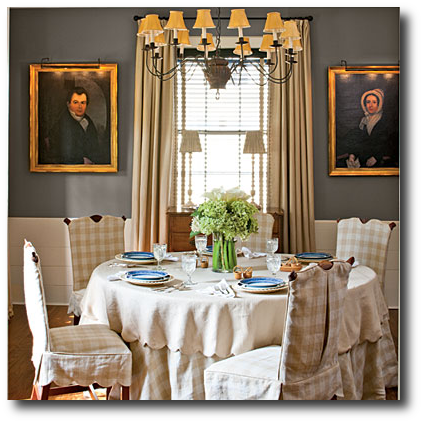 This Cape -Cod home shows off blue painted walls with antique portraits. "Pair a nuetral-tone linen with a dark blue wall paint for an elegant finish." See more of this home at Country Living Magazine
Princess Victoria of Sweden's Dining Room
The dining room is elegant in shades of royal blue. The mirror on the far end of the room is original from when the castle was built in 1805. The dining room table can be extended to the length of the entire room.
When Crown Princess Victoria of Sweden opened the doors to her home she shares with husband Prince Daniel, Duke of West Gotland and daughter Princess Estelle, we were expecting big stately rooms and design standing on ceremony, but what we found was an elegant, yet comfortable home for a young family. The Haga Castle in Stockholm is small by some standards. It has "only" 45 rooms, out of which 25 are in the private use of the family (the rest are offices and other official spaces.). Before the family moved in, the castle went through a 4.5 million euro renovation, making it suitable for young children. (The couple welcomed their first child, Princess Estelle in 2012.) Most of the money was spent on modernising essentials like the kitchen, bathrooms etc. Victoria and Daniel were both very hands on and involved in designing the interiors. Read More At marthafied.com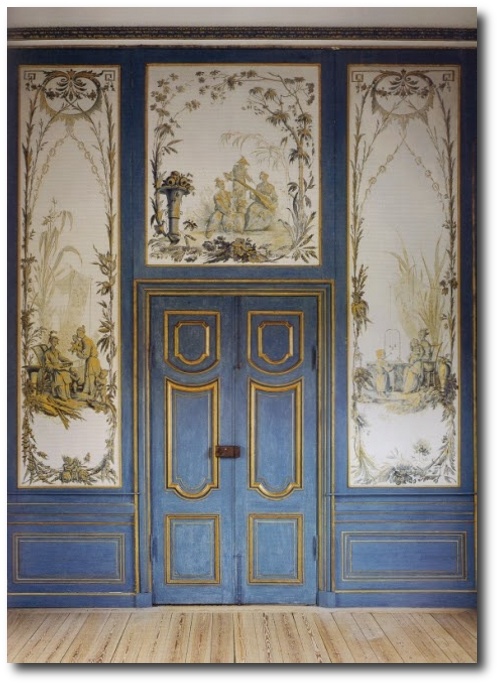 Dottingham Palace, Chinese Pavillion- Picture Credit- fauxology.com
Dottingham Palace, Chinese Pavillion- The Chinese Pavillion at Drottningholm. Built in 1750s as a birthday present from King Adolf Fredrik to his queen Lovisa Ulrica- Uploaded To Pinterest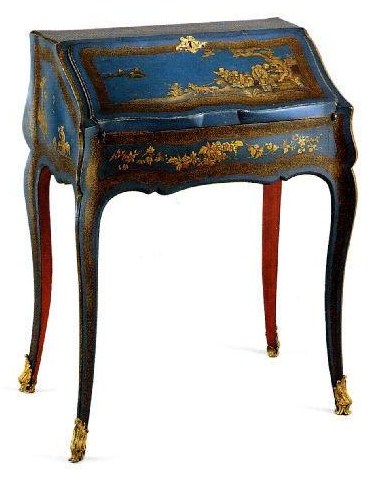 This charming little painted secretary from the Château de Bellevue, belonged to Madame de Pompaour. Notice the red painted legs – reminds one of the red painted heels worn only by the nobility of the French Court. Learn more about 18th Century France on Titillating Tidbits About the Life and Times of Marie Antoinette leahmariebrownhistoricals.com
Sandemar, Sweden, 17th century- Jeff Barnes on Pinterest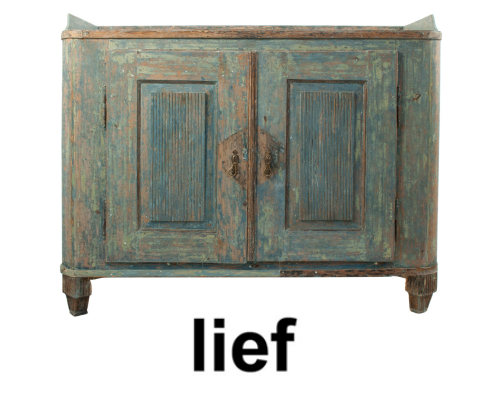 Two door Gustavian Sideboard in a worn blue patina- here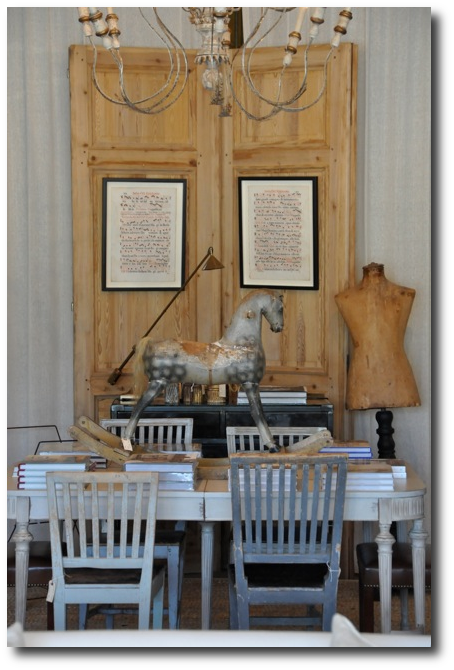 Patina Style: Brooke Giannetti, Steve Giannetti- Buy the Book on Amazon
A very early Swedish drop-leaf dining table with original beautiful blue paint. The worn paint on this piece gives it great antique character.- here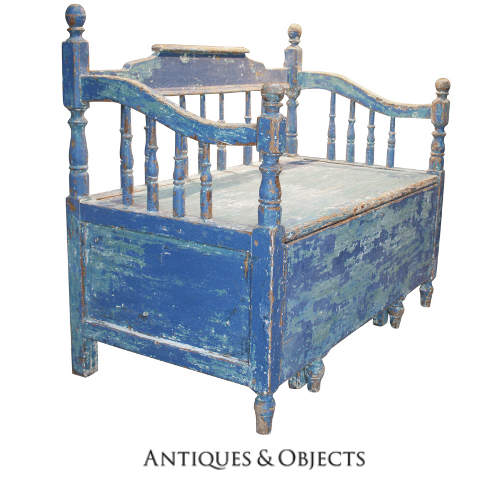 Swedish Extendable Bench 19th Century here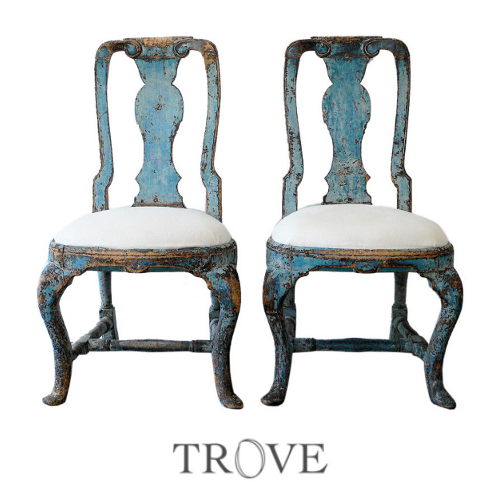 Pair of Swedish Rococo Side Chairs – here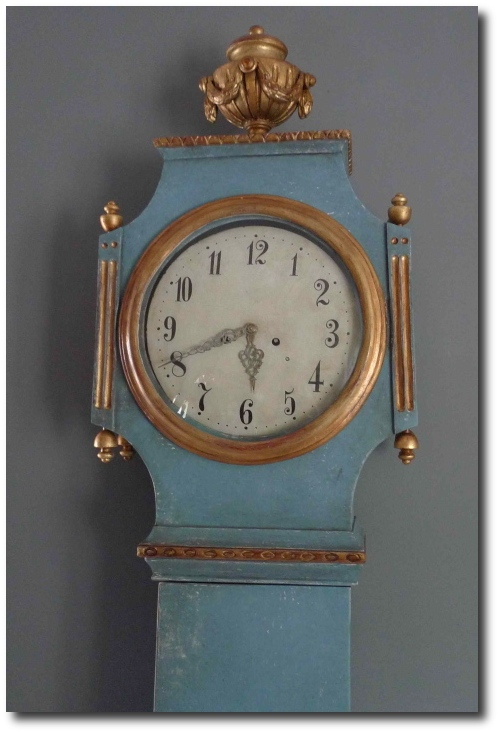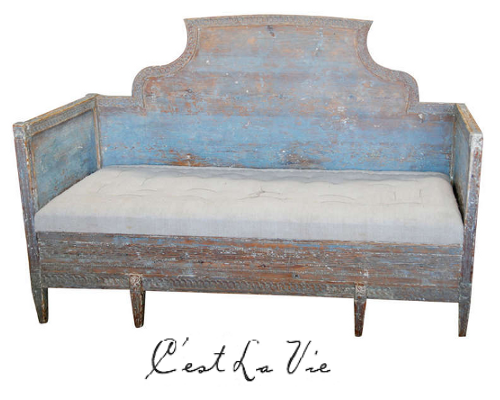 Make A Game Room By Spray Painting Antique Sporting Equipment in White- Photo William Waldron- Country Living Magazine
Style at Home magazine featured this breathtaking cottage in Peterborough, Ontario. The entire space is decorated around navy and pays attention to the rustic and refined side of decorating. From the delicate French furniture to the shingled walls, this home is unique. More images and full story at Style at Home
Blue & White 1 Inch Checkered Gingham Poly Cotton, 60 Inches Wide By the Yard $3.99 On Amazon