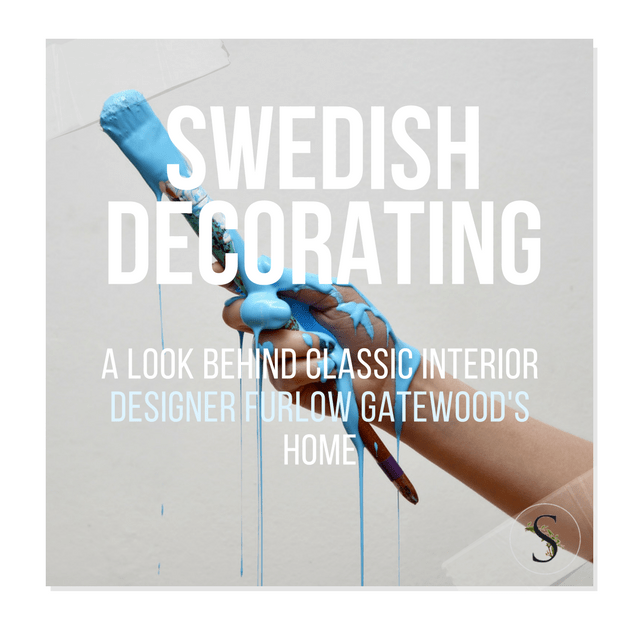 Swedish Gustavian Chairs. Maison & Co.'s 19th c. Gustavian chairs ~ chosen in the Taigan Fetch Magazine story about the book, One Man's Folly, The Exceptional Houses of Furlow Gatewood- Found on maisonandco.com
Brain Fog, ……Do you ever sit and stare at a room wondering what you are going to do with it? You go through endless paint samples, finishes, and furniture placement ideas, and it just doesn't come together. Have you been there ?
This happens to me….and everyone else who is in the design arena.
When things don't come together for me, I usually go to a few books, open them up, get inspired,…..and my creative juices get flowing again. I have to say this book (One Man's Folly) will be one of those books that I will grab from my shelf for those moments.
There is no doubt that if you like gray and white interiors, collections and antiques, you will love this book. I have been waiting to view this book since it came out, and it really is a terrific read!
In One Man's Folly, you will gather up ideas for painting furniture, space planning, and flooring ideas. This book offers terrific examples of how to work with patterned fabric and how you can incorporate all these elements into a space that offers serenity and relaxation.
This book is a reflection of 60 years of passion for collecting and decorating. As a longtime associate of legendary New York antiques dealer John Rosselli, 94-year-old Gatewood has spent some sixty years locating amazing finds and buys. Through those years, he has also scored a few beauties for his own home.
The book reviews his personal property in Americus, Georgia, where he has restored his family's carriage house, (which was original to the property), along with several homes which were moved on to his property from nearby towns. The property has four houses, including the Barn which once housed cars.
Southern Gothic Home – Furlow Gatewood Design – Veranda
Peacock House Featured In Veranda Magazine – Mimi Reed and produced by Carolyn Englefield Photo by Max Kim-Bee via Veranda. Architectural salvage was used to give character to the outdoor. Flush boards face the walls of the living room. A porch with salvaged fretwork becomes an outdoor garden room. A guest bath at Peacock House shows off a simple gray and white palette.


The additional houses (Cuthbert House, Peacock and Lumpkin House) were rescued from demolition and made over with a focus on the architectural periods from mid-19th century Gothic to Palladian. The 11 acre property was featured in the March-April 2014 issue of Veranda.
In fact,…..it was Bunny Williams, who convinced Gatewood to do the book. We are so glad she did! Even though Gatewood never went to architecture school,…"He has a real flair that often eludes professionals" she says. The Peacock House, featured in Veranda, began as a dirt floor greenhouse before becoming home for 40 peacocks.
"Never did I expect that twenty pieces of unusual lattice panels, which he bought from Connecticut one weekend while we were shopping at the dealer Michael Trapp's, would become the back porch of what is now known as the Peacock house" – Bunny Williams
Over the years he has collaborated with local craftsman to transform several of these houses into masterpieces. While the changes on his property took about 15 years, Gatewood has been collecting antiques for decades. Everything from porcelains to paintings were selected over the years to be featured in his house. He said when he collected too much, he needed an additional room and built it…. don't we all!
While his taste remained the same through the years in his selections of furnishings and collections, the way in which he showcased them slightly changed. He went from colorful walls to a neutral gray and white background which showed the antiques in a better light.
One Man's Folly is divided into 7 sections. The Barn on page 18, The Peacock House page 70, The Cuthbert House page 100, The Lumpkin House page 134, Gardens and Outbuildings page 184, and finally … Lessons Learned page 204.
This book is so good that 108 people out of 123 reviews give it a 5 star.
Tom Sawyer– "Where has this gentleman been hiding ? His homes are the most inspiring exteriors and interiors I have ever seen"
L. M. Keefer "If you like classic salvaged architectural pieces, antique furniture from around the world, blue and white china, a mix of global fabrics, canopy beds, painted floors, delft tiles, dhurrie rugs, stripes and checks, gilt frames, and dogs, cats and peacocks, you will be enchanted by this book"
A Book Collector "That Furlow Gatewood is not the equivalent of a household name in the design world is soon likely to change with the publication of his new book."…… "Envy-inducing paintings hang between windows that are left bare except for shutters or wood-slat roll-up porch blinds, when the expected finish would likely include yards of linen or taffeta. Simple white cotton duck is the upholstery fabric of choice here, and it is layered with throw cushions of everything from antique Fortuny to blocked cottons from India to linen tea towels, all counterpointing the lines and profiles of the pieces they cover. It is all really quite brilliant."
Designer Wannabe "Although Mr. Gatewood has a lot of "stuff," I thought the interiors were open and inviting. The bare floors and simply trimmed windows added a coolness, which is no doubt welcome in warm Georgia."
Here are a few tips from the book:
Wood Boards On The Walls Give An Antique Appearance – "Furlow often uses simple rough boards as panels for a room. This gives texture and character that plain drywall cannot provide. In some cases, the boards run vertically with horizontal boards at the ceiling, chair rail, and base"
Work With Antique Pieces, And The Occasional Modern Upholstered Piece "Generous upholstered pieces are used sparingly"
Buying What You Really Love " It's certainly true that fabric houses would never get rich off him. There is not a single curtain in any of his houses he much prefers shutters or blinds. The bulk of his upholstered furniture is slipcovered in simple cotton duck, and rugs, when they exist at all are sisal or Indian dhurries or the odd antique Oriental. But the most salient quality of his "look" is that he only buys what he absolutely loves"
Great Design Doesn't Have To Be Costly "Finally, for all of Furlow's knowledge, for all his world travels and world-class stuff, he has never been a snob. One of my very favorite things in the whole Barn is on the drinks tray outside the bedroom where I slept. A blue liner, it fit perfectly inside a handsome silver urn that doubles as an ice bucket, and I assumed it was some fine piece of cobalt glass. Upon further inspection, it was a plastic bowl Furlow said he found at the Dollar Store, a detail that delighted him to repeat."
Cutting Plywood Can Create Architectural Detail – The stylish entrance hall of the Cuthbert House was created by simply cutting pieces of plywood in six-by-twenty-inch rectangles. The edges of each piece of wood were beveled and installed in a running bond pattern over the drywall. This was a technique often used in American nineteenth-century Federal houses to simulate stone patterns, as dwellings were then built of wood"
Work With Brackets To Display Pictures, Pottery and Collections On The Wall – "………small pictures that are stacked one atop the other, with a bracket above to draw the eye up and accentuate the sense of grandeur."
Turn Fabric Inside Out…Sometimes It Can Be Nicer On The Back Side " A Billy Baldwin slipper chair is covered in fabric on the wrong side, a favorite Furlow trick"
Center A Room Around A Soda, And Work Your Other Pieces In "In each living room, the furniture is always arranged in comfortable seating groups consisting of large frame sofas and various frame chairs placed around them. He often implements period sofas and chairs with exposed legs to give the rooms a light, airy quality"
Painted Floors Can Be A Beautiful Solution" Manhattan-based painter John Campbell painted the faux marbre floors, and a grisaille wallpaper panel hangs above the console. A similar gray palate (with white) extends throughout the house. Furlow says he finds the color scheme cooling."
Use Solid Fabrics On Sofas and Prints With Throws And Pillows To Make Them Interesting. Save Patterned Fabrics For Accent Chairs "Large sofas are covered in a solid fabric and then filled with pillows of different florals, stripes, and checks in a single color scheme. A single chair might have a patterned fabric that blends with the others"
Old Leather Is A Gem Of A Find….If You Stumble Across Old Leather, Leave It Be "If a chair has lovely old leather upholstery, it is left as is"
Additional Links:
– Furlow Gatewood – Porcelain Collection – House Beautiful
– Beautiful Interiors – Furlow Gatewood on Pinterest
– The Exceptional Houses of Furlow Gatewood | Garden and Gun Magazine
– 4.2.14 | One Man's Folly | New York Social Diary
– 1stdibs Introspective – Furlow Gatewood
Furlow Gatewood -Picture Credit- Amazon Book Images