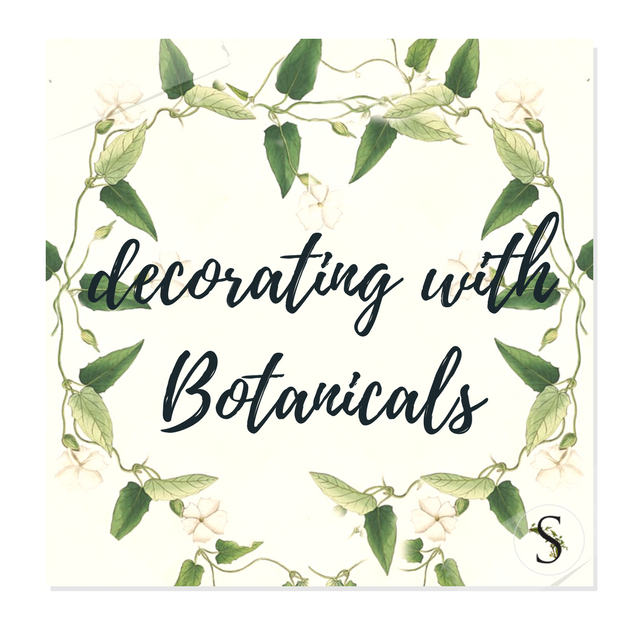 Carl von Linnaeus home, Hammarby 18th century Swedish
Today Linnaeus' Hammarby is one of Sweden's most accurately preserved eighteenth century farms, with household items, clothing and art from Linnaeus' own home. Carl von Linné (Linnaeus) bought the farm in 1758, and it became the Linné family's "summer residence" . The family was able to keep animals and grow vegetables, grains for bread, and tobacco. Carl Linnaeus, papered his bedroom in plant posters, of the works by the French botanist Charles Plumier (1646-1704) and British Georg Ehret (1707-1770). Sängförhänget is a print based on his favorite flower "Linnaea borealis" – in short, the Linnean. Linnaeus' study appears today, much like it would have looked when he was alive, with walls papered with flower illustrations.
In the 1600s, botanical artists were thought to lead an exciting life. Many left on expeditions to exotic locations around the world, devoting their lives to documenting plants, bulbs, and flowers in some of the most breath taking gardens around the world. Publishers would issue their etchings as part of an encyclopedic or scientific project. Wealthy people then would subscribe to a series, and whole collections were often displayed and bound into books.
Johan Wilhelm Palmstruch (1770-1811)
A Swedish artist's most famous work is the "Swedish Botany," which consists of a total of over 770 posters, which appeared in books between the years 1802-1843. Each image is hand-colored with great care and skill, and printed on fine paper. After Palmstruch death, the Royal Swedish Academy of Sciences published a series of booklets in 1843 with Palmstruch's art along with a table of contents.
Cover A Chest With Botanical Prints
Martha Stewart had a 8 page article about this very topic in her September 2004 issue of Martha Stewart Living. She showed how to pull this look together using two different techniques. The first technique showed wallpaper which was cut out, and glued on to a piece of furniture, while the second technique glued selected sheets of botanical prints to a chest.
Project 1 shows a large wardrobe, which botanical wallpaper was carefully cut out. Images were arranged on the wardrobe using the placement seen in the original wallpaper pattern. In the article they suggest using one sided tape to arrange the graphics, which then can be removed later to glue each graphic down. Another easy way of doing this is to lay the wardrobe down on the ground, and then glue each motif in place. Remove air bubbles, which may squeeze out glue from under the image. Simply use a damp paper towel to wipe away any access glue. Touch up the edges with glue to seal any places around the image that might have been dried up. Let the glue dry overnight, and then apply water based satin polycrylic to seal the graphics.
The second chest which is featured shows botanical prints which were measured out, and glued to a chest. In this instance, botanical prints were measured and cut to size. Martha suggests using craft paper which show the measurement of the drawer, which allow you to determine each prints dimensions. Cut prints using a sharp utility knife and metal ruler. Plan your design by laying out each print on the dresser, arranging the prints before you glue them in place. Next, brush mod podge glue on the back of the print, and apply it to the drawer. Smooth the image out, removing any air bubbles. Repeat the process with all the images, and let the glue dry over night. Add a water based polycrylic clear coat, and either several coats of thick mod podge, or gloss epoxy as a finishing touch. Add new hardware, or attach existing hardware to complete the look.
Gustavian Decorating November December 2010 Veranda From Wilson Kelsey Design Blog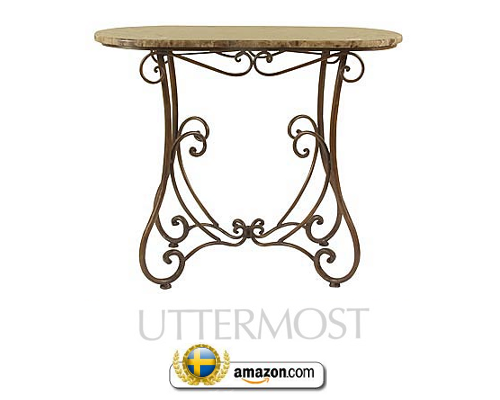 This lovely Uttermost Ava Table is an iron table with a marble top, perfect for seating in the kitchen or living room. The lovely scrolled iron legs are a bit of a break from wood. Uttermost sells this table for m$355.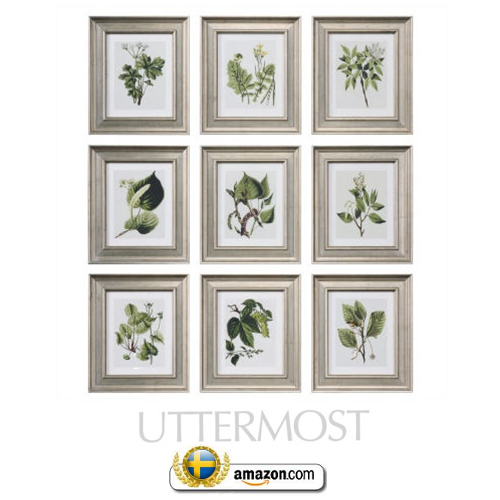 Uttermost sells a lovely set of Leaf Botanical frames in a set of Nine. This set features a wide array of leaf prints, this art is accented by frames that have
a champagne silver leaf base with a gray glaze & light black distressing. Uttermost sells this set for $306.
Uttermost Set of 6 Ferns I-VI Botanical Wall Art Prints by Uttermost- Each of these six framed botanical wall art prints presents a beautiful illustration of a fern with its scientific name. Frames feature a champagne silver leaf base with brown and black wash and a gray glaze, and the prints are presented under glass. A fantastic accent for your walls from Uttermost. Set of 6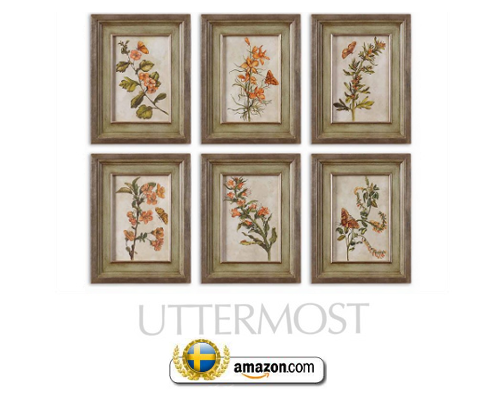 Orange Florals 18×14 Framed Wall Art I, II, III, IV, V, VI (Set of 6) by Uttermost These floral prints are accented by wooden frames with silver leaf inner and outer edges that have a light brown wash. Center section of frames have a sage green base with a heavy brown wash. Prints are under glass.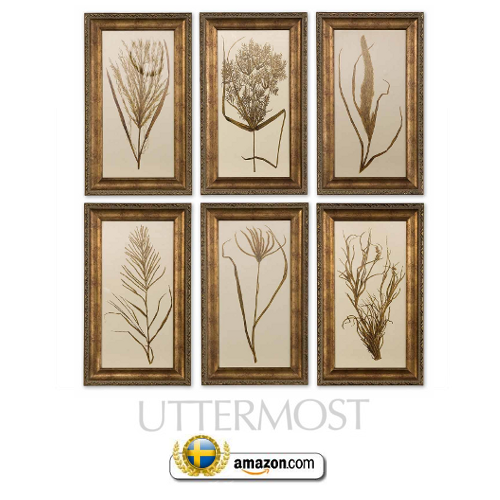 Set of 6 Wheat Grass Art Accents Sold through Uttermost– This set of prints features wooden frames finished in bronze undertones with brown and black distressing and a gray glaze. Prints are under glass.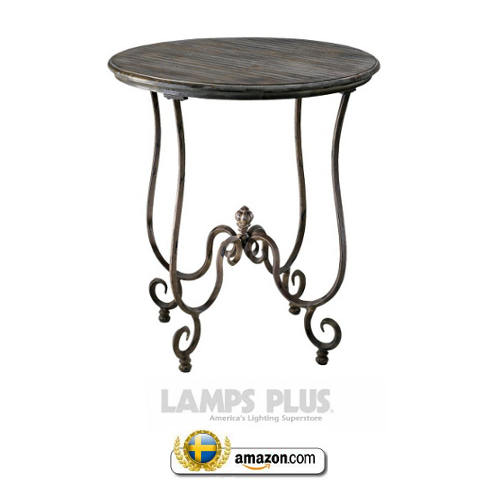 Universal Lighting and Decor also sells a lovely iron table which features dainty iron legs with organic curves that lead to a decorative finial. These curved legs are topped with a round, limed pine wood table top. Lamps Plus sells this table for $355
Make Your Own Botanical Plates
Annekata Blog walks us through step by step how to make your own botanical plate using decoupage techniques. Being that there are plenty of royalty free sources containing vintage botanical, animals, and sea life art available for download, why not dress up a set of plates found at your local thrift store, or estate sale?
They suggest working with a glass plate. Simply lie the glass plate face down onto the paper you've selected, and center the pattern, and cut around the plate. Draw a line around the plate roughly 0.5 to 0.75 inches out. Next, relax the paper in water for 30 seconds. Glue up the bottom of the plate, and then center the wet paper face down on the bottom of the plate and carefully smooth out any air bubbles. Annekata Blog gives us some visual aids to show where to cut the print around the plate for the botanical print to best adhere to the glass without bubbles. Next, trim the rim with your scissors, and once it is dry, the plate can be hung on the wall.
Another way of creating botanical plates is to start of with a set of white plates. Simply cut out the images with a pair of fine scissors, which then can be glued on to the plate. First soak your prints in water, then add mod podge glue to the back of the images. After your images have dried, paint on a thick layer of gloss epoxy, to get the sheer glass look.
Frame Botanical Art
Create a collection of Botanical prints on your wall by using vintage frames found on ebay.
– For a classic Gustavian Swedish look, consider using round or oval frames. Many sellers are selling sets of Homco oval and round frames that you can gold leaf. Consider displaying a collection of 9 prints on the wall in matching oval or round frames.
– Making a large scale gallery wall using botanical prints doesn't have to cost you a fortune. Dollar Tree on occasion has WOOD 8 x 10 rectangular frame that can be painted and distressed, or gold leafed. They sell them for just one dollar. You simply cannot get better than that! The item number of the ones I purchased are 639277459237 . If they are out of stock, the number will not show up on their website, although you can order them with a customer sales rep.
– MCS Industries 12-Pack Bulk Frames Available on Amazon
– Picture Frame Room 6 Panel Divider 387.00 + Free Shipping- Amazon
– Frames 4 Art on Ebay sells their beautiful frames in lots- Ebay
Botanicals: Butterflies & Insects- – Buy it on Amazon $44
The Golden Age of Botanical Art Buy it on Amazon From $23
Albertus Seba's Cabinet of Curiosities Buy it on Amazon From $23
-The Art of Natural History in the Age of Discovery Buy used on Amazon from $12
-Birds: Mini Edition: The Art of Ornithology-Buy it new used on Amazon from $19
Botanical Books
Botanicals: Butterflies & Insects- Including more than three centuries of drawings culled from the rare books library of the Cooper-Hewitt National Design Museum, each page in Botanicals explodes with rich colors and lifelike details. Exquisite flowers, delicate fruits, and exuberant butterflies are among the jewels of nature that come to life in this unique compendium. Featured are works by leading botanical artists, including Maria Sibylla Merian, a revolutionary female entomologist and natural historian of the seventeenth century; E.A. Seguy, whose are nouveau-era work serves as inspiration for many contemporary creative directors and designers; and Dr. Robert John Thornton, a British visionary renowned for his interest in botany– Buy it on Amazon $44
The Golden Age of Botanical Art-The seventeenth century heralded a golden age of exploration, as intrepid travelers sailed around the world to gain firsthand knowledge of previously unknown continents. These explorers also collected the world's most beautiful flora, and often their findings were recorded for posterity by talented professional artists. The Golden Age of Botanical Art tells the story of these exciting plant-hunting journeys and marries it with full-color reproductions of the stunning artwork they produced. Covering work through the nineteenth century, this lavishly illustrated book offers readers a look at 250 rare or unpublished images by some of the world's most important botanical artists. Buy it on Amazon From $23
Albertus Seba's Cabinet of Curiosities is one of the 18th century's greatest natural history achievements and remains one of the most prized natural history books of all time. Though scientists of his era often collected natural specimens for research purposes, Amsterdam-based pharmacist Albertus Seba (1665-1736) was unrivaled in his passion. His amazing collection of animals, plants and insects from all around the world gained international fame during his lifetime. In 1731, after decades of collecting, Seba commissioned illustrations of every specimen and arranged the publication of a four-volume catalog–from strange and exotic plants to snakes, frogs, crocodiles, shellfish, corals, birds, and butterflies, as well as fantastic beasts, such as a hydra and a dragon. Buy new on Amazon from $25
-Amazing Rare Things: The Art of Natural History in the Age of Discovery-The book focuses on an exquisite selection of natural history drawings and watercolors by Leonardo da Vinci, Alexander Marshal, Maria Sibylla Merian, and Mark Catesby, and from the collection of Cassiano dal Pozzo—works all held in the Royal Library at Windsor Castle. Buy used on Amazon from $12
-Birds: Mini Edition: The Art of Ornithology- This breathtaking collection of important and beautiful ornithological art from London's Natural History Museum traces its development from the Renaissance through the scientific approach favored in the Age of Exploration. Included are brilliantly reproduced artworks by the world's great naturalists and scientists such as Audubon and Humboldt, along with the legion of Victorian explorers who catalogued the world's avifauna before photography finally prevailed as the primary means of recording the natural world. Buy it new used on Amazon from $19
Other Links
– Botanical Decoupage- With Martha Stewart- here
– Martha Stewart Crafts- Botanical Birds Decoupage Paper Cutouts From Michaels. 64 pieces, 12 sheets. Create nature-inspired decoupage designs on dinnerware, fabric napkins, furniture and many other items using decoupage paper cutouts. Cutouts work well on glass, wood and most other surfaces.
– Buy Botanical Prints on Ebay
– Inspirational Interior Design With Botanical Prints- Interior Design It Yourself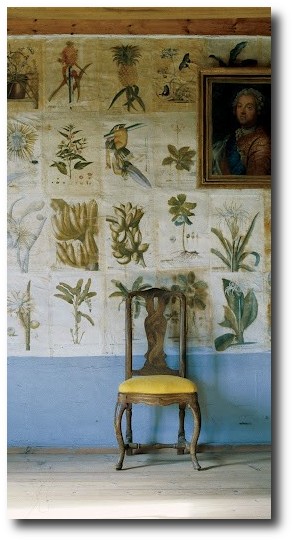 Botanical Illustrations (reproductions from the 1700's) on the wallpaper at the Carolus Linnaeus Swedish estate. Photo by Ingalill Snitt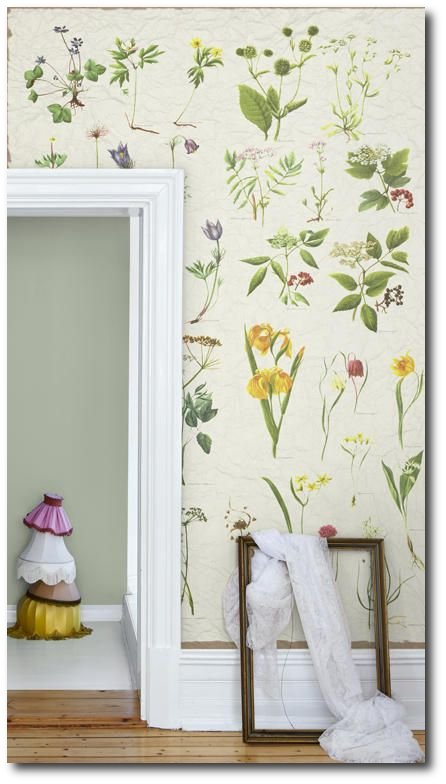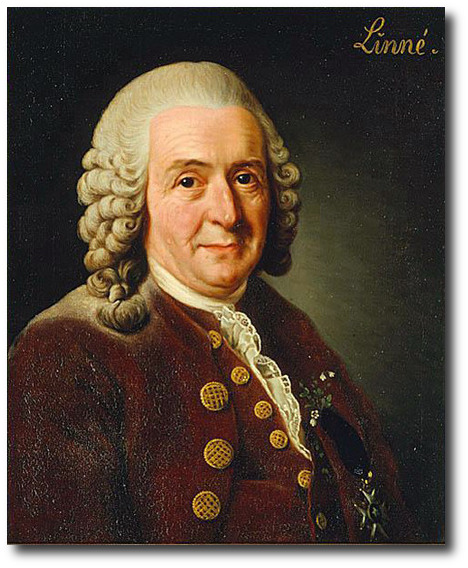 The Linnaean Gardens of Uppsala are the gardens off famous Swedish 18th century botanist Carl von Linné, and the oldest botanical garden in Sweden.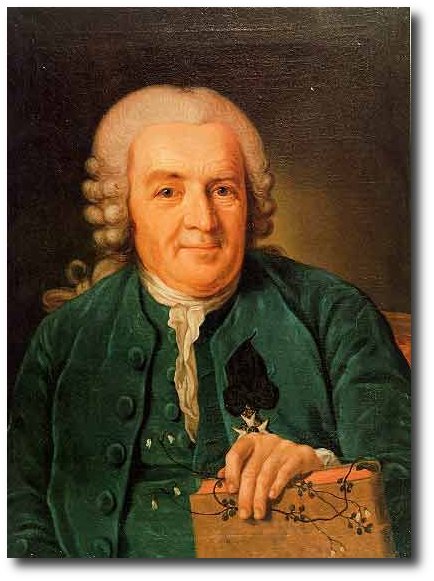 Carolus Linnaeus- Picture Credit- gap.entclub.org
Carl Linnaeus Seen on Pinterest
A visit to Hammarby said to have inspired Josef Frank to design the " Flora Agency "(Model No. 1050), in 1950 for the Swedish Tenn. The chest is wallpapered with flora posters from "Nordic Flora" by CA Lindman.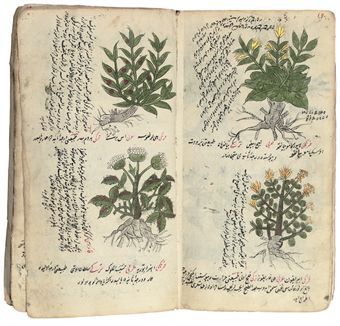 18th century medicinal manuscript – Visit christies.com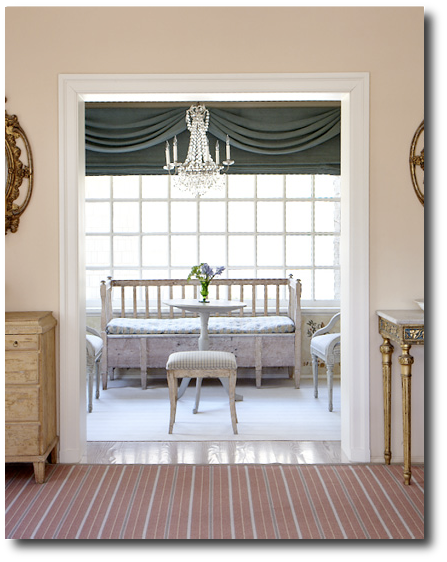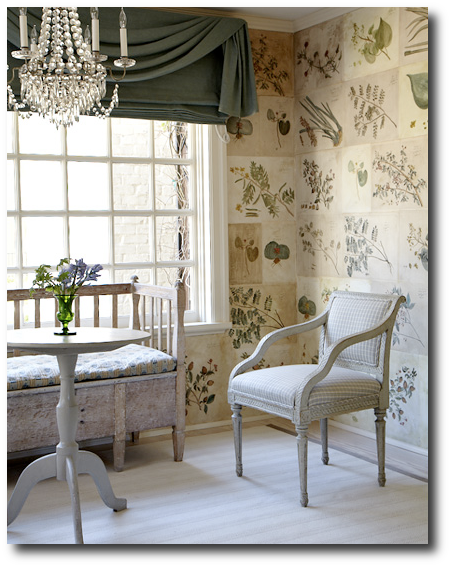 Housesdecorated by designers Katrin Cargill Interiors, and Carol Glasser Interiors
See more of these house below
The designers had an artist hand-color and glaze 18th-century black-and-white Dutch engravings for the sunroom; eleven are originals, the balance photocopies that are all but indistinguishable from the real thing. Unable to decide which side of Pierre Frey's Mennecy Bleu fabric was more beautiful, Carol Glasser and Katrin Cargill used both, one on the settle and one on the the armchair. Like the table, the pieces are Swedish antiques.
Botanicals always look elegant. Paired with traditional furnishings, they bring pastoral sophistication to a room. Frame and mat botanical prints and hang them in a grid. Don't be afraid to take over an entire wall — the ivory mats and simple colors of the prints keep the look subtle.- Better Homes and Gardens Magazine- here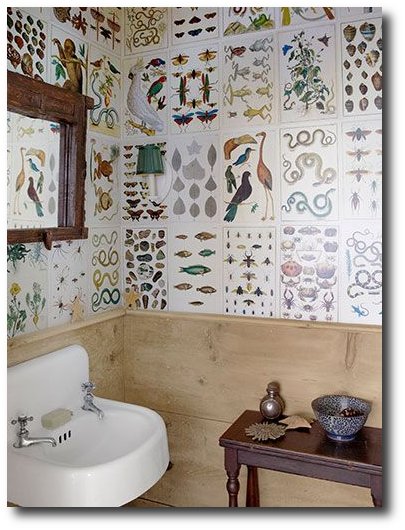 Inside a 1790's New York Farmhouse- Visit countryliving.com
Swedish Decorating Ideas From Country Home Magazine
Restoration Hardware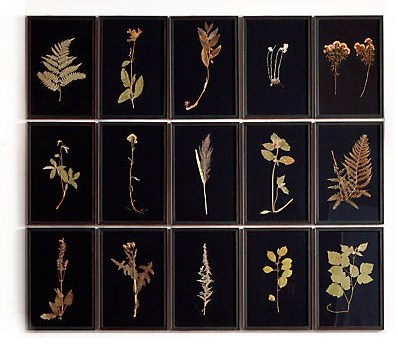 Hand-Pressed Botanicals on Linen From Restoration Hardware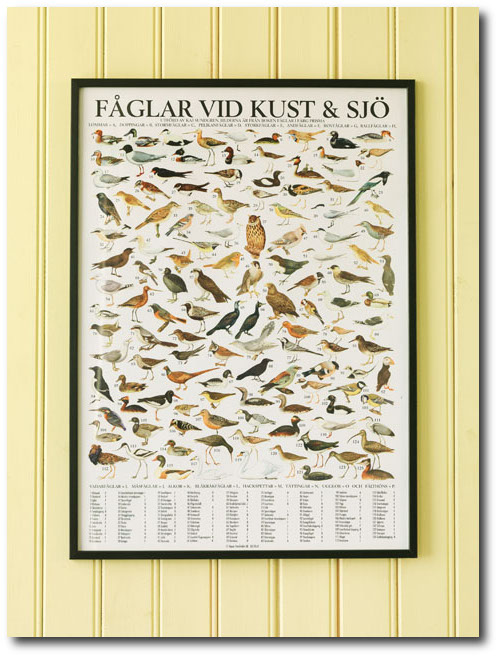 Gård & Torp From The Best of Swedish Blog