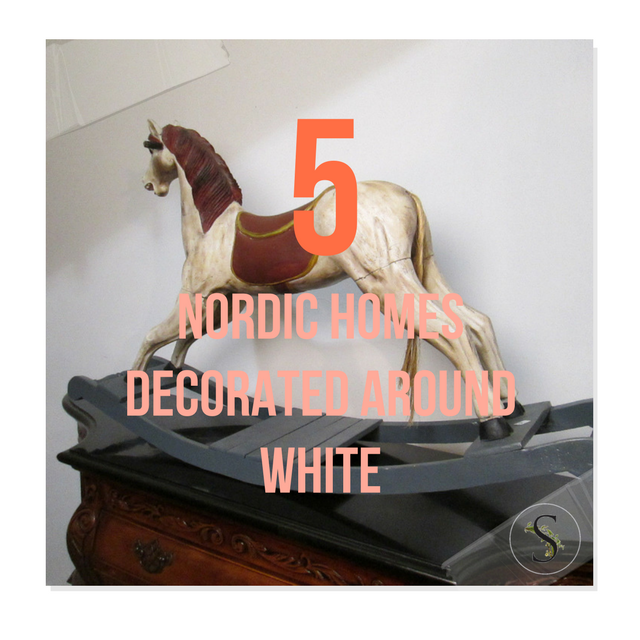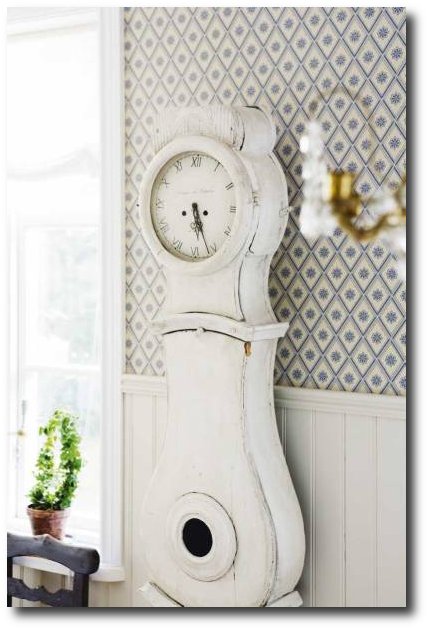 The Swedish interior decoration magazine Skona Hem had a wonderful write up on an English family who transformed their home into that of a Gustavian period style.
The home is largely based around a white palette, anchored by distressed wood floors which create a down to earth family feel. While many of us wouldn't have access to an authentic Swedish tiled stove, we can incorporate the lines of the furniture that were seen through this time frame.
What To Look For….
– Straight Or Curvy Lines– Look for Rococo, Louis XVI furniture that has straight lines. Look for straight chests which you can add round ornate pulls, and round keyholes to. Victorian furniture also can be painted and re-upholstered to achieve that Swedish appeal.
– Mix And Match Styles– Don't be afraid of mixing in a variety of country and formal styled furniture. You can see in this home, mixing and matching is very appealing.
– Go Authentic With Patterns- Work with country throws, and rugs to bring in the authentic patterns of Sweden.
– Wallpaper Is A Great Investment– Wallpaper can really transform a room, as seen in this home. Go for white based wallpaper with a geometrical or floral based patterns.
-Lighter Everything– Work with lighter colored fabrics, with an airy feel. Go for thinner fabrics for the summer, and collect natural based thicker wools for the winter time.
– Faux Painting and Stenciling- Create faux molding with paint. Here we frames on the walls, used in combination with stencils to give a whimsical, feminine look to the walls. As you can see, they pick a very light blue for the frames, and all the stenciling is done in a couple shades lighter and darker than the base wall colors. This look is very easy on the eyes.
– Crystal Chandeliers Everywhere– Chandeliers can really make a difference. In this home, almost every room has a crystal chandelier. Get the Swedish look by changing out your light fixtures to something more classic. It will instantly change the space.
Related Articles:
-40 Tips – How To Choose The Perfect White Paint Hersite
-Darryl Carter's Paint Line For Benjamin Moore –Her Site
– 198 Pictures Of White Interiors –Her Site
-Stephen Shubel's 1906 Fishermans Cottage Home in Sausalito Hersite
– 20 Seasoned Designers Reveal Their Best White Paint Shades Hersite
– Shabby Chic Decorating: Borrow Rachel Ashwell's 3 Signature Looks –Hersite
– The White Dresser- A Website Based around All White Furniture – The White Dresser
Carolina Rediviva Building, Uppsala University Library (Uppsala, Sweden)
Swedish in Connecticut via Robert Couturier
Gelskov Gods, a manor house on the island of Funen in Denmark
ELLE Russia Decoration July-Aug issue featured a manor house, Gelskov Gods, on the island of Funen in Denmark. The house featured a classic nordic style home with a stripped down, very moderate decorating scheme. The home featured a masterful mixture of baroque, rococo furniture in a clean white and gray based interior.
Anette and Heine Robert Dahl used to live in Copenhagen, but in the spring of 2009 they moved to Gelskov, in this Manor on Funen where they also hold exhibitions, display antiques and flea market finds which they offer for sale. The home also functions as a bed & breakfast.
Gelskov Gods
Gelskovvej 10
Hillerslev
5750 Ringe
Tel.+45 26638094
Get The Look Of Their House…….
-Layer Shades Of Gray – Go for a shade of gray on the walls, and add architectural accents in a painted shade that is a couple shades lighter than the walls. Create straight lines near the ceiling that mimic architectural molding.
– Black Works As An Accent In A White/ Gray Toned Home- In a color scheme like this, black can really give that pop that you need. If your not crazy about black, go with charcoal, or a really saturated tone of gray. Colors like rusty orange, gold, gilt finishes really work in the opposite color spectrums. Add gilt wood mirrors on the walls, decorate with rusty metal accents. Go for an additional color for a pop here and there through your room.
– Keep Your Collections In One Area– In the picture below you can see a bookcase, or shelf holding a variety of white tableware. Collections can look interesting, and when they are paired or displayed in one area, it can give your house an organized look, without it being overwhelming. Here you can see the house has a lot of contents, but they choose to house the collections.
– Add A Variation Of Color In A Different Tone– In one of the hallway's open areas, you can see a shade of lighter colored pink on the walls, which brings life to the area. If you choose to have a home based around the gray tones, add some subtle colors here or there to warm it up. You can see they do that with the color green on the trumeau mirror in the hallway. It goes with gray, but it isn't black, black, black. A hint of blue, green or red in the undertones can make a difference in a theme that is based around the same color; in this case gray.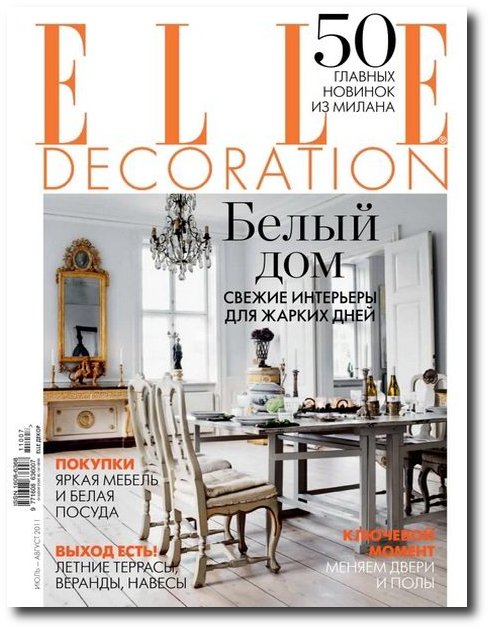 Gelskov Gods, a manor house on the island of Funen in Denmark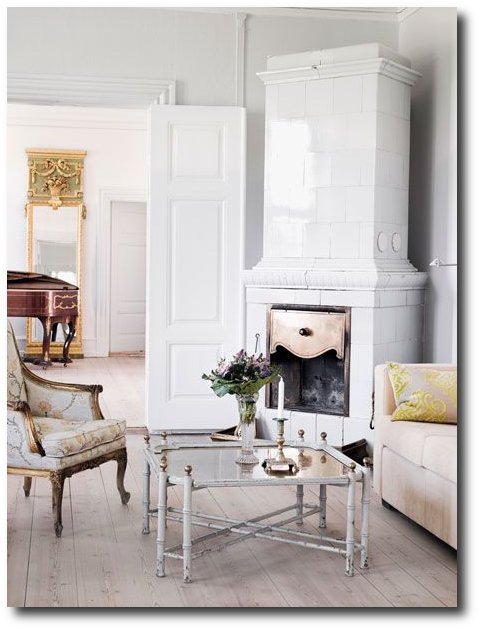 Gelskov Gods, a manor house on the island of Funen in Denmark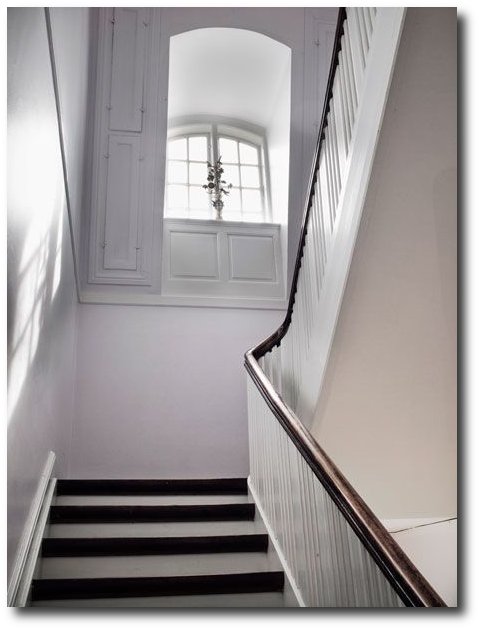 Gelskov Gods, a manor house on the island of Funen in Denmark
Gelskov Gods, a manor house on the island of Funen in Denmark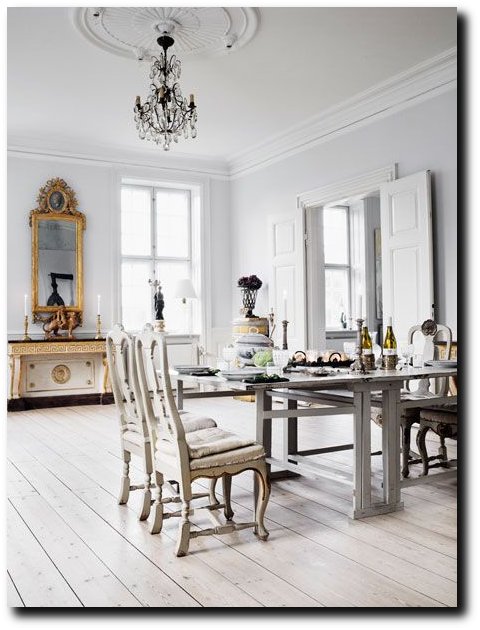 Gelskov Gods, a manor house on the island of Funen in Denmark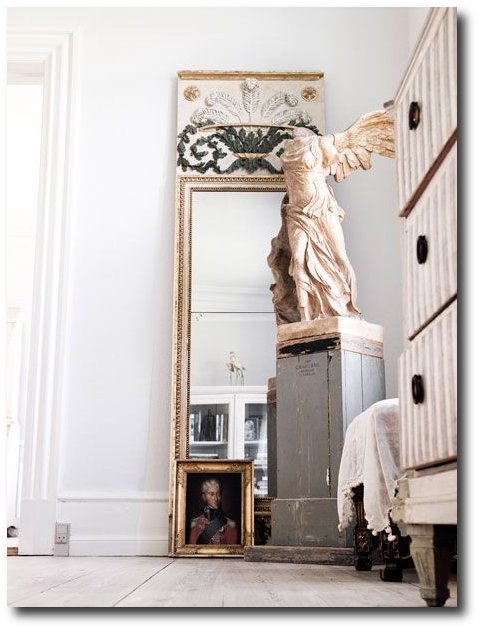 Gelskov Gods, a manor house on the island of Funen in Denmark
Gelskov Gods, a manor house on the island of Funen in Denmark
Gelskov Gods, a manor house on the island of Funen in Denmark
Gelskov Gods, a manor house on the island of Funen in Denmark
It is always fun discovering blogs from around the world. The Norwegian Interiors & Inspiration Blog posted some wonderful pictures of a Swedish villa strongly inspired by the typical Swedish Gustavian style. The pictures are taken by the Danish photographer Mikkel Adsbol. It seems as though there are a variety of pictures taken on this home which shed a light on the various rooms throughout the house. A Bit of Everything Sometimes Blog also featured some wonderful pictures. Of the rooms, the washed wood floors, and various Swedish furniture reflect a Gustavian direction in this residence. The bedroom has a slight hue of lilac, as well as the child's bedroom which seems to have Swedish motifs painted on the walls.
Living Inside also features some lovely pictures of this home.
A Renovated Log House Decorated Around White- Seen On expressen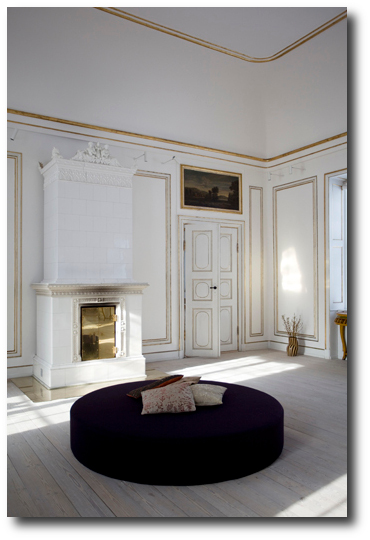 Modern Furniture In A Castle In Denmark –DH Design & Co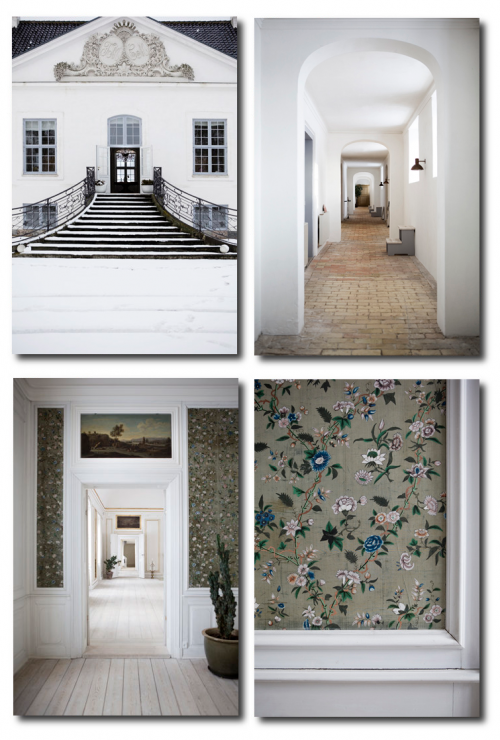 Modern Furniture In A Castle In Denmark –DH Design & Co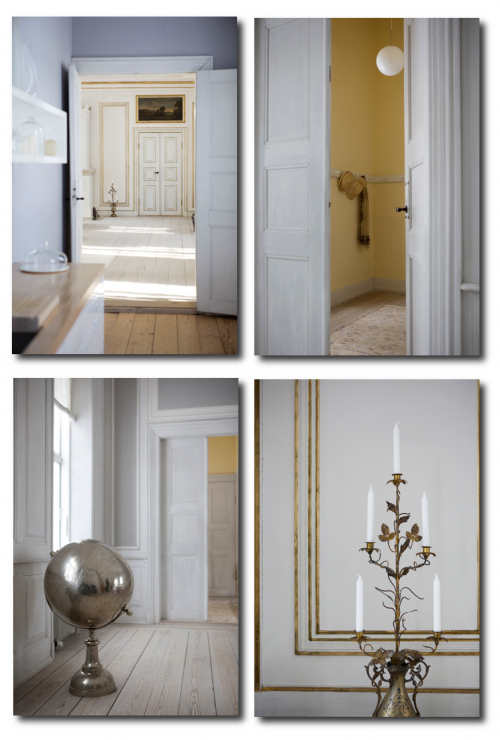 Modern Furniture In A Castle In Denmark –DH Design & Co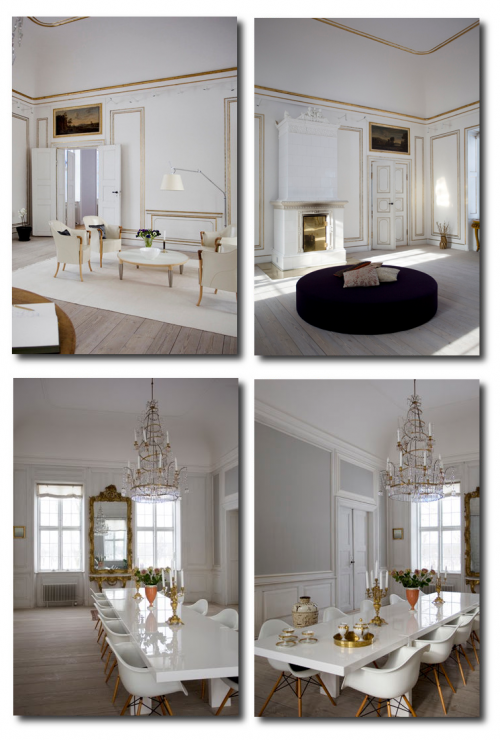 Modern Furniture In A Castle In Denmark –DH Design & Co
The Norwegian Blog Ernashus posted some striking pictures from Swedish Wlfsta Goods of a Swedish styled interior with some unexpected rustic elements you normally don't find in the blue and white typical Swedish room that is often shown. In fact, the Swedish style isn't one that fits in a box, there are so many diverse ways to Swedish decorating, that there are no general rules. Although I am enlighted to see some new variations on the style.
A Home Based Around White Nordic Style Seen In weranda.pl
There isn't too much about this home. This 19th century Swedish home was once neglected, and brought back to life. The brick home with it's characteristic sloping roof and eaves gives off a very unique impression. The expansive lawn and gardens are accented with a matching gazebo.
Borrow Looks From This Home
There isn't much on this home. The original article was featured on weranda.pl/…..
This home is spectacular. A great home to borrow ideas from for a white based interior.
Borrow Elements From This Home:
– Have You Ever Seen One Canopy Tying To Beds Together? – Why not? We often see traditional canopies above a single bed. In this case, the home owners decide to use one canopy over two beds. Decide if you like the look. Look at avidekiotthon.hu, ahouseromance.blogspot.com for additional pictures.
– Hire A Faux Artist For A Mural– A mural can really bring the flavor of 18th century living into your home. Hire someone who paints for a living to get it just right, and you will find yourself looking at it for years to come.
– Go For A Pop Of Color- Red is a color to use in moderation, and this home uses it right. We see a classic French chair upholstered in red, with a few throws in this saturated tone.
– Go For A Shade That Is Off White– Pure white can often be too bright, but mix it with a bit of yellow, red, or blue, and it can take on a totally different life. In this home, a warmer look is achieved by mixing in yellow undertones. For cooler tones, work with purples and blues. They add in green grays, and muddy reds to the mix which also work with the warmer color palette.
– Invest in Art Work That Speaks To You– Maybe you love botanicals, or framed embroidery….what ever it is, hang it up and draw attention to it.
– Open Up Your Hutch– Let people see your collections. If you have a bookcase or armoire with doors, open them up. These pieces can really be centerpieces in a room.
– Leave Some Pieces In Their Raw Wood State- If you plan on decorating around white, leave a few pieces in their raw wood. Strip off the existing paint, and work with the plain wood- all natural. Go for an accent chair, or a couple accessories in plain wood. You will see it will go a long way in a home based around white.