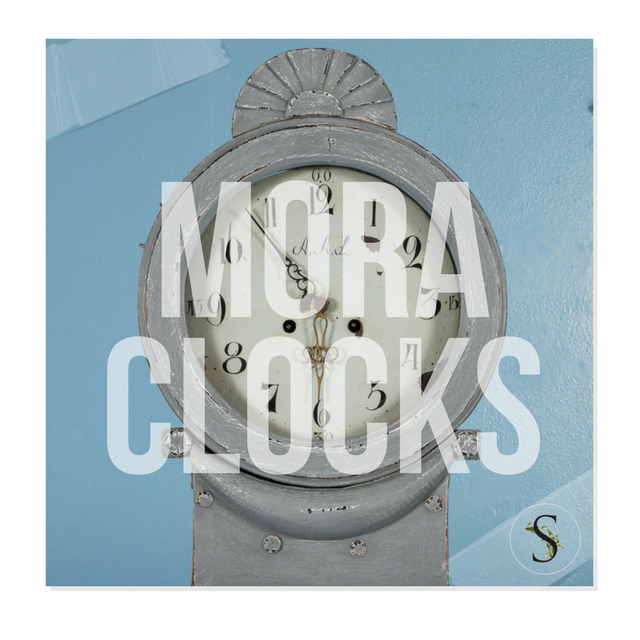 Picture Credit Scandinavian Antiques Co On Ebay
1800s White Folk Art decorated Antique Swedish Mora Clock From Swedish Interior Design Blog
 Swedish Mora Clock In Black With Gold Birds Detailing From Swedish Interior Design Blog
Folk Art Painted Swedish Mora Clock- Swedish Interior Design
Mora clocks are breathtaking to look at, and have become tremendously popular over the last 10 years.  Swedish tall clocks are commonly called "Mora clocks" however, it is known that only clocks and cases produced in the Mora municipality can accurately bear the name of Mora.  The mora clock began in around the Mora municipality in Dalara provence in a small town called Ostnor during the late eighteenth century. According to Wikipedia, Mora clock faces are often marked with the inscription "A A S Mora"—the initials of Krång Anders Andersson (1727-1799) of Östnor, traditionally known as the first clockmaker in the district of Mora.
The clock works were crafted by farmers, the first being Krang Anders Anderson (1729-99) , who needed to find additional income during the winter months. The iron mines of nearby Sala made iron affordable for the farmers to work with, which allowed the clock industry to grow. It started with a few farmers who needed extra money, but by the end of the nineteenth century the clock making business in Sweden thrived.  More than 50,000 clockwork motors were produced during this time.
Each family around the region would specialize in producing one or more of the parts required for these clocks. A finished clock would often be sold without a case, in which the buyer would then have to arrange for one to be made locally. As many as 1,000 clocks were being made each year.  Clock cases evolved from a straight case in the eighteenth century to a curvier form in the nineteenth century. Within 80 years, the competition from inexpensive German and American clocks put an end to this cottage industry.
Swedish Mora Clocks- Swedish Interior Design
Jo from Swedish Interior Design, shares some ideas on what you should look for when you want to buy a Mora Clock.
Many people's first time with a Mora comes from the movie 'Somethings Gotta Give' where there is a mora clock prominently displayed in the living room scene with Jack Nicholson. Original 1800s Mora clocks are very rare now so here's a few pointers to help you find the right one.
They are most worked in pine but very occasionally built in oak and they measure height wise from 180-250cm and feature a great wealth of decorative carvings and original paint finishes.
Each Mora clock is a unique handmade object dreamed up by the imagination of its maker so every clock has a different the hood, clock face decoration, belly shape, plinth etc .
1800s Swedish Mora clocks generally come in a number of types –
Fryksdall: These clocks have a pinched waist, wider belly, curly scroll decoration on the waist and neck and extravagant hood carvings. They come in a variety of whites & greys and would be owned by wealthier individuals.
Bridal: The most unusual of mora clocks, often from Jamtland, these pieces have the finest levels of decorative carving. They exhibit the finest level of craftsmanship in the Mora clock world.
City: a catch all phrase to describe Mora clocks that have fine levels of decoration or beautiful painted finishes that set them apart from the simpler country clocks.
Country: the country clocks are usually plainer in appearance with less decoration. Often given as wedding presents, they would be a prized possession in poorer families. Normally they have simpler hood crowns and less use of glass. They may have no face glass at all or pendulum viewing port for example. Painted in earthier folk art colors in the Swedish Kurbits folk art tradition, they show with yellows, oranges, deep russets, browns and ochres.
There seem to be 3 schools of thought in terms of paint finishes.
Some people strip the clocks back to the bare wood and repaint but that doesn't make sense to me. Every clock has lived a history and by over restoring, you strip away its special 'aura, it becomes just a clock body made of old wood devoid of personality making it not much different from a repro one in reality.
Also many clocks have 'scraped back' paint. But this is just a paint effect really. Originally the paint would have been a rich chalk paint in perfect condition, and the scraped paint 'effect' is just that – an interior design effect similar to 'shabby chic' that you see on lots of restored Swedish furniture. It looks nice but its not real!
At Swedish Interior Design, we prefer to keep the paint whenever we can as it is and only repaint where the original coat is in poor condition or it has been repainted at some later time. When we do it is sensitively done to allow the mora clock to live and breathe so to speak.
Finally you need to think about whether you want to use the original clock mechanism or fit a battery powered electric one. This may seem a strange question but mora clocks have very 'country' parts, unlike the precision clock mechanisms of English clocks of the period.
So they can be difficult to set up and can be affected by a change in temperature causing the wood in the clock body to shift slightly or being jolted as you walk past. This affects the swing planes and can cause the clock to stop. Also the mechanisms are open to the air and its very easy to get dust caught in the cogs.
So that's why most of our clients go for the battery option. It doesn't need winding and it looks exactly the same as the original from the outside. Its easy to do and there's no damage to the clock as the original mechanism is only kept in place by small screw and you can put the original mechanism back in place whenever you like (although it will need cleaning and setting up professionally if you do).
Further Reading:
Martha Stewart Appearance, Mora Clocks, and a Winner! Cove Table
"Swedish painted furniture". Julie Foster Decorative Antiques. Retrieved 2005-12-17.

Edgar Reeves Lighting and Antiques sells this terrific late 19th century tall long case clock in Swedish "Mora" style.  The clock is elaborately painted with floral details from a period perspective.  "Mora" clocks are a type of long case clock which were made in, and derived their name from, the town of Mora in Dalrana provence Sweden. Edgar Reeves has this clock priced at $3,200

Leif Antiques has for sale an early Gustavian clock by Johan Lindquist who was a royal clock maker to King Adolf Frederick 1750-1771. This clock was made towards the end of King Frederick's reign and is a prime example of Lindquist's work and the beginning of the Gustavian Period.  This clock is in exceptional condition and is priced at $80,000
19th Century Swedish Mora Clock circa 1830 Jacqueline Adams Antiques
Swedish Mora Clock Painted In A Soft Blue With Cream Painted Carved Accents, A 19th C. Swedish Clock with Custom Paint,  A Tyner Antiques
Early 19th Century Swedish Mora Clock, Judy Frankel Antiques,A Beautiful Swedish Clock from Circa 1830 – 1840. A Tyner Antiques, A Swedish Tall Case Clock, Rococo Period circa 1760 Dawn Hill Swedish Antiques
Swedish Painted Pine Tall Case Clock, C. 1780 Lillian August Designs, Pendulum Clock with Original Paint. Signed "Mora" on Clock face, Liza Sherman, Early 19th Century Painted Swedish Mora Clock- Dated 1827 Jacqueline Adams Antiques
A Swedish Grandfather Clock by "Myberg" Stockholm 1780, Talisman, Dramatic Tall Antique White Swedish Mora Grandfather Clock, Gustavian Style Scandinavian Antiques, Gustav III Period Painted Long Case Clock from Stockholm, Sweden ca. 1790 Carl Moore Antiques
Antique Swedish Painted Mora Clock Early 19th Century, Scandinavian Antiques & Living, Swedish Mora clock, circa 1800, dry scraped to its original pale green painted surface, CUPBOARDS & ROSES Swedish Antiques, Beautiful Mora clock in a classic Gustavian case, Sweden circa 1800. CUPBOARDS & ROSES Swedish Antiques
Swedish Baroque Mora Clock with beautiful flower carvings circa 1760 dryscraped down to original paint. Scandinavian Antiques & Living, A painted long case clock of voluptuous shape from Scandinavia c.1800. Carl Moore Antiques, Swedish tall case clock, c.1780-1800, of the Gustavian period, the rococo case carved with neoclassic gilded motifs and retaining traces or its original paint.Lillian August Designs
A floor clock made around 1770 in Sweden. Later paint and gilded decor but made during the 19th Century.Laserow Antiques, A Breathtaking Swedish Mora Clock ; Painted With Gilt Chinoiserie Scenes and lattice. Sold for $1,800 Stair Galleries , Tall Swedish clock with rounded middle A Tyner Antiques
Mora Clocks At A Tyner Antiques
19th C. Swedish Clock with Custom Paint- A Tyner Antiques