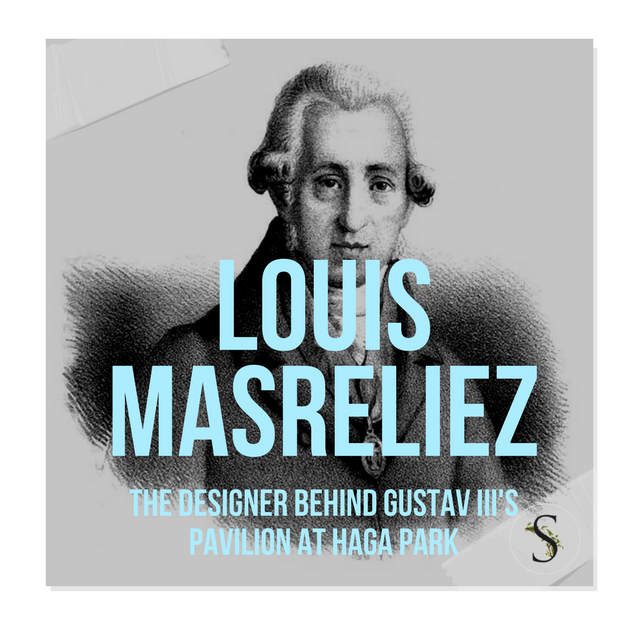 Masreliez was born in Paris and began his education at Ritakademien, which was a drawing academy at the youthful age of 10. In 1769, Masreliez was given a study grant which allowed him the opportunity to travel to Paris and Bologna to study. When he left Bologna in 1773, he decided to stay in Paris for eight years,where he then returned to Sweden in 1782 to become a commissioner of the Royal Swedish Academy of Arts. He advanced the following year, when he was made a professor of art history. Then in 1805, he bacame the director of the Academy.
He was responsible for the interior of Gustav III's Pavilion at Haga Park. In addition he also was responsible for the interior of Tullgarn Palace. Masreliez is remembered for its interior decorations at Haga, Drottningholm, Stockholm Palace in the classical Pompeian style. Masreliez was inspired by the excavations of Pompeii and Herculaneum, which could be seen in his interior design.
The pictures below in this post are located in Salviigränd, which is an alley in Gamla stan, old town in central Stockholm. On the second floor -Number 1, (the only building in that block not part of the Parliament administration), is a suite of rooms created by Louis Masreliez for the bachelor Wilhelm Schwardz in 1795. Dressed up in pastel, grey, and gold, the elegant Gustavian Classicism interiors features lighted candles, cut-glass chandeliers, taffeta curtains, and friezes and medallions.
A special thanks is to be given to A Connoisseurs Quest Blog for the pictures of Wilhelm Schwardz's Home in Stockholm- See the entire post "A Peek at the Usually Hard to See House by The Gustavian Designer Masreliez in Gamla Stan, Stockholm"
One can see parallels between the Gamla Stan and Sturehov, particularly in the placement of furniture. Larger round tables serve as focus points in both the Gamla Stan and Sturehov. Both of the Kakelugnar stoves also have classical columns which make the base of the stove.
We are happy to discover this designer with you….!
Masreliez House, Stockholm
Masreliez House, Stockholm
Masreliez House, Stockholm
Masreliez House, Stockholm
Masreliez House, Stockholm
Masreliez House, Stockholm