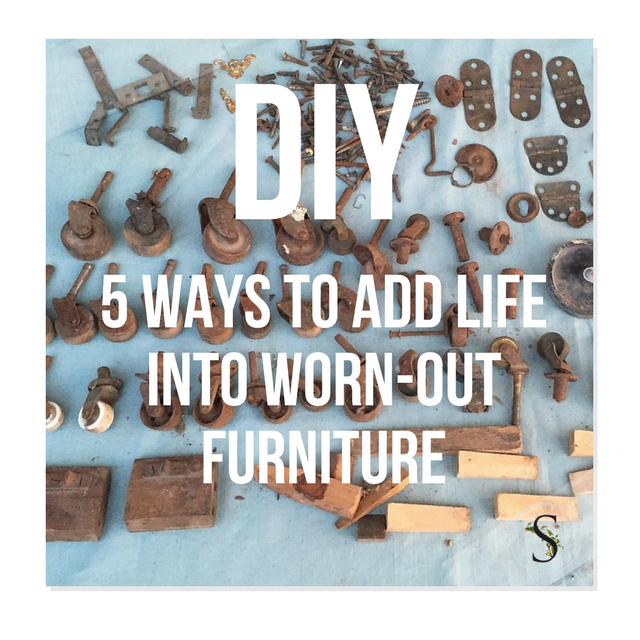 Colefax and Fowler
Furniture ages just like everything else…and like with most other things, you don't notice the small changes that happen to your furniture until one day, a few years (or maybe even a decade or more) down the line, you stop and say, "When did my furniture develop this natural patina?"
Obviously you love your furniture — you wouldn't have kept it for so long if you didn't — but loving your furniture doesn't mean you can't update it or dress it up a little. What's more, you can make your updates and do your dressing up for very little cost (which should be a relief since it's doubtful you've got a Steve Wynn-sized bank account to fund these projects).
Here are a few cost-effective ways to do just that.
1. Put on New Hardware
Consider adding a little bit of bling to that old chest that you want to fall back in love with. Putting on new hardware is a great way to dress up old cabinetry and furniture. For example, maybe instead of having handles on the dresser drawers, you can put pulls on instead. New hardware can completely change (and update) the look of a piece and costs way less than buying a whole new item.
2. Refinish It
That chest sitting in the back of the garage may look nice in it's all natural elements. Consider sanding off the old layers of varnish and finish. Maybe this time you can choose a different paint color, or maybe you'll leave it all-natural.
Refinishing vintage furniture helps get rid of layers of gunk and grime. It can also remove dings and scratches that might have dampened the appearance of the piece. While it won't often make the piece look brand new, it can help it look re-energized.
3. Paint
As someone who is undoubtedly into the purity of his or her furniture, the idea of painting over the current finish, stain, or varnish probably turns your stomach. Before you hurl, though, know that light paint colors are very "in" right now (and has been for a while). You don't have to paint the furniture a garish color if you don't want to. In fact, one of the best things you can do is paint it white. A coat of white paint helps it keep its integrity while also updating its look.
4. Reupholster It
The simple fact of the matter is that over time, fabric (in spite of your good intentions and good care) starts to rot. Cushions (even with minimal pressure) lose their strength. Reupholstering the seat, sofa, or stool helps maintain its beauty and structural integrity. You can even find antique-looking fabrics fairly cheaply online. Even better — upholstery is something you can easily do yourself, which saves you even more money!
Whatever you choose to do, know this: Updating is not the same as replacing. You can keep the same furniture for decades if you treat it well and give it a facelift now and then!
Erin Steiner is a full-time freelance writer and web content creator.
Table With 4 Chairs- Live Auctioneers
Table With 8 Chairs- Live Auctioneers
Riverhills Game Room- Texas designer Joe Minton sought to create a space that would be well-used. Accordingly, he selected a durable outdoor fabric for the banquette. Its yellow-and-blue, slightly nautical stripe adds playfulness to a room rich in antiques.
Swedish Antiques From Lauritz
Swedish Antiques From Lauritz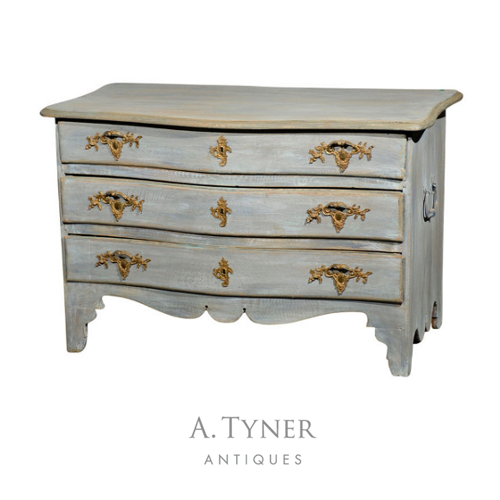 18th century Swedish painted Rococo chest of drawers. Mid 18th century.
Custom paint finish. A Tyner Antiques $9,750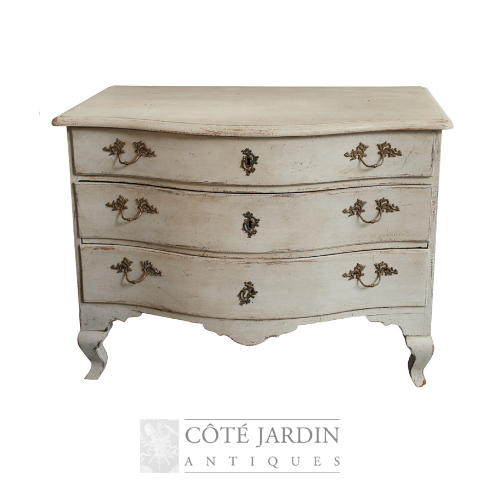 Swedish Rococo Grey Painted Commode -19th Centuty Grey Painted Rococo Commode,Three Drawers Cote Jardin Antiques $8,900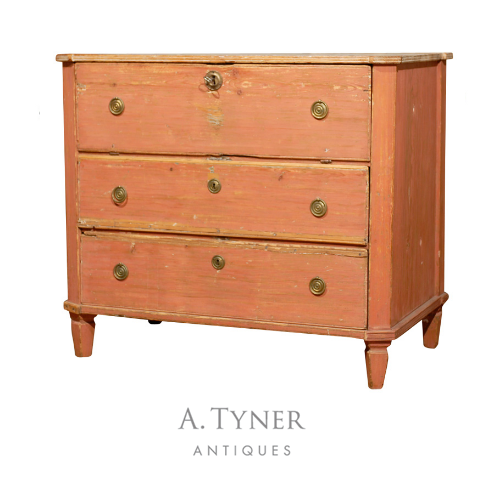 Swedish Chest With Desk- Circa 1790 Swedish Two Door Chest with Drop Down Desk, Original Paint, Original Hardware A Tyner Antiques $4,870
Swedish Chest of Drawers, Dated 1737 Sweden. The chest features all original paint and hardware, three drawers, cabriole legs on squared feet. Provenance on top drawer dates piece to 1737. Susanne Hollis $13,200
White Painted Swedish Furniture
Swedish Gustavian Style Decorating From Eleish and Van Breems Featured on Color Outside The Lines Blog
Swedish Dining Table From The Right Bank Blog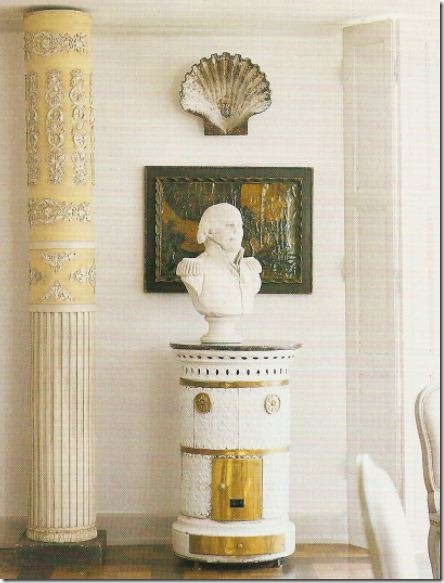 A Swedish Stove Stands Next To Papier Mache Columns- Kay O'Toole Featured on Cote De Texas Blog
18th Century Swedish Giltwood Cartel Clock with Lyre,
Wheat Sheaves, and Classical Drapery. One of a kind clock
Antique Swedish Large White Chest of Drawers with Serpentine Front, circa 1750- Scandinavian Antiques On Ebay This striking chest of drawers/dresser sits on cabriolet feet, the serpentine front adding to the beauty and allure of the piece.
Beautiful Primitive Wall Plate Display From Belgian Pearls Blog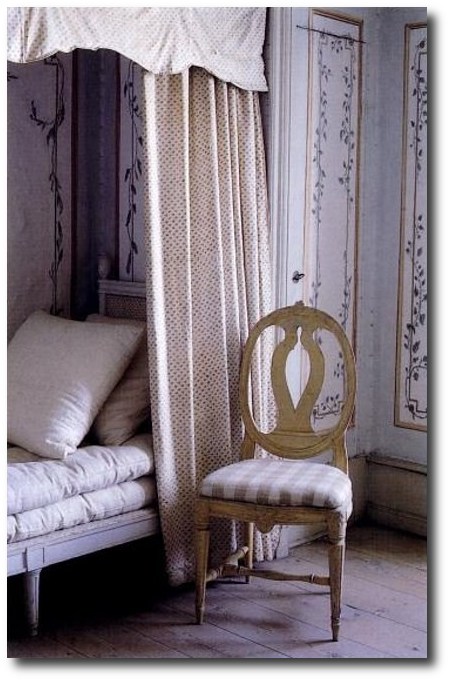 Swedish Decorating Gustavian Styles –
Book- The Swedish Room By Lars Sjöberg, Ursula Sjöberg, Ingalill Snitt
Featured on shabbyechic.blogspot.com
Book – Perfect Country Rooms Emma-Louise O'Reilly- Buy it on Amazon For $1
This beautifully illustrated book casts a fresh look at the new country style, which combines time-honored objects and traditional styles with a new versatility and natural look. This style of decorating is easily adapted to any house, rural or urban–it's just a matter of focusing on comfort, conviviality, and a combination of traditional, personal, and at times eclectic objects. 175 full-color illustrations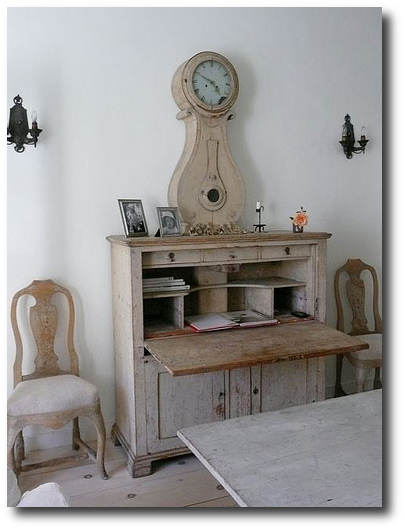 Kennedy Home From Velvet and Linen's Flicker Stream
Dawn Hill Antiques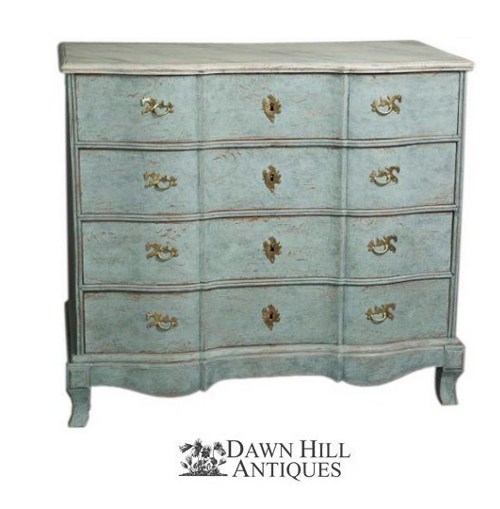 A blue painted, Rococo Period Chest of Drawers with a faux marble
top and elegant curved drawer front. Later paint surface and drawer pulls..
Sweden, circa 1750.
A pair of Rococo Style Armchairs in Blue paint with elegant carvings and details.
Circa 1860, Sweden
Gustavian dining chairs Circa 1800- An assembled set of ten Gustavian dining chairs bearing the signature carving of fruit and flower of the hops plant. Lindome chair makers, Sweden. $17,000
A Pair of Swedish, late 19th century, Arm Chairs. Painted white and upholstered
in a late 19th century blue and grey French toile. Carved details on the crown
and apron. Reeded armrests and legs. $4600
A matched set of six Swedish Rococo dining chairs. A matched set of six Swedish Rococo period dining chairs circa 1770, in original paint with a nice patina Price $15K
Swedish Chest of Drawers Circa 1820 A Swedish, late Gustavian, grey painted Chest of Drawers with beautiful dental molding and a flower spray carving on each corner. The top drawer has three small "secret drawers".
A, Mid 19th century, Trumeau Mirror in old green paint with a classical, carved figure of a charioteer and horse. Edging and details in gilt. France Circa 1850.
Swedish Baroque chest of drawers, circa 1800, with bow front and shaped top.
Original hardware, no repairs.
Large horse, circa 1820, with wooden frame and original painted surface from
Rosenholm Castle in the north of Denmark. Original dapple gray paint and
horsehair tail. Painted eyes with isinglass coverings. This horse was most
probably a pull toy on which a toddler would ride.
Gustavian chest of drawers, Sweden circa 1800, having a fall front top drawer, with two standard drawers below. Canted pilasters with fluted detail and shaped top. Original hardware, secondary paint.