Antik & Auktion
Antik & Auktion- (Antique & Auction) Antique & Auction is a great Swedish magazine which focuses on antiques and art. Experts write about furniture, silver, rugs, art and much more. Features often include auctions, fairs, and general trends around the antique market and prices.
Antik & Auktion 11 Issues For $99 On Amazon
Gods & Gardar (Gods & Farms) -The magazine that takes you to the beautiful farms, manor halls and castles that will leave you speechless. Learn about the families who have inherited and live in the countryside on these dream farms. Gods & Farms tells us how to live a modern life out in the country. For those who enjoy looking at classic style in the Nordic country, rich history, breathtaking antiques, architectural homes and lush gardens, this magazine might be for you.
Gods & Gardar- godsochgardar.se
Gard & Torp –(Farm & Cottage) is the only magazine that deals with how to renovate older homes. When was the house built, and what colors were used? Tell me about how to buy a older property without destroying the original charm? The Farm & Cottage takes you behind some of the oldest homes and gives expert advice on how they are maintained. Here you will find inspiring images of farms, cottages in rural areas.
Gard & Torp -10 Issues For $85 On Amazon
Hem & Antik – (Home And Antique) -Do you like renovations? Are you excited about antiques, yet desire to have modern amenities? DThen this is a magazine for you! Classic Home & Antique is namely the country's first and only interior design magazine that is also an antique newspaper. In this magazine you will see furniture and auction finds, side by side with modern day furniture such as Ikea. Classic Home & Antique is published six times a year and is in Swedish.
Hem & Antik –6 Issues For $49 On Amazon
Skona Hem (Comfortable Home) Comfortable home is a source of inspiration for those who are interested in interior design. Here you will find inspiring homes in Sweden along with home décor, the latest trends, antiques and all things that involve the home.
Skona Hem- 14 Issues For $133 On Amazon
Other International Magazines To Consider:
Campagne Decoration– $44.41 ($7.40/issue) 6 Issues- Amazon
Period Living – $143.99 ($12.00/issue) 12 Issues- Amazon
Elle Decoration – British Edition- $122.72 ($10.23/issue) 12 Issues- Amazon
World of Interiors- $103.09 ($8.59/issue) 12 Issues- Amazon
Elle Interior (Sweden) $127.99 ($12.80/issue) 10 Issues –Amazon
House And Home (Canada) $21.63 ($1.80/issue) 12 Issues – Amazon
Marie Claire Maison – (France) $57.07 ($7.13/issue) 8 Issues- Amazon
House & Garden – (England) $91.63 ($7.64/issue) 12 Issues – Amazon
Homes & Antiques- $59.90 ($4.99/issue) 12 Issues – Amazon
The English Home– $32.75 ($5.46/issue) 6 Issues- Amazon
Antik & Auktion
Antik & Auktion
Antik & Auktion
Antik & Auktion
Gard & Torp
Hem & Antik
Antik & Auktion
Hem & Antik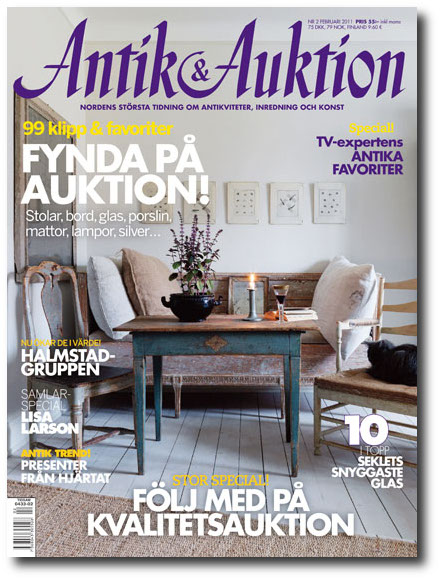 Antik & Auktion
Antik & Auktion
The English Home