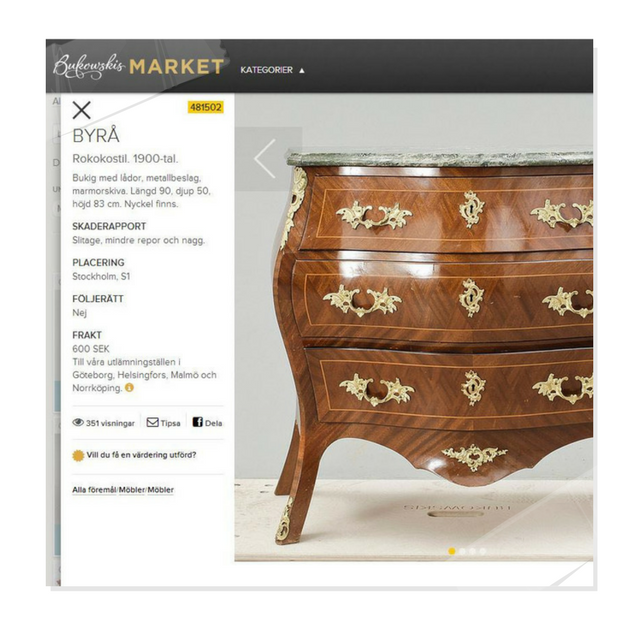 Rococo Desk 1700's
Bukowski is the leading auction house founded in 1870 by the Polish nobleman Henryk Bukowski. Bukowski Market also happens to be Sweden and Finland's largest on-line internet site for quality auctions. Bukowski Market offers modern capabilities to the auction experience; one that combines online shopping with spectacular antiques and reliable expertise.
Bukowski pairs together buyers and sellers from around the world and allows antiques to be brought to the public for sale.  All items sold at Bukowski have been reviewed by experts in showrooms in Stockholm, Gothenburg, Malmö, Helsinki, and Norrköping.   Bukowski offers a large assortment of antiques, design, art and decorative items for all tastes.  Before bidding from Bukowski, be sure to look at their terms of sale, and have your shipping and pick up arrangements set before bidding.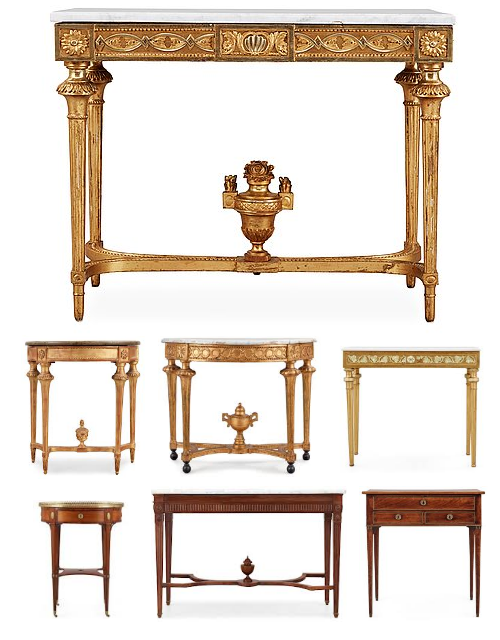 Click on the picture below and scroll through on the left and right of the picture.
About the Gustavian Period
The Gustavian period lasted from approximately 1775 to 1810. The furniture resembled the Rococo styles except were designed with tighter contours and straighter legs. The colors appeared to be cooler; following suit with the color schemes found in the neo-classical styles of the period.  A flood of gray-green and greyish blue was fashionable for the home, and still quite popular today.
Marquetry featured inlaid designs with ormolu medallions and classical borders. Chairs, dining room tables, side tables, bedside tables were all designed with straight designs. Tapered legs were quite fashionable, and streamlined designs seemed to offer quite a change from the curvy looks of the rococo period previously.  Finer examples of chairs and sofas were designed with upholstered backs and were decorated with carved details on the crest. Festoons of leaves, flowers, swags or fruits are all designs found through this period of time. These carved details appeared on apron fronts of tables, the corners of chairs, and detail at the top of mirrors. Between the years of 1785-1810, were characterized by classicism which was popular beyond the borders of Sweden.  These styles are still loved today.
Rococo Mirror 1700's
8 Piece Set In The Gustavian Style, circa 1900
2 Armchair Set In The Gustavian Style
2 Armchair Set In The Gustavian Style
4 Piece Set In The Swedish Style
Gustavian Styled Chairs
Gustavian Styled Sofa