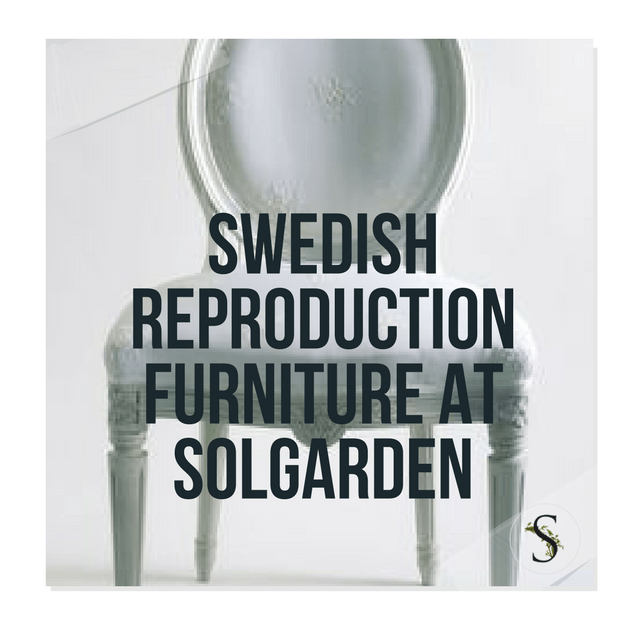 If you are looking for beautiful reproduction Swedish furniture, consider Solgarden.  Solgarden has two lines of furniture, one named "classic", and the other named "vintage".
Solgarden Classic- This line is manufactured by a Swedish furniture maker and the timber is locally grown in Sweden.  This line is inspired after authentic 1700s furniture found in Sweden.  Within this line, you will find furniture inspired after gustavian, rococo and baroque styles. All of their furniture is hand painted adjacent to their store.
The pricing of the furniture includes a choice of color within their "Solgård Colours".  Their signature painting is a process that involves nine different applications. While you have the option to paint the furniture, you can also have it finished to a "worn" appearance that also gives the look and feel of antique furniture.
Solgarden Vintage- Here you'll find beautiful pieces found around Sweden which have been restored and refreshed with paint or new fabric. Often times these pieces are one of a kind, very unique and special.  If you are looking for something specific, which you cannot locate yourself, contact them, and they can do their best to locate that item. Solgarden also offers furniture painting, furniture upholstery and sewing services.
About Solgarden
The operation was named Solgarden, and was originally founded out of a yellow house.  After a few years, the business grew and moved to Karlavagen 58 in Stockholm.  It was in 1998 when the company changed owners, and over the years the business developed a passion for concentrating their efforts in Gustavian styled furniture, and it was there that special pieces were copied and reproduced.  The level of painting evolved over the years, and the quality of the furniture just got better over time.
In 2012, Anki and Mary took over, and Solgarden opened the current store on Surbrunnsgatan 28 in Stockholm.  Skilled painters and artists continue to paint furniture next to their shop, and they have expanded to also offer add one-of-a-kind older refurbished furniture along side their 1700s reproduction furniture.  A customer can also take advantage of their upholstery and sewing services.  If you need slipcovers made, upholstery for a chair, or settee, or bedding and drapery to be made, they can do that too.
Contact Solgarden:
Surbrunnsgatan 28, 113 48 Stockholm
+46 (0)8-663 93 60
info@solgarden.se
Swedish-made cabinet that looks like a real fireplace. Available in both round and rectangular versions and hand-painted in any color. The cabinets are available in different sizes and designs and can be equipped with various options such as glass shelving, lighting, interior gold plating.
Kakelugnsskåp – Rectangular version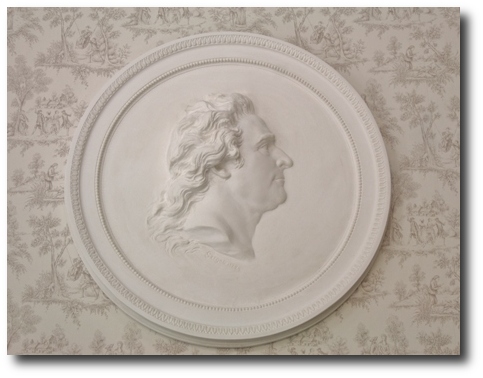 Plaster Medallion with Fredrik Henrik af Chapman. Wall decoration with frame made of plaster copy of Sergel's original casts. Size 65 cm in diameter. Also available with other portraits. F.H Chapman
Find these medallions here
House Beautiful Magazine, 2002, Picture Credit solgarden.se
This stunning feature was featured in House Beautiful back in 2002.  Read all about Marianne von Kantzow's apartment located on Strandvagen:
"Welcome to my latest love affair," said the invitation to the launching of Solgarden's new management four years ago; Marianne von Kantzow just abandoned her post as as a construction executive" to take the helm at one of Sweden's premier makers of reproduction Gustavian furniture and objects. The daughter of Swedish aristocrats, she was raised in an 18th-century manor in the countryside north of Stockholm where "you could find not just Gustavian furniture but details of the style everywhere—walls decorated with painted canvas in colors such as pearl gray and decorated with swags of flowers in lovely pastels." she remembers.
At Solgarden she offers furnishings that hark back to the years between 1770 and 1790, a golden age in Sweden during which King Ciustav III had his own love affair—with the fashions of the French court. Solgarden continues to discover antique pieces to reproduce, often with the help of the distinguished decorative arts scholar Lars Sjoberg. The company makes tables and chairs finished in the traditional 18th-century gray paint, but von Kantzow has also modernized the look of her furniture by using what she calls "Solgarden white." This color, her trademark, is a soft "broken white" la European term for off-white) antiqued in her store's workshop with eight layers of paint and one of wax.
Von Kantzow also tinkers with tradition in her nine-room apartment on Strandvagen, Stock-
holm's Fifth Avenue.  Divorced after a long marriage that produced five now grown children,
she left a picturesque weekend house on an island in the Stockholm archipelago and now lives
in town full time with her companion, a lawyer. "He and I have the same taste." she reports,
although her decor is so "un-Swedish" that when she hosted her daughter's engagement patty,
the young woman's future mother -in-law expressed fears that her son might have to live with
Marianne von Kantzow's aesthetic. "Swedes are generally afraid of strong colors on themselves and in their homes," says von Kantzow. "They walk into my house and stare with their mouths open, and I can see they wish they could be as daring."
The late 19th-century apartment overlooking the National Museum and the waterfront is decorated with the same colors that von Kantzow has used in all her houses. "I love while with other colors, preferably strong pastel tones of blue and pink." she says, "They give love and happiness to a room." Her color palette is both pleasing and practical. "I believe in color schemes that allow a person to move furniture from room to room without having to reupholster everything.
The apartment's 15-foot ceilings and ample natural light are dramatic and accommodating. The piece de resistance is the drawing room, where against rosy pink walls von Kantzow has arranged two conversation groups, using her collection of signed late-18th-century furniture upholstered in pink velvet and blue period documentary fabrics. Anchoring two opposite walls, she has hung paintings close to her heart, one of her great aunt, the other showing a view of her beloved archipelago.
For the formal dining room she painted a forthright Wedgwood blue on her walls, along with Solgarden white for the panels. Two pieces immediately attract attention: a 19tg century cut-glass chandelier—a copy of one made for the Austrian empress Maria Teresa—and an 13th-century Dutch cabinet housing pan: of von Kamzow's china and silver collections. Most of the dining chairs are 18th-century originals.
Von Kantzow- shows her playful side in the kitchen and study. The former took its surprising lime and pink accent colors from the heating stove installed at the time of the buildings construction. In the latter, von Kantzow uses a shack of sorts, complete with roof and trompe l'oeil scenery, as a walk in closet.
If only von Kantzow could enjoy her urban oasis more often. Like any good enterprising Swede, she works long hours—sometimes seven-day weeks. Fortunately her soothing yet stimulating shop makes up for it. Customers, she says, "come in and say things like 'All this whiteness makes me calm,'" and they tend to stay a while, conversing deeply with strangers.
House Beautiful Magazine, 2002, Picture Credit solgarden.se
House Beautiful Magazine, 2002, Picture Credit solgarden.se
A Close Up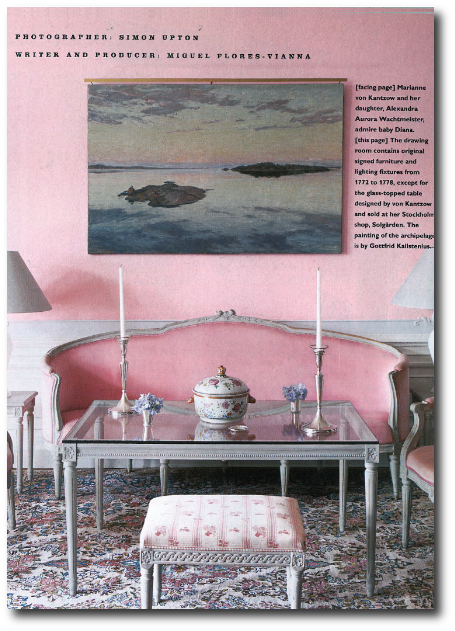 House Beautiful Magazine, 2002, Picture Credit solgarden.se
House Beautiful Magazine, 2002, Picture Credit solgarden.se
Pink Gustavian Interior -SKONAHEM
2004 Picture Credit solgarden.se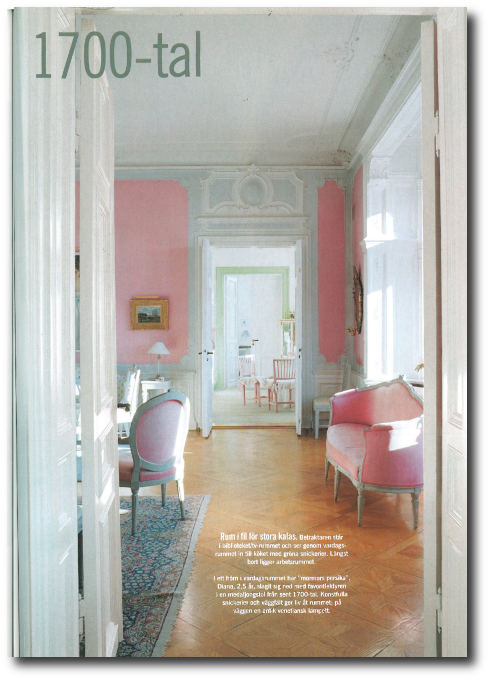 Pink Gustavian Interior -SKONAHEM
2004 Picture Credit solgarden.se
Pink Gustavian Interior -SKONAHEM
2004 Picture Credit solgarden.se
Pink Gustavian Interior -SKONAHEM
2004 Picture Credit solgarden.se
House Beautiful Magazine, 2002, Picture Credit solgarden.se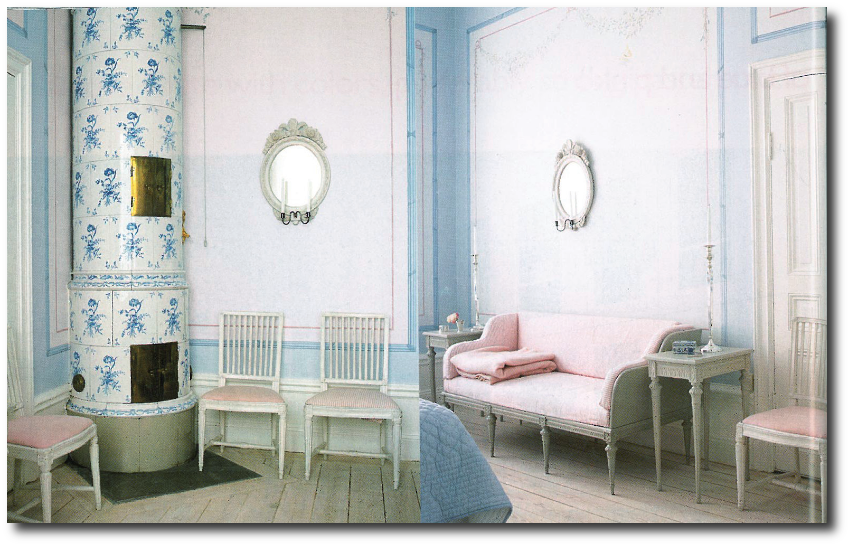 House Beautiful Magazine, 2002, Picture Credit solgarden.se
Pink Gustavian Interior -SKONAHEM
2004 Picture Credit solgarden.se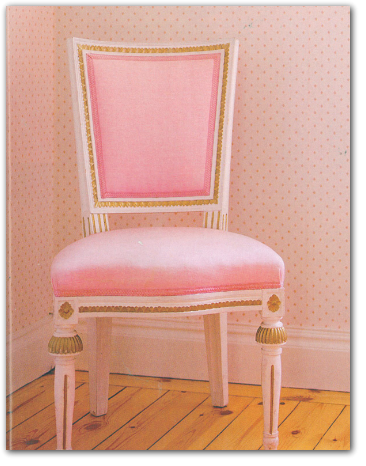 Pink Upholstered Gustavian Chair- GODS & GARDAR
2004 Picture Credit solgarden.se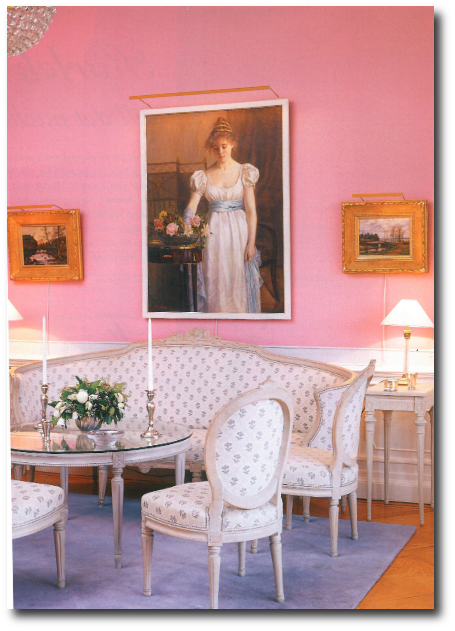 Gustavian Room – BAZAAR
2002 Picture Credit solgarden.se
Swedish Interior, SKONAHEM
APRIL 2006 Featured At solgarden.se
Designer Marianne von Kantzow Seen In Hem & Gardar Magazine, Featured At solgarden.se
Designer Marianne von Kantzow Seen In Hem & Gardar Magazine, Featured At solgarden.se
 Designer Marianne von Kantzow Seen In Hem & Gardar Magazine, Featured At solgarden.se
Swedish Interior, Designer Marianne von Kantzow Seen In Hem & Gardar Magazine, Featured At solgarden.se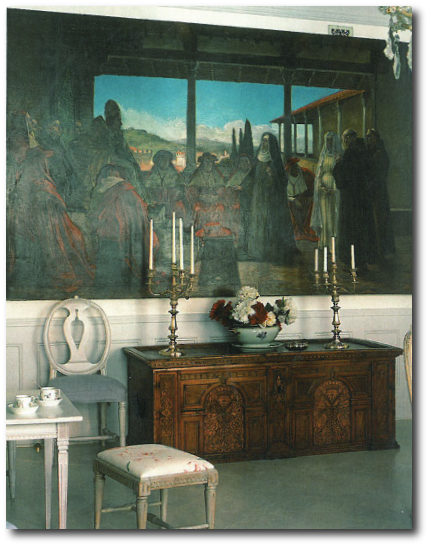 Swedish Interior, Designer Marianne von Kantzow Seen In Hem & Gardar Magazine, Featured At solgarden.se
Baby Swedish Toys In A Nordic Styled Interior – Picture Credit solgarden.se
Bedroom In A Nordic Styled Interior – Picture Credit solgarden.se
Swedish Interior Featured In Hem & Antik Magazine -Picture Credit solgarden.se
Swedish Interior Featured In Hem & Antik Magazine -Picture Credit solgarden.se