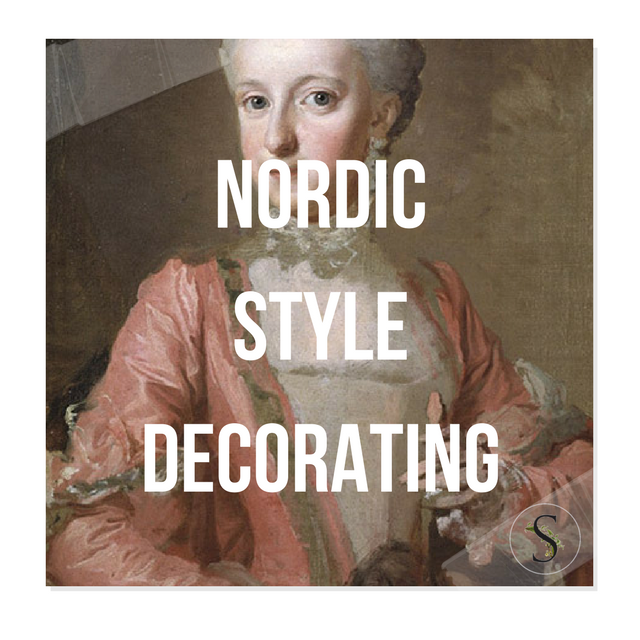 In the August 2010 issue of Home Beautiful, an editorial was written up on a garage in Salt Lake City which was transformed into a relaxing guest house with an overall Swedish design. Designers Marshall Watson and Jeffrey Kilmer took the everyday average space we all forget about and utilized the property in an entirely new way.
This concept of using the garage space has become even more popular in recent years as the need to accommodate "boomerang" children and aging parents has made many of us re-think the space we already own.
Many homes have attached or detached garages, and these spaces can be turned to very nice living accommodations. As with any project, you'll want to make sure that you comply with local ordinances and building codes before undertaking such a project.
When converting a garage into to livable space, there's always the issue of what to do with the garage door opening. A good solution is to keep a garage door in the original opening. By doing so, you can keep with the overall exterior look of the house.
Another option is to install carriage-style garage doors which feature decorative windows. These doors allow you the functionality of windows on the inside while maintaining the original garage look on the exterior. Another option is to replace the garage doors with large scale windows or doors which will fill the opening.
One of the most challenging aspects of this sort of renovation is the option of a bathroom. Additional plumbing requires tying into the existing plumbing lines which can be problematic and challenging. An additional bathroom is always a nice amenity to have for those additional guests, so investigating ways to add this possibility is worth doing.
About the Swedish Salt Lake City Garage Transformation:
After looking at the pictures of the Salt Lake City interior, one would never suspect it was a garage to begin with. Bead board paneling frames a fireplace where a gilded 19th century Italian mirror gives the living room a refined look. Porcelain garden stools are scaled perfectly for a pair of 18th century Swedish chairs. A Swedish sofa with embroidered crewel work add a natural, yet refined look for this room. A traditional mora clock in the entry way sets the mood for the whole guest house.
Subscribe to Home Beautiful- House Beautiful (1-year auto-renewal) $15 dollars ($1.50/issue)
Borrow Elements From This Home:
– Pairs of French Bergeres- Ebay
– Gingham check black curtain drapes W46 X L42 $25- Amazon
-Ivory & Orange Faux Silk Checks Curtains 52″W X 84″L – $38- Amazon
-Juliet Heavy Satin Embroidered Faux Silk Curtain Panel 52″W X 108″L – $295 Amazon
-Howard Elliott Bright Gold Lead 37″ Round Wall Mirror -$299 Amazon
-Uttermost Valent Blue Accent Table- $217 Amazon
-Two's Company Gold Leaf Round Wall Mirrors, Set of 3- $136 Amazon
-Hickory Manor Round Rose Mirror, Cream Gold Silver- $292 Amazon
-Howard Miller Grandfather Clock $3K – Amazon
-Howard Miller Joslin Grandfather Clock- 3K Amazon
-Traditional Grandfather Clock with Chime from Coaster $230 Ebay
-Uttermost Cadey Side Table-$283- Amazon
-Howard Miller Chili Red Mora Clock For $1K Amazon
Commentary from the House Beautiful article:
FRANCES SCHULTZ: Sometimes the guesthouse is the second-Hand Rose of decorating, but this is a little jewel box.
MARSHALL WATSON: The owners treat their guests like family, and most of the time they actually are family. Between them they have seven children-two still at home and five grown and away who return frequently to visit.
Jeffrey KILMER: She wanted the house to be a fantasy escape, for her visitors to have a feeling of being transported into a foreign environment that
was cozy and warm.
FRANCES SCHULTZ- That Swedish Mora clock as you enter really sets up the whole scheme.
MW: You also feel, 'Boy, I'm entering a really special space.' You're enthusiastic and drawn in. Even though you enter directly into the main room, it creates the feeling of an entry distinct from the room.
IK: And as opposed to a painting or a mirror, the clock is three-dimensional, so it adds depth and enhances the sense of space.
FRANCES SCHULTZ- Small spaces allow the luxury of less. And yet there seems to be everything here you need.
IK:- It's laid out comfortably. The living room and dining room pieces are small scale, but still very comfortable. There's not a lot of stuff here, but everything
has its function. We've kept the seating arrangements pulled away from the walls. If you create space beyond the furniture, it adds volume to a room.
MW: And there's no upholstery to the floor. There are a lot of legs, and that creates that air space, which in turn creates an open feeling. But you have to be careful. In a large area a lot of legs will look like too many ballerinas on tiptoes.
FRANCES SCHULTZ- That elaborate gilt mirror is a bit brazen for a Nordic country cottage. Did it come from an ancestor's castle?
MW: Well, it's from somebody's ancestral castle,and it works here for several reasons: It's in a rather squashed space, so to put a square mirror there would not have been nearly as interesting. Also, a bull's-eye expands the room. As for its elaborateness, you know the mantel was—and [still is—the place where you put your best pieces.
So the idea is that this was handed down through generations, and it was going here because it was the finest thing given to us by Grandmother.
FRANCES SCHULTZ- The lanterns seem to be the only place in the room where you've played up the scale. How big are they?
JK: About 18 inches tall and 13 across. There weren't a lot of lamps, and we needed something to anchor the space. The two large lanterns delineate the living and dining spaces and give an intimacy to each,but at the same time pull them together.
MW: We also used downlighting in this room,and rather dramatically on that wonderful wall of wood that's the fireplace wall. There's a hidden door at the left of the fireplace to conceal a closet and television—that's easy to do with beadboard.
It was typical of both Swedish and American Colonial houses to have wood paneling on the fireplace wall, since it was the focus of the room, and the rest of the room would be lath and plaster. We added beams also to give that cozy feeling of a very old
house with low ceilings.
FRANCES SCHULTZ– The kitchen blends so seamlessly into the room that
I almost missed it.
M W: We love to do kitchens, but we hardly ever do a 'normal' kitchen. We try to find an antique and adapt it to a kitchen cabinet door-front, whether it's a rustic couple of boards from a wash stand or a wonderful Gustavian sideboard, which is what these were inspired by.
FRANCES SCHULTZ-There's an element of depth in everything, from the fabrics to the furniture to the layers of color and glazing on the painted surfaces.
MW: In a small space you view things close at hand,so in many ways the detail is more important than it might be in a grander space.
FRANCES SCHULTZ- Which is not to say you don't have elements of grandness. The clock, the mirror, that amazing headboard. Talk about going for Baroque.
MW: And if it ain't Baroque, don't fix it. Isn't it fabulous? It was part of a large cartouche that came from Austria. It's pine, and in two pieces mounted directly to the wall. We thought it was reminiscent of a chalet in Europe where you'd throw this one
enormous piece in a room. It makes the room feel a little larger, and everything else holds together.
FRANCES SCHULTZ-The house may be small and relatively sparse, but there are big gestures.
MW: You don't have to have a lot of pieces in the room if the pieces have a lot of character. We do many large projects, and it's wonderful to have these great, large rooms for entertaining. Yet invariably the couple finds the smallest, coziest study or
library to live in. In our everyday lives we want to feel enveloped and protected, don't we?
Produced By Doretta Sperduto
6 French Carved and Painted Directoire Jansen Dining Chairs Greenwich Living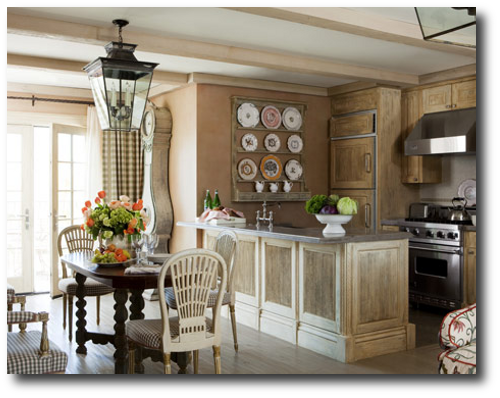 The surprise of a gilded 19th-century Italian mirror "gives the living area a great jolt," Watson says. Porcelain garden stools are perfectly scaled for the pair of 18th-century Swedish chairs.
The house is on a promontory that overlooks a canyon: "There are several resorts in the region, so it gets a lot of use, winter and summer," Kilmer says. Seating is arranged away from the walls, giving the room an airy, open feel. The cushion on the painted antique sofa is covered in Hinson's Classic Crewelwork and shaped to follow the lines of the wooden seat. Curtains are Mariefred by Country Swedish. Sofa and drop-front desk from Evergreen Antiques.
Beautifully effecting patina and age, decorative painter Judy Mulligan applied multiple layers of pigment and glaze to kitchen cabinets and walls. The narrowness of the Dennis & Leen Formations dining table "allows for intimate, lively conversation," Watson says. English Hepplewhite-style chairs are covered in La Seyne by Brunschwig & Fils. Sub-Zero refrigerator with custom panels; Viking range and hood.
Gustavian Three Seater Sofa By Gustavian sells a traditional Swedish 18th Century sofa made from solid birch wood with hemp fibre in supporting weave. Seat and back cushions in natural rubber and coconut fibre. Hand carved floral pattern on the front. Price: £3,200.00
White Painted Gustavian or French Style Carved Wood Sofa – A very decorative white painted Gustavian or French Style carved wood sofa, modified to accept comfortable upholstered cushions $4,950.00 FS Henemader Antiques