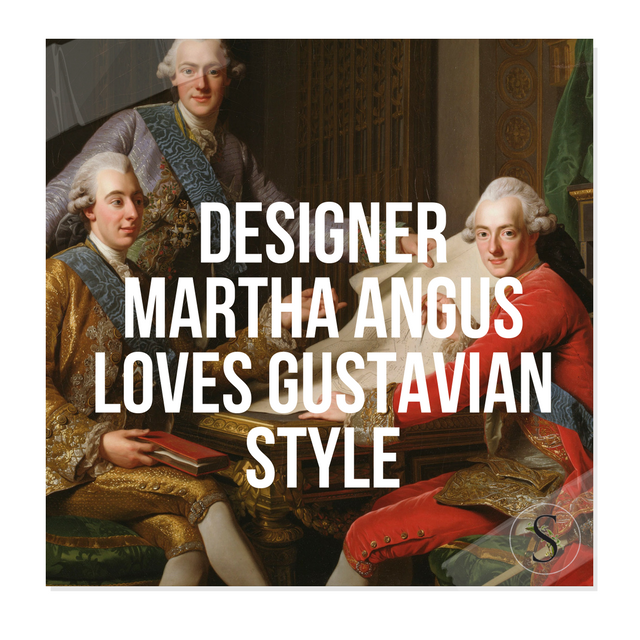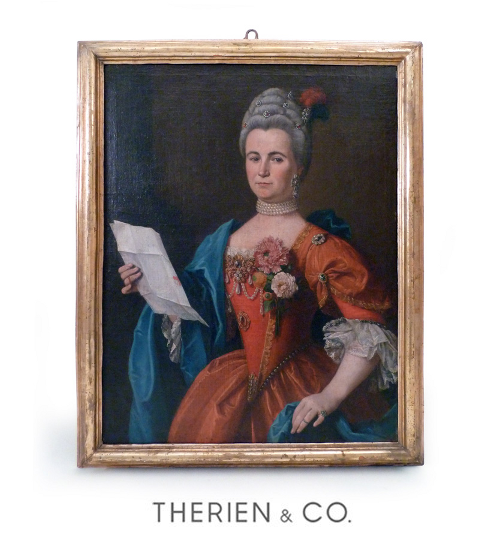 Swedish Portrait -the figure of noble women, in courtdress, within giltwood frame
The Style Saloniste posted an interview with designer Martha Angus, founder of the San Francisco-based firm, Martha Angus Inc. about her favorite style and paint colors. It turns out she loves the Gustavian Swedish styles, and gives out the paint colors she uses most often in her designs.
Q- Favorite design period?
Martha Angus: Gustavian. It's late eighteenth-century, and feels like Louis XVI but not as grandiose. In addition, I love the painted finishes typical of the period, often in gray. Swedish design can offer a type of low-key opulence. During the Gustavian period, a light wash of paint in earth colors of light blue, gray, green and yellow was used instead of gilding. The prices of antiques vary, depending on the object. They're now very collectible, so prices are rising fast. I've seen some fantastic examples at the Marche Paul-Bert at the Paris flea market, Clignancourt.
My favorite local source for Gustavian furniture is Therien & Company in Los Angeles (as well as the Therien & Co 20th-century collection at their gallery in San Francisco.)
Q: Your most versatile paint color?
Martha Angus: It's Benjamin Moore and my special mix of half Decorator White mixed with half Linen. Works every time.
The finest paints are those designed by Donald Kaufman in New York. They are all elegant and multi-dimension and complex, so you could pick one with your eyes closed.
I'm a big fan of Farrow & Ball, colors: Parma Gray, Folly Green and Mouse's Back are very individual and give rooms character.
Q: Which fabric could you use over and over?
MA: Heavy Belgian linen by Henry Calvin Fabrics, # 8793 "Mail Bag Linen" texture in natural. To the trade, Henry Calvin Fabrics, 151 Vermont Street, San Francisco, 415-565-1981. I often use antique textiles, tapestries, and pillows from Kathleen Taylor, The Lotus Collection, 445 Jackson Street, San Francisco, 415-398-8115.
Paula Caravelli & Martha Angus- sceneinny.com
Home Dit also features an interview with Martha Angus, where she reveals more of her love for French and Gustavian antiques.
Q: Tell us about the moment when you decided to follow a career in the field of interior design.
Martha Angus: I always felt like an artist growing up. I moved around constantly for my father's career, so the whole idea of 'home', a place where you feel comfortable and can settle into, is the most important thing in the world to me. When I was a child, I absolutely fell in love with color, especially coloring books. I became so passionate about art and color, I thought "Oh, wow!" this is all I ever want to do, which led me to
eventually study painting at Carnegie Mellon and the Ecole des Beaux Arts de Paris.
When I came out of college the options for a female artist were quite limited yet art has always been a driving force in my career. As a young artist fresh out of school, I got my start as a fashion illustrator and textile designer in New York City. That eventually led to store design and high-end residential design. My work and interests are always evolving but I never abandoned my first love –painting and contemporary art. To this day, art is the most important feature in my designs. It's usually the first thing I discuss when starting a new project.
Q:Where do you look for an obscure source of inspiration?
Martha Angus: I find inspiration in my usual trips to the Paris flea markets. I believe my ideal shop would include that sense of history, unstated elegance and fun that the French do so well. As in my projects, my ideal shop would include timeless and elegant items such a Gustavian settee or a weathered neoclassical zinc planter paired with a super chic custom designed plexi-glass bench upholstered in zebra silk-screen hide and bold Ellworth Kelly prints.
Q:What would be your recommendation for "what to do first" in a decorating project?
Martha Angus: Start with a good floor plan and remember that upholstery is the key. High quality upholstery can go a long way. Not only is it a good investment but it also brings a sense of tailoring and richness that other items can't. Once the art and essential furniture items have been selected, accessorizing can do wonders. Scented candles and cashmere throws add a sense of luxury to a room without a significant investment. I always include small trays and boxes that bring the project down to a warm and livable level.
I always say that art is the most important aspect of a space, aside from the people collecting it. I live for bold, statement art. High art should not be treated as a mere decorative item that accessorizes a room, but almost a living element of the space – something with a very distinct personality.
Q: What's your current paint color obsession?
Martha Angus: I believe in airy, fresh spaces that usually call for very subtle neutrals so that I can come in later and play with fun splashes of color in art, fabrics or accessories. When it comes to paint I find myself constantly going back to some Farrow and Ball colors precisely because they have that timeless elegance that relates so well with my philosophy. Some of my favorites are Middleton Pink and Arsenic.Throughout my career I have always recommended Benjamin Moore's decorator's white for its freshness and vibrancy. I have a life-long love affair with textiles of every kind. In fact my career started in New York City as a textile designer and fashion illustrator. I believe David Hicks style fabrics are classic and always so chic.
Q : What advice do you have for someone with a new house to decorate and perhaps a limited budget?
Martha Angus: Small changes can go a long way. I also advise my team to use color as envelopes for a room. Soft neutrals like French Gray or even Decorator's White are great colors for walls, ceilings and trim because they can give an atmospheric look to a room and make it timeless, standing the test of time and whimsy trends. The one item I would recommend investing in is good upholstery pieces. The big items should also be covered in a neutral material that can stand the test of time. It will not only look good but will wear well for many years to come.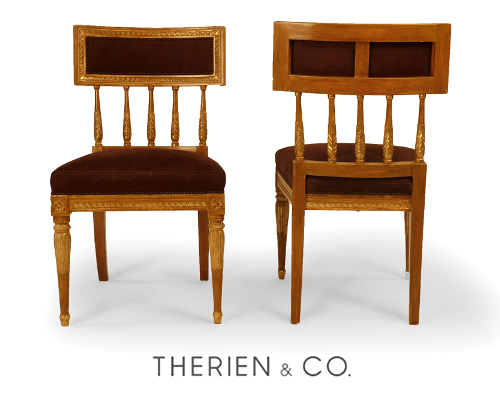 Pair of Swedish Late Gustavian Side Chairs- the rectangular upholstered crest rail within carved and moulded frame on foliate carved spindle supports, over upholstered seat with carved and moulded apron flanked by rosette filled blocks, raised on foliate carved round section tapering legs ending in toupee feet
San Francisco Office -Martha Angus
Martha Angus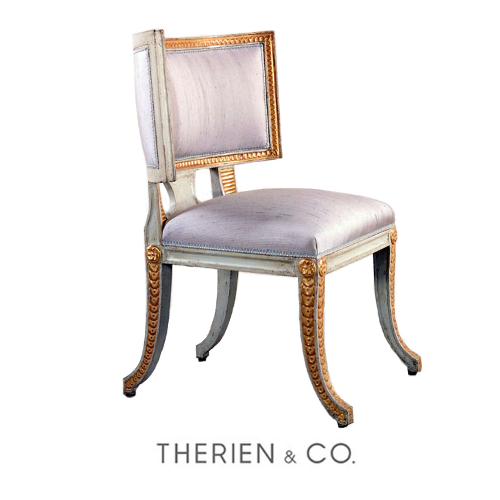 The Neoclassical period replaced the Rococo influences during the second half of the eighteenth century. Cabinet makers responded to the excavation of Herculaneum and Pompeii with great fervor, eliminating the robust naturalistic forms of the Rococo in favor of delicate colors and a less exaggerated line. The Klismos, the original antique form of this chair, was brought to light late in the Neoclassical period in Sweden as well as other countries. The Gustavian, another name for this chair, was developed during the reign of Gustavian III who seized power in 1771. This chair is believed to have been made for the marvelous pavilion at Haga, the summer home of Swedish royalty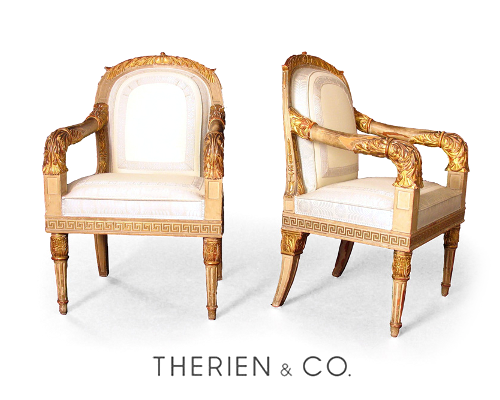 Pair of Roman Neoclassic Painted And Parcel Gilt Armchairs with horseshoe shaped foliate carved back with downswept arms, joined to Greek key carved seat and raised on tapering fluted legs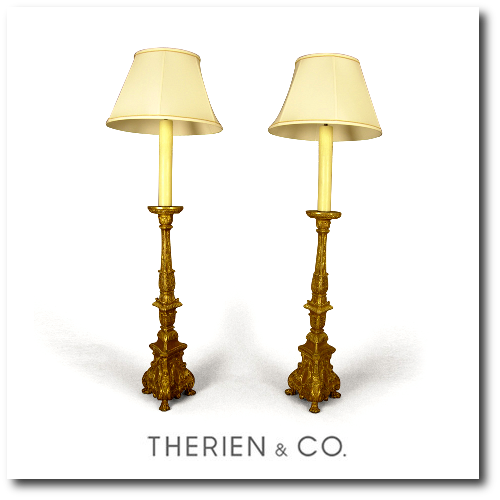 Pair Of Swedish Baroque Giltwood Candlesticks each of compound foliate and gadrooned tripartite form rising to flaring foliate sheathed bobeche, raised on conforming scrolling volute base, centering ribboned and foliate swagged cabochon medallion and ending in lion paw feet; now electrified and fitted with beeswax candle and calf skin shade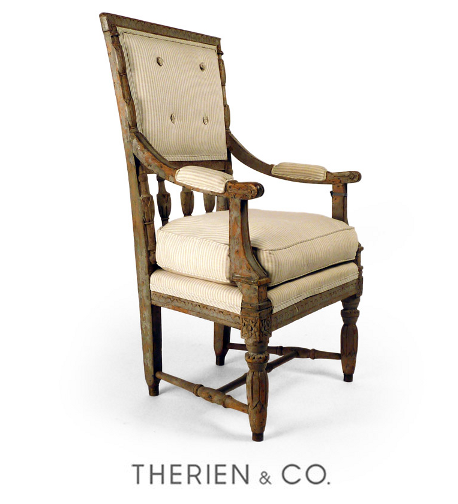 Swedish Neoclassic Painted Armchair- the upholstered back within conforming moulded and carved flaring frame, over urn shaped carved spindles joined by down swept supports to upholstered seat, raised on stylized foliate carved swelling round section legs ending in brass sabots and headed by rosette filled carved corner blocks; the whole retaining original paint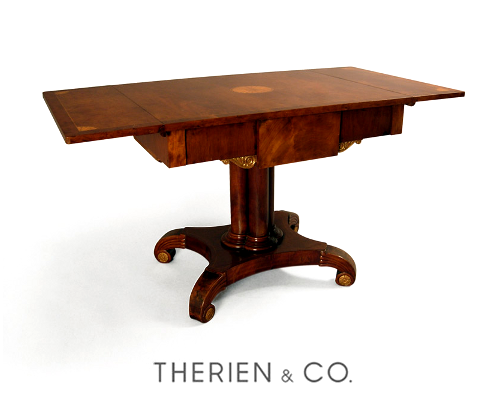 Swedish Karl Johan Mahogany Satinwood and Olivewood and Parcel Gilt Sofa Table- the rectangular top with satinwood stringing centering satinwood and olivewood inlaid central patera medallion and corresponding corners, with two drop leaves over breakfront apron incorporating single drawer, flanked by relief carved foliate volutes, on cluster columnar support in the early English taste, with molded socle and concave platform ending in foliate carved downward scrolling feet centering floral medallions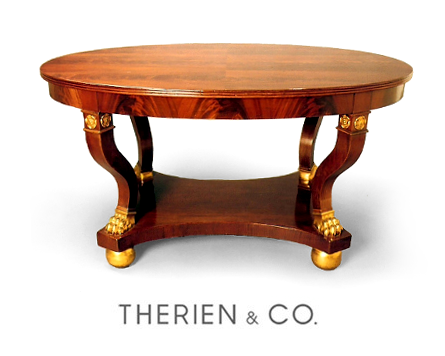 Swedish Karl Johan Mahogany and Parcel Gilt Center Table- the oval top with reeded edge over straight conforming apron , raised on square section tapering serpentine legs headed by blocked rosettes and ending in bronze lion paw feet supported on concave sided rectangular plinth on gold ball feet
Martha Angus – Alta Plaza Residence
Antique Gustavian window seat with pale grey blue lightly lacquered linen Rogers Goffigon fabric.
Martha Angus on One Kings Lane
Martha Angus – Alta Plaza Residence
Hampton Showhouse- Martha Angus
Hampton Showhouse- Martha Angus
Martha Angus – Manhattan Residence
Martha Angus – Manhattan Residence
Martha Angus – Manhattan Residence