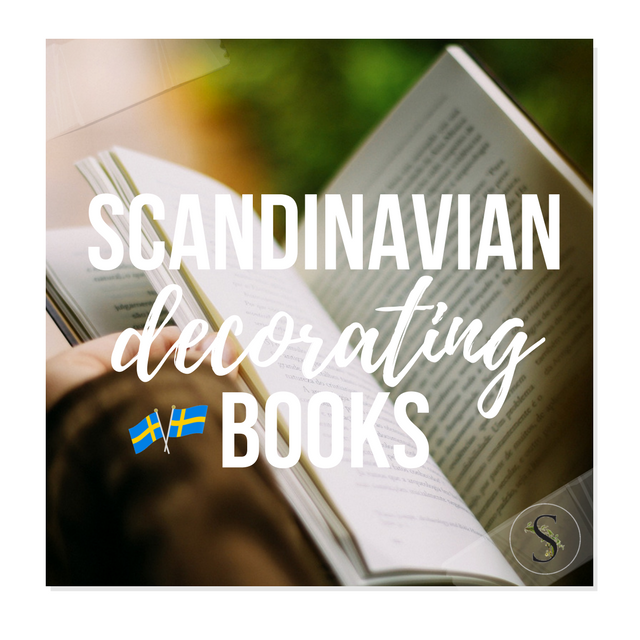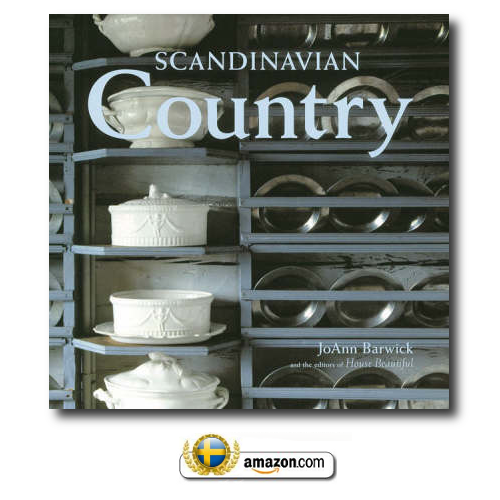 Of all the European country home styles, none is more universally popular than Scandinavian Country. These fresh, light-filled northern interiors have an effortless grace that never fails to delight the eye.
JoAnn Barwick and the editors of House Beautiful lead us on a tour of more than twenty exceptional residences in Sweden, Norway, Denmark and Finland that show this immensely appealing look at its very best.
These interiors are both steeped in tradition and utterly contemporary. Scandinavians have a passion for color and an abiding reverence for nature: stippled, spattered and even faux-marble painted finishes enliven even the most humble country furniture; and an abundance of rich woods, crisp tiles and robust textiles embody the pleasures of natural materials.
With nearly 300 full-color photographs and an extensive directory of sources for Scandinavian furnishings and accessories, this engrossing and seductive book encapsulates this most inviting of country styles.
JoAnn Barwick was editor-in-chief of House Beautiful magazine for more than a decade, and is acknowledged as a pioneer in the development of American and international country style. She was the founding editor of Country Living magazine and has been an editor at Good Housekeeping and Modern Bride.
Norma Skurka is the former Home editor of the Sunday New York Times Magazine. She has taught at Parsons School of Design, lectured at the Cooper-Hewitt Museum, and is the author of several books, including The New York Times Book of Interior Design and Decoration.
Scandinavian Country by , JoAnn Barwick On AMAZON
Scandinavian Country by , JoAnn Barwick On Ebay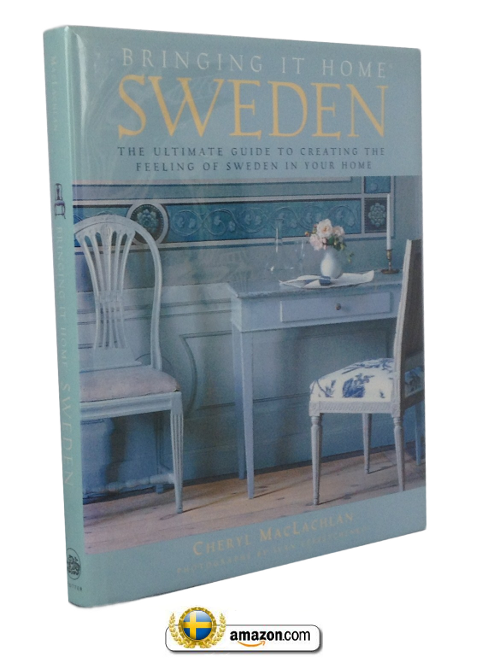 Bringing It Home Sweden by Cheryl Maclachlan- Buy It On Amazon Starting at $12

Bringing It Home Sweden by Cheryl Maclachlan Buy it on Ebay
Renowned for its lovely blond woods and delicate color palette dominated by pale blues, Sweden is a country of simple and elegant interior design. In a bright, well-photographed presentation, lifestyle writer Cheryl MacLachlan beautifully captures the essence of Swedish design: clean lines, pale hues, natural materials, a powerful sense of light and space, and fresh folk-art charm. The living room, bedroom, dining room, and kitchen each merit a chapter filled with ideas about walls, floors, windows, colors, fabrics, lighting, and furniture. Scattered throughout are tips on decorating, such as transferring a decorative motif to a wall, setting an attractive table, and mixing your own paints for an authentic look. You'll also find a chapter on Swedish foods (complete with tempting recipes), and a source list.
From the Inside Flap
Is it possible to bring home the best of an entire country?
This is the question that came to author Cheryl MacLachlan when she fell in love with the charms of Sweden–its pristine landscapes, its warmhearted people, and above all, its delightful homes. What was it that made her visits there so memorable? And how could she replicate those pleasures back home?
In Bringing It Home–Sweden, Cheryl MacLachlan reveals the secrets of Swedish decorating and entertaining and explains how to capture those charms anywhere. After spending much time visiting homes and conversing with families in towns and cities throughout Sweden, she became familiar with the subtle but unmistakable qualities of Swedish life: how furniture is chosen for its pure, fine lines; how simple fabrics are used to great effect; how soft, delicate colors are layered to create rooms full of light and elegance; how the freshest ingredients are combined to prepare delicious meals. Now in this book, she offers the essence of Swedish style, with an abundance of practical information, handy how-to projects, and colorful inspiration to enrich any home.
Bringing It Home–Sweden explores the full range of life in this beautiful country. From the finer points of Gustavian furniture (now available in reproduction everywhere) to the exquisite choices offered by Swedish crystal, from the secret to buying the perfect down comforter to the ultimate recipe for Swedish meatballs, the best of Sweden is shared with readers. Richly illustrated with more than two hundred color photographs by Ivan Terestchenko, Bringing It Home–Sweden also includes recipes, resources, and a useful buying guide. Learn what makes Swedish life so welcoming–and then bring its best qualities back to your own home!
Review By Amy K -Her books on each country are so wonderful-not just for viewing the photos for decorating ideas, but to get an all-around feel for that particular country's lifestyle and how to create it yourself. These are not just your average home decorating books, they make an excellent read as well. You won't be disappointed.
Review By M. Carlson If you're into swedish country, you have to get this book! It's been my decorating bible! I love the beautiful photographs, but the text is even better. It explains the origins and purpose of the color palette, flooring, furniture, window treatments, room layouts, fabric and accessories used in ths style. It also discusses the influence of King Gustav, Carl Larsson and Josef Frank. The only part of this book I don't find useful is the recipe section. Other than that, I use this book constantly! It stays on my coffee table so I can browse through whenever I want.
By Horsey Knitter -This is the first Swedish design book I've found that I can clearly understand and put to use when I redecorate a farmhouse in Swedish Country within the next couple years.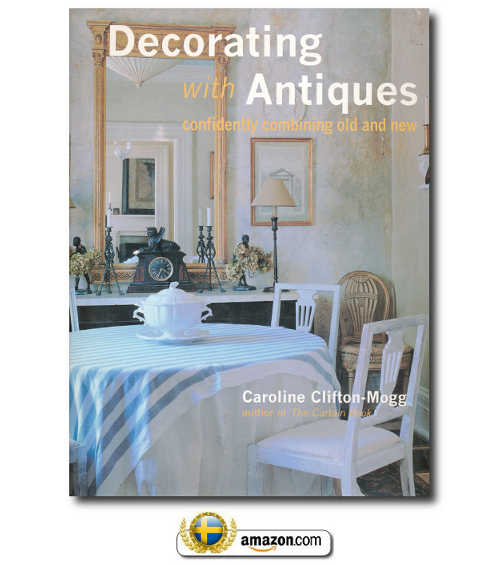 Even though Decorating With Antiques, is several years old, (published in 1999), it is far greater than some of the newer 2013 books I have spent money on. It contains over 400 color photographs, and I honestly have to say every photograph is of high quality. Many books, you end up spending money on just a handful of photographs that you enjoy, but this book I have found myself looking intensely at each photograph, gathering ideas for my own home. Check out my book review, along with some of the details that I found most interesting on my new flagship blog- Her Site.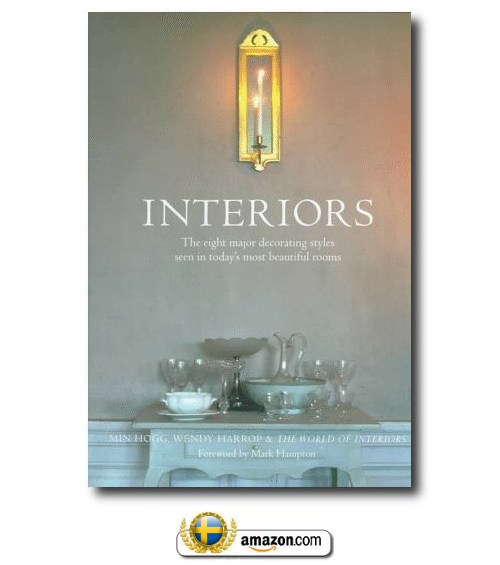 Interiors By Min Hogg- Buy it On Amazon
This book contains stunning photographs hand selected by The World of Interiors Archives. The eight major decorating styles seen in today's most fabulous rooms, presented by the most acclaimed magazine of interior design. More than 300 full-color photographs. This book contains breathtaking images, and remains to be one of my favorite books ever. This book features a ton of beautiful antiques. Get ideas for decorating, staging, what to buy for accessories and color themes.
The book is divided into 8 sections. 1, Cluttered Interiors, 2, Hot Climate, 3, Designer Decorated, 4, Minimal, 5. Ancestral, 6, Simple, 7 Shabby Chic 8, Eccentric. The book is 255 pages long.
Reviews:
By A Customer -"One of my all time favorite books on interior design. I have bought this book a number of times to give as gifts. Great photos & great selection of homes shown.I've never tired of flipping through this book."
By Lynne in San Francisco-"I read and re-read this book so much I had to buy a 2nd copy. Lots of gorgeous pictures of unusual interiors!"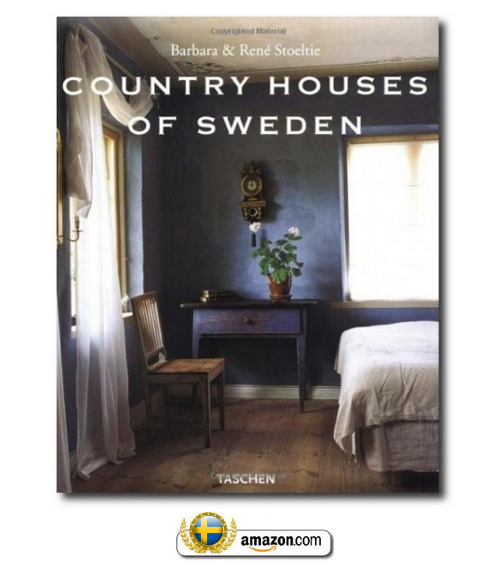 Part of Taschen's Country Houses series, Country Houses of Sweden by author Angelika Taschen illustrates the magnificence of castles and manor houses of Sweden. Barbara and Rene Stoeltie journeyed through Sweden in search of exceptional houses to write about and photograph.
With captions in English, Swedish, and French, this collection of handsome photographs will appeal to world travelers searching for the perfect resting place. Here a reader can get lost in placid lakes reflecting unthreatening clouds; a white sunlit room of peeling paint and alluring bookshelves; a dusky bedroom in which the walls are papered with botanical illustrations.
Some of these Swedish country houses have been turned into museums, and some are private homes. Painter Anders Zorn's studio has been preserved exactly as he left it when he died in 1920–his "Zorngarden" is a marvel of gilt-framed mirrors and stunning, somber portraits.
Reviews:
No particular aesthetic prevails in this coffee-table book. Some homes have been modernized, replete with Martha Stewart-style amenities. And the images aren't only distant shots of interiors; a photograph from the Varpet estate near Stockholm shows jars of freshly made jam on a chipped white counter top. What's constant throughout Country Houses of Sweden is a sense of delicious luxury and relaxation. Like a Merchant-Ivory film, it's the kind of book that makes you want to get dressed up. –Emily White
By A Customer "This is a beautifully presented publication. Its padded hard cover and thick paper quality are matched by excellent color photographs. The choices of homes is good: from palaces to simple country cottages. The text for each home is limited because of space for translation into French and German, but its gives a personal background to each building and interior. It has none of the frilly interiors or silly text that often accompanies the English versions of Scandinavian interior books. It is an excellent companion to The Swedish Room, which gives a more comprehensive historical perspective"
By K. Casey –"Not long after I checked this book out from the library, I was wild to own it! The first reviewer is right — these are not "cutesy" or "quaint" old houses. In poring over the many, many rooms and homes included in this volume, I felt I gained some understanding of Scandinavian design in general. Many of the styles represented can be described as spare, simple and unpretentious. The clean lines of this aesthetic seemed to me to border on the exquisite. Not just "form follows function," though. Ranging from an artist's colorful, almost eccentric home to the all-white interior of a flat in a centuries-old stone building: almost all of the examples chosen show a strong sense of place and time, and a sensitive and respectful response to the design and nature of the house"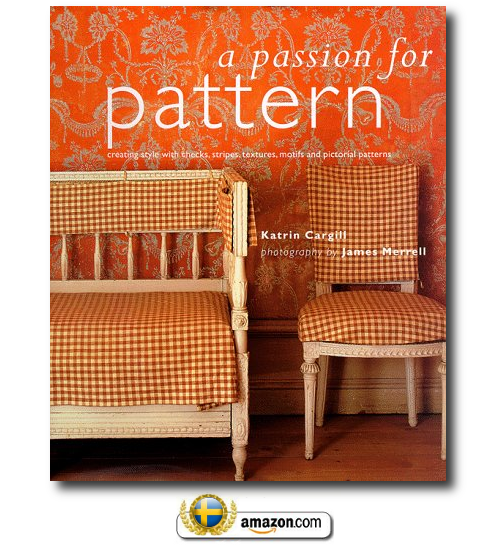 A Passion For Pattern By Katrin Cargill- Buy It On Amazon
This book was a surprise for me. I have loved it, and even though it is a bit dated, I am so glad I own it for my library. The contents is divided into 5 sections. 1, Texture, 2, Stripes, 3, Checks, 4, Motifs, and 5 Pictorial.
On page 40 she shows you how to create a painted striped room. On page 86 she shows some beautiful pictures of slipcovers in a Gustavian setting. On page 90, she shows you how to put together a patchwork bedspread using check fabrics. On page 100, she shows you how to paint a check wall. On page 130, she shows you how to paint a Greek Key pattern on a rug. For a classic Gustavian Interior she shows how to paint a garland wall panel on page 142. On page 166 she shows you how to apply fabric to the walls.
Even though this may be an older book, all of the pictures that are in the book are either Gustavian, French, or Classical in nature. There isn't any modern pictures in this book. She shows a wide variety of antiques, and how to beautify your home with the styles I mentioned above. I love this book, and for the price I bought it, it was a steal. One of my favorites for sure.
About The Book:
Lavishly illustrated and organized by type of pattern, A Passion for Pattern provides hundreds of useful tips on working with pattern throughout the home. Complete instructions for 12 sophisticated projects are accompanied by step-by-step illustrations, and a resource directory lists important sources. 300 full-color photos, 60 illustrations.
Impossible to locate, and listed on Amazon for $400 Used, $500 New
The 22 homes which include palaces, castles, and manors as well as a couple of rural residences exemplify the refined simplicity of the "Gustavian style" implemented by Sweden's King Gustav in the latter 1700s. The King worked with the country's leading architects and artists to assimilate the "ancient sculptures of the Vatican and archaeological objects at the sites of Pompeii and Herculaneum" which inspired him on a trip to Italy. Besides the order of such classical forms and motifs, the King's style favored light colored wood and light colors, particularly white, making for a play of light in the rooms, spaces, and facades. This latter distinctive feature of the style is attributed to the special Swedish appreciation of light from being in a northern area with long winters. Photographer Listri and art and travel writer Rey, who have collaborated before, capture in photos and words the beauty of this Swedish architectural style in rooms, hallways, fronts and other angles of homes, wall and other furnishings, and the design of surrounding grounds.
Book Reviews By Others:
"This is a book about Swedish castles and mansions and mentions several from the 18th century. The photos in the book are really beautiful, but other than that I was pretty disappointed with this book. Every castle or mansion gets a chapter, but there is very little real information. There are mostly anecdotes and speculations and pretty much nothing about historical architecture or interior decorating. Another big problem with the book is that there are no captions, nothing is told about the beautiful rooms and buildings in the pictures. I'm glad I have the book because of the photos, but I would not recommend it if you actually want to learn something"
"Great Houses In Sweden is a wonderfully beautiful book. Although it does indeed feature truly great houses, the title may have suffered in translation. Presented here are palaces, castles, museums, public buildings, and, yes, even some houses. The photographs, all in color and very handsome, often fill a whole page and sometimes a two-page spread. The text, though brief, is interesting none-the-less"
"After a Forward by the King of Sweden and an Introduction, each chapter features a building, a group of buildings, or a part of a building. Starting with the 14th century (and later) Gripsholm Palace which was given improvements by Gustav III inspired by his admiration for French classicism, it ends with the classically-inspired modern interiors of the Stockholm City Hall completed in 1923. This book will be greatly appreciated by connoisseurs of Swedish neoclassicism."
"This is another journey through the centuries of Swedish interiors. From the renaissance to the early 20th century. Very similar to "The Swedish Room" published some twenty years ago. But the houses are grander and fewer. If this is in your taste this is a very good buy. The photography is almost flawless but the text is just a short introduction to each site. What is depicted on the
spreads that follow is not commented, a pity i my opinion. That, together with a minor reservation about the selection of houses, renders this book 4 stars instead of five"
There is a very interesting book on ebay called Scandinavian 1700-years furniture w/drawings for DIY Norwegian Swedish furniture. The book features furniture from the 1700's and is illustrated with pictures and drawings in the scale 1:5. Chairs, tables, drawers, shelves, dollhouse, mirrors and much much more. The drawings are made ​​after the original furniture, so if you are interested in wood working, then this book might be right up your alley.
This book is a hard bound with 192 pages from 2003, written in Norwegian. This book would be shipped from Norway. Sold from ebay seller Estescon. This is a one of a kind book, and may be sold quickly, although, if you are interesting in building Swedish Furniture, consider Making Swedish Country Furniture & Household Things By Hans Keijser, Lars Sjoberg and R Willick which has 35 classic Swedish projects that can be built.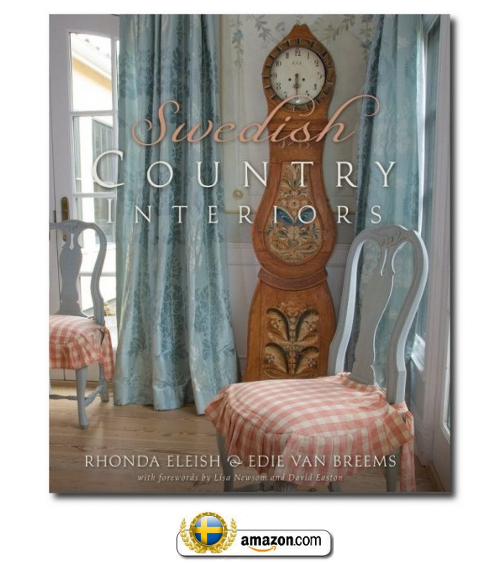 With two books under their belt, Swedish Interiors, and Swedish Country Interiors until this year when their newest book was published. Reflections on Swedish Interiors a book with not only Gustavian furniture, but modern furniture from Sweden.
Swedish Country Interiors By Rhonda Eleish, Edie Van Breems, published in 2009, includes the very best of Swedish country furniture and decorating. The style has gained tremendous popularity as more people are drawn towards the natural elements such as wood, marble, natural linens, but also want the luxuries as well. Swedish decorating combines both for a relaxed yet sophisticated look.
Rhonda Eleish and Edie Van Breems combine years of experience as interior designers and Swedish antique dealers into a guide of how-to decorate and design in Swedish country style and decorating.
Eleish Van Breems Antiques was opened in 1998, located Woodbury, Connectict by both women. The store was set up in an 18th century house rather than a commercial building to give customers the genuine feeling of walking through a historic Swedish residence instead of a store front. The house was totally made over, – floors were stripped, and pickled, the walls were painted, giving the overall feeling of genuine Swedish. The location served them well for over eleven years until the business grew and a larger showroom was needed for photographing antiques and office space which lead them to a larger showroom in Washington Depot, Connecticut.
Get a wide pre-view of the book at Google Books
Swedish Country Interiors on google books includes a generous 27 page preview including glossy pictures and text of the book.
Swedish Country Interiors showcases 15 homes from across the United States that vary in style but all have Swedish elements that unite them.
The book breaks down into 15 homes which are as follows
– Swedish Mediterranean- Page 21 Features the home of Cherie and Michael McKinney.
– The Swedish Mill House – Page 33
– New Hampshire Island Living Page 47
– Farmhouse Romance Page 57
– A Swedish Inspired Cabin Page 69
– Lanuna Light Page 75
– Neoclassical Living in Atlanta Page 85
– Seaside: The Swedish Dream Page 95
– Woodstockholm : The Artist Cottage Page 105
– Daisyfields: Swedish Splendor Page 119
– The Swedish Pool Pavilion Page 135
– White Wisteria Page 143
– Northern Treasure Chest Page 159
– A Swedish Country Retreat Page 171
– Dawn Hill Antiques Page 181
Gustavian alder wood veneered table holds a pewter platter filled with pears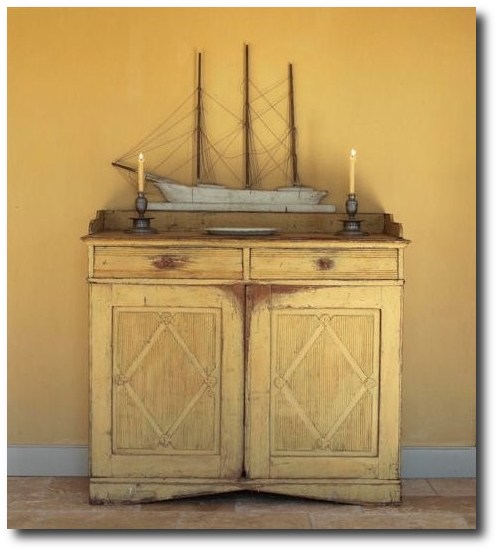 A ship Model sits on top of a Swedish early nineteenth century yellow orche Buffet with fluted diamond panels- From Richard Hershner's Home
Dawn Hill Antiques Located in New Preston Connecticut- From Swedish Country Interiors
Dawn Hill Antiques Located in New Preston Connecticut- From Swedish Country Interiors
Dawn Hill Antiques Located in New Preston Connecticut- From Swedish Country Interiors