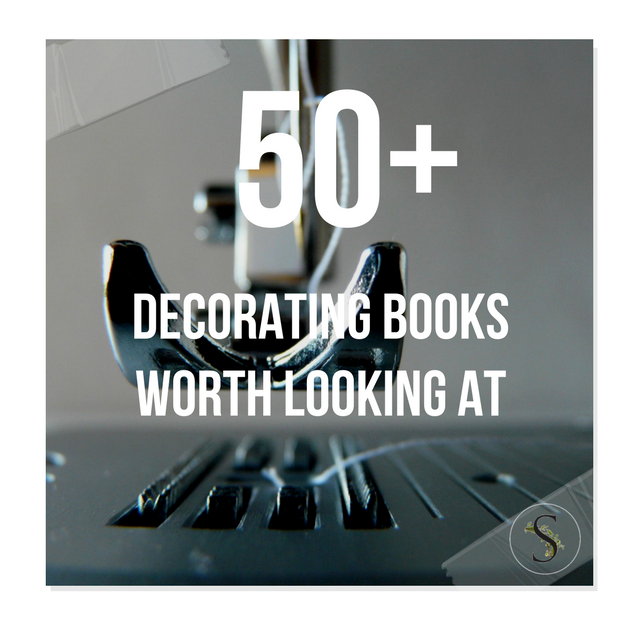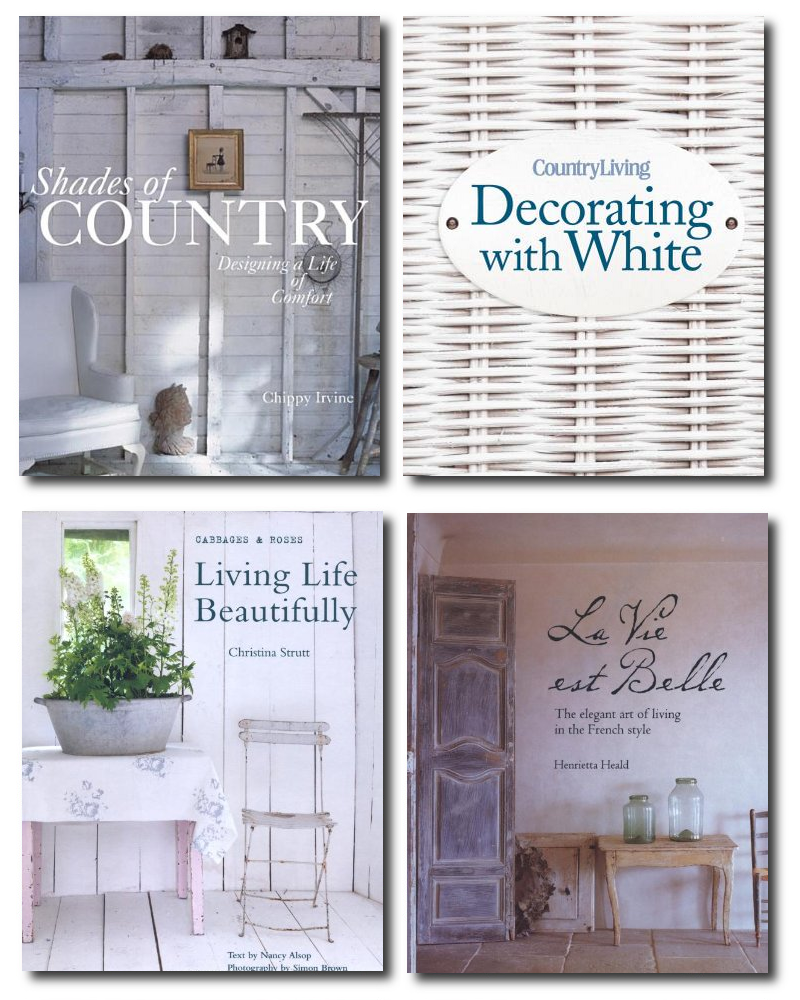 1. Shades of Country: Designing a Life of Comfort – From $3.99 Amazon
"Shades of Country," written by "Chippy Irvine," masterfully presents some of America's most beautiful, charming and fascinating country houses. It is profusely illustrated with a wealth of examples of actual American homes, some of them are derived from European country styles, but most are what we think of as typically American – east coast farmhouses, Shaker simplicity, Montana ranch and rustic Adirondack cabin. This book covers a lot of decorating territory. A few pictures of each, as well as others styles like Ranch, or French. If you are having trouble deciding on a style, this book might help you.
2. Country Living Decorating with White- From $14 Amazon
Country Living Decorating with White showcases a beautiful new vision of how to use this classic hue. Explaining the art of choosing the right shade of white and blending it with other colors and objects. Close to 150 color photographs fill this volume with captions describing successful design features and giving decorating tips. The classic motifs of white with blue or black are given primary focus, although every room of the house is shown with various color accents.
"I have wanted to change back to all white but needed ideas to avoid a completely "washed out" look. Varied surfaces, tones of paint color, accents, etc. are among suggestions that work well with white and offer many great ideas."
3. Living Life Beautifully $14 On Amazon
Christina Strutt Living Life Beautifully tells the story of how Christina founded legendary fabric company Cabbages & Roses and grew it into a lifestyle brand. Christina talks about her inspirations and influences, and how she works these into her products. Christina gives the reader a look behind her home where she designs her fabrics, experiments with her new wallpapers, and gathers all her favorite antiques.
4. La Vie Est Belle: The Elegant Art of Living in the French Style – $18 On Amazon
The book is arranged by region and offers a privileged glimpse inside dozens of French homes, from chateaux to farmhouses, as well as the regions in which they are set. Interior colors are more simple and muted that what we use here in our American country homes
1. Country Houses Of France– From $9 On Amazon
This book introduces readers to 22 idyllic dwellings situated in some of the most beautiful regions in France. 246 illustrations.
2. Country Houses of Sweden- From $16 On Amazon
Part of Taschen's Country Houses series, this book illustrates the magnificence of castles and manor houses of Sweden. Barbara and Rene Stoeltie journeyed through Sweden in search of exceptional houses to write about and photograph. Featuring a castle filled with family treasures, a wood built farm, a forgotten artist's studio built on a cliff by the Baltic and the house in which Astrid Lindgren, the creator of Pippi Longstocking, was born.
"Not long after I checked this book out from the library, I was wild to own it!
The first reviewer is right — these are not "cutesy" or "quaint" old houses. In poring
over the many, many rooms and homes included in this volume, I felt I gained some understanding ofScandinavian design in general."
3. Country Houses of Holland From $4 On Amazon
This work depicts Holland's country houses both old and new, from castles and windmills to historic houses and reed-thatched cottages. The houses shown include Tsaar Peterhuis' cottage, inhabited in 1697 by Peter the Great and the painter Cornelis Le Mair's antique Far Eastern themed farmhouse.
4. Living in the Countryside From $3 On Amazon
We have tirelessly travelled through the country-sides of Sweden, Ireland, England, Holland, France, Greece, Tuscany, Majorca, and Greece in search of the best examples of rural homes which reflect the tradition and culture of their inhabitants.
5. Living in Tuscany– From $7 On Amazon
"I have owned this book for some 12 years and still not a month goes by without me leafing through its pages. The photos in this book are absolutely beautiful and stunning in their own right and can be enjoyed immensely even without using the ideas for decorating your own home. However I have done just that and I keep coming back to the lavishly presented houses in this book."
6. Living in Ireland – From $6 On Amazon
The homes featured here live up to the most fanciful of expectations, ranging from cosy little dwellings to castles and stately homes.
7. Country Houses of Tuscany– From $6 On Amazon
Another book on Tuscany? Is it still possible to discover something new there? Barbara and Rene Stoeltie prove that it is. They have found the most beautiful country houses in the remote towns of Chiusi and Montalcino and in the Chianti and the wild Maremma region. These romantic farmhouses and isolated villas have been photographed exclusively by Rent Stoeltie for the third volume in the successful ""Country Homes"" series. Rene is a master at capturing the soft light of Tuscany which, once seen, is never forgotten. It Floods the interiors and paints cryptic messages on the uneven terracotta floor tiles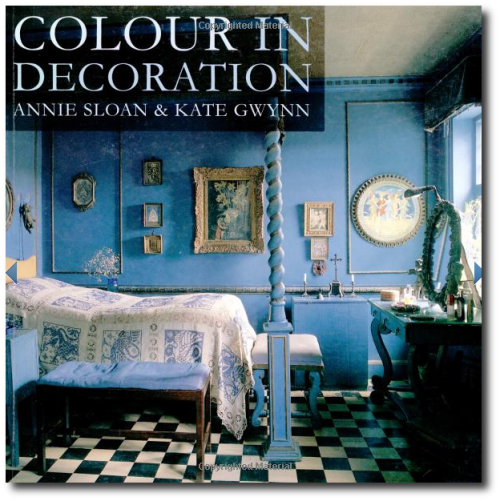 "I own about 25 books on interior design and home decoration. This is certainly in my top three, and probably the most oft consulted of them all. Each chapter covers one of the basic colours, from green and blue through to pinks and neutrals. But after this sparse description it is hard to convey the beauty and depth of this book. When I say cover a colour, I mean really explore it. It's cool version, warm version, soft, light, borderline with its neighbouring colour on the colour wheel.
And the way that each colour is covered is unique. Very minimal (but useful) text, and instead full page pictures of utterly inspiring interiors featuring the colour tone/intensity on each and every page. It uses excellent photographs from a wide and rich range of interior design. All true to life from real (moderna and historical) homes – and usually illustrating a good marriage between a particular colour/shade and the style it most compliments. Going through it, one soon becomes aware of one's taste."
1. Period Finishes & Effects: A Step-by-Step Guide to Decorating Techniques
From
$4 On Amazon
Bestselling authors Judith and Martin Miller's fully illustrated practical guide to the secrets of the surface finishes and effects that complement period homes and furniture. Each chapter is illustrated by inspirational photographs showing how different finishes were used in decorative schemes and includes practical step-by-step sequences demonstrating how amateurs can achieve authentic-looking finishes and effects.
Extraordinary examples of classic style embodied in a house along the Hudson River, a Normandy châ teau, and apartments in Paris, New York and London rival each other for beauty and splendor. Featuring the work of such leading architects and interior designers as Michael Graves, Fré dé ric Mé chiche, and Sills and Huniford, "Classic Style" offers a multitude of inspiring ideas in color and fabrics wall and window treatments, moldings and woodwork, furniture arrangement, accessories and ornamentation — even fireplaces and stairs. The informative and carefully researched text reveals the importance of details and the key elements of the style — from features like columns to motifs such as wreaths and palmettes — and explains how readers can incorporate them in their own homes.
"I found this book and also "The Pantry" by Catherine Seiberling Pond invaluable when I began building my farmhouse kitchen. Both are idea books with lots of pictures. Imagine taking a tour of dozens of traditional kitchens while sitting in your armchair. Writing about historical kitchens in England, the authoress describes the key elements that give these kitchens their timeless appeal, such as the cupboards built into walls, the natural materials for floors and counters, the plate racks, and the open storage for batterie de cuisine. This book is an antidote for our contemporary approach to decorating … gutting the kitchen every 10 years because it's 'dated.' In this book the modern preoccupation with matching is tossed aside. Everything coordinates, but nothing matches. Treasuring links to the past, the English refuse to chuck out old and much-loved things. The new is made to harmonize with the olde, creating a rich and personal style."
1. Aged to Perfection Adding Rustic Charm to Your Modern Home Inside and Out
-From
$5 On Amazon
Lavishly illustrated and inspirational, this guide reveals the secrets to adding old-world charm and character to any home-even newly constructed houses. From heirloom furniture to classic window treatments, ideas abound for creating a beautiful rustic effect. Add simple architectural details such as crown molding. Or try paint techniques like crackling, mosaics, and staining to keep a new house from seeming too new.
"I was very glad to see Veranda FINALLY publish a book of their best. Still, there's so much more that is as good or better than what's in this book. I have been tearing out the best of Veranda and making my own Veranda book for years so it is good to now have a beautiful book I can display and one that adds to my decor"
3. The Great American House: Tradition for the Way We Live Now
$29 On Amazon
Schafer covers the three essential cornerstones of creating a great traditional house: architecture, landscape, and decoration. He discusses the important interplay between the interior architecture and the fabrics, furniture, and wall treatments.
Patina Style is a color palette, a romance with subtlety, an attraction to natural materials and architectural details, and is at once old-world and mildly industrial. Patina Style gives insight into materials choices, methods and treatments that result in spaces that celebrate the beauty in the old, the imperfect and the slightly worn.
1. Colour Recipes for Painted Furniture and More – From $13 On Amazon
Annie presents 40 new projects and ideas, showing you the easy way to update tired furniture and transform your home. From Swedish hues, cosy and comforting rustic shades or an elegant French look, here you will find a project to suit you.
"I bought this book for the information on color mixing of Annie Sloan paints. It has a detailed section which uses the colors within that line of paints showing them on a color wheel and then breaks down how to mix those colors and produce other colors and shades of paint"
2. Quick and Easy Paint Transformations: 50 Step-by-step Ways to Makeover Your Home for Next to Nothing From $12 On Amazon
This book features fifty pieces of furniture, before and after pictures with step by step images of mainly furniture with a few walls and floors.
"I found this book very helpful as I learned many "Tips & Trade Secrets" that would had taken me years to learn through trial and error."
3. Annie Sloans WorkBook– On Amazon–
Each page features a hand painted drawing or sketch as well as inspiring tips from Annie herself. Plenty of room was left for you to sketch, paste pictures or fabric that inspire you as well as blend colors of your own!
4. Creating the French Look –Buy it from $13 On Amazon
Greys, whites and linens with toile de Jouy are the most well known look but we also have chic and quirky. Parisian influence as well as the sunny and bright look from the south. In this book Annie uses her experience as an interior designer to combine the use of paint color and fabrics.to create the french look with 25 easy to follow step by steps.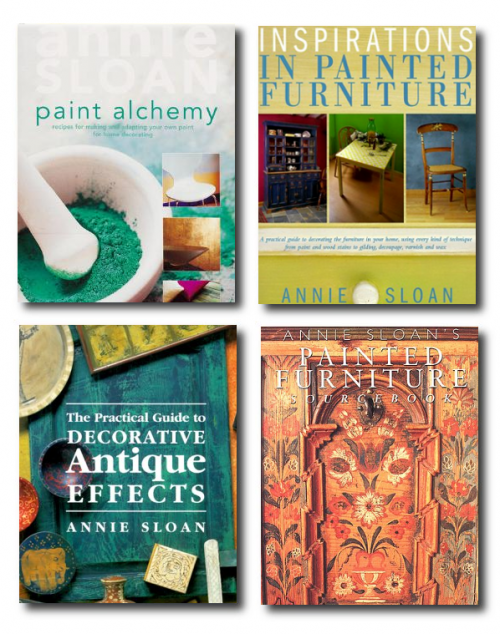 1. Paint Alchemy: Recipes for Making and Adapting Your Own Paint for Home Decorating by Annie Sloan From $19 on Amazon
Mix and transform your own paints to invent colors just for you and your home–at a fraction of the cost of store-bought cans. More than 50 unique recipes, special sections offer information on how to grind pigments, basic rules for safe handling of materials, organic pigments, and how to give your paint distinct characteristics.
2. Inspirations in Painted Furniture by Annie Sloan From $8 On Amazon–
Staining, bleaching, waxing with colored waxes, stenciling, faux finishing, hand painting, stamping, distressing, wax resist, crackling, gilding and more. The book is organized into six chapters by decorating styles: Fruit and Flowers, Figures and Animals, Classical, Geometrics, Finishes, and Distressing.
3. The Practical Guide To Decorative Antique Effects by Annie Sloan From $3 On Amazon–
"Provides clear, well-illustrated instructions on a variety of decorative finishes….offers a review of the materials, with directions on application and equipment and shows how the techniques can be combined and applied to particular furniture projects…. Recommended."—Library Journal.
4. The Painted Furniture Sourcebook: Motifs from the Medieval Times to the Present Day by Annie Sloan From $4 On Amazon-
American colonial, Dutch folk art, Irish vernacular, Scandinavian neoclassical, Oriental lacquerwork, German baroque and more–all achievable by collectors, decorators and do-it-yourselfers. For each enchanting room and object, the author reveals how the paint effect was achieved and how to recreate it in the contemporary home. A generous glossary of techniques describes the essential terms, from spattering and marbling to patinating and distressing. The book also offers a library of over 50 motifs, both classic and modern, for use as a fingertip reference or for on-the-spot tracing.
More Annie Sloan Books:
Annie Sloan Decorative Gilding: A Practical Guide by Annie Sloan-
Gilding includes instructions for applying metal leaf and using bronze powders, while Paint Effects covers sponging, marbling, rag rolling, and the like. Each book begins with a photographic overview of the techniques and continues with directions. Captioned photographs illustrate the basic technique and variations, and a "Pitfalls" section shows common mistakes and how to avoid them.
Annie Sloan Decorative Decoupage: A Practical Guide by Annie Sloan
The Practical Guide to Decorative Antique Effects by Annie Sloan-Applying a variety of ideas from colorwashing to decoupage, a detailed reference demonstrates how inexpensive furniture and objects can be made to look like antiques while providing tips on equipment, surfaces, and more
Classic paints & faux finishes by Annie Sloan, Kate Gwynn and Geoff Dann- Step-by-step instruction on classic decorative techniques including glazes, simple oil paint, limewash, bronze powders, decoupage, wood stains, antiquing and distressing, crackle varnish and more. This has become the standard book on decorative paint finishes.
Annie Sloan Decorative Paint Effects– Gilding includes instructions for applying metal leaf and using bronze powders, while Paint Effects covers sponging, marbling, rag rolling, and the like. Each book begins with a photographic overview of the techniques and continues with directions. Captioned photographs illustrate the basic technique and variations, and a "Pitfalls" section shows common mistakes and how to avoid them
Annie Sloan Decorative Wood Finishes: This book covers many aspects of wood finishing from painting to polishing.

1. The English Country House– From $36 On Amazon
The English Country House takes a look at the architecture and interiors of sixty-two stunning houses in a range of architectural styles spanning seven centuries—from the medieval Stokesay Castle to the newly built, Lutyens-inspired Corfe Farm—brought to life through the world-renowned photography library of Country Life. 400 Color Photographs
2. New French Country: A Style and Source Book From $9 On Amazon
"Of the many books I've read and collected on French Country style and decorating, this is the best and most thorough. The book is set up into categories and is concise, beautifully depicted in large color photos, with accompanying text. NOT a coffee table book, but a true reference book for French Country decorating."
3. English Country House Interiors – From $31 Amazon
Jeremy Musson was the architectural editor of Country Life from 1998 to 2007. nglish Country Houses are featured celebrating diverse styles beginning with the Jacobean, traveling through the Baroque, Palladian, Regency, Gothic Revival to the Victorian. For lovers of Palladio and Adam, English Country House Interiors is a real feast.
4. One Man's Folly: The Exceptional Houses of Furlow Gatewood From $41 Amazon
Four houses, fourteen acres and forty peacocks, along with a sweet menagerie of cats and dogs, gardens, and outbuildings (including a peacock hospital) compose Furlow Gatewood's compound in Americus, Georgia. Furlow bought his first antique treasures, milk glass chickens, from his paper route earnings eight decades ago and hasn't stopped collecting since. This book features the splendor of his collections. His homes have been built to house his treasures including antique furniture, salvaged doors, mantels, windows and shutters.
"This book gives the reader so many lessons in style and correctness of scale and correct material use . A million words could not convey the schooling that these pictures will give you . I have a huge library on architecture and design and this one is my favorite"
5. A Kitchen in France: A Year of Cooking in My Farmhouse From $21 Amazon
When Mimi Thorisson and her family moved from Paris to a small town in out-of-the-way Médoc, she did not quite know what was in store for them. She found wonderful ingredients—from local farmers and the neighboring woods—and, most important, time to cook. Her cookbook chronicles the family's seasonal meals and life in an old farmhouse, all photographed by her husband, Oddur.
6. My Paris Kitchen: Recipes and Stories From $17 On Amazon
A collection of stories and 100 sweet and savory French-inspired recipes from popular food blogger David Lebovitz, reflecting the way Parisians eat today and featuring lush photography taken around Paris and in David's Parisian kitchen.
7. Charleston Architecture and Interiors From $9 On Amazon
Here is a chance to see inside the private homes of beautiful, historic Charleston, South Carolina. Each chapter covers one home, all of which are private homes, with the exception of one museum house. Lovely full-page photographs illustrate both exterior and interior of each of 15 featured houses from the Colonial, Federal and Greek Revival periods.
8. Italian Rustic: How to Bring Tuscan Charm into Your Home From $9 On Amazon
Within its 226 pages lie the secrets of traditional Italian craftsmanship, which can be applied to your own house regardless of where you live. Want to redo your kitchen with a wood-beamed ceiling? There's an entire chapter devoted to the subject. The author even provides resources for hard to find items in America (you aren't going to find brick or terra cotta roofing material at Home Depot or Walmart.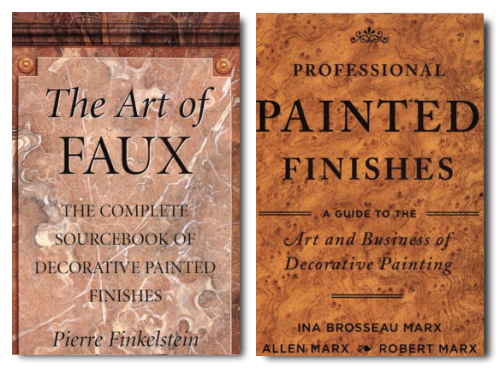 1. The Art of Faux: The Complete Sourcebook of Decorative Painted Finishes From $27 On Amazon
"This is the most complete guide to faux painting I have found. There are excellent step-by-step instructions accompanied by full-color photos for each technique. A vast array of beautiful & impressive faux techniques follow. My favorites were the red tortoiseshell tile & mosaic effects."
"After looking through well over a dozen different and popular books on fauz painting/faux finishes this was the only one that was worth purchasing. It is the most complete guide that anyone could find in my opinion. Pierre covers just about every finish imagineable (glazing, crackle, colorwash, patina, sponging on and off, several faux marbling and wood finish techniques, as well as many others)."
2. Professional Painted Finishes: A Guide to the Art and Business of Decorative Painting From $2 On Amazon
"This is a wonderfully thorough book on creating the highest quality specialty painted finishes. It is advanced enough for the serious decorative painter while the instructions are detailed enough to allow the amateur or novice to try these techniques with outstanding results. The projects are more sophisticated and time-consuming than those in most books. A great deal attention is paid to tiniest details that make these finishes really stand out."
Other Faux Painting Books
Trompe L'Oeil Panels and Panoramas: Decorative Images for Artists & Architects (includes CD-ROM) (Norton Book for Architects and Designers)
The Painted Ceiling: Over 100 Original Designs and Details
The Painted Furniture Sourcebook
The Art of Painted Furniture
Vintage Furniture Painting
Revisiting the Painted House: More Than 100 New Designs for Mural and Trompe L'Oeil Decoration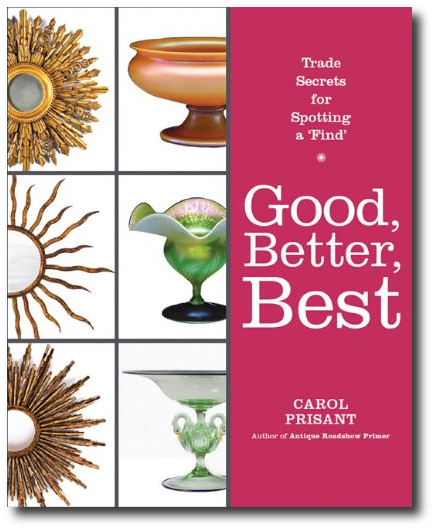 Good, Better, Best: Trade Secrets for Spotting a "Find" From $3.99 On Amazon
Carol Prisant wrote the popular ?Good, Better, Best? column for House Beautiful for several years. Good, Better, Best coaches antiques novices and devotees in choosing the highest quality items, featuring three photographs depicting a good, better, and best example of hundreds of antiques to distinguish the treasure from the less desirable version. Packed with more than two hundred full-color photographs and illustrations, this ingenious handbook is also broad in scope, covering everything from brass doorstops and porcelain plates to silver napkin rings and furniture from America and Europe. Sharing tips for deciphering a manufacturer?s initials, spotting a fake, and much more, Good, Better, Best makes it easy to learn what to look for and what to avoid.
1. Inspired You: Breathing New Life into Your Heart and Home – From $8 On Amazon
Thousands have found inspiration at Marian's blog, missmustardseed.com, and now she shares dozens of new projects, ideas, and DIY adventures in the pages of Inspired You. Marian will remind you that homes don't have to be magazine material to be special, comfortable, and inviting. The goal you're working toward is home. Not a perfect home.
2. Young House Love: 243 Ways to Paint, Craft, Update & Show Your Home Some Love -From $4 On Amazon
This debut book by bloggers Sherry and John Petersik is filled with hundreds of fun, deceptively simple, budget-friendly ideas for sprucing up a home. With two home renovations under their (tool) belts, 5 million blog hits per month, and an ever-growing audience since the launch of Young House Love in 2007, Sherry and John are home-improvement enthusiasts primed to pass on a slew of projects, tricks, and techniques to do-it-yourselfers of all levels.
3. The Handbuilt Home: 34 Simple Stylish and Budget-Friendly Woodworking Projects for Every Room From $12 Amazon
Woodworking projects from Ana White, the popular blogger who has inspired millions of homemakers with her stylish furniture plans and DIY spirit. As a young mom on a tight budget, Ana learned to make her own well-designed pieces inspired by the styles in her favorite stores—saving thousands of dollars in the process. Now, in this reference for woodworkers of all skill levels, Ana shares everything she has learned along the way.
4. The Nesting Place: It Doesn't Have to Be Perfect to Be Beautiful From $12 Amazon
"I would start off by saying that this book wasn't what I expected, but I feel like I'm constantly having that reaction when I pick up a non-fiction book. I thought this book would be a little more "put this colour with this colour" or "this style looks great in this area" or perhaps some great inspiration on how to find hidden gems at thrift stores. Instead, this book was more about appreciating your home for its imperfections. Stop dreaming and comparing your home to those in magazines and on blogs, you need to love your home how it is, and grow from there.
In the beginning of the book, the author takes you through the story of each of the 13 homes she's had since she married her husband. She shares her mistakes as a first time home buyer and her stories of living in a scary neighborhood and living in dream homes. She also shares her experiences from having money to barely scraping by. It is all these experiences that have helped her to love the home she lives in. To top it off, she is actually currently renting. So you don't need to be a homeowner to make your home all fancy"
4. 501 Decorating Ideas Under $100 (Better Homes and Gardens Home)- From $7 On Amazon
"Several of the projects appealed to my tastes and style. It got my creative wheels turning and enjoyed every second of reading and flipping through it, even the things that weren't "me" were still very interesting."
"This special issue from BH&G is a gem. There are tons of ideas that are not hard to do and that sparked my imagination"
6. The Perfectly Imperfect Home: How to Decorate and Live Well– From $12 On Amazon
Over the years, founding editor in chief of domino magazine Deborah Needleman has seen all kinds of rooms, with all kinds of furnishings. Ranging from classics such as "A Really Good Sofa" and "Pretty Table Settings" to unusual surprises like "A Bit of Quirk" and "Cozifications," whether you are at a flea market or a fancy boutique—or just mining what you already own.
1. Classical Interiors: Historical and Contemporary From $48 On Amazon
A fresh perspective on the work of the most important figures of classical design from the seventeenth century to the present. Classical Interiors: Historical and Contemporary, a spectacular presentation of the myriad varieties of classical forms, demonstrates the enduring lessons of traditional interiors for designers and architects today
"This book blew me away. The collection of photo and accompanying text are excellent, comprehensive and amazing. The printing is also excellent. The variety of classical locations is extensive. This book is a very welcome addition to my collection of classical architecture and decoration."
2. Governors Mansions of the South From $21 On Amazon
From the Greek Revival architecture found in Mississippi to the Queen Anne style of North Carolina, governors' mansions in the American South convey a passion for antiquity, as well as a regional elegance.
3. Linda Applewhites Architectural Interiors Transforming Your Home with Decorative Structural Elements From $4 On Amazon
Architectural Interiors offers creative solutions such as adding a column or pillar to define a space, installing unusual cabinetry to give structure, adding a set of elaborate moldings for extra elegance, or installing French doors to connect a room to the garden.
4. Perfect English- From $25 On Amazon
At its grandest it is a stately home furnished with antiques, but the houses featured in this book are country cottages, farmhouses, townhouses and flats. The book's chapters, Plain English, English Eccentric, English Rose, English Country House, and Classic English reflect the many facets of English style.
5. Imagined Interiors Representing the Domestic Interior since the Renaissance From $14 On Amazon
"Imagined Interiors" deals with both public and private attitudes to the domestic interior, and features everything from grand decorative schemes to homely cottages.
The Renaissance provides enthusiasts with an informed and informative historical survey of how the home has been depicted in western art over the last 500 years. Illustrated with 260 full-color illustrations.
6. At home in Renaissance Italy From $123 On Amazon
At Home in Renaissance Italy draws together an impressive range of ideas and objects—from sumptuous paintings and textiles to kitchen utensils, popular prints, jewelry, and everyday dress—to reveal how the homes of the upper and middle classes made a crucial contribution to the flowering of the visual arts in 15th- and 16th-century Italy.
7. Great Houses of Europe: From the Archives of Country Life From $42 On Amazon
Spectacular plasterwork; original wallpapers, fabrics, and furniture; and in tact art collections—and include feudal castles, royal summer palaces, hunting lodges, and pleasure pavilions, often set in equally fine gardens and parks. This volume presents 200 masterful images complemented by revealing narrative that offers insights into the history of these remarkable houses. From the dramatic Swedish post-Renaissance Castle Stokloster—with arguably the finest interiors in Europe—to the extraordinary Villa Kerylos on the French Riviera and the Venetian Palazzo Abruzzi
8. Historic Houses of Virginia: Great Plantation Houses, Mansions, and Country Places – From $32 On Amazon
The treasures of American heritage are showcased in this volume range in time from the seventeenth century to the twentieth, and include such peerless masterpieces as Colonial Williamsburg's Governor's Palace, George Washington's Mt. Vernon, Thomas Jefferson's Monticello, Robert E. Lee's Arlington House, and Stratford Hall Plantation

1. Irish Furniture From $74 On Amazon
This book encompassing everything from medieval choir stalls to magnificent drawing-room suites for the great houses—from earliest times to the end of the eighteenth century.
2. Making Authentic Country Furniture With Measured Drawings of Museum Classics (Dover Woodworking) From $3 On Amazon
Extensively researched, profusely illustrated book explores principal elementary antique country furniture designs used in North America over the past 400 years — with English, Irish, Scottish, Welsh, French, Dutch, German, Spanish and Norwegian influences represented. 95 measured drawings for constructing candlestand, pedestal table, rocker, corner cupboard, cradle, armoire, many more.
3. French Interiors of the 18th Century From $65 On Amazon
"I loved this book which really is a great survey of French 18th century decorative arts. Using engravings, paintings, and pictures of objects, the book divides the decorative arts into chapter categories (porcelain, silver, glass, painting, etc.) and attempts to fit their development into the larger development of French interior design."
4. The Splendor of Roman Wall Painting From $31 On Amazon
Visitors to the former residences of wealthy ancient Romans cannot help but be astonished by their grand architecture and enchanting wall paintings, still vibrant with cinnabar reds, golden yellows, and deep greens.
5. The Finest Rooms In America – From $19 On Amazon
The Finest Rooms in America: 50 Influential Interiors from the 18th Century to the Present is a selection by Thomas Jayne, one of America's best decorators and scholars of American design. This book covers a broad range of American periods and styles, beginning with the Tea Room at Jefferson's Monticello and continuing to the present, concluding with Albert Hadley's modern sitting room.
Among those featured are the dressing room at Vizcaya in Miami, the living room at Frank Lloyd Wright's Hollyhock House in Los Angeles, the dining room at the Saarinen House at Cranbrook Michigan, and the living room by Frances Elkins at Casa Amesti in Monterey, California. Prominent contemporary designers include Bunny Williams, John Saladino and Albert Hadley.
6. French Interiors: The Art of Elegance – From $25 On Amazon
Christiane de Nicolay-Mazery, a specialist in furniture and antiques at Christies and Honelon, invites her readers to enter the elegantly luxurious interiors of some of France's most exclusive abodes. From the classic taste of the seventeenth and eighteenth centuries to the creativity of the nineteenth century, she traces the path to the finesse of the twentieth century, which combines tradition and modernity. The interiors portrayed in these nine exquisitely illustrated chapters pay tribute to the refinement of French taste, a savoir-faire that has been continually renewed.
7. Paris Flea Market Style- From $13 On Amazon
Claudia Strasser takes us on a winding tour through the Parisian flea markets finding decorative pieces all along the way. Strasser discusses ways to bring the look to your home by building collections and looking for furniture and accessories to reflect your individual style whether it's Napoleon III, Louis XV, Art Deco, Art Nouveau, Moderne or Belle Epoque.
8. Romantic Irish Homes– From $11 On Amazon
"I always thought I was eclectic antique in my decorating. After seeing this I realized my Irish roots are showing through in my home even though I never lived there."
"I highly recommend this lovely and enchanting volumne to anyone who loves gorgeous rustic period trappings in Tradional, Contemporary, and Artistic abode spaces."
1. Aged to Perfection Adding Rustic Charm to Your Modern Home Inside and Out – From $4 On Amazon
This guide reveals the secrets to adding old-world charm and character to any home-even newly constructed houses. From heirloom furniture to classic window treatments, ideas abound for creating a beautiful rustic effect. Add simple architectural details such as crown molding. Or try paint techniques like crackling, mosaics, and staining to keep a new house from seeming too new.
West Swedish Castles And Manor Houses- Author Björn Höglund
Beautiful book for anyone interested in history, architecture and dramatic life stories, except you simply cannot buy it on Amazon, ebay, Ebay Sweden or anywhere else for that matter!
A bit about the book
This book visists thirty manors in Bohuslän, Halland and Västergötland both private homes and historical buildings.
This is the first book that takes a comprehensive approach to castles and manor houses in the three western Swedish provinces. Today there is a strong and growing interest in local history and western Sweden as a tourist destination. This book is an excellent guide for future trips, and to each castle and manor is a related fact box with concise information that guides the reader for future trips!
ABOUT THE AUTHOR
Björn Höglund is active as a writer and cultural journalist in Gothenburg. He has previously written quiz books, guidebooks, textbooks in social studies and history as well as the book about pet games' history all play games (2009). Bjorn also works for SVT and has written questions on the track and Fifteen to One
Krister Engström studied film and photography at Göteborg University and currently works as a freelance photographer. He has been involved as a photographer of the books in time, the place, the architecture (2010) and Stationshus (2009).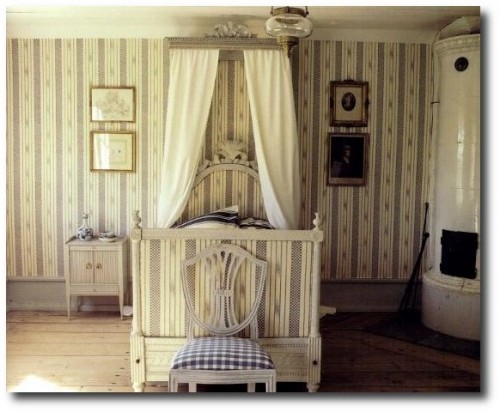 The Swedish Room Lars Sjöberg $15 On Amazon

Lars Sjöberg is well known for his Swedish guides on Gustivian interiors and 18th and 19th century swedish furniture. Sjöberg is a curator of the National Museum of Stockholm. Lars Sjöberg has made it his life's work to preserve Swedish manor houses that originated out of the 17th and 18th centuries. Over 40 years he has acquired over 8 homes from around Sweden.
Well known for his in depth knowledge about Swedish history, he has transformed many grand homes around Sweden with the help of his wife Ursula, and father whom was a metal smith and skilled in the carpentry trade.
The Swedish Room" written in 94, with his wife Ursula is still one of the very best books on Swedish decorating and current considering it is more than a decade old. This wonderful book features 192 pages of great attention to detail of the many ornate finishes found in Swedish decorating. This book is a must have for any decorative artist or faux- finisher. The interiors selected for this book are simple ones with soft color schemes, washed plastered walls, pickled floors, and certainly authentic 18th century interiors. The homes all feature a cleaner, pared-down look with not a lot of clutter which you would normally see see in french homes, but rather very carefully selected objects that are neoclassical in nature. Sjöberg' features stately homes, which appear to be palaces or mansions in nature, but with simplistic interiors. Swedish impressions from farms and cottages with higher end furnishings can inspire any person who is after the grander looks but with a natural appeal.
The most impressive of this book is his Ekensberg home which is located on the banks of the Lake Mälaren, about 40 km away from the Swedish capital Stockholm. This three-story Italianate villa built in 1788-90 feature some of the most stunning pictures. Layers of wallpaper were removed which revealed late eighteenth century decorations. Lars Sjöberg has continued renovating this house since 1976 and says the work is never finished!
The book is split up into 5 main sections detailing specific periods of Swedish history.
Section 1- The Stirrings of International Style discusses the impact of the French and Italian Baroque of the period between 1640-1720.
Section 2- New Alignments discuss the Late Baroque and the Influence of the Orient, and England through 1720- 1750.
Section 3- Progressive Refinements discuss the spread of the French Rococo throgu the period of 1750- 1770.
Section 4- Elegance and Enlightenment discuss the Gustavuan style thriugh 1770-1790
Section 5 discuss the influence of Neoclassicalism and the French Empire which took place between 1790- 1820
Addtional sections discuss painters in Dalarna, Halsingland and Gastrikland, with a section that details resortation and recreating period homes.