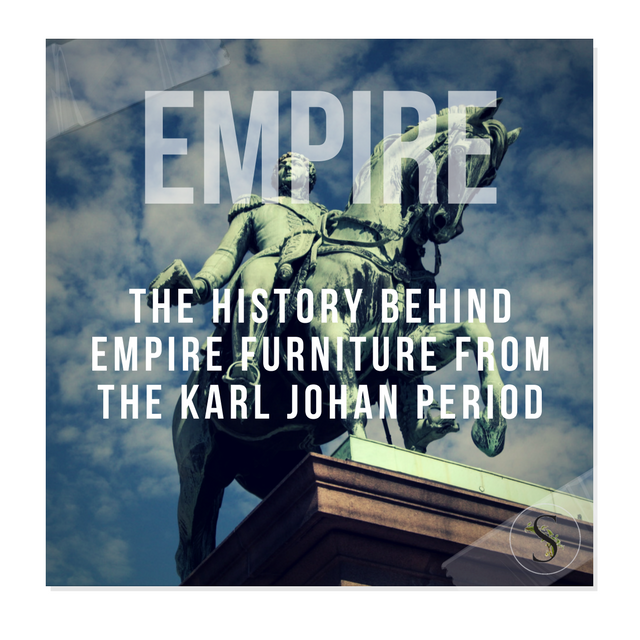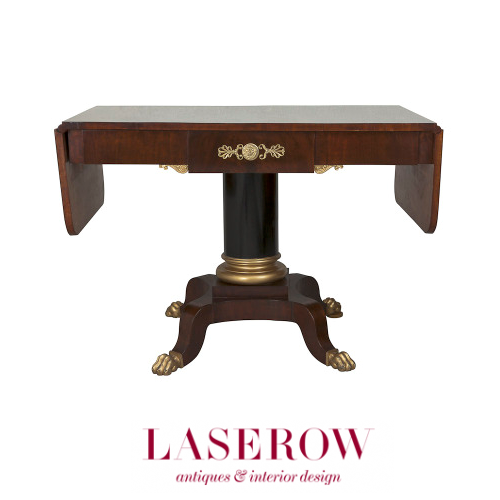 Drop leaf table made in Stockholm, Sweden. Details according to the periods highest fashion such as lion feet and lions head. The drawers keyhole is elegantly hidden behind the gilded lions head.
Authored By Liza Laserow
1810 the french officer Jean Babtiste Bernadotte came to southern Sweden accompanied by one of Napoleons marshals Monsieur Bernadotte , the man who was going to become King Karl XIV Johan. It was at this time the French Empire style came to Sweden. Napoleons architects: Charles Percier and Pierre Fontaine developed the style in France during the late 1790. They took Neoclassicism and gave it heavier look. Inspired by the roman empires strong lined art and architecture warlike attributes such as eagles, shields, helmets and spears became important symbols of the period. The glory years for this period was between 1804-1814 when Napoleon I was the emperor which also gave the period its name; Empire. During 1830 the style got softer and late Empire and in southern part of Sweden it got blonder – Biedermeier.
Mahognay with gilded details dominated the periods materials for furniture and mirrors and it was during this period the wallpaper was introduced in the form of panoramic views with classical ruins. Silk upholstery with matching window treatments in strong colors such as green, lemon yellow, red or gold was the highest fashion. Sweden also got its first silk weaving mill thanks to a Swede who smuggled a weaving chair to Sweden from France.
Read more about Swedish porphyry during the Karl Johan period.
About The Author
Liza Laserow, the daughter of the mother-daughter-owned company Laserow Antiques. Born and raised in Sweden, Liza moved to New York City, where, though she had trained to be a lawyer. Her mother, Karin, founded a showroom in Sweden 30 years ago and, in 2009, Liza helped launch a Laserow Antiques outpost in the New York Design Center in Manhattan. The exquisite gallery features furniture curated from Sweden's most significant periods—Baroque, Rococo, Gustavian, and Empire—spanning from 1650 to 1820.
Follow Liza's Blog, Old Is New,
Laserow Antiques Website
Laserow Antiques On 1st Dibs
Britahill
Brandstadvägen 612,
SE 275 67 Vollsjö
Sweden
Phone: +46 (0) 416 352 52
Cell: +46 708 13 52 30
1st Dibs @NYDC
200 Lexington Avenue, 10th Floor #63
New York New York 10016
USA
+1 212 988 9194
Rosendal Palace- Picture Credits- Sean Munson On Flicker
Here is a clear shot of the palace's colors
Today, Rosendal Palace looks very much the same as it did during King Karl XVI Johan and King Oskar's days, which makes it a unique document of the European Empire style.
The Empire style, which in Sweden is also known as Karl Johan style, is characterised by furniture in mahogany, wall-to-wall carpeting and magnificent curtain arrangements in strong colours. The Red Salon, the Blue Salon, the Yellow Salon and the Green Salon are all witness to the importance of colour for the period´s interiors.Noteworthy parts of the palace to see include the Library, in which Karl XIV Johan's book collection is kept in mint condition and the interior of King Karl XIV Johan´s bedchamber which was moved from the Royal Palace in Stockholm to Rosendal in 1913.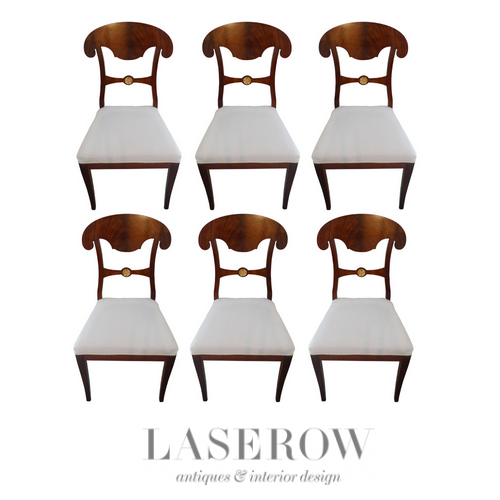 A set of 6 Empire dining chairs made in Sweden during the Karl Johan
Period. Frame in mahogany with gilded flower detail on black splat.
Newly upholstered.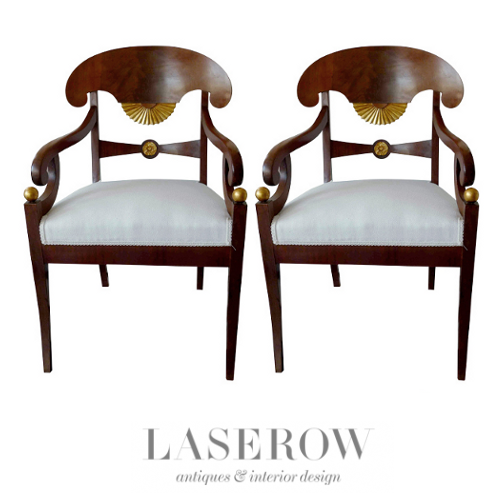 A pair of empire desk chairs in mahogany with gilded details in shapes of balls, flowers and fan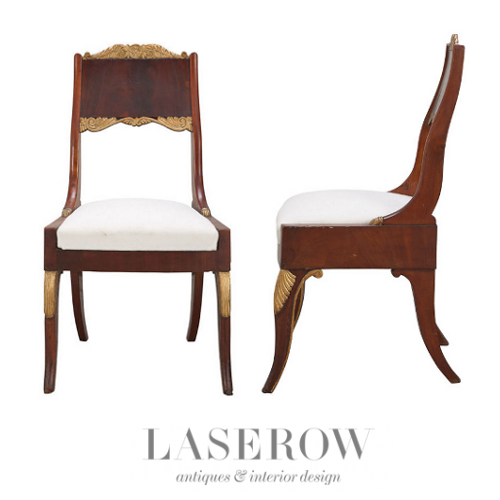 Pair of Russian Empire Mahogany Side Chairs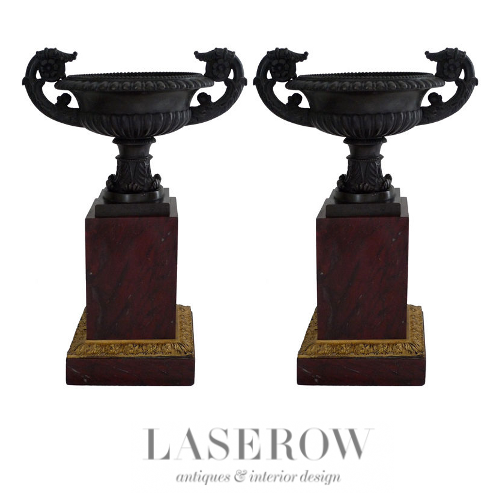 A pair of Tazzas from the late part of the Empire period. Made in Red French Marble, patinated bronze with decor of gilt bronze.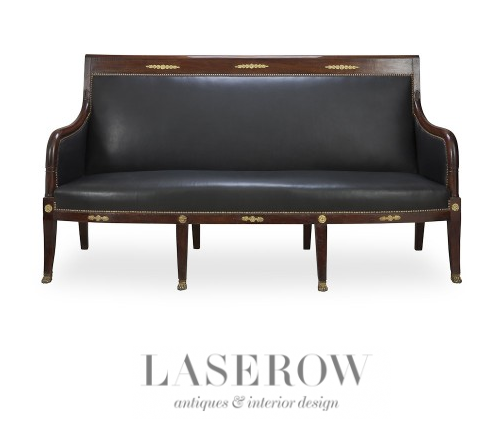 Sofa from the Empire period made in France. Frame of dark polished mahogany with gilt bronze decorations. 4 front legs ending with lion feet in gilt bronze.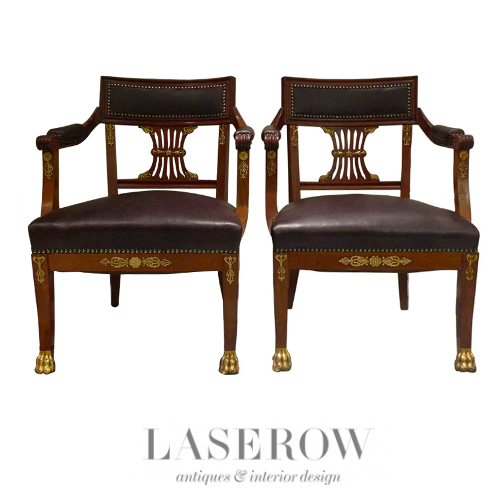 A pair of French desk chairs (can be sold separately as well) made in
Mahogany and decorated with polished bronze details. Legs ending with
lions feet. Upholstered in dark brown vintage leather.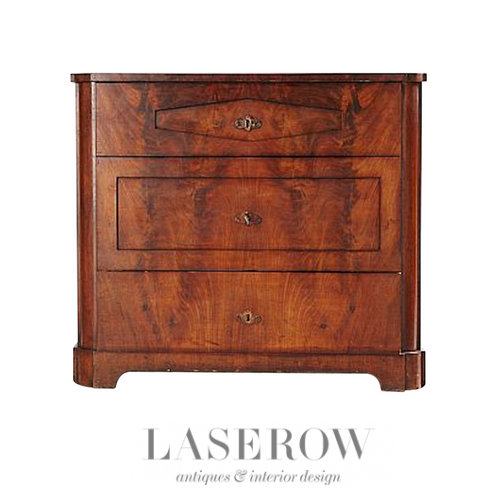 Swedish mahogany chest of drawers amde during the Karl Johan period
1820-1830. Simple carvings on drawers front and rounded corners.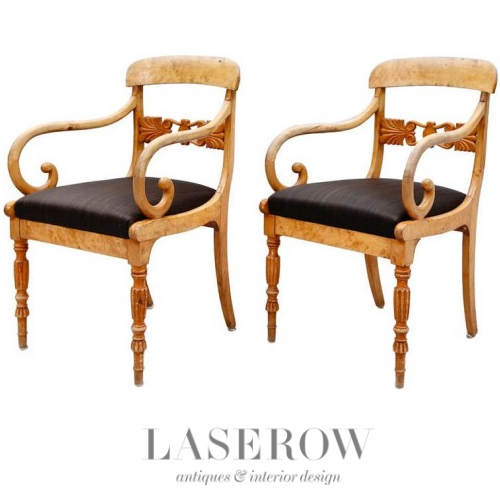 A pair of Swedish Biedermeier armchairs in light birch made during the mid 19th Century ca 1840.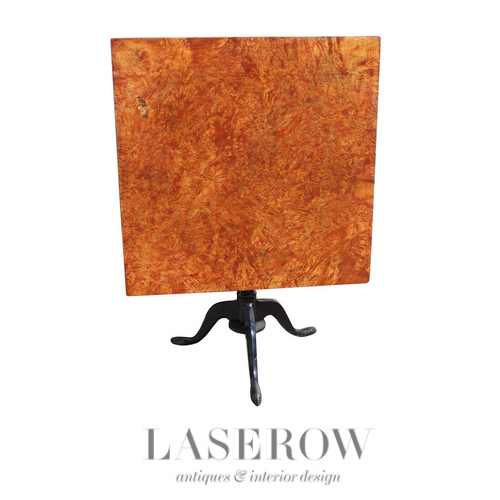 A Swedish Karl Johan Alder Root Tablein a very good quality. Top made by inlayed alder root standing on a blackened tripod base.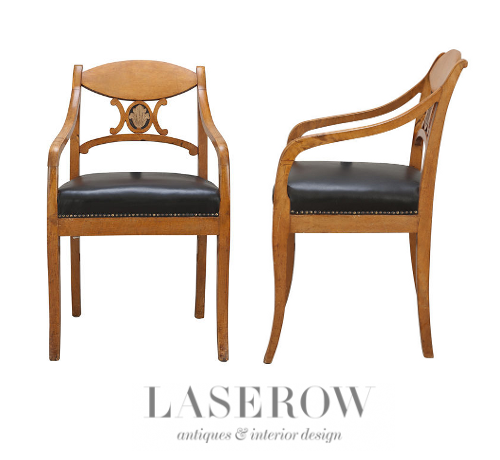 A Pair of Swedish Karl Johan Armchairs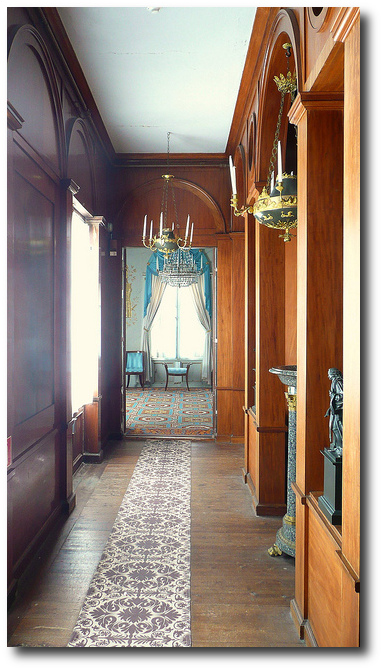 Rosendal Palace- Picture Credits- Faun070 On Flicker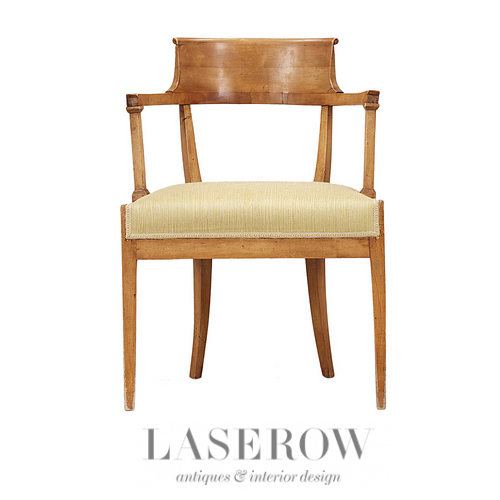 A single Empire desk chair made during the Empire period early 1800's in Sweden.
Rosendal Palace- Red Drawing Room Picture Credits- Faun070 On Flicker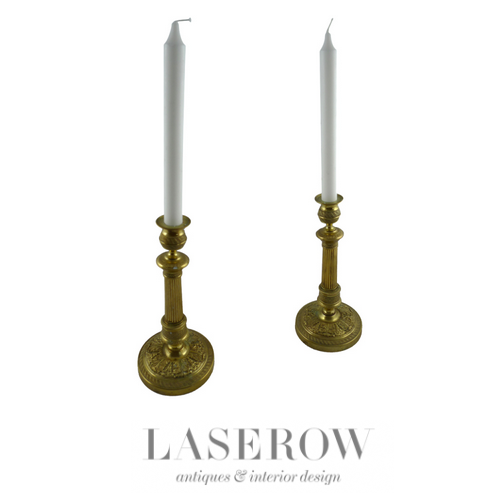 A pair of candlesticks made during the empire period 1810-1830 in
France. Urn shaped candleholders and a rounded channeled body standing
on a round foot decorated with flowers.

Rosendal Palace- Library – Picture Credits- Faun070 On Flicker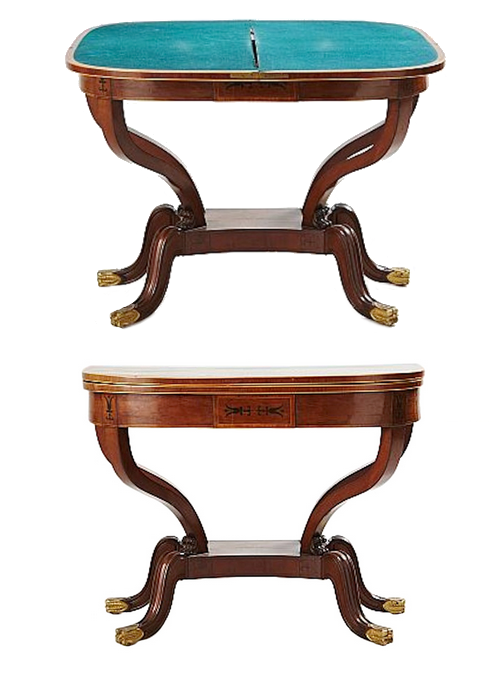 An empire game table from France made during the Empire Period ca 1800.
Veneered in mahogany and decorated with inlays and brass detailing.
Opens up to a rectangular top.

Rosendal Palace- Picture Credits- Faun070 On Flicker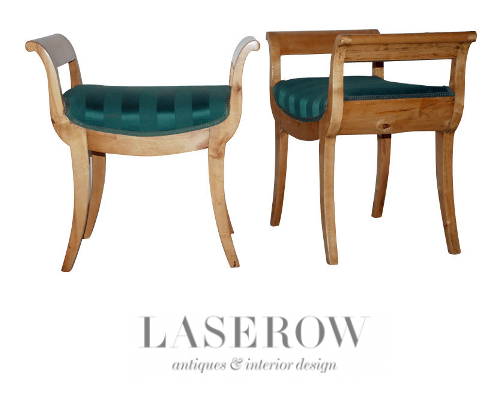 A pair of beautiful Karl Johan stools made in Birch
Rosendal Palace- Picture Credits- Faun070 On Flicker
Rosendal Palace- Picture Credits- Faun070 On Flicker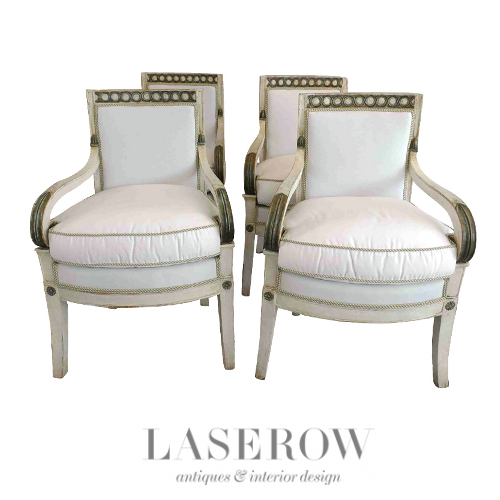 A set of four beautiful Empire Armchairs in their original paint. A cream white with green detailing. Newly upholstered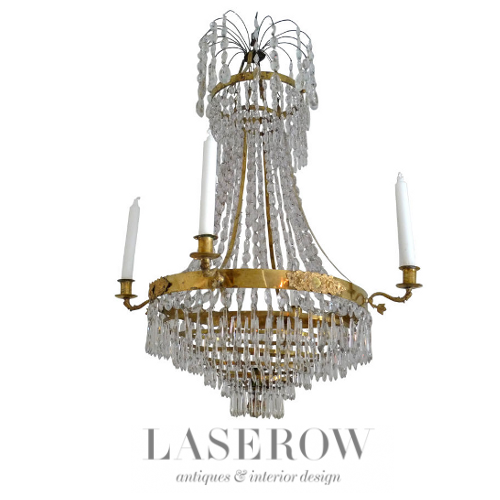 A exquisite crystal chandelier from the early part of 19th Century and
Karl Johan period. Frame made on brass with gilt bronze details. Diamond
shaped crystals. Four arms for candles and one in the middle of lower
basket Calles "welcoming candle". All original.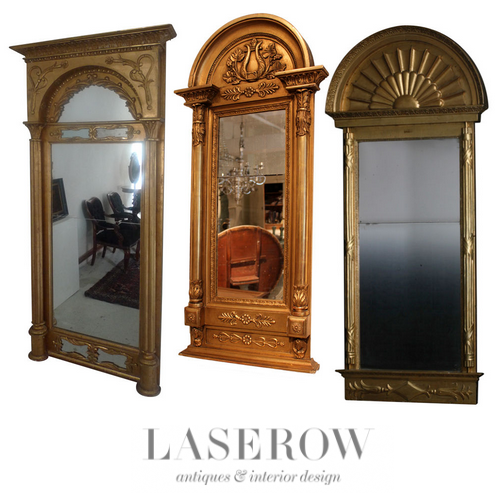 A beautiful and large Swedish Karl Johan mirror from the early 19th
century. Its made in gilt wood and decorated with a carved corniche with
a demi lune shaped top mirror. One colon on each side according to the
symbols of the neoclassisism.
An exquisite tall gilt wood mirror made during the Karl Johan period
with a demi lune shaped molding. A rectangular ending decorated with
leaves.
Antiques In A Modern Settings By Karin Laserow
A comprehensive guide to blending beautiful antiques into a modern home.
Incorporating antique furniture and art into a modern home may seem like a contradiction, but Karin Laserow and Britt Berg show just how easy it is and how stunning the results can be. Highlighting the rich traditions of Swedish furniture and other décor, this full-color guide begins by explaining the basics of antique furniture, from style histories to the nuanced differences of Baroque, Rococo, Empire, Gustavian, Art Nouveau, and more, with striking photographs throughout. Readers are taught how to tell the difference between old and new, how to evaluate antiques, and how to determine whether repairing, repainting, and refinishing are worthwhile decisions for protecting antique investments.