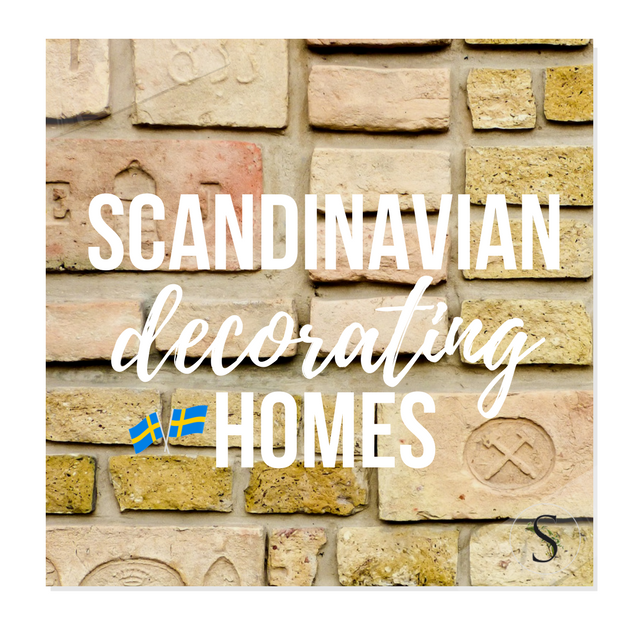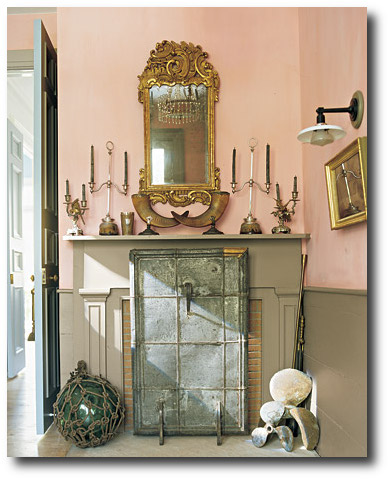 The Dienst's home is an excellent example of a home decorated around the Baroque themes with a distinct Scandinavian design. The Baroque styles originate in Italy so most commonly we see examples of this style from that region, but rarely from the north or the south or any other region for that matter. In addition, the Dienst's home is designed around some of the very best Swedish antiques making their home inspirational to all who are hoping to project this style for their own homes.
With so many modern variations of this style, there is no right or wrong when it comes to decorating and color. In fact, you may find that many top designers tend to embrace color to an extreme when working with the Gothic / Renaissance interiors. Many modern professional styled homes set around the Baroque period style tend to favor brighter colored interiors which do give the really primitive styled furniture a modern, updated look. Hot pinks, cobalt blues, reds and bright yellows mixed with the Baroque antiques give rooms a very premium designer feel.
You'll also find that Baroque furniture is also painted in a plethora of colors. Painted furniture in hues of purples, blues, greens, reds, yellows, oranges can then be matched up with paint colors that work with the original paint on the antiques.
Fresco wall painting can also capture the picturesque look into a room. Stuccoing it can add that castle appeal that are seen in the ancient stone buildings. Many of the Swedish Baroque castles featured elaboate walls covered in wallpaper. Choose wallpaper with a colorful, detailed, motif pattern can still fit into the Baroque schemes.
While many people like to keep the windows rather minimal, study the designs to see what appeals to you best. Windows have been known to be one of the main characteristics of Baroque designs. Consider buying heavier draperies made from velvet, damask or silk which can be hung in a modern way. With this approch, your home can look updated using the right styles of fabrics without it looking like a museum.
Flooring, can truly make a break a room all on its own. Paint can transform a room without much cost, so I always suggest that any budget should be spent on flooring, and a few carefully chosen period antiques. Sweden has been known for its vast forests, so it made sense that flooring was made from wood. You simply cannot go wrong with pine flooring. Pine flooring also allows you to get away with vibrant paint shades on the wall, and almost any wallpaper pattern.
Baroque styled interiors rarely used rugs or carpeting. Rooms in the Baroque era usually used geometrical-patterned wood flooring. Besides parquet flooring, you can also use marble and stone floor tiles that were also used during that period. Make your own stone for the floor or walls using concrete molds. There are a variety of shapes and styles making period stone features inexpensive to produce at home.
Baroque furniture is typically large and heavy. With the modern bedrooms being much smaller in size, plan the furniture out before purchasing to make sure everything will fit to the bedroom. Consider investing your bedroom budget on a bed. A canopy bed with ornate carving and tall posts from which you can hang drapery would be an ideal choice.
Chairs upholstered in Ceylon et Cie's Ikat print collection
Upholstered chairs are an easy way to match up patterns that match the drapery, bed canopy and the color of the wall. The bedding should match the theme of the drapery, wallpaper, upholstery, and the bed canopy. Ikat patterns have become tremendously popular in the last several years. There are so many different versions of this ethnic, bold weaving style that is likely one of the oldest patterns in existence. Get some examples from Kelli Ford & Kristen Fitzgibbons. Look for combinations of colors paired with white. Indigo and ocher and vibrant contrasting colors would be a great choice for a Baroque interior.
Period styled decor will also strengthen the overall design. Consider a combination of candlesticks and lamps. Choose a heavy crystal chandelier with both brass and glass to enhance the Baroque feeling. Add ceramic vases and bowls with floral oriental patterns to enhance a room that has color, or lack of color. Invest in large scale paintings or very heavy mirrors with ornate gilded frames.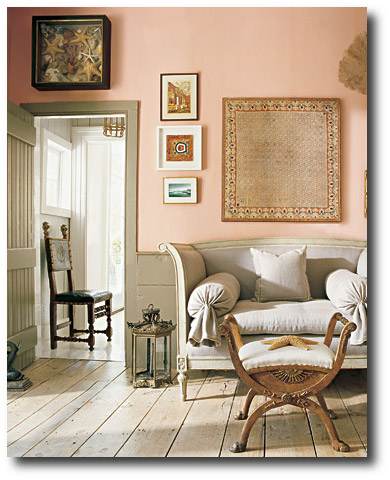 In the two pink rooms, Dienst's small parlor off the entry features an early-baroque spark screen. The mirror is Danish rococo, and the crystal chandelier it reflects is Gustavian. Brass propellers complete the look. Gray wainscoting and bare floors soften the vivid color of the walls, which are adorned with an array of small paintings, sea fans, and a framed collection of starfish. The Gustavian settee is upholstered in linen, the stool is from the mid-nineteenth century, and the side chair is baroque. A mid-twentieth-century Danish lamp stands on the floor by the settee.
Reclaimed Wood Dining Table From A Tyner Antiques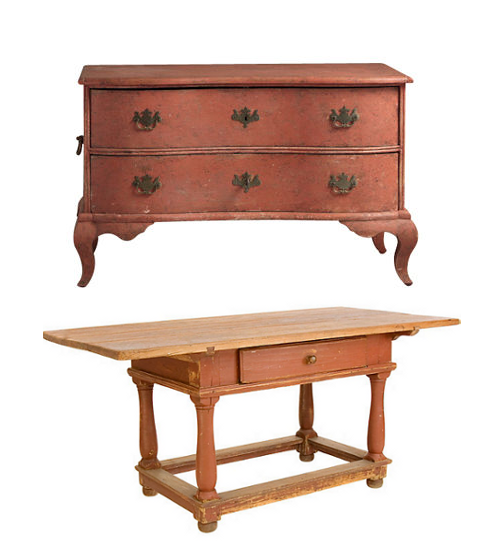 A.Pair of Swedish Baroque Commodes
B. A late-18th-century Baroque Swedish table with center drawer. Original red paint.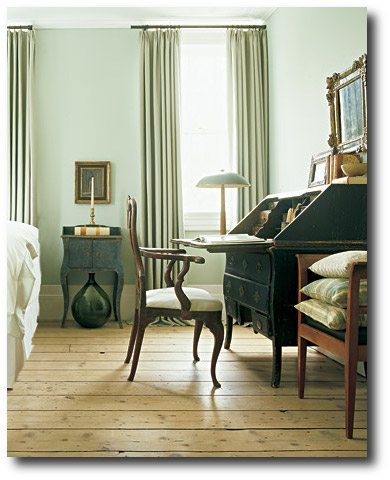 A black painted baroque Swedish desk sits in a guest bedroom.
The small side cabinet is rococo, and
the lamp is Danish.
Swedish Baroque Table From the 18th Century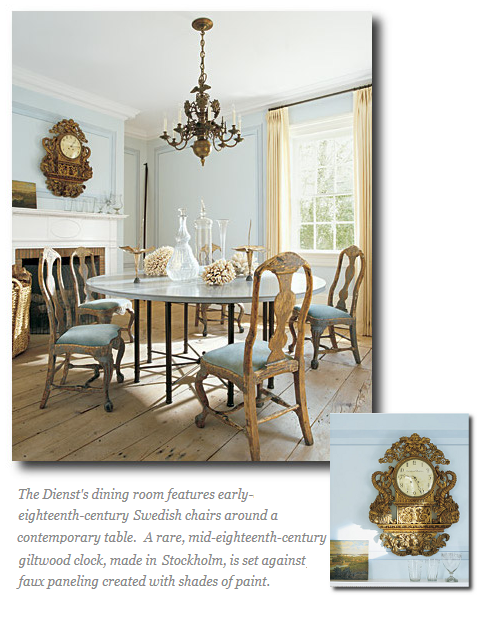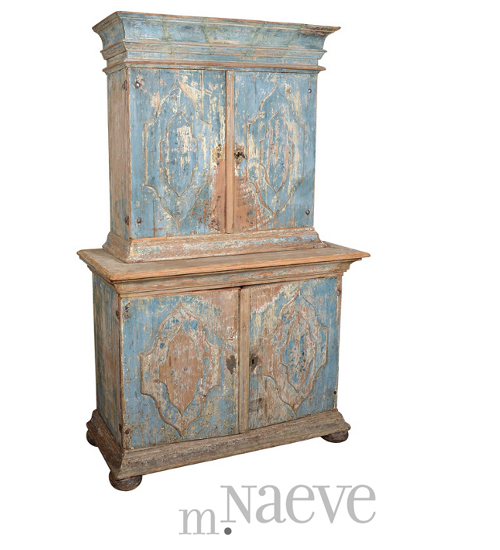 Beautiful Swedish Baroque cabinet in original blue paint
Landscapes on wood panel decorate the entry at Sandemar Manor in Sweden.
National Museum Stockholm's Flicker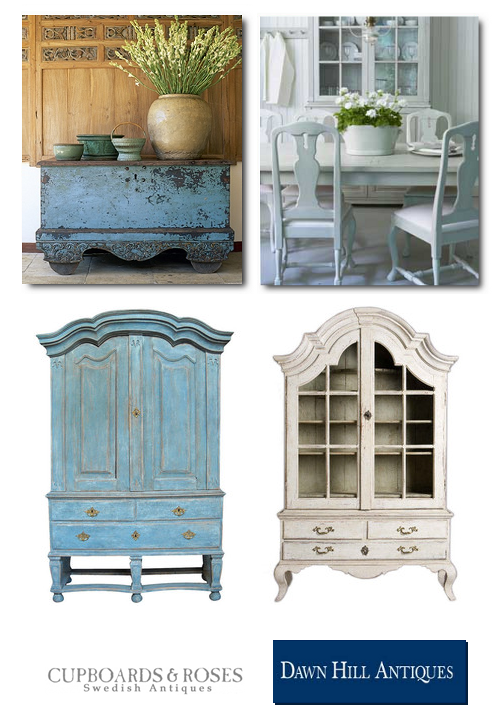 Picture Credit Home Beautiful Magazine , A. Tyner Antiques
Designer Miles Redd, Using Yellow In A Baroque Styled Room