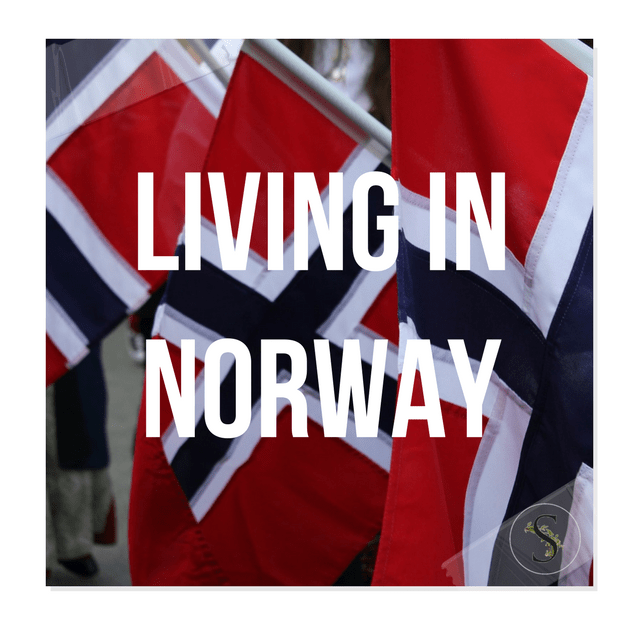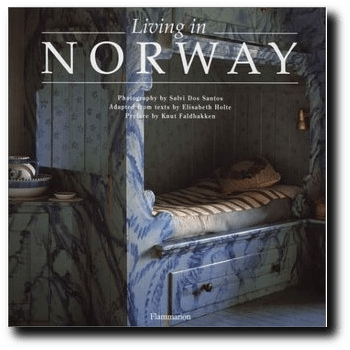 Living in Norway by Elisabeth Holte, is a book you need to look though. This book features 250 lovely photographs of Norwegian interiors which specialize on folk motifs, and countryside homes. The book is divided into the four seasons: fall, winter, spring and summer.
When it comes to antiques, this book shows them in their historical natural settings. View homes that look untouched from the 18th and 19th centuries. Many of the "hytta" or cabins found in Norway have been now turned into bed and breakfasts or museums which have kept much of the traditional interiors intact.
Look through many examples of traditional rosemaling on the walls and on the outside of the shadow box beds that show you the sheer talent of country people in the 19th century. In this book you will find a rich selection of Norwegian homes, interior and exteriors images, focusing on mostly historical homes, with the exception of one home set in the modern style.
214 pages show a variety of pictures, with a special section at the back featuring a visitors guide. While this book was published in 1999, this book is breathtaking, and be a classic example of the interiors found a long ago that we never get tired of.
The Kristiana- An Elegant Club in Denmark
Quotes I found most interesting:
On The Style Of Houses In Scandinavia "As Far back as ancient times, the Swedes usually constructed lightweight buildings with wooden facades, while the Danes, who claim practically no forests, built their (hatched cottages in stone and clay: the Norwegians built their solid valley farms of logs, one farm often made up of twenty buildings for different uses"
On Dragon Viking Style In Norway – "It was only in 1005 that Norway became a monarchy again with the coronation of the Danish prince Charles (the grandfather of the present King Harald), who came to the throne under the name Haakon VII. A renewed national consciousness was expressed in architecture and furnishings by the adoption of the Dragon style, inspired by a pseudo-Viking nationalism. As a people, therefore, we are both old and young, which explains the dominant rural trait in Norwegian culture"
On The Popularity Of Dragon Style "Dragon chairs that had been banished to the attic are now being brought down for a fresh look. The style originated in Sweden at the beginning of the 19th century and spread to Norway. The Swedes and the Danes tired of it in the 1880's but Norwegians maintained the Dragon style and used it as a symbol of their ongoing struggle to leave the threadbare union with Sweden, which ended in 1905. Considered a pure Scandinavian tradition, totally independent of what was happening on the continent, the Dragon style was an expression of the pride of the Viking age"
On The North Summer Nights "As the days get longer, nobody wants to go to bed. In the south, it is possible to read outside in the garden until eleven o'clock at night and the sun is already up again by four in the morning. North of the Arctic Circle, the sun doesn't set at all, creating an almost unreal atmosphere. During those 'white' nights of the midnight sun. time seems to stand still. In enjoy the beauty of the midnight sun at its most breathtaking"
On Rose Painting Artists "Rose Painting was distinguished as any of the country's more widely known cultural representatives. Rose-painting was a rustic art made by local masters who traveled from farm to farm, often spending months in one place carving and painting the most magnificent interiors. The tradition of rose-painting started at the beginning of the 18th century and reached a peak towards the beginning of the l9th, surviving until the middle of the 19th century. For the owners of the houses, rose-painting was a way of expressing new-found prosperity, and farmers and peasants wanted to show off their wealth and their improved social status, much as the prosperous merchants and civil servants in the towns displayed theirs"
Norway's Coastlines "Along Norway's southeastern coast the climate is sometimes so mild that even herbs like thyme, cultivated on the terrace to flavour summer meals, survive the winter . One of summer's highlights on the Sorlandet is the Trebatfestivalen (Wooden Boat Festival)
which takes place in August in the fine little sailboat town of Ris0r, whose harbour is lined with white wooden houses. Timber trade with Holland led to the creation of Risor in the 17th century, and it grew to become an important trade and ship-building port in the 18th century without ever losing its charming small-town atmosphere."
On Rose Painting Art "Rose-painting was an amalgam of local tradition and personal style. Artists generally knew of the major artistic trends and skilfully incorporated this knowledge into their designs. Although rose-painting lagged behind stylistically in relation to the major artistic trends that were evolving on the continent, you can nonetheless find elements drawn from all the major styles—Renaissance, baroque, rococo and Empire. The leitmotif of rose-painting, the elegant, sweeping baroque tendril, could play different roles within a design, in conjunction with flowers, in elaborate geometric patterns or as a structure for other motifs;. Popular motifs included human figures (the artist might paint the farmers wife if he found her pretty enough), flowers, trees, religious scenes, and soldiers on horseback with little dogs running at their feet. Artists chose pure, bright hues to produce vivid but harmonious effects"
On Popular Antique Furniture "For two or three generations, there has been a craze for antique farm furniture and objects in Norways towns, ranging from fine and costly 18th-century tables and dressers to a more basic lyed farm table or the antique wooden bowl. It is only recently that urban antiques have started to attract attention. Mainly of these come from Sweden, Denmark and Norways southern coast, and are made From birch or old English mahogany in the Empire style. However, bondemobler, or old farm furniture, remains the most sought after type of antique"
On Artist Peder Aadnes "One of the most renowned 18th-century painters in the lowlands to the east was Peder Aadnes. He created delicate, baroque, floral designs in soft blues, but his style tended to be more urban than that of his fellow masters. When rose-painted furniture attributed to Peder Aadnes or his fellow masters appears on the antique dealer's circuit in Norway today, you have to be prepared to pay enormous sums for a major item such as a sideboard. The colors and forms are so beautiful that you could put that sideboard in an empty room and need little else"
On Antiques In The Countryside "Even in the most modern Norwegian homes, it is unusual not to find at least one small remnant of the countries rural heritage —a bowl, a table, a rose-painted chest of drawers, or a painted dresser. (It would also be unusual not to find an example of Norway's innovative contemporary handblown glass or pottery.) Up until the middle of this century, there was little appreciation of antique farm furniture in the rural areas and much of it was bought up cheaply by city dwellers dealers. These days, most farmers value their heirlooms—their painted beds, massive tables, rose-painted or stenciled walls—and take good care of them. On some farms, whole interiors can be works of art. Because craftsmen not only made furniture but also carved and painted entire rooms, including the bonded timber walls and the ceilings. Baroque tendrils and rococo shells adorn the massive wooden walls and beamed ceilings, while carvings of soldiers or king- with sabres drawn, brings doors to life. Many of these 18th century rooms still survive intact in farmhouses in the valleys and on the lowlands of southern and eastern Norway. Some are still used by the descendants of their original owners. Often, though, the present-day owners have made themselves modern houses next to the old ones, with luxuries such as electricity and plumbing"
Rugs Made From Scraps Of Cloth "Yli farm in Telemark is one of Norway's finest folk art interiors, with 1797-1807 richly carved box beds and exquisite rose-painting. The lush, colourful rose-painting, rosemaling, by renowned local masters, involved far more than mere flower decorations and usually did not include any roses at all. In many valley's dialects, rosut (rosy) simply meant decorated; rose-painting was the general name for the luxuriant rural decorative art in the 18th and 19th centuries. In the old days, weaving cotton rag rugs (left) was a way to make use of worn household textiles and clothes."
Get the book Living In Norway, By Elizabeth Holte, Photography by Solvi Dos Santos from $12 dollars on Amazon
William Jensen displays his Kilm Cushion-side sofa in the bedroom in his Oslo Apartment