When you think of slipcovers, you may have memories of the 80's clunky furniture covered with slipcovers that were tied with over-sized bows and small scale stuffy florals with outdated colors. Interior design took a tumble in the 80's and 90's, however, interior design directions haven't ever looked so good as they do now. Today, we are seeing an emergence of the simple raw materials become exciting again. Old weathered barns, which were once eyesores, fetch quite a bit of money, as the wood is recycled and reclaimed furniture fetches top dollar. Simpler interiors and quality materials have become a new way of life, as people throw away the cheap products mass produced overseas and opt for natural, raw, rustic and antique goods. Those who follow the design trends for the home aren't shopping at the big box stores for their furniture, but rather they are after the unique looks which merge with their individual styles.
Slipcovers have a long history in interior design, because they offer change and functionality in the home. In the 18th century, the slip-cover had become a design tool for wealthy homeowners, who wanted a change from season to season. Slipcovers were made for furniture,and often coordinated with drapery. Slipcovers have always posed some challenges, mainly that they can be ill-fitting and poorly made. Wrinkled seats and sagging backs produce a careless appearance that gives a lax impression in even the most orderly room. Making slipcovers can be complicated, as they need to fit furniture well, just as a sharply made tailored suit can define a beautiful figure. If the slipcovers are made poorly, the lines of the furniture can be completely lost.
Slip-covers also posed some challenges with seasonal changes. Many would find the covers too tight, or too loose in different seasons. To compensate this, linen covers were made a bit larger, which could stretch with summer's humidity and heat. The material would then have enough shrink for the change in the dry air for the winter. These difficulties are overcome by accurate measurements, and carefully following the lines of the chair when the pattern is made. Allowing several inches of material for tucking at the back and under the arms, a slipcover can be comfortable throughout the seasons.
Several Professional Tips
– One famous London upholsterer puts a strip of wood across the back of the seat before tucking the material in, to give added firmness.
– Elaborate detailing such as French pleating, cording, ruffles and special buttons add a customized look to any piece of furniture.
– Heavy linen, and cotton canvas have been popular as natural slipcover choices. The French tickings and cotton damasks make great bed covers, drapery and slipcovers. Consider using unbleached muslin with which also can be dyed in soft shades of blue, green, or yellow. Gingham and simple checks can give your room a Swedish, gustavian flair. Stripes lend a sophisticated touch to any room, and wear well, and are especially easy to launder. Chintz florals are quite attractive to look at, and do a terrific job of keeping the dust out and soil out than other fabrics. Chintz is the most expensive by far, and the most effective material for slip covers. The bold patterns of birds, flowers, and medallions of contrasting colors make it a pattern that is lovely to look at year around.
– Gathers, and wide flat box-plaits add interest to the bottom of slipcovers. These details can be used just below the seat of the chair, probably on a line with the upholstery or seat frame. This style works particularly well with French chairs with beautifully designed cabriole legs which are so decorative in themselves that they do not need to be concealed.
– Consider combining plain fabric colors with a few stripes, and some delightful flowered patterns.
Pamela Pierce – Swedish Chair Natural Fabrics
Swedish Chairs With Linen Slipcovers from Biskops Garden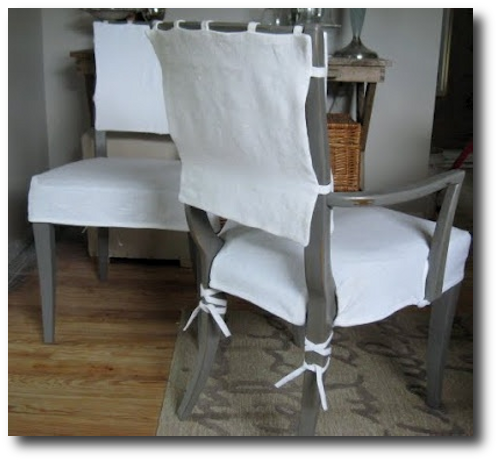 Dining room slipcovers by Donna Jenkins
Stephen Sills's Holiday Decor – Veranda.com
Slipcovers From brucebarone.com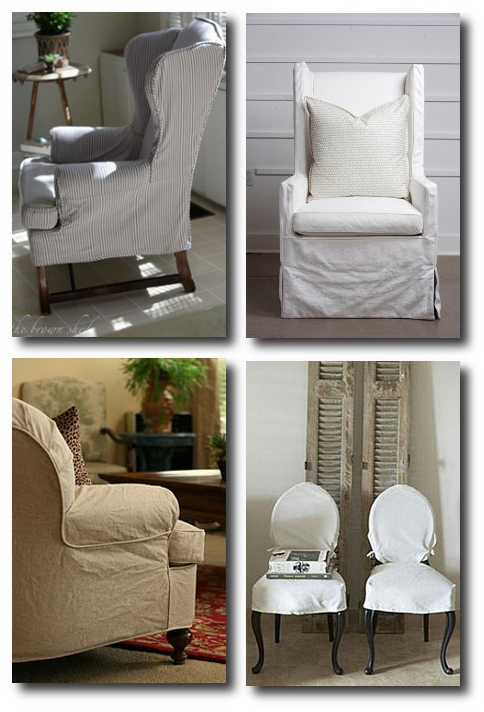 1.Stunning Wingchair Slipcovered –thebrownshed.com
2. Slipcovers From store.theseasidestyle.com
3.customslipcoversbyshelley.blogspot.com
4. Slipcovers Featured on brabournefarm.blogspot.com
Slipcovers In Neutral Fabrics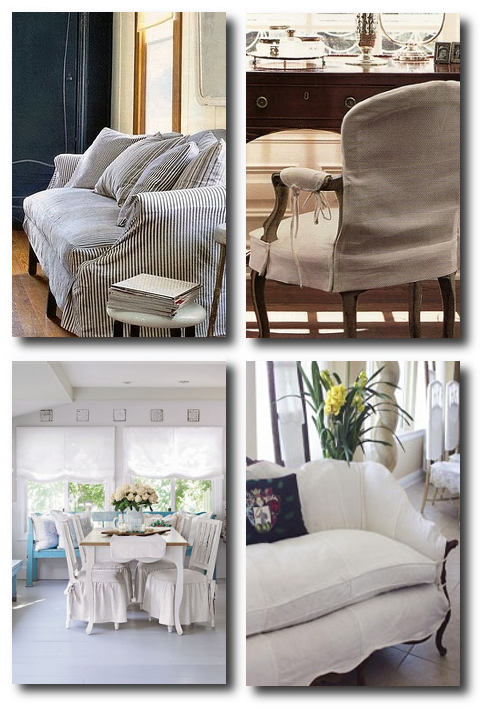 1, 3, 4 Unknown – 2. Slipcovers Featured on stylecourt.blogspot.com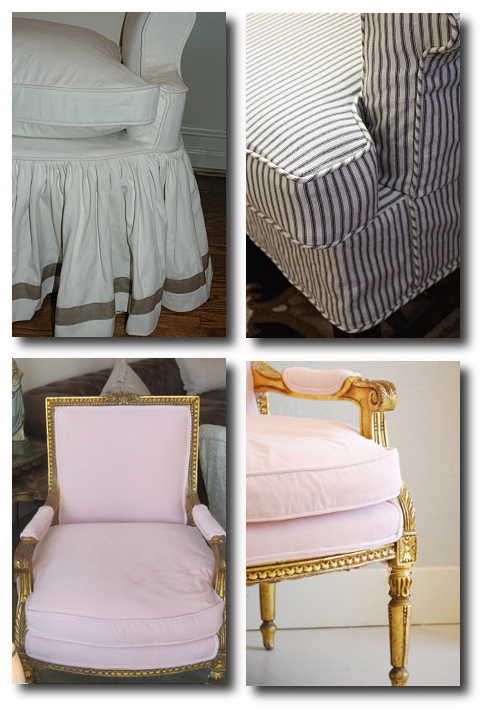 1.Heavy Ruffling From nineandsixteen.blogspot.com
2. Upclose Detail Of French Ticking –michellefritz.blogspot.com
3. Stunning Louis XVI Chair in Pink From Rachel Ashwell
Classical Slipcovers At Monticello. Photography by Charlotte Moss.
Thibaut Ad
Green Gingham Sofa –Tilly's Cottage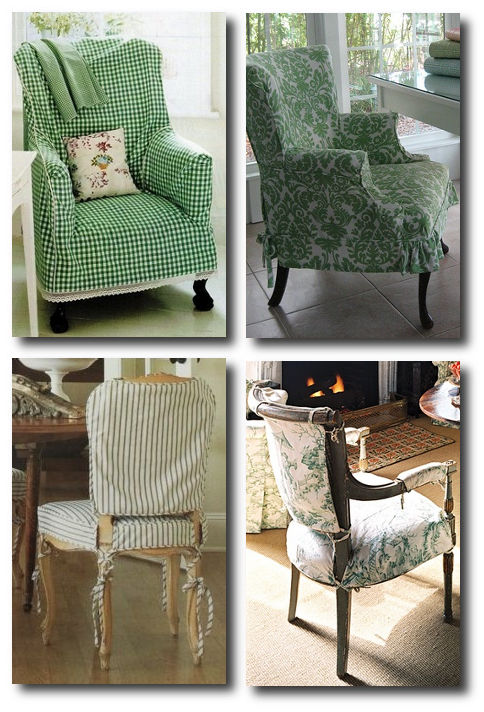 1. Green Gingham Slipcover- Country Home
2.Green Desk Chair Slipcover – flickr.com
3. French Ticking Slipcover- pinkwallpaper.blogspot.com
4. Slip-covered toile Chair – Cathy Kincaid
Slipcover Your Headboard! Martha Stewart
A slipcovered chair, photographed by Russel Sadur.
Dropcloth Slipcover – The Twice Remembered Cottage
Image from Country Home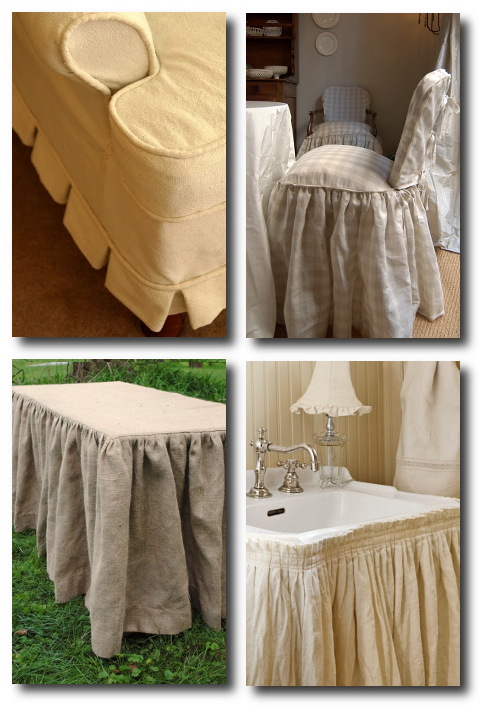 1.Tips On Making Slipcovers With Drop Cloths- missmustardseed.com
2. Checked Linen Gathered Slipcovers- cotedetexas.blogspot.com
3.Paula & Erika Table Covers etsy.com
4. Knife Pleats Around A Sink- countryliving.com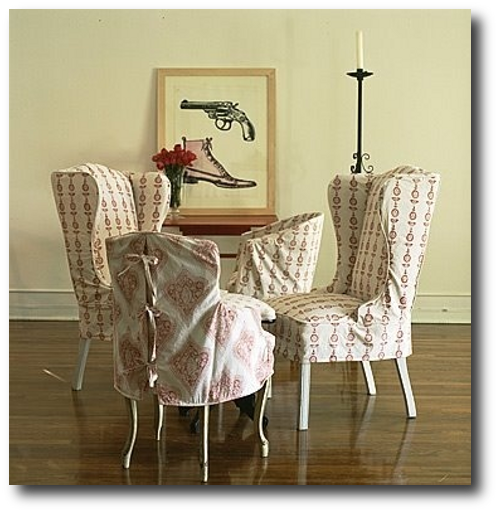 Jackie Von Tobel- Jackie Blue Home Blog
1.Slipcover With A Beautiful Large Bow- beekeeperscottage.com
2. Beautiful Mahogany Gray Painted Chair With A Toile Slipcover- whendecorating.blogspot.com
3. How To Make Slipcovers- honeybearlane.com
4. Pleated Slipcover- thecottagejournal.com
Slipcovers Over A French Sofa – peekingthruthesunflowers.blogspot.com
French Flour Sack Linen Tablecloth-Jeanne dArc Living Blog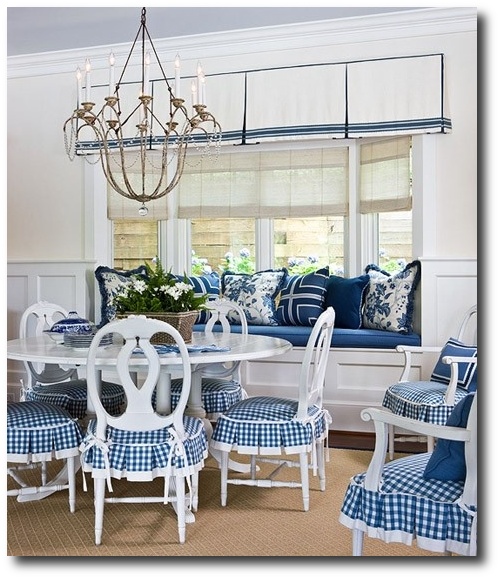 Designer Kelley Proxmire