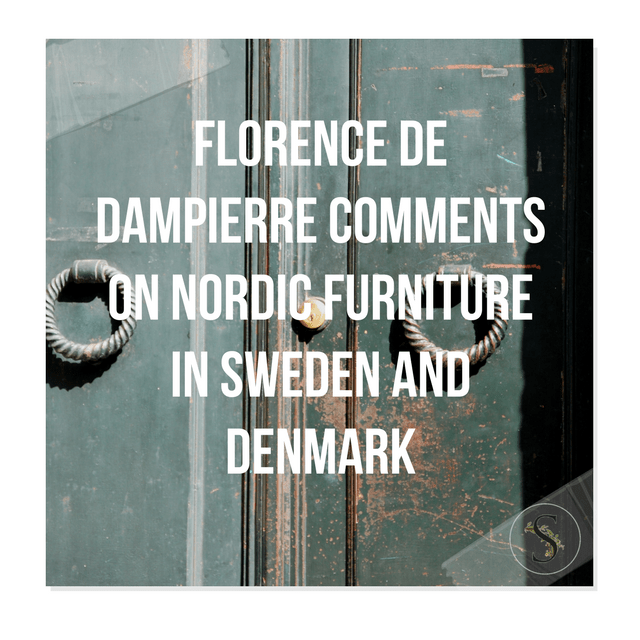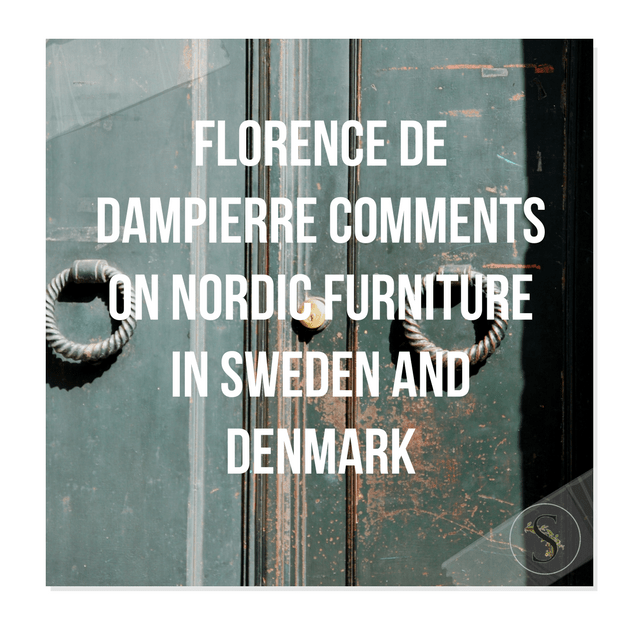 Chinoiserie found another outlet in the rare longcase clock at the right, made about 1765 by
Nils Berg, whose signature appears on the case.
The Best Of Painted Furniture By Florence De Dampierre, presents the tradition of painted furniture as it developed in Europe and the United States.
Dampierre, owns a New York gallery which features painted furniture, and specializes in tracing the art form in Italy, Spain, Portugal, England, Germany, Austria, Switzerland, Sweden, Denmark and America. She features French and Italian examples to simpler, more provincial American and northern European folk-art pieces. She talks about how art influenced furniture across Europe, as craftsmen adapted ideas and techniques. Various chapters discuss furniture embellishments and treatments from high art elegance to folk art simplicity.
Here are her comments on Sweden and Denmark:
Two important traditions of painted furniture developed in Sweden: the high-style aristocratic furniture that evolved from the international taste for oriental lacquer beginning in the seventeenth century- and the rural folk tradition, which grew up both in the manors of landowners (where it attempted to imitate its elegant counterpart) and in humble peasant dwellings. As late as the seventeenth century the great houses of Sweden were still closed fortresses—large rectangular structures furnished with imposing, simple chairs and tables. Tastes began to change by the end of the century when the architects Nicodemus Tessin and his son Nicodemus traveled to Italy, where they eagerly embraced the refined luxury of Italian and French styles. As the designers of Drottningholm Castle and the grand castle at Stockholm, the Tessins did much to spread the appreciation of sumptuous high Baroque decoration among the Swedish nobility.
Skane, the southern region of Sweden had painted furniture traditions of it own. Largely
derived from those of Denmark, since it was a Danish province until 1658. Southern pieces, primarily blanket chests and armoires, featured Rococo and Baroque decoration with rose bushes heavily laden with bloom. The Erik Eliasson style of painting spread from Dalecarlia to Skane at the end of the eighteenth century, intermingling with the
southern style.
Other regions invented their own designs. Painters from Delsbo or Jarvsd, in the Dellen Lake district, notably Gustavus Reuter, originated a version of Baroque style painting that was free of influence from other areas. In Jamtlancl (bordering Norway), the armoires, in typically Rococo style, were particularly interesting. In some areas along the seacoast, such as Blekinge, painted furniture was a rarity.
Florence de Dampierre | Facebook
Buy this book from Amazon for as little as $3.99
Swedish Painted Mora Clock- Swedish Decorating
Close up faux painted detail of the clock
Swedish Hand painted Cabinet Sold through Umbrella Home Decor
The Best Of Painted Furniture By Florence De Dampierre
The Best Of Painted Furniture By Florence De Dampierre
A Swedish, Rococo Chest of Drawers Seller Dawn Hill Antiques
This table was seen in Liselund castle- made in 1795

Stool in the neoclassical style seen at Liselund Castle

The Best Of Painted Furniture By Florence De Dampierre
Swedish Gustavian Console Table, C. 1810 , D.Larsson Swedish Antiques
Gård & Torp Photo Karin Foberg
"Story Time" (portrait of the artist's father and daughter) by Knut Ekwall (1843 – 1912, Swedish)
"Hårnäver" a headdress from Norra Ny in Värmland! (Sweden)Her hair is tied up in a red ribbon and she is wearing a hårnäver. This is a kind of diadem that is used as a hair band to keep the hair high up on the fore head. A hårnäver is made from two pieces of birch-bark that are sewn together with long stitches on the back. They are decoratively painted in red or reddish-brown. Matte paint is used to cover the hårnäver and patterns are painted on free-hand. Bark is collected from the birch trees – Found on folkthings.tumblr.com
Furniture From Nordic Style
Home of Lisa Larsson- Seen On jessimfine.se
Svindersvik –Stockholms läns Museum
Svindersvik –Stockholms läns Museum
Folk art trunk made by Stenström, from the south of Sweden, 1819. Bukowskis Market.com
Swedish wedding chest with domed top dated 1809 Liveauctioneers
Blue and White Porcelain Room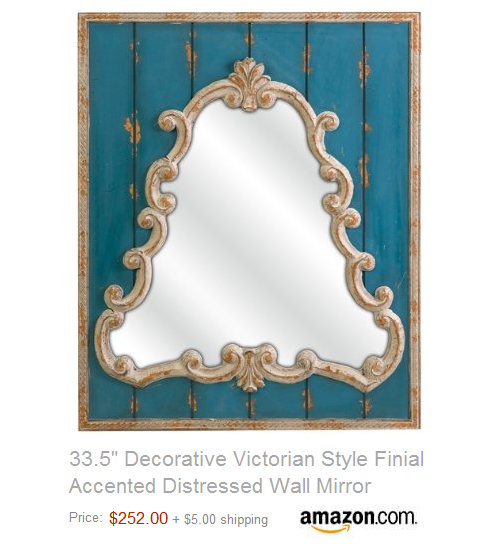 Decorative Victorian Style Finial Accented Distressed Wall Mirror On Amazon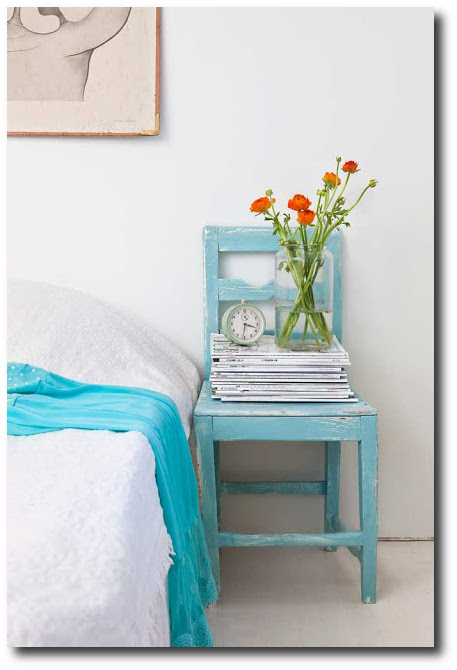 Sköna hem Magazine
Holiday Decorating in a Swedish Home Country Living Magazine
Van Breems joins sons Lars and Martin in the kitchen for an afternoon of cookie-baking.
Svindersvik, Stockholm, Sweden- Wikimedia.org
Anders Zorn's Studio in Mora
Swedish Painted Trunk Seen At Country Gallery.com
Country Painted Chest At Milord Antiques.com
Överkalix Painting, See More At kurbits.nu
Egeskov Castle In Denmark- www.skyscrapercity.com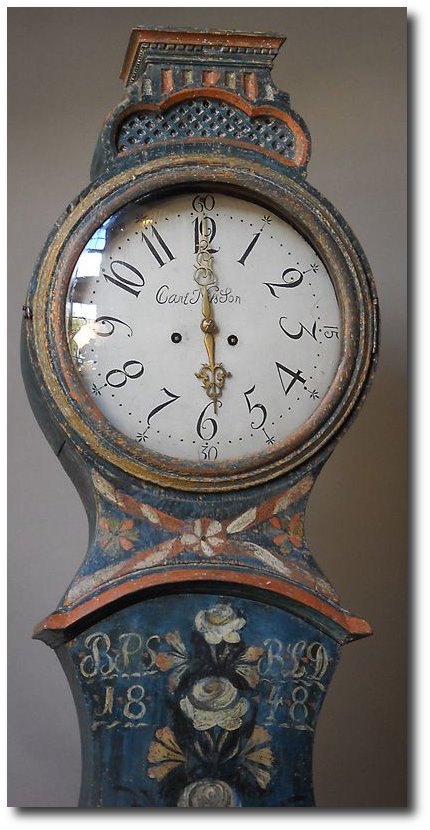 Swedish Mora Clock From Cupboards And Roses
Found on cupboardsandroses.com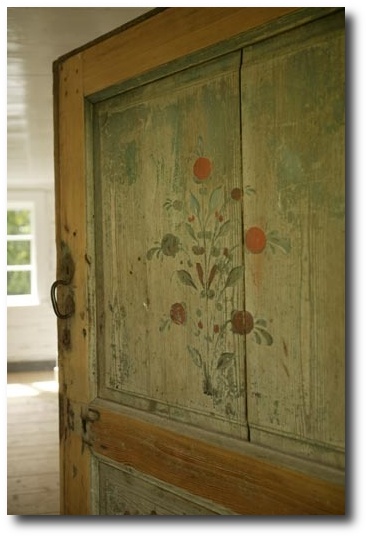 Swedish Door Detail – KML Design.dk
This is not an ordinary Mora clock – this is the rare Ångermanland Bride! The cases were made by local carpenters around 1820-1840. – Found on epokantik.com
Egeskov Castle In Denmark- www.skyscrapercity.com
Quenselska gården, Åbo, Finland. At that time Finland still was a part of the kingdom of Sweden. Found on sphotos-e.ak.fbcdn.net
Ornak, A Folk Art Style Villa – See more of this property at Archdeco.org
Original Painted Swedish Trunk, Dated 1843 Scandinavian Antiques
Mora Grandfather Clock, circa 1842 Scandinavian Antiques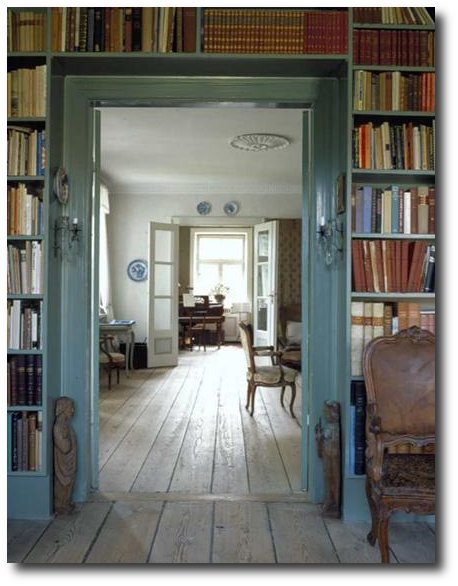 Sköna hem Magazine
Light Green Painted Swedish Mora Clock Cote Jardin Antiques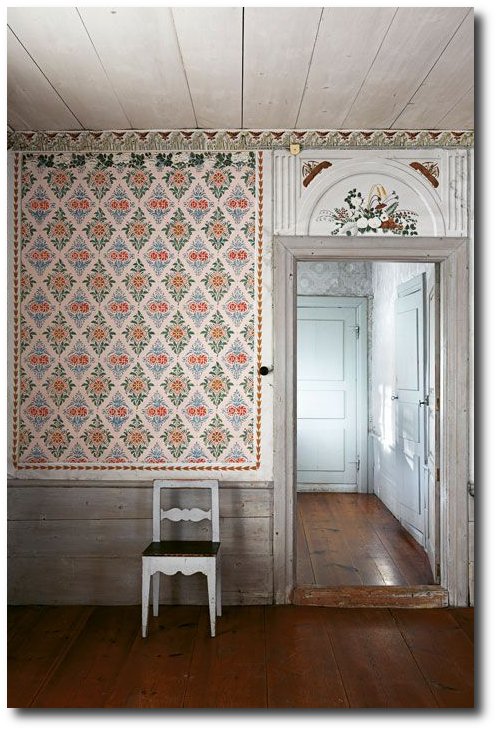 Decorated Farmhouses of Hälsingland – Life Beyond Tourism
Fjällbacka, Sweden
Louis XVI Style Carved & Painted Cane Fauteuils

Seen On Quality Is Key On Ebay