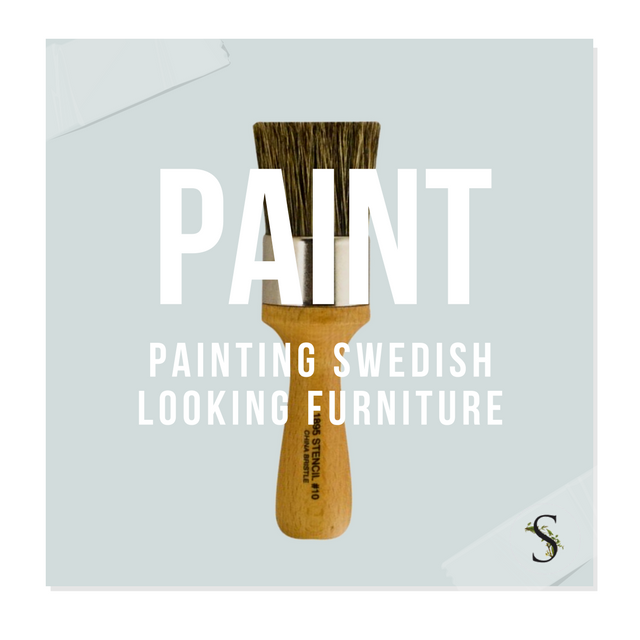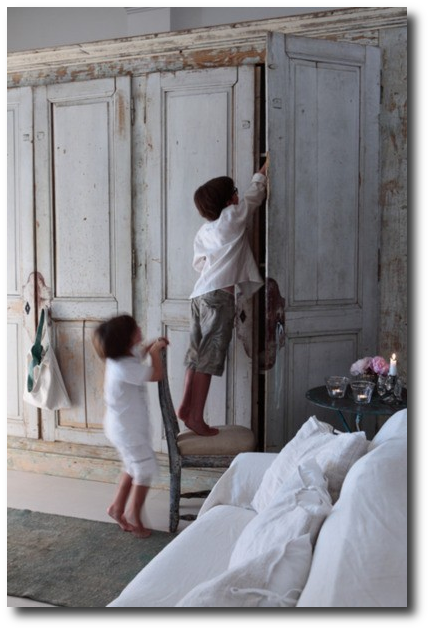 Picture Credit Habitania Work Rooms
As we discussed in Part 2, Accent furniture, such as Gustavian chairs, smaller tables, drop leaf tables, stools, and benches can be brought into the home, and used instead of the larger scaled furniture that we are used to today to achieve that Swedish Gustavian look.
Another element that draws people to the historical Swedish look is the painted furniture. There is an art to getting the rich patina that is seen on true antique furniture found in Sweden. Almost anyone can find vintage French furniture in their area which can be distressed using a number of techniques to give it a historical appeal.
In this early post I wrote, I describe some of the paint techniques I have used to achieve great white painted furniture.
Here are some of my best tips to getting realistic Swedish painted finishes……
1. Work with colors that are muted. If you have ever mixed paint before, think about the colors that are produced when black or white paint has been added to a color. In the 17th and 18th century, there was a limited color palette available, so black and white paint was added to an existing color to produce a shade that was darker or lighter. On one of my pinterest boards, I compile some colors that will give you ideas of ranges of hues that are very appropriate. Annie Sloan has a wonderful range of colors which all are muted, yet vibrant paint shades which I suspect were based off the French style that she is so attracted to. She has put together a fabulous palette of colors which would work in any French or Swedish styled home.
Don't ever work with colors with really bright pigments. I cannot blame anyone for being confused as there are thousands of shades of paint to pick from. The furniture should look aged, and color appropriate for the century you are after. I guarantee you, getting a really nice finish on a piece of furniture doesn't have to be complicated.
2. Strip Or Sand To Get Down To Bare Wood.
A raw wood piece of furniture is always the best to work with. Although finding a piece of furniture that is untouched with paint rarely happens. Starting off with a piece of furniture that is not painted is ideal, but if it does have paint, consider comparing the the color you have picked out to the color the furniture is painted in currently.
Would you mind having the original color showing through?
If not, consider spending the time stripping off the paint. A perfect strip job isn't necessarily if you plan on re-painting it, but enough of the paint removed will give you a new wood surface to work off of.
I have seen black painted furniture with distressing showing white beneath, and it doesn't look great. A base color of red looks terrific with black painted furniture, or just plain wood. If you don't want to strip the furniture, (as it is a lot of work) consider giving a good deep sanding to the furniture, especially to the areas you plan on distressing.
Often times if stripping the furniture is something I don't wish to do, I sand the furniture quite well as a first step, paint it in the color I plan on working with, and then sanding it again as a third step. This allows me to touch up the original paint color that shows through, while leaving some of the distressed areas that show off the wood. It is a lazy way of getting the finish, but the results are quite nice.
If you plan on doing multiple shades such as the chest below, consider colors that work really nicely together. White works nicely as a top color.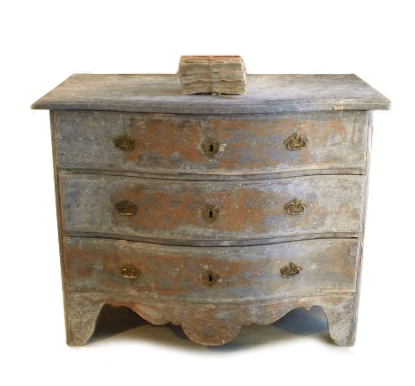 Swedish Distressed Chest From Atelier September
Distressing gives your piece of furniture a depth, which is often seen in Swedish antiques. I am not afraid of roughing up my furniture, and I am not afraid of altering an antique. Many antique dealers caution people from painting furniture, because it does loose the natural patina, and because of that, it often looses the value. This is a wise piece of advice to those people who are looking to "invest" in heirlooms for the value.
If you always wanted a white distressed cabinet, paint it, and don't be afraid to do so. My motto is that you have to first love the piece, because after all, it is in YOUR home. Your children may have a totally different style in mind for their own home, so do what makes you happy, rather than looking at furniture as items to pass down to family.
I used to sell used furniture for a hobby, and always ran into the problems with paint sticking properly. Either you tore off your arm by sanding the heck out of every piece, or you ran the risk of the paint peeling later on, which lead me to use oil paint. Not every oil paint brand is the same. Some brands are so hard to work with, that they will make you pull your hair out. It is almost impossible to find oil paint in a finish that is either flat or eggshell. You won't find glossy Swedish antique furniture, so don't use it on your furniture. The look should either be eggshell, or satin.
Cover Stain By Zinsser is a fantastic oil primer which I discovered by accident, and almost was beside myself when I discovered how well it performs. You can buy this at Home Depot and almost every Hardware Store, and the best part of this paint is that it is TINTABLE in almost all the lighter shades of paint samples such as Behr, Martha Stewart, and so forth.
High Hide Odorless Oil Primer without Sanding – Odorless Primer
I bought the paint, because I couldn't send out a piece of furniture which would later peel. I wanted a paint that could stick to anything and not scratch. Oil based paints are not environmentally friendly. The trade off with this paint is that it has a heavy smell which disappears after it has dried. You will need to use a paint respirator, and I emphasize that recommendation.
The most surprising aspect to Zinsser's Coverstain Primer is that it is not a thick paint. It is rather thin, and goes on like spreadable butter. You rarely need an additional layer of paint, because it is oil after all, and isn't like water based paints. Oil paints tend to self level as they dry, leaving almost no brush marks. Oil paints do cover well, and hold up wonderful. Unlike other oil paints, which can take up to a week to cure, this Coverstain dries to the touch in 3 hours, and cures over night.
The other reason why I recommend this product, is that it is sand-able. Almost every other oil paint brand I have tried doesn't sand very well, and often leaves the finish needing an extra coat. Because Zinsser's Coverstain dries flat (matte) sanding blends in rather nicely. In the past, I often added two coats of the tinted primer, and then sealed it with a Polycrylic
water-based sealer.
Polycrylic is one of the best finishes to use on white based furniture, because it doesn't yellow over time, like polyurethane does. With the polycrylic, I would apply it with a brush, and then with a damp white cotton wash rag, I would just wash it off. This would give me a seal to the paint color, while at the same time, maintain the flat, or eggshell finish that I enjoyed.
Another tip I would recommend is to buy a good quality angle paint brush for water based paints. I have used these with my oil paints, and my brush sits in paint thinner for weeks, and it is still not damaged. Regular chip brushes are ok, and inexpensive enough to throw out, but a good quality brush won't leave paint strokes. Someone suggested to me to invest in an expensive brush, and I pass on those words of wisdom.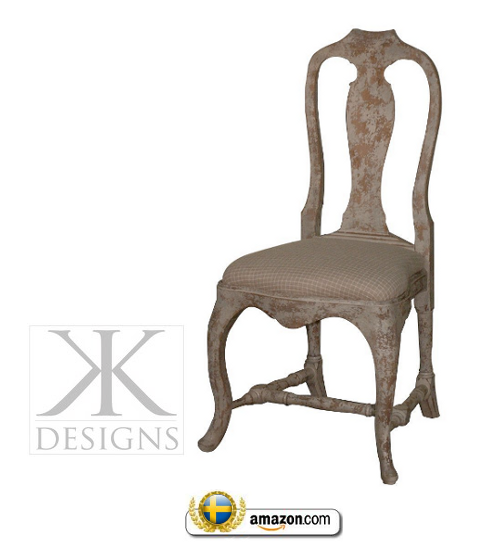 Swedish Accent Chair With A Fabulous Paint Finish $506
18th Century Buffet, circa 1760 Jane Moore Interiors in Houston
Picture Originally Featured on Indulge Decor Blog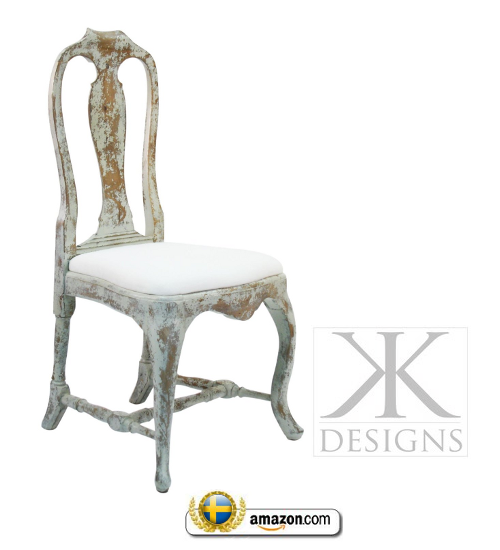 Stunning Swedish Styled White Painted Accent Chair
Neoclassical Swedish Styled Accent Chairs Sold In Pairs $983
3. Glaze Your Furniture With Brown Glaze…..
Glazing is so easy, it takes minutes. If you can wipe your table after dinner, you have the skills to glaze! It is that easy. A glaze is a translucent binder which paint pigment is added to the mixture to produce a translucent color. You can buy glaze mixed together at your local hardware much like ordering paint, or you can buy glaze alone and mix in paint yourself.
Buying brown glaze already mixed will go a far way if you paint furniture for a living. I used it on all my painted pieces, including my white furniture.
Blend & Glaze Decorative Painting Liquid
Ralph Lauren Faux Technique Glaze
I have discovered that glaze can be applied in two ways. You can apply it with a paint brush, let it stand for 3 minutes, and take it off with a slightly damp rag. With white furniture, even though you may feel you removed a lot of the glaze, the little bit that is left gives your furniture that slight change in color.
With flat finished white furniture, I give some wise words of wisdom. Add a coat of polycrlic before you glaze. You could even dilute the polycrylic with a slight bit of water, OR, just brush on a very small amount on to your furniture, such as dry brushing techniques. The reason for this, is that your furniture can turn a shade of brown, which is not what you are after. White furniture will have a hue of brown, but you don't want the glaze to STAIN the paint.
Another trick is to work with a creamy white, not a bright modern white. Your whites should always have undertones of brown or green in them. When glazing white furniture, if the finish is flat or eggshell, you will need to work fast in pulling off that glaze. If the finish is satin, you will have a bit more time.
For painted furniture such as blue, or darker paint colors, glaze can be added, and it makes a world of difference. Often times I just paint on the glaze, such as you would just dry brushing the furniture. I use the term "dry brushing" as your paint brush isn't loaded with paint. A small amount is necessary to make a dramatic difference. A brighter colored blue, will be muted when brown glaze is added, so experiment with brighter paint shades with brown glaze, you might be surprised what beautiful finishes can be achieved.
These Swedish chairs were likely scraped down to the original paint
Look how nice white upholstery looks with gray paint.
Originally featured on Romantiskahem.blog
This beautiful console table featured on The Paper Mulberry Blog, originally from Appley Hoare Antiques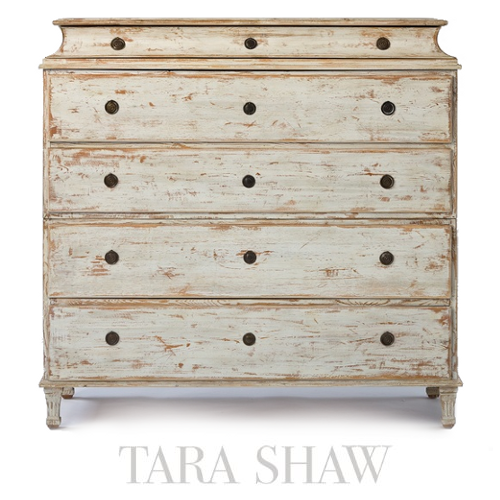 Tara Shaw Swedish Chest- Coach Barn Now Sells Tara Shaw's Collection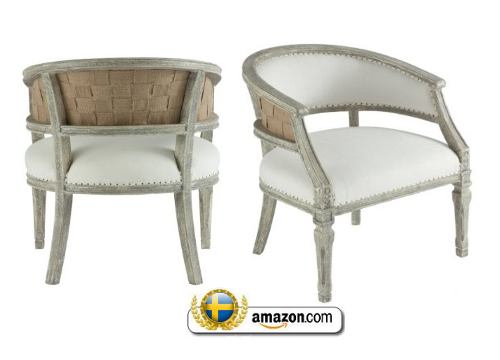 Reproduction Swedish Tub Chairs From Amazon $775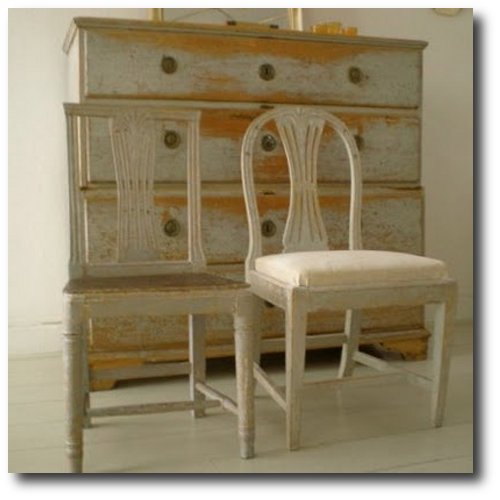 Swedish Distressed Chest From Atelier September
A Stunning Trumeau Mirror From Tone on Tone Antiques,
Featured on Henhurst Interior Blog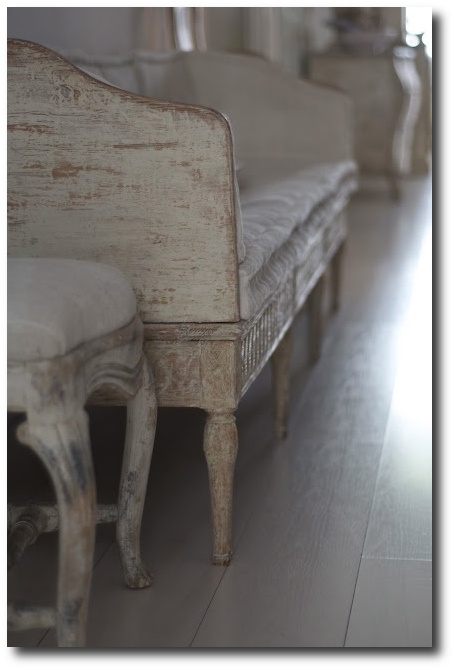 Swedish Aged Paint Finishes From Antiqbr Blog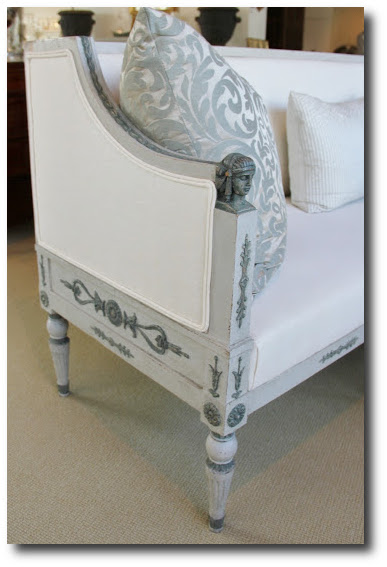 An extravagant painted sofa in terrific blue gray paint with painted ormolu
From Tone on Tone Antiques Featured on Featured on Henhurst Interior Blog
Swedish Aged Paint Finishes From Antiqbr Blog
A Few Previous Articles Of Interest
– White Painted French Furniture– The French Provincial Furniture
–25 Ideas Of How To Incorporate Orange, Pink and Coral Into Your Home- The French Provincial Furniture
– Ideas For Embellishing Painted Furniture– The French Provincial Furniture
–French Provence Red Check Textiles– The French Provincial Furniture
–Distressing Painted French Provincial Furniture