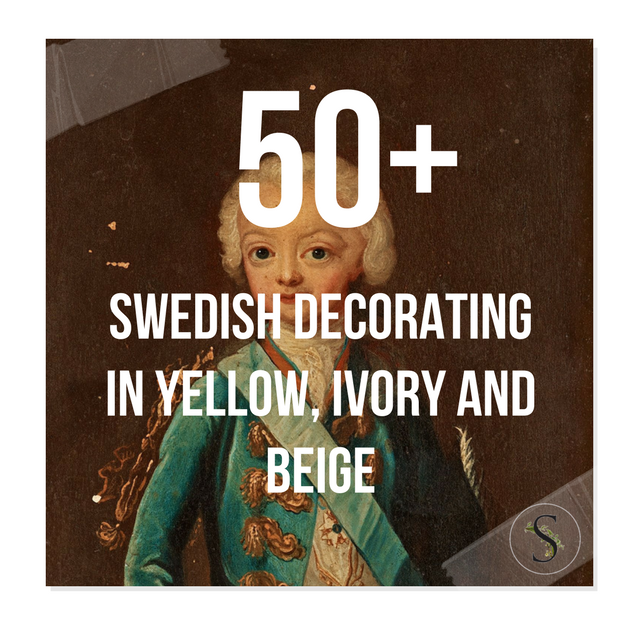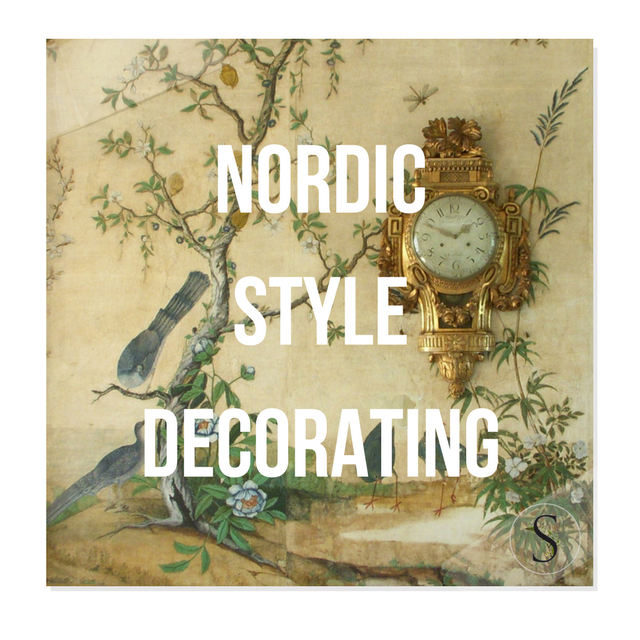 The Swedish style is a bright decorating style, in which presents a peaceful, liveable, serene place to live in. The lighter interior looks have always been popular in the Nordic countries for centuries. Pale wall colors, lighter painted furniture, throws and bedding in white, or pastels tended to give the illusion of light, which was particularly welcoming through Sweden's long winter evenings.
1. Lighter Painted Walls Allow You To Do More With Your Interior
To achieve the Swedish style, consider starting with the foundational walls of your room in a lighter paint tone. Gray, or tones of light green, blue or natural creamy white will complement accessories in touches of warm yellow and gold. Using a neutral base color such as ivory, beige, or light gray will complement additional colors added into the room. Consider soft pink, bold red, for stenciling ribbons, scrolls and gatherings of wheat upon walls.
Like your walls and draperies, keep your floors light and bright. Consider blonde or pale woods, or a lighter hued paint for your floors. If you want to jazz things up, stencil or paint pale designs on the floor's surface.
Thinking About Painting Your Floor? Consider These 10 Tips First…. Hersite Blog
Polish Your Concrete To Make It Look Like Marble- Hersite Blog
Floor coverings can make all the difference in a room. Natural fiber rugs, such as berber, jute, sisal rugs are natural and a neutral covering that works with any style and decor choice.
An alternative to painted walls is wallpaper patterns. If you consider wallpaper, work with a neo-classic style with soft colors on a white background. Floral prints, swags, ribbons and bows are a common theme that runs through Gustavian style. A touch of gold gilding is important as an accent, and adds the prestige into your rooms.
6 Stencils I have My Eye On- Which One Is Your Favorite? – Hersite Blog
Buy Floral, Chintz, And Gustavian Wallpaper and Fabrics From My Friend Paula At Lily Oake
2. Pair a Settee At One Side Of Your Dining Table
While many of us may not have the room, a settee at the dining table really looks fabulous if you can pull it off. My friend Stephanie Tuliglowski went for a French Provence look in her house, and paired a large farmhouse table with a French settee. In this photo, you can see she left the settee in it's natural wood, instead of painting it. It gives the room so much more of a natural, cozy feel.
The "Köksoffa" has been known as the kitchen sofa, and originates from the 1700's. The idea behind this sofa was it could be used during the day, and then pulled out at night to be used as a bed. Rooms were smaller, and often pieces were created for multi purposes. The sofas were often painted and antique versions often can be seen having a dark patina from the paint aging over time.
3. Rotate Your Collections Through Out The Year
The Nordic style of decorating has always been one to border on minimalism. Invest in pieces that function as storage solutions which can hide away your belongings, while at the same time look decorative.
Leave Armoire Doors Open-

If you have a armoire, paint the inside a different color than the outside, and leave the doors open to display what you have.
Paint The Inside Of Your Cabinets, Or Bookcases In A Different Color

– Spice up your collections by painting the inside of your drawers, or cabinets in a color that will pop. If you are decorating around the creams, consider a darker buff, vanilla, apricot, or saffron for the inside.
Rotate Your Decorative Accessories

through out the year, and mount more of your collections on the wall. If you do collect, consider keeping only the best of what you already own, and discard the rest. Use lighting to draw attention to those items that you want to be seen.
Group Decorative Items In Pairs, or Collections

. Gather your pictures in one spot, and create a collection by using the same frames. Simplify your pictures by working in black and white, or sepia tones. Work with cabinets, bookcases, or wall shelving to give your collections a really upscale look.
Store Collections In Boxes Which Can Be Painted

– In this photo, you can see a picture of Eric Pike's home office, where magazine boxes, and storage boxes look sophisticated on shelves.
26 Ways To Organize With Shoe Boxes- Kids Room Decor
4. Push Chairs And Side Tables Against The Walls
This is a classic Swedish look that is found in most historical Nordic homes. Chairs and tables were pushed against the wall, creating more space in a room. Furniture was positioned in the center of the room, allowing more room between furniture pieces. Position one chair by itself, or gather your chairs in sets of threes.
5. Redesign Your Closet Space
As soon as my husband and I moved into our new home, I wanted to make the best use of our closet space. You can see some of my closet makeovers at my new website Hersite.
My Summer Projects, My Garage Makeover-Hersite
Shelving brackets were bought from Home Depot, and wood shelves, which were painted were added to our closets. Paint makes everything so much more inviting.
Why NOT make use of the wall space all the way up to the ceiling? Instead of having one rod in your closet, break the wall up so you can have two rods. Show off those expensive heels you only wear once a year, and coordinate your wardrobe into color schemes. Your closets can look like they were professionally designed.
In this picture of Eric Pike's home, he transforms an ordinary closet into a beautiful display for his tableware. The interior of the closet is painted in a darker gray, and collections are grouped together.
French Wall Sconces On Ebay
6. Work With Neoclassical Lamps And Mount Wall Sconces For The Classic Swedish Look
Wall sconces can look very romantic in the Swedish setting. We should light candles more often, and working with candles on the wall, than on the table is the safer route to prevent fires from happening.
Decide if you want something simple or ornate in style for wall sconces. Today you can purchase an ornate set of French wall sconces
for around $90 dollars on Ebay. Place a set of two sconces on either side of a mirror or painting.
Plain table lamps can be dressed up by recovering plain shades. Purchase simple barrel shades from your local big box store, and re-cover them with the same upholstery material as your accent chairs and slipcovers. Chandeliers and lamps add light to an already bright interior.
Use mirrors to create the illusion of even more open space and to reflect light, and use light colored accents like blue and white china, silver and glass to add shine and style.