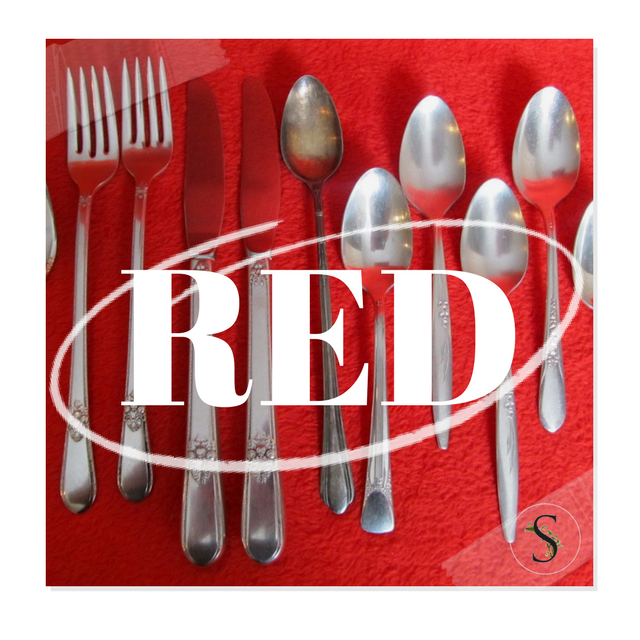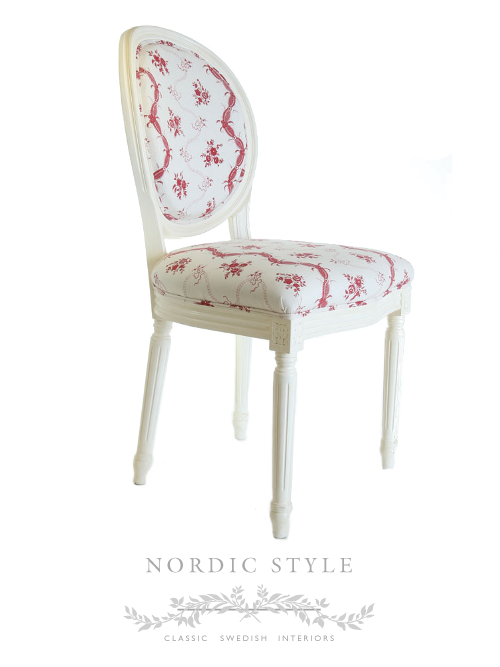 Tullgarn Upholstered Chair By Nordic Style
Red has been known to be one of the richest colors of all colors available to us, and it just so happens to be one of the main colors in the Swedish decorating style. The color red is a fantastic choice to use as an accent color, such as in fabric choices, painted furniture, and accessories.
Red can also be used on the walls, and through out a room if it is done right. The color is rich, vibrant and powerful. Red can have a very distinctive country flavor, when it is paired with certain fabrics such as the Swedish check fabric, or floral textiles. It can also present itself to be a courtly aristocratic look simply by pairing it with the right Swedish furniture.
Swedish country ladder back chairs look very country, compared to the square back Louis XVI dining chairs which are more formal in appearance. Both velvet and raw silk are more stately fabrics which can be used to create a cultured Swedish interior. Cotton or linen based fabrics work in both a stately interior, as well as a country home scheme. There isn't another color with quite the impact that red has.
Here are 5 Ways to Incorporate the Color Red Into Your Swedish Styled Home
1. Consider Using A Red Check Pattern
There are three main patterns which work with every other pattern, and that is the stripe, solid fabrics and the classic check fabric.
Check fabric is almost a must-have element in a Swedish home. If you plan on decorating around any of these colors, consider adding in a check element of some sort. Whether you decide to go after a country look, or an upscale courtly look, gingham can be used in either decorating styles.
Pair gingham with a painted chair for a country look. Look for off white paint colors, or gray toned hues. Dark gray paint can look terrific against white and red. For a grand more opulent look, consider gold based furniture that is gold leafed for a regal appearance.
You can add in a couple throw pillows, or base your entire room around one single pattern.
See these posts as examples- Ted and Lillian Williams chateau in France, Jeffrey Bilhuber's Manhattan Check Wallpapered Apartment, or Clare Fraser's Swedish Bedroom.
Finding an over-sized check pattern can be difficult, and at times I felt like I have resorted to using tablecloths that are widely available online to upholster with. Ebay is one of the best places to buy "lot" fabrics at discounts.
Here are some fabrics that caught my eye:
LinenTablecloth's rectangular tablecloths are durable, and are made of a heavier fabric than most other tablecloths on the market.
DII Flame Red and White Checkers Tablecloth 60 x 84″ Made of 100 percent cotton
This classic red and white check pattern that features flowers is very Swedish looking, except I have had a hard time finding it in 100% cotton than vinyl.
Decorating With Red Check From Country Living Magazine
House Beautiful Magazine Cover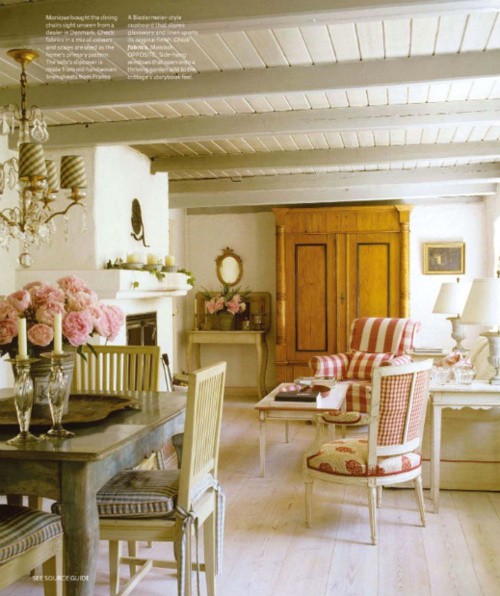 Swedish Decorating Ideas – White Based Room With Red Check and Patterned Upholstery
This room is wonderfully Swedish in style! Here you can see they use a white based interior with creamy white painted chairs and a touch of red in the upholstery.
The wood plank floors are bleached and limed for that classic Gustavian look. In this post I mention some products I use for a raw wood look on my furniture and floors.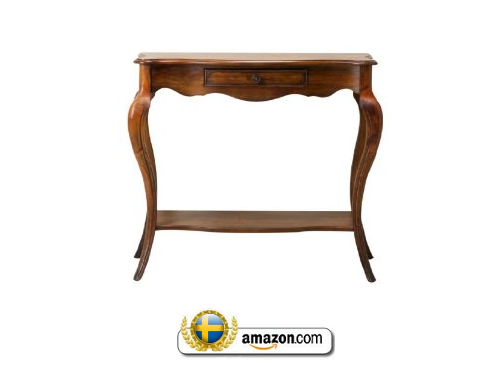 Get the look of the table that is sitting next to the armoire for a little over $400 dollars.
Red is used here as an accent, not as the main color. What makes this room Swedish is they feature just SWEDISH elements without any extra fuss. Urn lamps are used on a painted tapered leg table. In fact, a coffee table also appears in the same style.
They pair their country Swedish looking chairs with a Louis XV country dining table. You can find a number of terrific tables on ebay.
Currey and Company sells this lovely french table for $1750
I absolutely LOVE these nesting tables. Again the straight leg is very classy! They have all the classic Swedish looks, and they come ready to go with the right paint and distressing.
If you are wanting a set of chairs like the picture above, consider this 7 piece set which has all the looks of the Swedish country dining chairs. Even the table has tapered legs. This set has 7 pieces for $936, while here they only sell the chair for $75 dollars.
Black Finished Bradford Side Chair $158, in WHITE, and natural wood that you can paint and distress.
This 7 piece set includes a bench, which you may want to use else where in your home. This set is priced at $1239 which isn't that much more for a stunning bench in that style.
Here is the same set in a vintage green, and they also have a beautiful server available as well. These sets look much like these famous Gustavian interior pictures.
Stein World sells this wonderful drop leaf tapered leg table which easily can be painted. It can be used as a coffee table, with two accent chairs, with both leaves up. Paint it all gray, distress it for a Gustavian appearance. Strip the wood and stain it gray. It sells for $269
Coaster sells a very inexpensive set of three tables for $60 dollars. These tables have a ton of potential if you were to paint them, and distress them. Use them in various parts of your home for a bit of that Swedish appearance. You really cannot beat the price point. While the look isn't classic Gustavian, they do have the fluted legs which are so hard to find at a reasonable price. You get three tables for $60 dollars. You could even turn them into benches with foam and a stapler.
Butler Sells an oversized specialty Demilune Console Entry Table that could be placed anywhere in the house for a dramatic look. They sell this table for $1200 . Paint this table for a very Swedish look, and add extra hardware to the sides for false drawers. Brass keyholes always add a formal rich appearance to furniture.
A really nice basic table can go a long way with new hardware and new paint. Check out this one for only $120. Exchange out the hardware with some Louis XVI round pulls.
This Winsome Whitman Round End Table with Carved Legs sells for only $84 dollars. What a steal!
Winsome also sells a tapered leg computer desk for $119, and a great drop leaf table that would work terrific along the wall. Buy two for a wall and position them under windows. For $154 including shipping, the price is unbeatable!
Currey & Company Sells a really stunning Console Table in Reclaimed Ebony Finish. It sells for $3200, and is well worth the price point. Paint it to match the furniture in the room you hope to showcase it in.
International Concepts has some of the best furniture out there. Their tapered leg sofa table sells for $119.
They also sell a very attractive bedside table that looks to have three drawers but in fact has two. Dress up this table with some Louis XVI round pulls, and some round keyholes for a Swedish appearance for a LOT LESS!! The table sells for $135 and would be terrific with one on either side of a bed. Think about this PAINTED and distressed! It would be hot! They look identical to the table that got away from me on craigslist so many years ago.
If you like the rounded look with straight legs, International Concepts sells a very pretty round side table that would work in a living room as well as bedroom. They sell this table for $117 including shipping.
Here is your drop leaf sofa table! Think about the possibilities of this table paired with two very pretty Gustavian chairs. International Concepts sells this beauty only for $107 including shipping!
This table offers a bit more of a curve, and is painted in black. It sells for $189
Sweden's great architect Carl Harleman built Svindersvik in the 1740's for one of Sweden's most successful businessmen, Claes Grill, director of the East India Company. Here you see a check pattern on Gustavian chairs. The chairs are very ornate in appearance, and the frame looks to be a blue toned gray.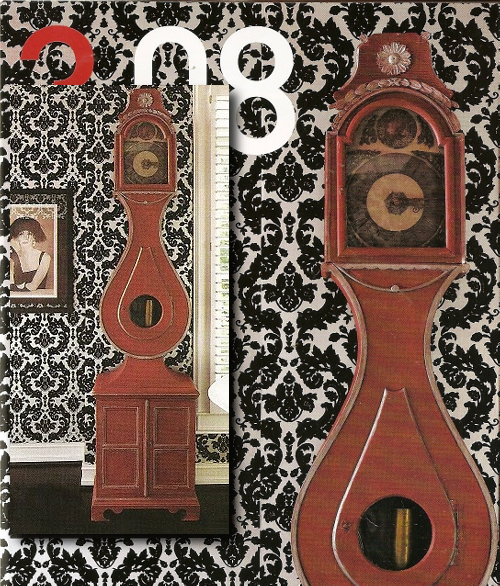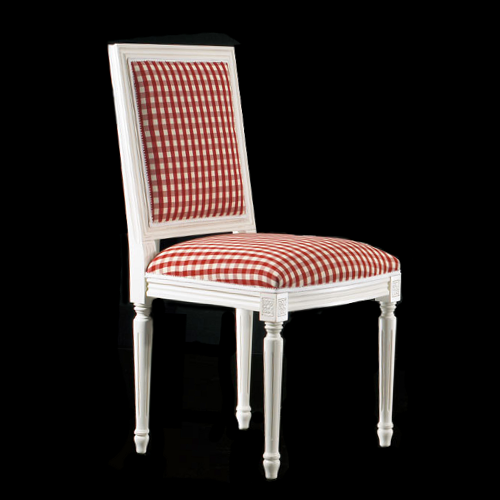 Here is a lovely Louis XVI Swedish Chair From Seven Sedie Reproductions Based in Italy.
Louis XVI chairs are quite expensive. I had a good friend who sold me 2 sets which I will be forever very grateful for. If you are looking for a really inexpensive set that has all the looks of these lovely chairs without the price point, consider this set which includes 6 chairs and a table for $650. While they are not high end Louis XVI chairs, they can be re-upholstered with the material of your choice. The chairs do have tapered legs which is the classic Swedish style. The table works really nicely with the set, because it has the same legs.
Coaster also sells these chairs individually, so if you want to get a couple extra to line up behind your 6 piece set along the wall, they sell them 2 for $150. Consider painting the frame a light gray. The white fabric against a beautiful painted gray would be just remarkable. Check out how lovely this Empire chair looks with white upholstery and a painted gray frame. Adding furniture ormolu is a great investment for your furniture. It is amazing what a little bit of detail can do for your furniture.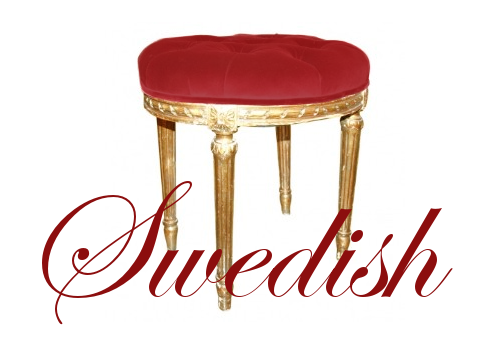 2. Utilize Fabric To Bring The Color Red Into Your Home.
The right Fabric can really transform a room. Depending on what you plan on using the fabric for, a little can go a long way, and a lot of fabric is an investment for years to come.
Swedish interiors usually have prints that are based on a white background. While that is not the case in all situations, the majority of the time it is.
A floral rose based on white would be a terrific choice for a feminine appearance. Floral fabrics aren't only for a women's room, but can be used to create depth on a very ornate chair, or on a carved bed. Floral fabrics on a white background are what draw many people to the Swedish style. The fabrics are not at all like the "shabby chic" floral, but rather upscale, sophisticated while simple at the same time.
Red Ticking is another fantastic choice. The fabric is very ornate in appearance, while at the same time being very simple in design. Ticking isn't that expensive, and it tends to be heavy, making it a great choice for upholstery, drapes, and bedding. The colors are very vibrant, and often times it is based on an off white background making it antique in appearance.
Velvet is very rich and is a wonderful choice for a special piece of furniture. Velvet is often saturated in color making it a fabric you want to upholster a piece of furniture that will be showcased in a living room or a bedroom. Velvet can look extremely luxurious. Check out these orange gilt French chairs. The color is vibrant, and best of all, velvet is very durable.
While silk taffeta is a fabric you see in most French interiors, Raw silk is something that would work absolutely wonderful in a Swedish interior. Swedish interiors have all the elements of the French style, except the interior choices are more natural and restrained compared to the french. Have you ever touched raw silk? It is much nicer than silk taffeta in my opinion. It has a lightweight feel, and can hold its own form if you use it as drapes. The color is incredibly rich and vibrant, and the texture has a bit of a woven pattern much like linen to some degree.
Some Fabric Sources For Your Consideration:
Antique Vintage European Textiles – They offer a number of like colored bundles for various small projects. Buy a couple of stools, (20 dollars each) and consider upholstering them in red antique fabrics. This ebay store is wonderful!
Antique French Country Linen Buying Sources
Restoration Fabrics and Trims– Keep an eye on this ebay store if you are looking for a bigger project such as a settee. They offer larger yards and nice antique fabrics for some of those bigger projects.
Decorating With Red For Bedroom Canopy Ideas- Use a basic red in a room to make a big impact.
Consider Alaska Quilting Adventures – Red and Blue Fabrics- Check out my post detailing my favorite Swedish fabric picks. Some as little as 9 dollars a yard.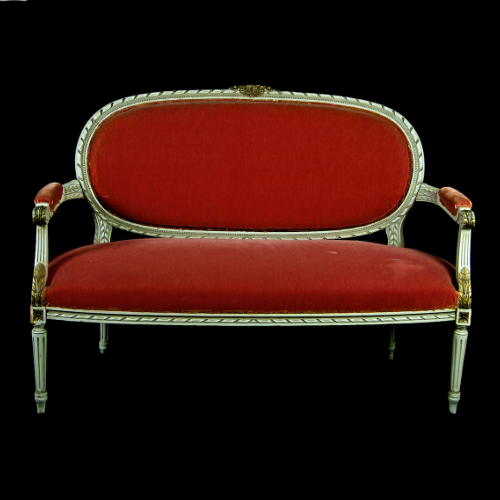 Antique Red Louis XVI Canopy Bed From Eclectic Revisited.
3. Paint Your Furniture RED.
One of the easiest ways to include the color red in your home is to use paint. Not only can you mix the perfect color together, anything that is wood can be painted, and stenciled. Think about wooden baskets that can be painted, and dressed up with hardware or furniture furniture ormolu. I painted my own waste basket a Swedish blue. The tall container had a lid, it just needed to be dressed up with oversized gold hardware. This wonderful wooden bucket can be painted and then distressed heavily. Attach some oversized brass doorknockers to the sides for a very high end primitive look. Lux Exclusive has the same look for $50 dollars.
Get some ideas from this Beautiful Country Red Rustic Dresser. Adding brass hardware and furniture ormolu can dress up a piece of furniture in a room like nothing else. The Chinese Pavilion is a great example of a Swedish room painted in all Red. If you are considering an explosive Red interior, copy this look.
Additional ideas:
12 Piece Artificial Red Apples– Decorate your kitchen with a couple fake apples that look beautiful and realistic
Artificial Pomegranates in Burgundy $30,Artificial Red Delicious Apple, Box of 12,
French Mirror Screen By Wayborn, Solid Basswood, Three panel room divider $474
This wonderful trophy cup has a base that can be painted and decorated with gold decorative accents. For $70, it would make a pretty decorative piece with the base painted in red.
Square Column Pedestal Size – $200
This Classic Large Pedestal Base is only $70 dollars, and can be painted a red, and paired with an oversized urn. 14 3/8″W x 24 3/4″H Urns can be found at your local Hardware store though the summer time. It is best to buy them at the end of the season when they are heavily discounted.
Consider a miniture doll house that could be painted a red, and used as a display.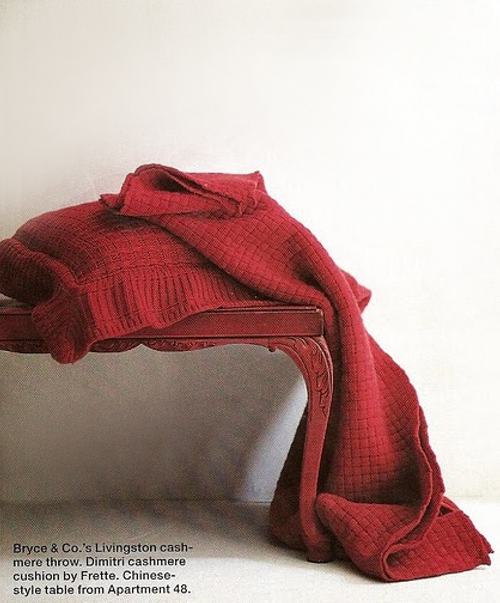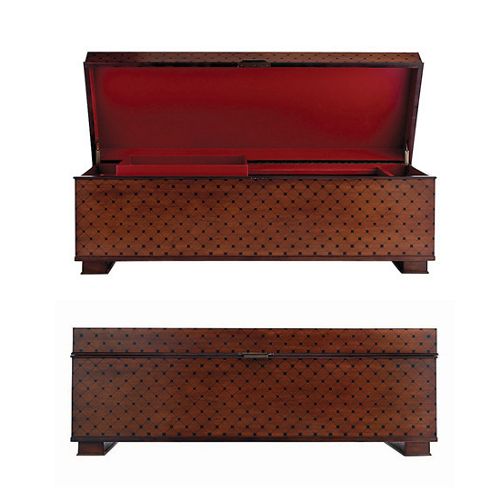 This Bernhardt Martha Stewart Laurel Stenciled Chest shows you that you don't necessarly have to paint the exterior of a piece of furniture to add a splash of color. If you don't want a really loud color, consider painting the inside of your furniture, closets, and pantries.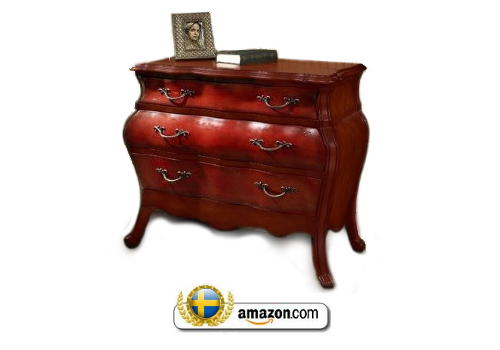 This Red Painted Bombe Chest By Pulaski would look terrific in a Swedish interior based on the color red.
This chest actually comes with only the drawers painted red, which I wasn't a fan of, so I colored in the chest in my photo program to show you how lovely it would be in solid red.
The overall shape is wonderful, and it could be painted the paint color of your choice. The interesting thing about this chest is it is listed for different price points. Pulaski has their chest listed at $716, while here it is listed at $522, and here it is listed at $448
Panels placed between drawers maintain a dust-free environment. Center drawer guides with stop provide years of quiet, smooth service and prevent drawers from sliding out accidentally Fine craftsmanship of English and French dovetail construction add stabilty for longer life Unique designs, custom hardware, multi-step hand rubbed finishes, create a look of timeless beauty and style Made of various types of woods & sculpted resin with veneers over high density pressed wood like MDF Felt lined drawers protect silverware from scratches, tarnishing and wear Corners are secured with wooden blocks to keep furniture solid and secure for years to come Dimensions: 40in D x 18in W x 36in H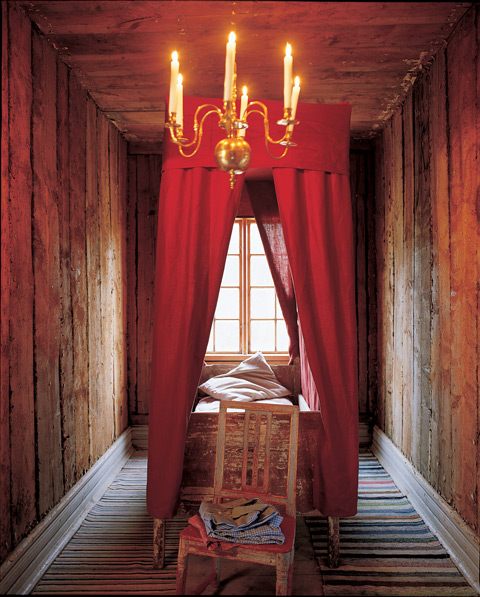 4. Consider Using A White and Red Floral Pattern
Consider a Bright RED Neoclassical Pattern – Such as The Jack Country Pattern
Red Chintz Dinner Ware and Brightly Painted French Red Chest With Gold French Hardware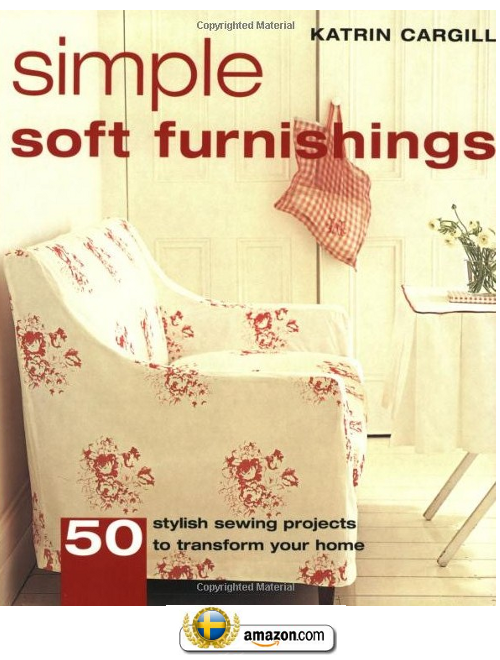 Simple Soft Furnishings: 50 Stylish Sewing Projects to Transform Your Home explores five key areas of the home where soft furnishings can make a big difference: bath, bedroom, kitchen, dining and living room. Best of all, soft furnishings can be easily created by anyone with a sewing machine — even beginners. With an irresistible collection of projects, ranging from simple cushions to elegant curtains and sumptuous bedding, these designs are a mix of timeless classics and current trends with appeal for all ages.
Each project will bring style to any room at an affordable cost. The focus is on quick and easy ideas that can be readily made in a weekend. This beautifully presented book features:
-Fifty original soft furnishing designs for the home
-Projects for cushions, curtains and blinds, seating, bedding and table linens
-Simplified techniques for the beginner sewer
-Illustrated step-by-step instructions
-Advice for alternative fabrics, fastenings, trimming, patterns and color schemes
-List of resources and suppliers
-Tips for adding special touches to customize each project.
5. Consider Using Gold and White along side Red.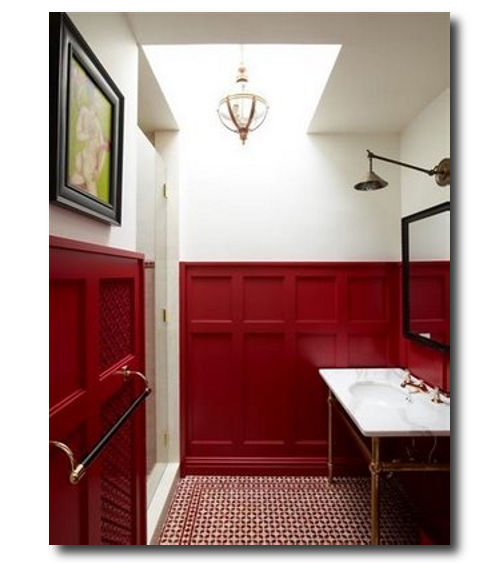 This picture shows a sensational bathroom with a fabulous shade of red. Here you can see that red is dominant, but the overall look isn't overpowering. If you want a rich tone of red, this may be a perfect example of how to incorporate it.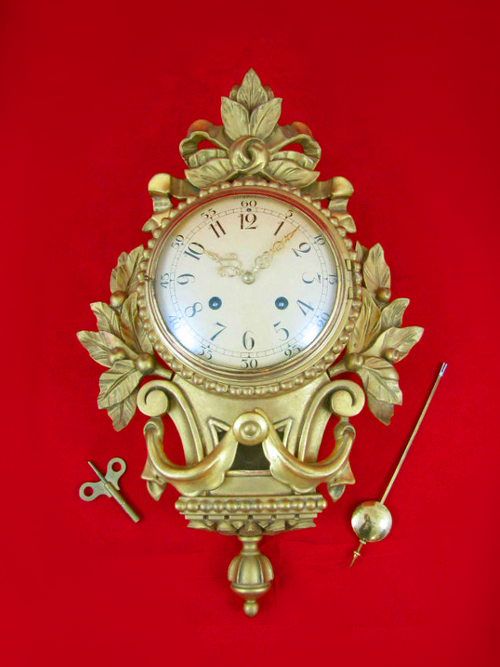 You can see how rich gold looks against red. Consider lining your walls with shadow boxes, which allow you to frame objects that are 3 d.
-MCS 16×20 Linen Lined Shadow Bow in Black $36
-MCS 9×20 Inch Linen Lined Shadow Box in Walnut Finish $27
-Consider framing a vintage childs linen dress and antique shoes with this shadow box $44
-Here we see a set of 4 Shadow Boxes for $23 Paint them, and customize them for your own antique findings.
-Class up your pictures with Custom Photo Labels– Make your labels a couple shades darker than your photo mat. $14
– Here is a shadow box displaying keys……… For an antique look, consider collecting old brass keys which could be mounted.
-Sometimes less is more. Lining up items in order can make the items in shadow boxes appear more valuable and special.
– Consider painting the inside of your shadow box the same color, or darker hue than the paint color on your walls. Your shadow box will look deliberately designed for the wall it is showcased on.
-Here you see a regular frame which silverware is painted white. Display gold table ware in dark gray shadowboxes and gilt-wood frames for a very high end look. Red matting also could look very classy for a bold punch against brass.