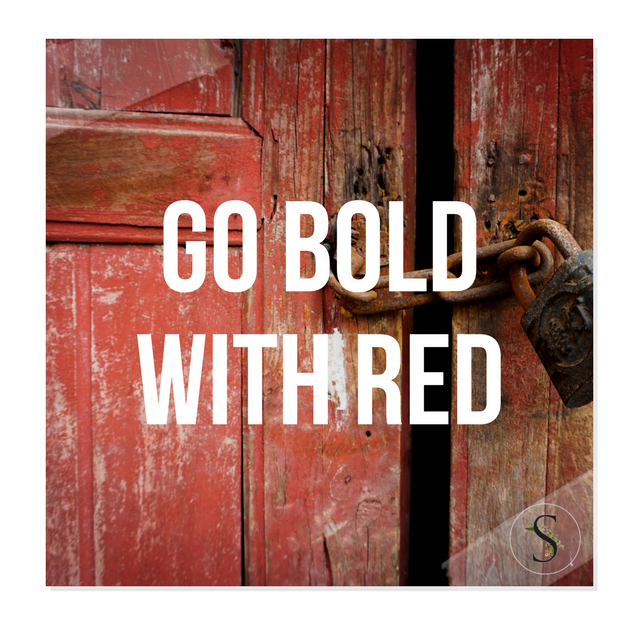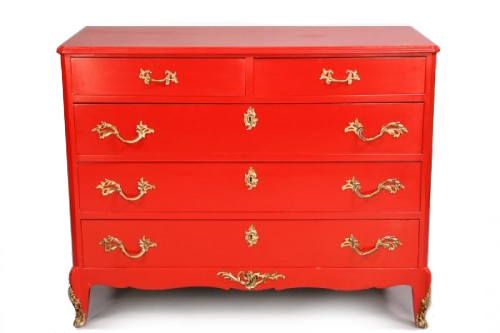 French Commode Lacquered Red From Live Auctioneers
The color red is grand, and is a color everyone considers for their home at one time or another. The color red is a symbol of privilege and wealth. Official seals often use the red, as a gesture of confidence and authority. Red can make a statement in your home in a very powerful way, although it can be hard to execute. We show you 5 ways to pull off this color with success.
5 Ways Of Using Red In Your Home
1. Use Red In The Kitchen Or Entry Way
Red is the color of passion and has been known to stimulate blood pressure and heart rate. Red also sparks passion, love, and enthusiasm, so it is color often used in romantic restaurants. What better place to encourage conversation and hunger, than at the dinner table.
Consider painting your dining room table red. Instead of painting the whole table red, leave the top untouched, in it's natural wood state. To add a Swedish touch, consider painting the details in gold. In this post, you can see how lovely a red can look in a country provincial style.
2. Use Red In A Pattern on Decoupaged Furniture
There are many ways of decorating with red other than painting your walls. One way of doing this is decoupaging furniture. Decoupaging is rather easy, and you can execute the process a number of ways.
One way is to use cut outs. Simply find an image you like from a magazine or on the Internet, and photocopy it several times over, which you can then cut out, and apply it to a piece of furniture. This Swedish tiled stove would be an excellent example of how lovely a red floral pattern would look on a chest.
You can even take fabric and glue it to a chest, with modge podge glue. Add pattern into your home, or finish off a room based around patterns by decoupaging your furniture.
Inspirational Posts On Decoupaged Furniture
How To Decoupage Furniture– The Swedish Furniture
Louis XV Style Red Lacquer Side Table From Hastening Antiques – Provincial Furniture
4 Easy Steps To Decoupage Beautiful Furniture– The White Dresser
Decoupage Is Simple! Update Your Kids Furniture– Kids Room Decor
Swedish Interiors: How To Decorate With The Color Red– The Swedish Furniture
3. Use Red In Acessories
-Add a bit of a modern glam using abstract art with bold touches of red. Consider using a heavy ornate frame with a modern poster. Modern Styled Paintings or Posters would add a modern touch in a home with plenty of antiques.
–Juju wall hats are a perfect way of adding a bold touch of red in a room. You can purchase these hats in a number of vibrant colors, which can be placed above a dresser, a console table to add in a bold touch of color into your room.
-Below you see the Stockholm apartment in Sweden with the red room. Below it shows a picture of the living room based in white with natural wood furniture. If you want a room based in lighter colors, consider a large area rug in red, like they did. An over-sized floor rug can make a bold impression.
– Another way of adding saturated color into your rooms is to accessorize with red wool blankets. Point blankets can add a rustic touch to your home, and can be thrown over the sofa, or used on the bed, or stacked on a shelf.
– Chairs are a great way of implementing red into a room. Chair frames can be painted red, or upholstered in red fabric.
-If red walls are a bit too risky for you to consider then why not consider red and white bedding? Paint your bed-frame red, with touches of gold, and consider getting a comforter, sheets,a pillowcases all in red. Or paint the frame gold and red, and go with an all white sheeting as you see below.