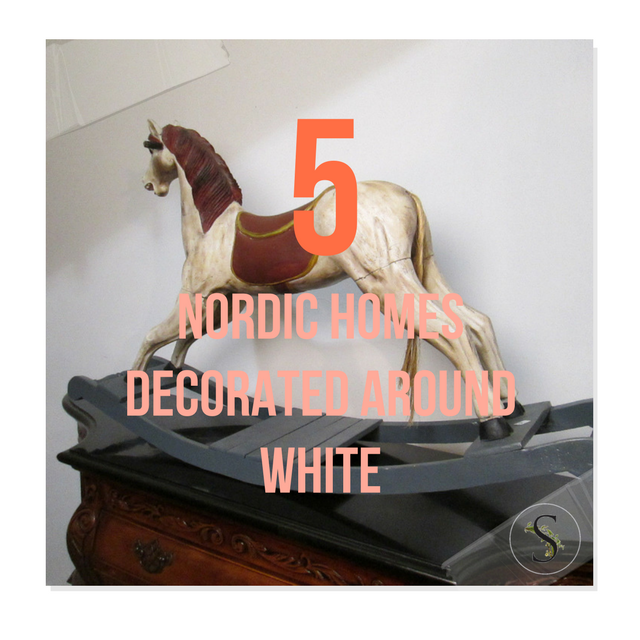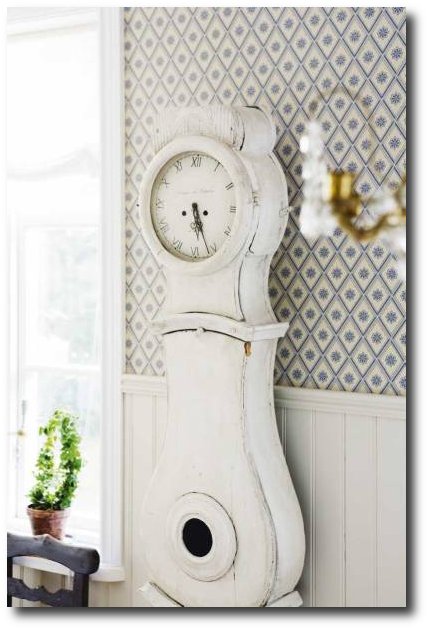 The Swedish interior decoration magazine Skona Hem had a wonderful write up on an English family who transformed their home into that of a Gustavian period style.
The home is largely based around a white palette, anchored by distressed wood floors which create a down to earth family feel. While many of us wouldn't have access to an authentic Swedish tiled stove, we can incorporate the lines of the furniture that were seen through this time frame.
What To Look For….
– Straight Or Curvy Lines– Look for Rococo, Louis XVI furniture that has straight lines. Look for straight chests which you can add round ornate pulls, and round keyholes to. Victorian furniture also can be painted and re-upholstered to achieve that Swedish appeal.
– Mix And Match Styles– Don't be afraid of mixing in a variety of country and formal styled furniture. You can see in this home, mixing and matching is very appealing.
– Go Authentic With Patterns- Work with country throws, and rugs to bring in the authentic patterns of Sweden.
– Wallpaper Is A Great Investment– Wallpaper can really transform a room, as seen in this home. Go for white based wallpaper with a geometrical or floral based patterns.
-Lighter Everything– Work with lighter colored fabrics, with an airy feel. Go for thinner fabrics for the summer, and collect natural based thicker wools for the winter time.
– Faux Painting and Stenciling- Create faux molding with paint. Here we frames on the walls, used in combination with stencils to give a whimsical, feminine look to the walls. As you can see, they pick a very light blue for the frames, and all the stenciling is done in a couple shades lighter and darker than the base wall colors. This look is very easy on the eyes.
– Crystal Chandeliers Everywhere– Chandeliers can really make a difference. In this home, almost every room has a crystal chandelier. Get the Swedish look by changing out your light fixtures to something more classic. It will instantly change the space.
Related Articles:
-40 Tips – How To Choose The Perfect White Paint Hersite
-Darryl Carter's Paint Line For Benjamin Moore –Her Site
– 198 Pictures Of White Interiors –Her Site
-Stephen Shubel's 1906 Fishermans Cottage Home in Sausalito Hersite
– 20 Seasoned Designers Reveal Their Best White Paint Shades Hersite
– Shabby Chic Decorating: Borrow Rachel Ashwell's 3 Signature Looks –Hersite
– The White Dresser- A Website Based around All White Furniture – The White Dresser