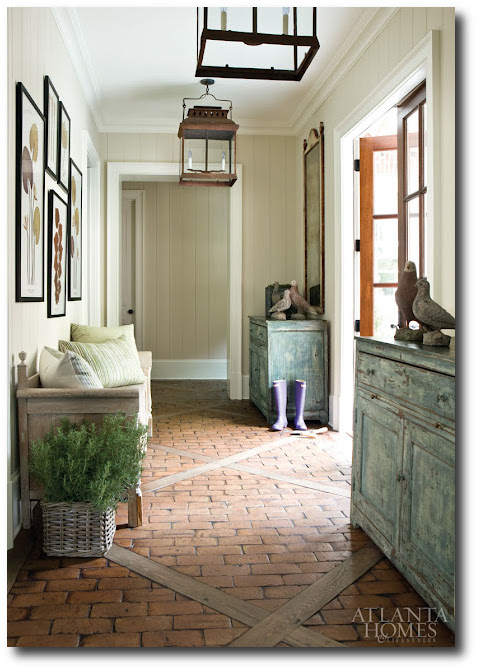 Interior designer Amy Morris's home Atlanta Homes and Lifestyles
Atlanta Homes and Lifestyles featured Interior designer Amy Morris's home which was filled with lovely distressed Swedish antiques, and an eclectic mix of furnishings making her home comfortable and inviting to her family and friends.
Here are some of my favorite highlights of the home:
One of the home's powder rooms features a pair of arched iron windowpane mirrors which were placed together to look like one solid mirror. The mirror and the painted wall paneling give the room a primitive feel. The vanity topped with limestone gave this room a polished appearance. The rustic elements paired with the rich stone pushed this room into absolute luxury.
Several antiques really shine in this home. The master bedroom which features serene Swedish blue and gray-white tones. A 19th-century Gustavian settee sits at the end of the bed and is from A. Tyner Antiques. The basement is just as beautiful as the rest of the house, outfitted with a distressed wood pedestal market table, with Louis XIII reproduction chairs. In the back entry hall, the floor is patterned with brick and wood to create a focal point. Matching weathered chests really steal the spotlight in this room. The distressed paint finishes feature colors of blue and cream make a Swedish statement in this room.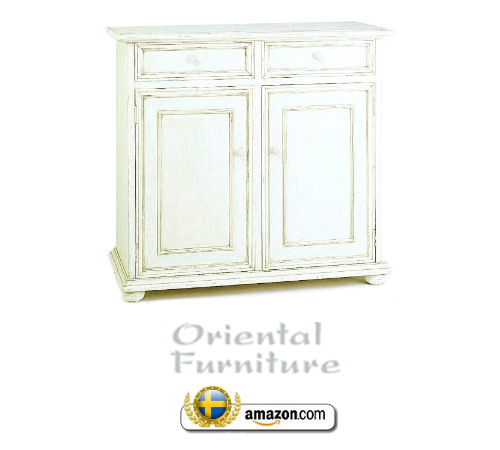 ORIENTAL FURNITURE sells a lovely white cabinet for $569
Furniture Woodworks sells a terrific cabinet that is currently unavailable, although it may become available in the future. They sell it unfinished.
Others to Consider:
Short-Back Split-Seat Storage Bench by LINON HOME DECOR $82.00
Acadian Collection Entryway Bench by CCT GLOBAL SOURCING INC $179.00
Somerton Wooden Storage Bench in Golden Brown by Wildon Home $165.00
BENCH COASTER 501008 by Coaster $289.00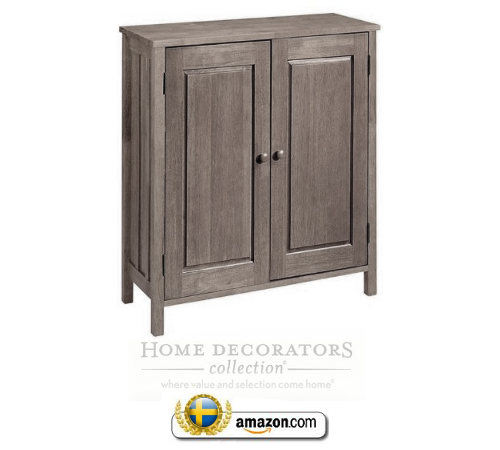 This shoe cabinet has all the Swedish looks for your entry way. This cabinet is crafted of durable hardwood and hardwood veneer. Home
Decorators Collection sells this cabinet for $199. This cabinet isn't as big as a regular chest making it perfect for hallways or entry ways.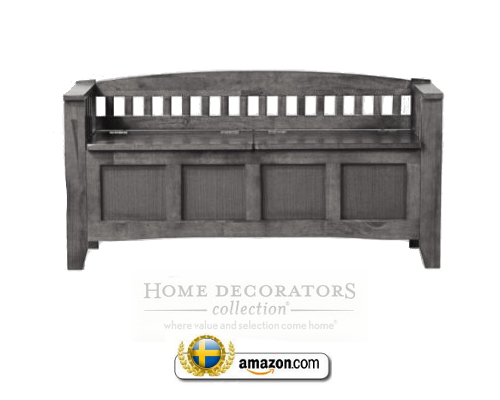 The Jaclyn Entryway Storage Bench From Home Decorators Collection features Swedish looks combined with functionality. The seat features storage compartments that easily lift to tuck away everything from winter apparel to the dog's leash. The bench is crafted out of wood construction and is sold in a walnut finish. Measurements are 30.75″Hx50″W.
Paint this bench, or strip it and lime white wash it for a look comparable to Amy Morris's bench.
Check out the Painted Porches Country Painted Bench in Pastel Blue Green
Check out my advice when it comes to White washing raw wood furniture.
Get Amy Morris's Look For Your Own Home:
Uttermost sells a rustic primitive looking mirror called the Ameil Metal Arch Mirror. This mirror is hand forged and made in a metal frame. The overall dimensions: are 82″ H x 42.25″ W x 114″ D. They sell this mirror for $653
Intelligent Design sells a very attractive arch mirror for $240. This mirror has terrific details, and certainly doesn't look cheap!
If you like the look of the Louis XIII primitive style chairs, consider the Bailey Street Lassiter Chair which is finished in a bone suede complete with brass nail heads and a rich honey walnut tone. They are priced at $699.
A Louis XVI bench appears in one of the bedrooms. Acme sells a single Louis XVI bench for only $80 dollars, which could be painted, distressed and upholstered for the particular room that needs a stool.
The Hampton Vanity Stool would be spectacular against a wall. Buy two of these stools and make a feature wall shine with these delicate looking stools. The half circle really falls into the Swedish period look. The best thing about these stools is the price point. They are only $60 dollars, which gives some room for re-upholstery and a new paint finish.
Hooker sells a Radcliffe Bench that looks like a Louis XVI bench. The bench is upholstered with Taupe Zebra Fabric and sells for $675.
Foreside Iron Bird on Pedestal is made of cast iron, this bird statue measures 7-inch high. $6.43
Since everything in Sweden is made from wood, why not go with a wood painted bird? Gift Warehouse sells a set of three Folk Art painted birds. If you don't like the color scheme, simply follow the painted pattern and re-paint them in the colors of your choice. The set costs only $11 dollars
Creative Coop sells a set of Iron Bird Statues in a creamy ivory painted finish for $16.00
Universal Lighting and Decor sells a very attractive birdcage. Often times I see some of these decor pieces come and go on Amazon, and this one is STILL available. It is made of iron, and actually quite big. The cage is 21 1/4″ high, and 12 1/4″ wide. They sell this cage for around $50 dollars. Get it while it is still available. Pair it up with a rounded plant stand for a decorative piece of furniture painted in the same color, or leave it in its rustic state for a piece of decor on a dresser or cabinet.
Space Positive sells a set of two Decorative Antique Nesting Wire Bird Cages with a curved style for $172
Two's Company sells a very attractive Antiqued Birdcage Display Shelf which can either hang or be used as a stand. They have it priced at $254.
If you are looking for a pretty vase to hold some long stemmed orchids in, consider this cast iron Bird feeder which has a very attractive stem and base, and could be easily painted or left in its rustic state. The feeder sells for $19 dollars and is such a versatile piece. Consider it in the bathroom to hold soaps, or as a vase for faux flowers. The price is right, and the style is lovely.