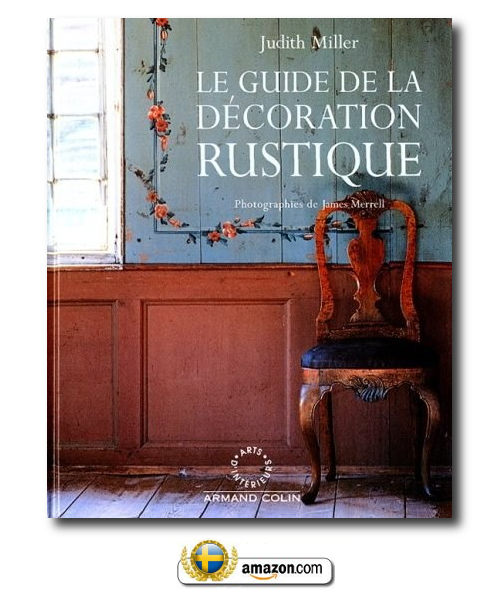 The Paper Mulberry featured some fabulous Swedish photos of Lars Sjoberg's house which were featured in Country Style by Judith and Martin Miller. Judith Miller is the co-founder of the hugely successful annual publication Miller's Antiques Price Guide. All of her books are really well done, especially her antique guides. She is an author of dozens of books, many of which I really look forward to.
Judith's Country Style details the warmth and strength of the rural tradition in interior design. The book details more than 400 stunning photographs of homes throughout Europe and North America. All the elements essential to creating a country style are covered: furniture, table and kitchenware, floor and wall surfaces, and architectural details. Although I have not had a chance to review this book myself, it looks incredibly interesting if you are looking to decorate in the country styles of Scandinavian or American influences. Judith's Country Style can also be purchased on Amazon.
I invested in Millers Antiques Encyclopedia, and am looking forward to buying Furniture: World Styles from Classical to Contemporary. Millers Antiques Encyclopedia is only book I keep beside my desk. Miller is the co-author and author of several other , including , More Period Details : The House Renovator's Bible , Period Finishes and Effects, and Influential Styles.
Additional Books:
Period Kitchens: A Practical Guide to Period-Style Decorating (Period Companions) by Judith Miller (Jun 1995)
Period Fireplaces: A Practical Guide to Period-Style Decorating (Period Companions) by Judith Miller (Jun 1995)
Classic Country Colour: Naturliche Farben fur jeden Raum by Judith Miller
I have not bought or had a chance to look at her Period Finishes, which looks incredibly intriguing. This book is designed for the designer or decorator looking for
a comprehensive catalog of "out of the ordinary" finishes. Suzan Nettleship describes this book as NOT your typical handbook for the weekend "do-it-yourself"
decorator/painter finishes, which is exactly the type of paint books I like to buy. It looks like you can buy this book for $20 dollars with free shipping. In my post with my friend Melanie I detail some painting books that we both agree are the best in the market.
What can I say about Lars Sjoberg? He is amazing!! I love his work, and he is one of the best designers when it comes to Swedish antique decorating.
Lets look at this room in particular……………..
He features two Swedish Rococo Style chairs, one with a natural aged patina, and another painted a classic yellow ochre. The most typical colors from the Gustavian period were gray, Swedish blue, and yellow ochre. It has been known that in ancient times Sienna- A clay that contains iron and manganese, has in it's raw state the appearance of dark and rich yellow ochre.
If you are looking to paint a piece of furniture, consider painting your piece in an eggshell as close to the antique color of orchre as possible.
Daniel Smith has a wonderful Acrylic Paint in Yellow Ochre in an oil based paint, that is meant for paintings. These sort of paints dry to the touch over a weeks period. As you can see the color is very rich.
Genuine or Reproduction Swedish Chairs are very hard to find. My suggestion is to either buy a genuine one from a dealer, or find something that may work with the style.
Blue and white check patterns are hard to find. I often have trouble finding a heavy linen, or woven material adequate enough to use as upholstery. Often times the gingham fabrics are wonderful to look at, but most times incredibly thin to upholster with.
A company on amazon called Linen Tablecloths sell a number of beautiful classic check table cloths for about the same money that a yard of fabric costs. One comment on amazon said that her table cloth shrunk quite a bit in the wash, so consider getting the largest size and prewash it, and iron it before applying it to your furniture.
This wonderful tablecloth by Mahogany might be the best one yet! The pattern is smaller in scale. It is an excellent table cloth, and one to consider for upholstery. It comes in black and white, a bright Swedish blue and white, and red and white.
60 x 102 Inch Checkered Tablecloth Blue and White
Check out this wonderful Blue Hill Classic Tavern Check. You couldn't get any more Swedish than this fabric.
Blue Hill, 52″x90″; Classic Blue Tavern Check, Flannel Backed, Vinyl Tablecloth; "Made in the U.S.A"
Blue Hill, 52″x90″; Classic Red Tavern Check, Flannel Backed, Vinyl Tablecloth; "Made in the U.S.A"
Durable Hand Woven 100% Cotton Red Picnic Check Tablecloth 54″ X 90″
Durable Hand Woven 100% Cotton Blue Picnic Check Tablecloth 60″ X 60″
100% Cotton Jacquard Check Dishtowel Yellow Honey Bee 18″ X 28″ Set / 6
Mahogany Large Check 100-Percent Cotton 60-Inch By 90-Inch Euro Tablecloth, Red and White

This picture was blown up to show you how lovely the portrait painting is in this room.
Investing in some quality antique LOOKING oil paintings can really turn your room into more of a historical look.
Check out my page on my favorite 100 oil reproduction paintings, and keep your eye on ebay for some portrait paintings for your rooms.
I have been thinking about this lovely handpainted portrait painting for my home, as the colors are hues of blue. Keep an eye on ebay and you will find affordable oil paintings that work with the colors of your room.
Classic Art of Old Masters- Officer in Uniform
Completely Handpainted Reproduction Painting Beautiful Young Girl in a Grey and Red Dress
Completely Handpainted Reproduction Painting Little Girl in A Blue Dress
Another beautiful detail in this room is the simple wall stripe on the top of the walls. Sjoberg shows us how easy it is to add some interest to the walls without going into complex patterns. You can see he has formed boxes with paint to look like moldings. In the following pictures, he creates an extra special place for a wing chair. Painting frames on the wall can give extra attention to your furniture. Symmetry, or balance to a room is important to the Swedish look .
Some additional furniture that has the Swedish Looks:
3 Pc Cherry Finish Wood Empire Style Nesting Table Set
Weathered Three Drawer Cabinet in Red
Hand-painted Louis Xv Bombe Chest
Tyndale Accent Table – Bailey Street -6003250
Bailey Street 6043208 Dylan Table
Boutique 3P2/LN YO95 Avocado/Linen Decorator Fabric
Cooper Classics Isabelle Pine Console Table
Fluted Half Column Set (plane Capital) F4
Grandfather Clock in Rich Brown – Coaster
Infinity Instruments The Dais – Distressed Round Table Clock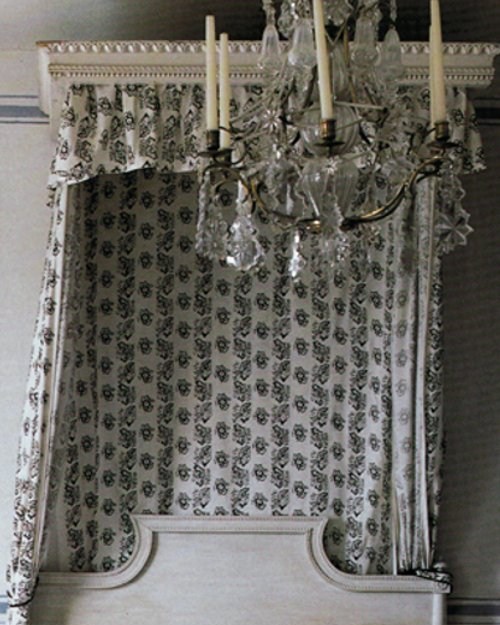 Design Hole Online has some interesting pictures of alternatives to bed canopies, such as ones which anchor to the ceiling. Beautiful wood bed canopies are very hard to find. One thought that came to mind is to bend plastic molding onto a backing of some sort. Home Renovators on amazon has some stunning ornate crown molding that might or might not bend. Although as you see in this design, it is rectangular, instead of the classic round, so bending wouldn't be an issue if you wanted to interpret or copy this look. This Rococo could be a wonderful look to a bedroom based around a Swedish Gustavian style. These bed canopies are also called bed coronets.