Picture – Restoration Hardware
Grainsack pillows have gained tremendous popularity in the last several years that we are seeing them everywhere from Restoration Hardware to Pottery Barn.  These old world pillows have a rustic edge to them, with a bit of a classic 17th century French appeal to them.  Why pay a hundred dollars or more for one of these pillows when you can create your own for less.  With so many stencils available on ebay, it couldn't be easier.  Ebay is one of the best places to find old antique French fabrics that you can create your own drapery, bedspreads, and throw pillows.  Get the genuine look and customize it for your homes individual colors.  Here are a couple ideas below to get the very hot grainsack and burlap pillows in your home for less……

Create these stunning pillows for yourself…..
Here are pictures that have inspired me……..
-Vintage and Antique Burlap on EBAY
– Bolster-shaped pillow with a wreath
–Shabby Chic Charming Blog shows you how to do this yourself with a printer.
-Here we see an all natural pillow with a ruffle edge.  The stenciling doesn't have to be clear in order for it to be very lovely. 
-A little bit of color goes a long way.  This antique German grain sack pillow by Melissa Neufeld shows how lovely these pillows can look on a bed, or on a sofa for a primitive appearance.
-If blue is your favorite color, you have to look at these pillows. The top right pillow looks to have the picture stencil in blue, and the vertical stripe in a different shade of blue.  Both colors combined with charcoal make such an impact.  Make Your Own Grainsack Pillows – From Doesn't Cost The Earth Blog
-Kymberly Frasier has combined her passion for antiques, textiles and design into
exquisite one-of-a-kind pillows and upholstery for her company, 3 Fine Grains.
-These cushion slip covers simply sit on the chairs and provide protection to your upholstered furniture.  They could be very easy to stencil without committing to stenciling the fabric on your chairs and upholstery.  It is as easy to change it out if you want to go in a different direction in several months.
–Square Sham Stuffer Pillow – 18×18″ (Large) $5.50
-12×18 Cluster Fiber Pillow Form Insert $13.35
-Bolster Sham Insert Stuffer Pillow – 8″x24″ $19
-Decorative 100% Linen Pillow Covers (Gray Set of 2) $49
Decorative Stencils For Pillow Stenciling
– Border Stencils In The Wind Border Stencil-
-167 – Classic Garland Stencil Library $31
– Alphabet Stencils On Ebay
-AD7 – Adam Cartouche Stencil Library
-AD8 – Adam Cartouche No 2 Stencil Library
– Tassels and Vines Stencil– Victoria Larsen
–Alphabet Stencils From The Stencil Library
–Victoria Larsen Architectural Stencils That Can Be Used in Other Ways
–Martha Stewart Stencils On Ebay
-Round Medallion Stencil $2.49
–Tulip Vine Stencil From Victoria Larsen Stencils
-Simply Stencils- Set of Three Foliage Stencils
–Ring of Roses Pattern: 7.5″ x 7.5″ $12
-Designer Decorating Stencil Script Numbers $13
-ER40A – Garland Stencil Library
– Wreath Stencils on Ebay
–Country Vine Wreath Stencil
-TR20 – Gustavian Stencil Library, ALL Gustavian Stencils From Stencil Library
–Borders Stencil – 3 Patterns Victoria Larsen
-Decorating Fabric: Print, Stencil, Paint and Dye Over 100 Fabulous Projects
Linen Fabric By The Yard
-56" Wide Vintage French Feedsack Beaudelaire Jacquard Black , BLUE, Charcoal Fabric $30
-56" Wide Vintage French Feedsack Duboise Script Jacquard Chocolate, RED, $30
-58" Wide European Linen Fabric Oatmeal By The Yard $14
-56" Wide Vintage French Feedsack Claudine Stripe Blue , BLACK Fabric $25
-58" Wide European Linen Fabric Cream By The Yard $14
-58" Wide European Linen Fabric Elephant By The Yard $14
-58" Wide European Linen Fabric Ice Blue By The Yard $14
-54" Wide Robert Allen Linen Duck Natural Fabric By The Yard $12
-9-Feet x 12-Feet Canvas Drop Cloth Perfect For Drapes $22
-46" Wide Stretch Linen Blend Stripe Ecru Fabric By The Yard $11
-46" Wide Stretch Linen Blend Stripe White Fabric By The Yard $11

Chocolate Burlap Chateau Marmont Pillow Slip by TheLetteredHome on Etsy
Vintage Grainsack Pillow Triple Red Stripe by jillbent on Etsy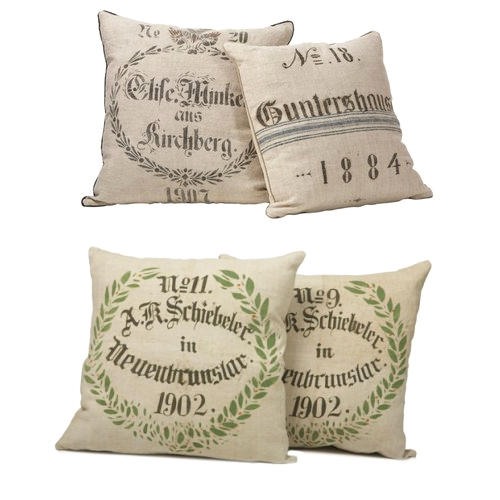 Old World Grain Sack Natual Stenciled Pillows From Dan Marty Designs
  Dan Marty Grainsack Pillow with Laurel Design Seen On The Duchess Of Corbin Blog L.A.'s Dan Marty is often credited with helping fuel the feedbag/burlap decorative trend. Marty's furniture was upholstered in burlap and feedbag instead of pricey fabrics.
1. Pillow Decor – Quality Guarantee Red, Brown $70
2. Pillow Decor – Cacao Bean Red Print Throw Pillow $70
3. Pillow Decor – 1907 Airmail 24×24 Throw Pillow $89, Postcard To Paris $89
4. Pillow Decor – Tulips 20×20 Decorative Throw Pillow $49
5. Pillow Decor – Wading Birds 20×20 Throw Pillow $70
6. Pillow Decor – Bird on Branch 20×20 Throw Pillow $70
1. Pillow Decor – Rustic Floral Green Throw Pillow $49
2. Pillow Decor – White with Green Spring Flower and Ferns $34, Green with White Spring Flower and Ferns $28
3. Tommy Bahama Designer Boutique Throw Pillow Covers $40
4. Pillow Decor – Rustic Floral Orange Throw Pillow $49
5. Pillow Decor – Fire Coral Orange, Blue,
6. Pillow Decor – Sea Coral in Orange, White, Blue, Red $40
Additional Interesting Pillows
-Dwell Studio Masala Bedding in Citrine Standard Pillows $60, Citrine Sheet Set Queen $208
–Coral Red Scroll Print 22″ Wide Throw Pillow $60
-Judy Ross Textiles Vines Printed Linen Coral Pillow $135
-Outdoor Throw Pillow in Blue Coral – Frontgate $119
-Croscill Home Mikasa Italian Countryside King Pillow Sham $39
-Provence French Laundry Square Toss Pillow, Linen/Red $21