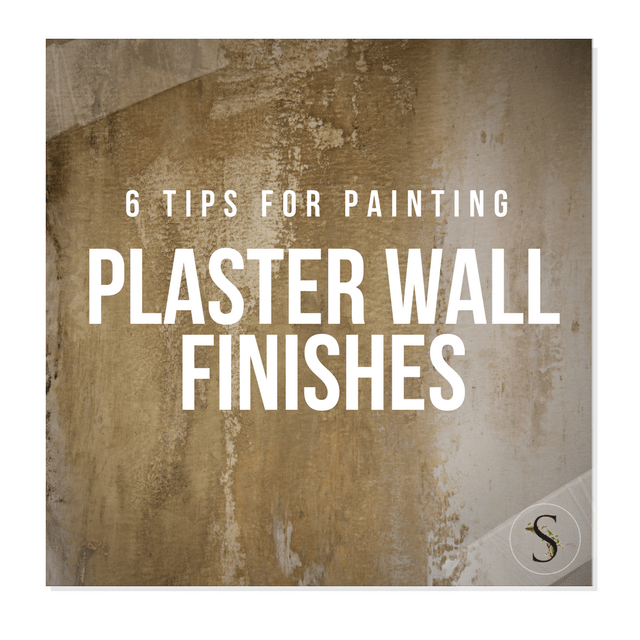 I was running through the Style Files Blog, and I stumbled across one of my favorite pictures, and until now, I didn't know the story behind the photos.
An antique dealer Aurélien and his wife Pascale discovered a small chateau built around 1700 by an abbot who was knighted by Louis XIV. The chateau has survived the centuries almost intact. With restoration, they re-created this old century styled home by filling it with antiques that would have been common through that time period. A Louis XV daybed is covered with a a gold silk quilt and decorated with simple canvas cushions. A large Florentine candlestick rests on the Gustavian style table. You can find some more great photos of this home on the Inspiraci Online Blog.
You can really see how the right faux finished walls can make all the difference in a home that is decorated around 17th and 18th style decorating. Shown in most of these photos is what is called a faux Venetian plaster finish on the walls. These finishes are achieved using paint, and sometimes plaster. In the old days the paint was so semi transparent, that the walls appeared to have incredible depth in the paint, which created the wonderful finishes we see on the walls. Their paint was probably much like mixing linseed oil and pigment, which is nothing compared to our modern day paint. Today we can paint a wall in 2 coats or less, and call it finished. There are a variety of Venetian plaster finishes that you can buy at your local hardware store that can be tinted custom colors. Some look much like glossed marbled walls, and others take the form of plastered walls that you would find in Europe.
Venetian Plaster Finishes From Better Home and Gardens
As you can see this Venetian Plaster finish that appeared in Better Homes and Gardens magazine is a very advanced finish. Working with lighter colors at the top is easier to combine than darker colors at the bottom of the photo. As you look closely at the lighter colors in this Venetian plastered wall, the artist worked with a sponge to add some texture into the finish.
Working with lighter colors in your home will also open up the rooms, than the darker colors, and will be easier to live with as the months and years go by. Consider hues of orange, peach, or beiges as undertones. Always practice this technique before applying it to your walls, because in the case of rough plaster, you have to sand it off to have bare walls again. Trust me, I had to sand down the walls of our old apartment, and it was messy and time consuming*
How to do this finish
You simply trowel on thin layers of semi-gloss paint using 3 different hues of paint. You need some sort of pliable texture mixed in the paint to achieve the finish as just paint alone doesn't work. Many hardware stores sell this finish in gallon sized cans which can be mixed in with the color of your choice. Simply using paint alone won't work.
To best achieve this finish use AT LEAST three colors for this technique.
Choose at least one pale hue, one medium hue, and one dark hue all in the same color for this technique to look genuine.
Don't wipe excess paint off the trowel; the randomness of the paint application is what creates the illusion of depth.
Use different trowels to break up the flow of like size designs.
Most importantly in all faux finishes, apply a final, lightly tinted glaze over the entire wall to add depth and unite the colors. Adding a final glaze coat to the walls in any faux wall painting is a critical step most people miss. It is kind of acts like a blurring agent to your mistakes or your paint marks. Glaze is simply a formula that is semi transparent, but softens the overall effect.
I would recommend buying the glaze that is NOT pre-mixed with a color. The reason for this is you are not bound by that one color. I have three gallons of mixed glaze in my garage, which are all in one color. I cannot use it for my random projects that require other colors.
The general rule of glaze that I use is basically pouring half paint and half glaze together. It is as simple as that. It is always better to add a little bit more glaze than paint. With the final coat, I often just roll it on the wall for an even finish.
Experiment to see what works best for you. I have used Ralph Lauren Glaze in the past and have been very impressed. The final glaze coat makes the world of difference. How marvelous it is to decorate in the 17th and 18th century styles, and venetian plaster will pull your look together faster than anything else you can add in the room.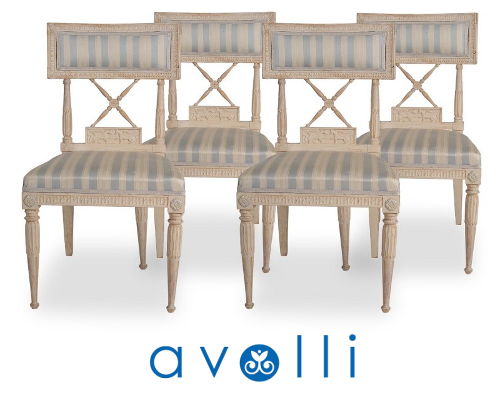 I was searching through flicker recently only to stumble upon Avolli's Photostream. For those of you who do not know who Avolli is, they are a Swedish, Danish, and Scandinavian antique furniture dealer who specializes in the decorative arts from Europe. They import their greatest finds to their showroom in Scarborough, Maine. Katy Elliott did a lovely post showing pictures of their vast showroom filled with Swedish furniture. Tricia Mitchell, owner of Avolli began her career in the interior design industry eighteen years ago specializing in the design of window treatments. After many years in the industry, Tricia went in different direction creating Avolli which allowed her passion for antiques to become a full time business. She focused on Swedish, Danish and northern European antique furniture.
A beautifully restored 19th century Gustavian style Swedish antique bench. This bench is elegantly shaped and proportioned upholstered sides accented with delicate scroll, pearl and floral carving details and sitting upon four square and tapered legs.
A lovely pair of French armchairs with an authentically restored warm white paint finish. Well proportioned and very comfortable, this pair of chairs has classic carving details along the frame with notched cornered back rests and turned, fluted and tapered legs.
Beautiful Swedish Neoclassical chairs in the Gustavian style from the second quarter of the 19thcentury. Expertly carved with egg and dart detail around the rectangular upholstered back rest which is supported by round leaf embellished uprights and a decorative X splat over a carved Griffon frieze. The upholstered seat is supported by egg and dart carved rails and four round and tapered legs surmounted with applied floral carvings.
A traditional Gustavian style dining table from the mid 19th century and restored in a traditional Swedish white/grey. Half moon ends form a round table, while the one or two new leaves provide seating for up to eight. The simple apron meets floral embellished square, tapered and fluted legs.
In the February 2002 issue of Architectural Digest features an article on Emily Todhunter as she explores some of her favorite shops in London. One of the pictures features herself and owner of Talisman, Ken Bolan sitting on an 18th century Swedish Bench flanked by Swedish armchairs. The backdrop features a wonderful tromp d'oeil painting.
Todhunter Earle Interiors is a collaboration between two architectural designers; Emily Todhunter and Kate Earle. Emily Todhunter began her career as a specialist painter, which makes her all the more interesting as a designer.
Save