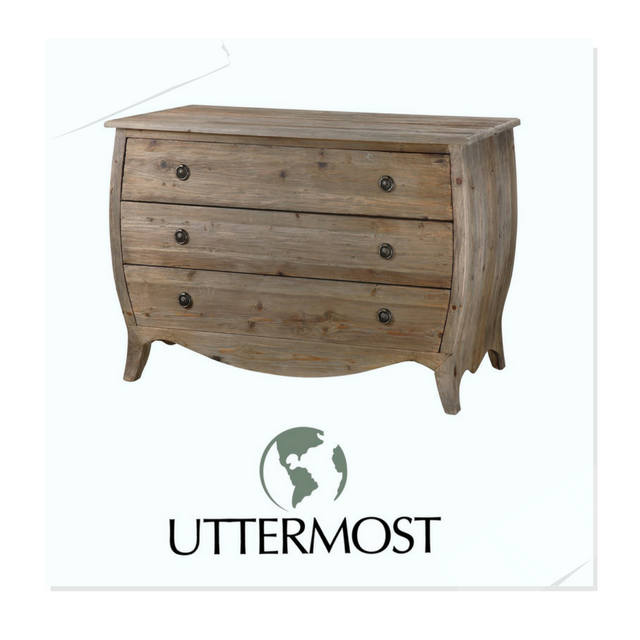 Uttermost Gavorrano Bombe Foyer $1,075.80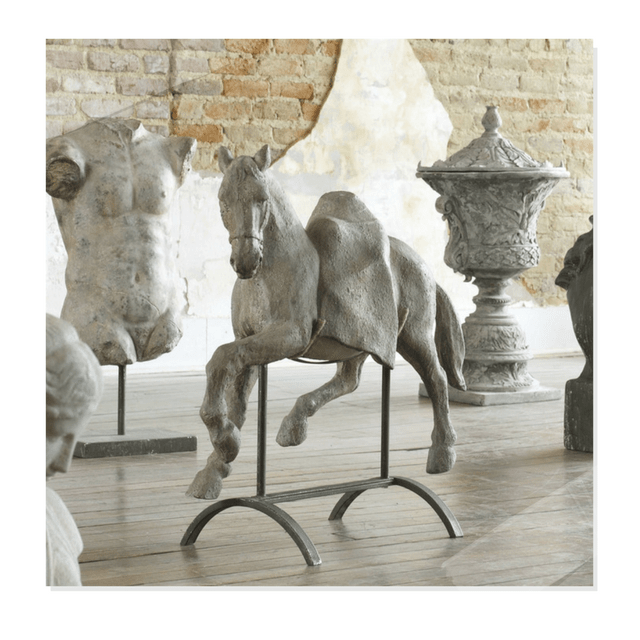 You have most likely run across some of Uttermost's ads as they have been featured in some of the most popular home decor magazines.  Their ads instantly draw you in with their stunning selection of lavish home decor, and adorable family pets.    Who doesn't love little Tilly posing in front of a glamorous mirror, which could be in your home.   Bob and Belle Cooper founded The Uttermost Company in 1975, and it is still 100% owned by the Cooper family, as Mac Cooper is the CEO (who you also see in the ads), while Taz Cooper is the VP of Sales.
The company manufactures decorative home decor and accent furniture and has been in business for more than 33 years.  The family owned and managed company has approximately 290 employees working out of its Rocky Mount location and has a sales force of 120 representatives throughout North and South America, Europe, Asia, etc.   Their product lines consist of mirrors, art, clocks, lighting, accent furniture, and accessories.  They feature a wide mix of contemporary home decor but also feature many pieces for period style decorating.  The first time I found their ad, I was blown away with the painted finishes which are typically found on  antiques.  Looking at their wide assortment of decorative pieces, they have truly incorporated a lot of different selections that could go into a wide range of styles.  The select few reproduction pieces often feature exquisite faux painted finishes that would work really well in a Swedish decorated home.
Uttermost Midnight Botanicals Wall
The Beautiful Finishes Of Uttermost Furniture – See them on Amazon (affiliate Link)
Uttermost Butterfly Plants Framed
Uttermost Retonja Accent Table is an accent table, in a cream finish, featuring delicate hand painting in blueberry and vine green. The overall dimensions: 27.5″ H x 22″ W x 22″ D. The weights & dimensions:29 lbs 27″H X 22″D X 22″W
Uttermost Bozeman Distressed Blue Frame
The best part of visiting their site was learning that the company name Uttermost was inspired from Acts 1:8. "But you shall receive power when the Holy Spirit has come upon you; and you shall be witnesses to Me in Jerusalem, and in all Judea and Samaria, and to the end of the earth."  Amen to that!  Possibly the founders were spirit filled Christians. 
Check out my top picks of furniture and accessories that would finish off a Swedish styled home nicely.As you can see in the picture the Darby Plaque is quite large.  This wall art would be grand above a door way!
The Garin Mirror which is a classic Robert Adams reproduction and features an ornate frame which is heavily antiqued with gold leaf, and then finished with a dark gray glaze.  This sells for around $250 on Amazon This neoclassical looking side table is one of the nicest in their stock and could go a long way in a Swedish inspired room.  This table features antiquing on iron frame with iron cross stretchers. Top is reinforced mirror and gallery shelf is clear tempered glass.
The grand Domenica Wall decor
is quite large as you can see in their above ad.  It features heavily antiqued mirrors accented by ornate framing finished in lightly distressed chestnut brown with a heavy gray glaze.  It ranges in price from $480 from Uttermost to $657 from other companies on Amazon
Uttermost Fortino Clock Table in Sun Washed Patina has a stunning washed patina finish. The table is made from both fir wood and MDF construction, in a rottenstone glaze. The clock is distressed walnut brown with antiqued gold accents under glass. The overall dimensions: 24.25″ H x 24.25″ W x 24.25″ D, the weights & dimensions:
Unspecified 24″H X 24″D X 24″WUttermost Chesnee Accent Table is featured in a black finish, and made with a birch veneer and solid poplar turned legs. The finish has been distressed to show wood grain. The overall dimensions: 28.75″ H x 20″ W x 16″ D. The weights & dimensions are 20 lbs 28″H X 16″D X 20″W
Uttermost Achatius Table Lamp in Maple Wash is distressed in a maple wash finish. The table is finished in a crackled metal details, silver highlights, and aged black accents. Uttermost Achatius Table Lamp comes with an oval shade in silkened golden champagne textile with scooped corners and mitered creases. The overall dimensions: 33″ H x 7″ W x 11.88″ D, the weights & dimensions are10 lbs 33″H X 11″D X 7″
Uttermost Affleck End Table, features a distressed ash finish. The end table is both a MDF and wood construction . The top is finished to show natural grain. The overall dimensions: 27″ H x 22″ W x 22″ D, the weights & dimensions 27″H X 22″D X 22″W
Uttermost Leaf Botanical Study Framed Print Set features a set of 9 framed prints. Frames have champagne silver leaf base with a gray glaze and light black distressing. Designed by Grace Feyock, the overall dimensions: 13″ H x 11″ W x 1″ D , weights & dimensions
34.26 lbs 13″H X 1″D X 11″W
Trumeau Mirror from Adalina collection. This trumeau mirror is heavily antiqued with gold leaf with burnished edges. It features a dark gray wash and dark chestnut brown details. The trumeau mirror has ornate vine and shell design details. The designer is Grace Feyock, and the overall dimensions: 68″ H x 29″ W x 2″ D, the weights & dimensions are
27.4 lbs 68″H X 2″D X 29″W
The Avidan Mirror, 3 Panel Screen, Amiel Arch, and Amiel Large Arch are all beautiful.  This stunning mirror features a narrow metal frame finished in heavily antiqued gold leaf with antiqued style mirrors. This Avidan mirror was designed by Grace Feyock, and heavily antiqued gold leaf finish. The overall dimensions: 80″ H x 29″ W x 1″ D, the weights & dimensions:55 lbs 80″H X 1″D X 29″W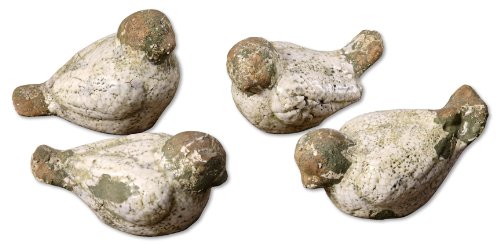 Uttermost Brigita Birds Statues in Cream features four piece brigita birds statues which are distressed in a crackled cream finish.  The birds feaure mossy green and rusty brown details.  The overall dimensions: 3.38″ H x 5.13″ W x 3.88″ D
Save