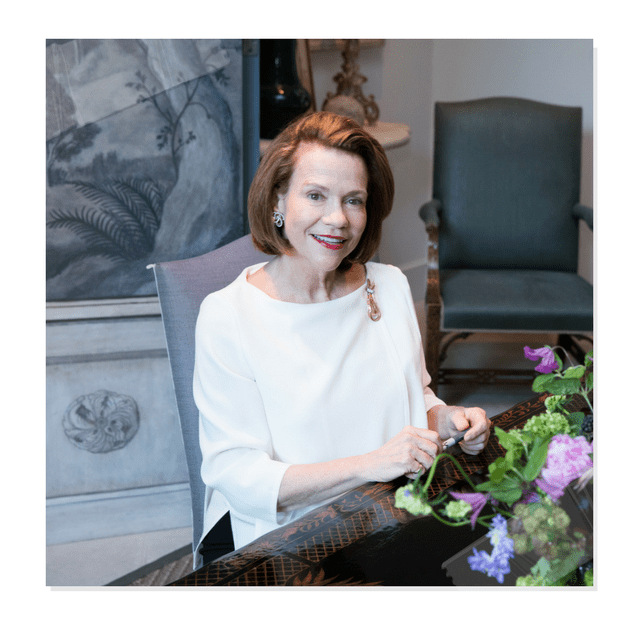 The photos above and below were taken in a room designed by Suzanne Rheinstein at the Greystone Estate, the site of Veranda's annual showhouse Picture seen on lusterinteriors.blogspot.com
Architectural Digest & House Beautiful magazines both publish annual lists of current successful designers, and Suzanne Rheinstein always is noted as one of the top designers in the LA area. Other established designers such as Michael Smith, Thomas Beeton, Kathryn Ireland, Barbara Barry, and Waldo Fernandez also are all noted to be the best in Los Angeles.
Suzanne Rheinstein is owner of Los Angeles renowned Hollyhock, an extravagant LA Antiques Store. Rheinstein is known for her relaxed, elegant style, and special attention to luxuries. Beyond her store, and her book, Rheinstein also has a fabric line with Lee Jofa.
Rheinstein's Manhattan Home made the cover of Elle Decor for the month of November 2010 featuring an upscale Gustavian designed residence in New York. After her daughter Kate got married, and grandchildren were too hard to resist being away from, her husband Fred relented and the couple finally found the perfect corner space in the upper east side of New York. Rheinstein tells Elle
"We adore our house in L.A.," she says. "It's very forgiving and full of wonderful family treasures. But for New York, I wanted something a little more city, a little more stylized. And I wanted the palette to be a little more calm."
The Gustavian styled home is filled with hues of grays, creams, taupes and soft greeny blues which is known to be classic Swedish style. "There's color, she adds, but "it's just very offbeat, like the pale ochre pillow on the chaise……."
Beyond the beautiful extravagant 18th century antiques Rheinstein owns, is a stunning mural which has captured the publics attention. Bob Christian, a decorative painter and artist created a gorgeous mural that surrounded the room. The overall effect was a large scale toile look. The room wouldn't be the same without it.
Her current book At Home: A Style for Today with Things from the Past, features six distinctive homes that express Rheinstein sophisticated elegant style. The book also features both of her own homes in Los Angeles and New York. Rheinstein's book is beautifully photographed, and shows an inspiring volume of her own work, in which she mixes Gustavian with Edwardian and Regency with ease. The book shows a range of styles including a brick farmhouse in the Virginia countryside to a Beach in Newport Bay.
She has been quoted saying it is better to buy quality one-of-a-kind pieces, and decorate around them "Fewer but better things, painted surfaces, a mixture of furniture styles, a personal art collection and attention to comfort, colors, textures, details and light."
We couldn't agree with her more.
This 18th century Antique Swedish Gustavian Painted Bench is the epitome of Swedish furniture. They are almost impossible to find in America, and quite expensive to purchase. Rheinstein's Swedish bench is upholstered in a dark beige with undertones of olive and grey. The bench perfectly sets the stage to match the paint on the walls which also governs the paint colors on the hand painted floors.
The secret to design is precisely as Rheinstein suggests- Designing around a few pieces of fabulous furniture.
Period antiques are well made and often have features that are very hard to come by in today furnishings.
A great antique usually has one of these qualities
Great Bones, and Style such as the curvature of Louis XV furniture, or the straight appeal of the Directoire styles of Louis XVI.
Fantastic aged patina– Gustavian furniture has incredible painted finishes with beautiful ornate painted motifs.
Quality wood like Empire Furniture , or Lavish wood veneers such as Regency furniture.
Well made statement pieces truly are show stoppers on their own that all that is needed is a few well chosen accent pieces to finish a look to get a magazine quality highly-decorated home.
See the November issue of Elle Decor For More Pictures of Her home.
Visit Hollyhock's web site to see antiques, upholstery and decor items for sale
Suzanne Rheinstein's Designs on Style Compass
These classic Louis XVI Style FauteuilDining Chairs are often found featured with classic Swedish decor. Note the chairs are painted in a classic gray and washed in a fauxfinish and upholstered with a a red Ticking stripe.
Joni from Cote De Texas has an in depth article on Suzanne Rheinstein'sGeorgian home which is worth viewing. It has been hard to locate any of Suzanne Rheinstein's work, and Joni seemingly has went out of her way to gather some of the previous rare pictures of her amazing home through the transformations. We borrowed a few of her pictures that really show the Swedish style in its best!
Compare her New York apartment with her LA Home, and you will see so many beautiful painted floors. Paint can completely transform a room. The colors on the floor in the above picture create a calming atmosphere. The detail on the console is exquisite! You would want to float a piece like this in the center of the room. – Picture from Cote De Texas
Save