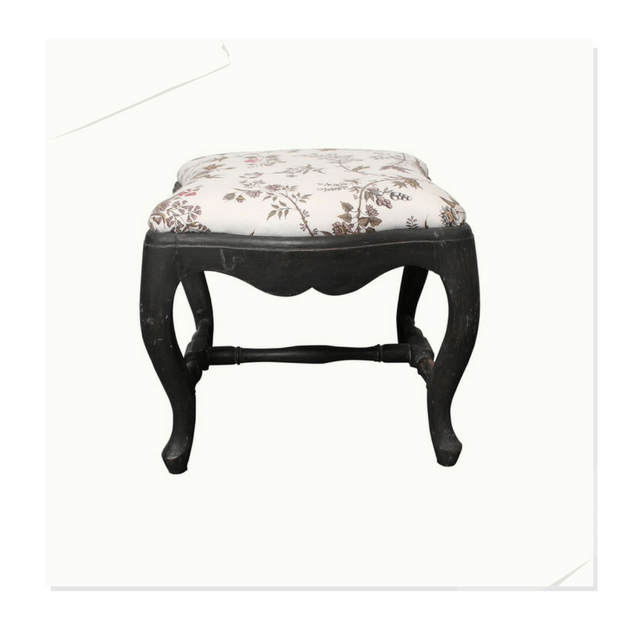 Picture Credit Millqvist Antik & Interior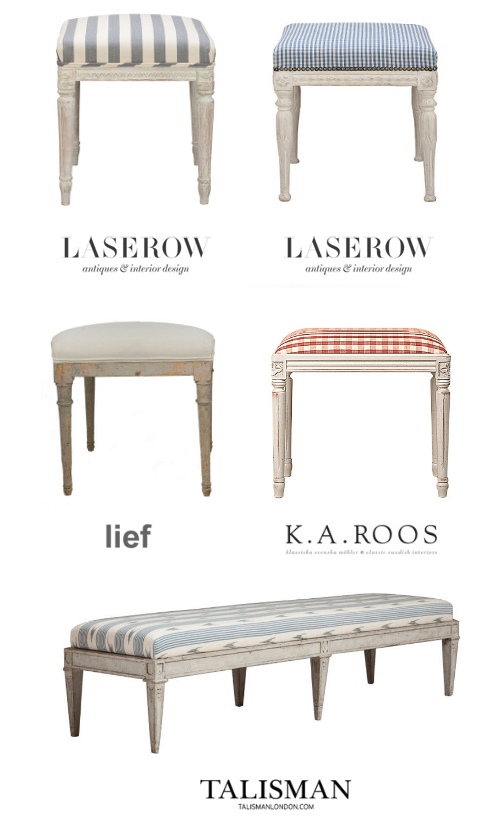 Foot stools are very common in Gustavian styled interiors.  Most every decorative craft was fashioned out of wood in Sweden in the 18th century, and footstools were just one of the most functional, yet decorative pieces of furniture in the home.  Fauteuil chairs were very common during this time, yet an additional footstool was needed for relaxing and lounging after a hard days work.
Gustavian styled stools were commonly painted white, or gray and can be seen distressed today.  Carved fluted legs or tapered legs are commonly seen in Gustavian styled furniture.  Footstools can also be upholstered to match your existing interior. Consider classic check patterns, plain and elegant linen, or stripes for upholstery.  Florals are also seen in Gustavian styled rooms.
Benches were often seen in the bedroom, and living room.  Footstools are quite versatile that they can be put in any room.
Swedish Gustavian Bench– Kristian Double Bench With Storage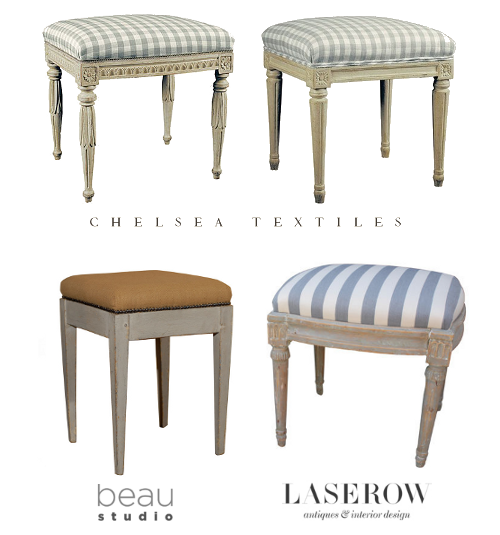 In this photo below, designer Mary McDonald in her Interiors The Allure of Style  book shows a lovely bedroom based around pink color tones and exceptional furniture.  An Italian chair is painted in dark salmon and finished off with red detailing around the frame.  Red and pink work wonderfully together, and this combination shows how wonderful a coral or salmon looks with red painted details.  The sideboard has a paneled table cloth with square nail-head brass tacks that nicely finish off the top.  Beautiful carved gilt wood fluted stools upholstered in a rose velvet steal the attention in this photo.  Consider buying a Gustavian styled stool, either antique or a reproduction to finish off your living room set, or for the bedroom.  Upholster them in a coordinating fabric to finish off the look.
Mary McDonald Interiors The Allure of Style
Mary McDonald Interiors The Allure of Style Close Up Of The Gustavian Stools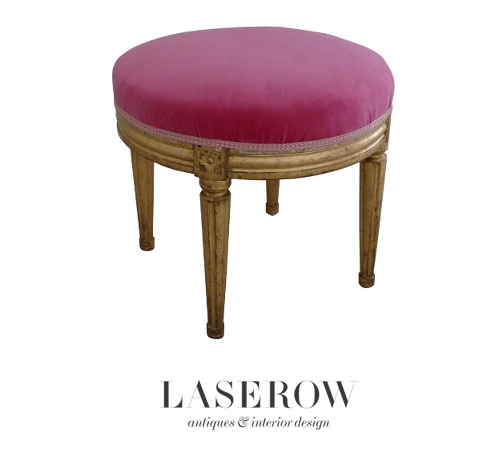 Swedish Gustavian Stool
Gustavian 1775-1810– A unusually shaped Gustavian stool in gilt wood. Carved
friezes standing on tapered and fluted legs.
Magnus Lundgren's Home With His Forest Cat
Magnus Lundgren's Home With His Gray Cat sitting on a fluted leg Gustavian stool