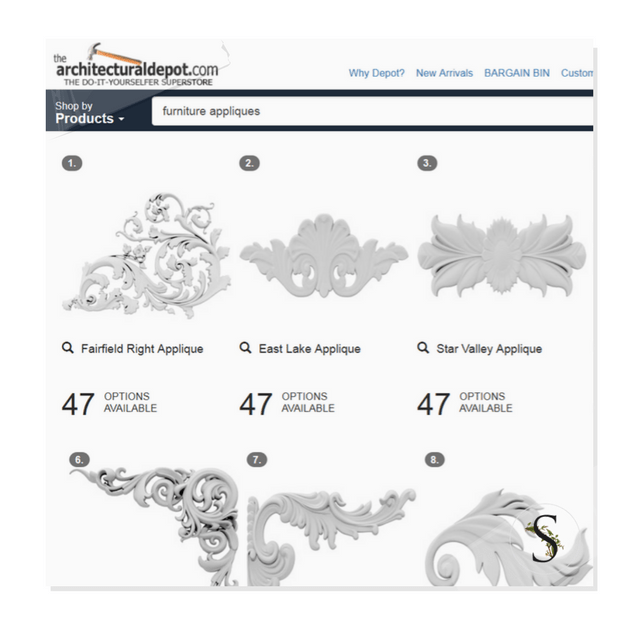 Furniture Appliques From Architectural Depot

Furniture Appliques From Architectural Depot
Architectural Depot has a number of simply beautiful appliques that could be used to adorn your existing furniture and walls with. They have a variety of hard-to-find historical materials for your architecture needs. This stunning frame featured on The Paper Mulberry Blog shows how lovely a frame or a piece of furniture looks with appliques.
This stunning ceiling has gilded rosettes with an ornate gilded border. Creating a ceiling this stunning is a lot of work, although it doesn't have to be. Interiors can be as complicated or as easy as you want them to be. Ebay has a number of stunning molds which you can create out of plaster saving you thousands if you decide to go after a look like the ceiling of Gumbo.
This plaster cement tile mold would be an ideal mold for the bathroom. Tile your whole bathroom in this mold and gold leaf the rosettes. The mold itself is $4 dollars, and you can buy plaster at your local hardware store.
This beautiful tile mold has a border around it making it very much like the ceiling of Gumbo. Produce this look as a backsplash in your kitchen, and gold leaf the rosettes.
This lovely rococo inspired frame would be just beautiful above doorways, or even posted on pieces of wood for labeling your garden. Make dozens from a couple bags of plaster or concrete. The possibilities are endless.
In this picture, an over the door plaque is detailed with swags and laurel leaves. This can easily be created with molds.
One of my favorite pictures is this one from Barbro Grandeliuss's Swedish Home, where furniture appliques are hammered on to a simple piece of wood.
Check out the yellow columns with gray appliques on this picture of Kay O'Toole in her shop. Photos from 1st Dibs