Picture Credit-Toronto's Best Dressed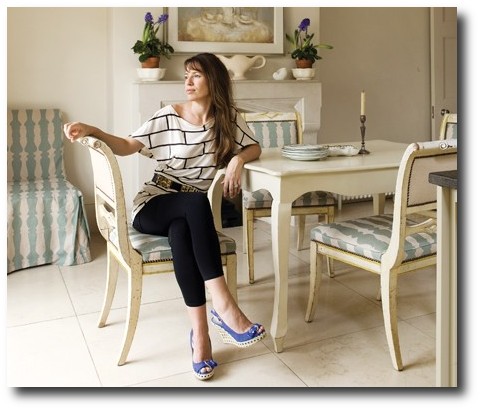 Designer Colette van den Thillart is a very talented designer whose work has been featured in some of the biggest magazines such as Canadian House & Home Magazine and Traditional Home. This Canadian designer works as the creative director of NH Design and certainly doesn't mind breaking the rules and going her own way.
Colette is currently working on an 18th Century estate in Denmark that we hope to see some time soon. We cannot wait to see what this beautiful home looks like, and whether she will keep with the traditional schemes that are often found in 18th century or if she will incorporate modern elements in to the design.
Achica Living had an interesting interview with Thillart, where she gave her top 10 unexpected design tips. In the Achica Living article she suggests to create multi purpose rooms, than typical living-rooms, kitchens and bedrooms. She suggests in vertical houses with tall walls that libraries could be incorporated into dining rooms.
Here are some excellent examples:
1. Home Beautiful Magazine features a wonderful dining space with an extravagant cabinet that reminds me of some of the elements in the Drottningholm Palace Library. Designer Myra Hoefer's California home's unique library and office features a large table perfect hosting dinner parties.
2. This dining room features a round table with brighter green colored slipcovers. The wall cabinets have wired fronts exposing a large collection of books.
3. This Ketchum, Idaho home features a lengthy white painted table with a large collection of antique books featured on built in black bookcases.
4. This dining room features a paired down approach, with books stacked on industrial metal shelves. The look gives this room a clean look, yet the books give this room a lot of detail to look at.
All The Best Blog also interviewed Thilart, and here are some of the questions and answers I found most interesting…..
Q: What books are currently on your bedside table?
A: Savage Beauty – The Life of Edna St. Vincent Millay by Nancy Milford
Citizen of the World – The Life of Pierre Elliott Trudeau by John English
The Book of Symbols– Reflections on Archetypal Images, Taschen
Redeeming Features – Nicky Haslam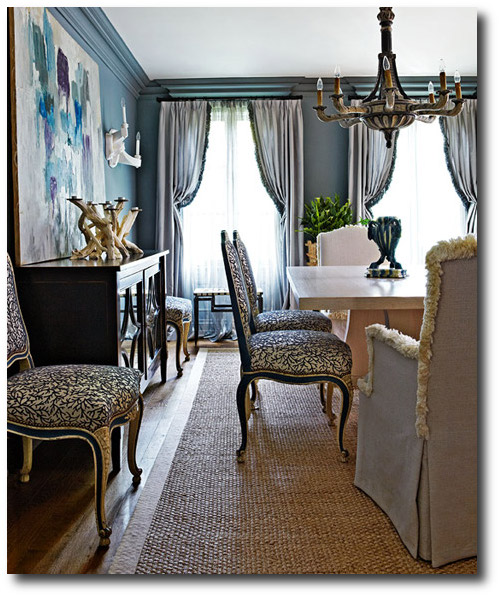 French painted blue and gold dining chairs featured in Traditional Home Magazine
Watch this video featuring Colette van den Thillart, who adds European touches to a classic Ontario cottage without losing its rustic feel. Barn boards and crockery lamps work beautifully with Windsor chairs, antiques and pretty designer fabrics
A sitting area within the master bedroom doubles the comfort and elegance. The lilac-and-white bedroom was inspired by Canada's northern light. The headboard was custom designed by Colette.- Traditional Home Magazine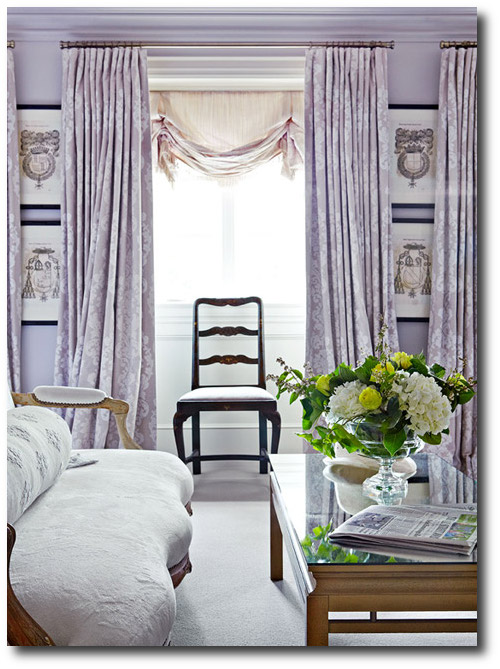 18th-century engravings, Lilac Draperies – French Sofa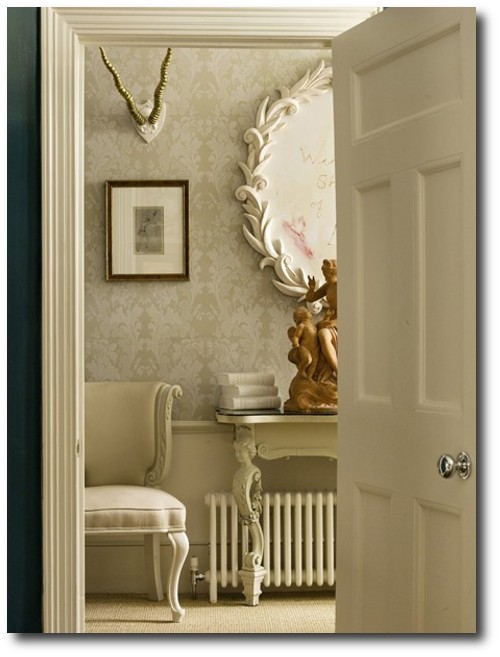 The hallway is a study in neutrals with wall-to-wall seagrass and patterned wallpaper. Colette accessorized the foyer with gilded antlers, a unique art piece with a plaster frame and warm white furnishings, including an 18th-century Russian side chair. From Canadian House & Home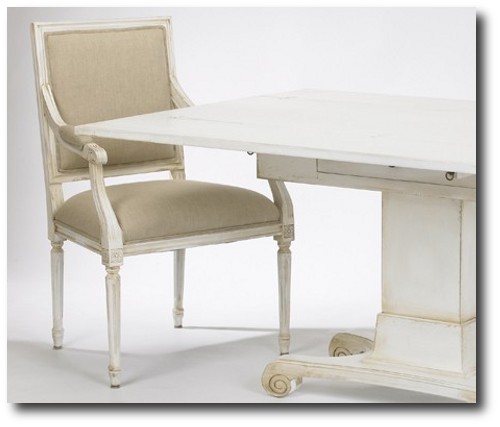 This pedestal table with matching cane back chairs features a hand-rubbed grey finish. Beige linen seats complete the upscale look.
Gustav Foldover Table and Chairs. Table, $1998; armchair, $699. Available at The Art Shoppe.
See more products inspired by Colette van den Thillart's London home, featured in our January 2011 issue, in our gallery. Plus, watch a tour of Colette's cottage.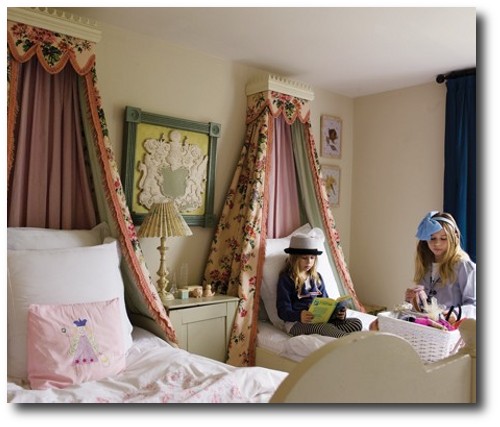 Designer Colette van den Thillart's daughters, Ava, 9, and Hannah, 11. Each bed is framed by a chintz canopy for a soft and romantic look.