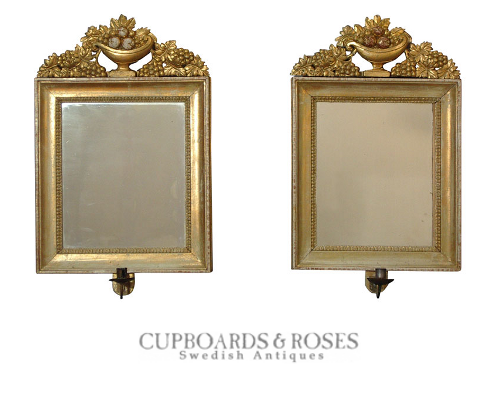 Pair of carved and gilded wood mirrors from the Karl Johan, or empire, period, Sweden circa 1830. Original brass candle holders on each. Original gilding, mirror glass, and backs. $8,500
He was born by the name Jean Bernadotte in France,  and later in life became the ruler of Sweden.   Here is how the history unfolded.....
Napoleon I  - On The French Front

In May of 1804, the French people voted to change the consulate to an empire and to make Napoléon the Emperor of France.
In 1805, Austria, England, Russia and Sweden became united in a new Third Coalition to move against France.  It was in September of 1805, when Austria attacked the French controlled Bavaria.   Napoléon moved his army into Germany in September, and by October, Napoleon  captured the Austrians at Ulm and occupied Vienna.  It didn't stop there, in December, Napoléon won his mos (Read More.....)