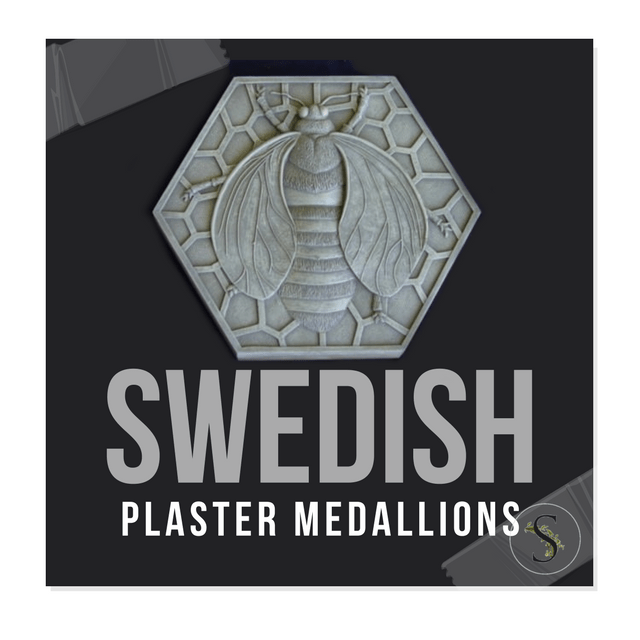 Make this bee mold for just dollars. Find the original listing here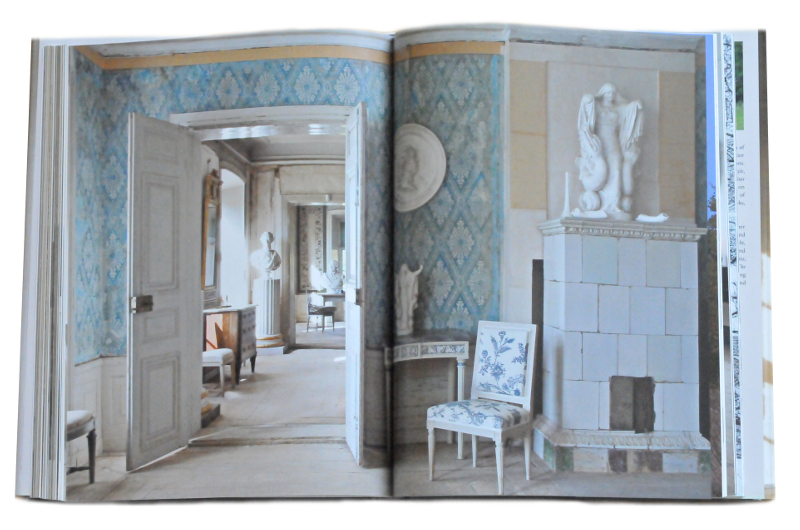 Classic Swedish Interiors By Lars Sjoberg
Everyone has their favorite interiors, and one of mine happens to be Ekensberg, a home owned by Lars Sjoberg also featured on the cover of the book Paint And Paper In Decoration . Ekensberg, completed in 1790 is a three-story neo-classical building located on the banks of the Lake Mälaren, about 40 km away from the Swedish capital Stockholm.
Lars Sjoberg is well known in Sweden for the restoration of many cultural sites. Half of all the cultural sites he restored he saved from demolition. His passion for 18th century classical buildings was something he did professionally and outside of work. He invested in a number of classical buildings, in which he restored to the classic 18th style. As a senior director at the National Museum, he was one of Sweden's leading authorities on Gustavian interiors, architecture, décor, furniture, paints, and everything associated with the reign of King Gustav III. So naturally, all of his homes were restored to the Gustavian style of decoration. This post shows the interior of this home from several angles. His book Classic Swedish Interiors features this home in detail. Interior Archive also gives us a new glimpse into the interior showing many views of this spectacular home.
Here are some of the photos I haven't seen before.
-Detail of the patterned blue and white fabric of the bed canopy and curtains- here
– An armchair with a red and white gingham cover adds contrast to the otherwise blue and white colour scheme in this elegantly proportioned bedroom- here
– Detail of a distressed wooden tray table used for serving tea here
-To the left of the canopied bed in the master bedroom stands an 18th century dolls' house-here
– Detail of the end of a wooden sofa with a worn leather seat and carved border- here
– Detail of a wooden chair in front of a distressed wooden door with a bowl of fruit on a tray table in the foreground- here
– View through open double doors into the master bedroom with its canopied four-poster bed here
– The French Directoire wallpaper pattern reflects neoclassical influences from the early 19th century here
-A pair of plaster medallions by Johan Tobias Sergel, a leading Gustavian sculptor, hangs in the dining room- here
-A pair of gilt-framed plaster medallions hangs on the worn walls of the second floor sitting room – here
– A chair in front of a wall lined with hand-painted linen canvas panels and Gustavian plaster medallion- here
Portrait medallions were originally mounted around the public buildings in Stockholm , Sweden. It has been fashionable to use these medallions on the walls inside the home. Portrait medallions in Sweden often are seen round in shape and have a decorative edge much like a round picture frame.
Acquired Objects blog wrote a post showing some of the prettiest plaque pictures which have been seen on Tone on Tone Antiques, Master Henriks Blog, Trouvais Blog and Splendid Willow Blog; all Swedish inspired blogs. They all have great information and exceptional pictures.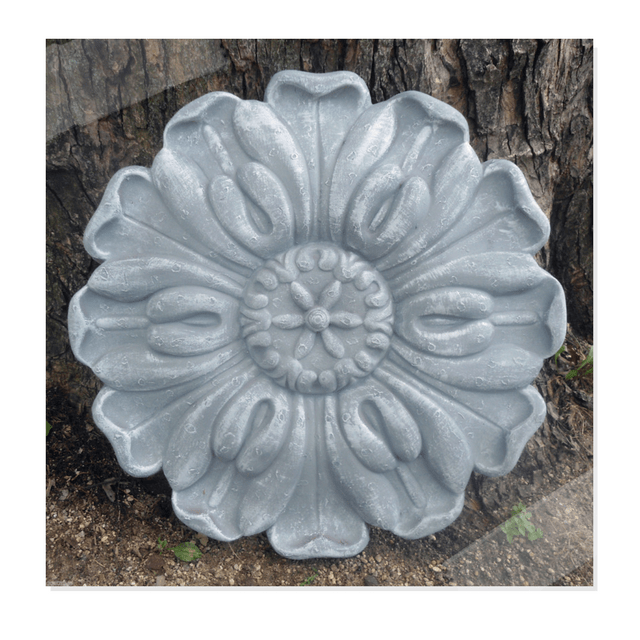 Make your own or sell them….Pastic mold concrete plaster mould $49 on ebay.
This medallion comes from Go Statue on Ebay, You can find the original listing here

Get The Look Yourself
Many of the Swedish Gustavian furniture sites will occasionally have these medallions for sale. Ebay is another place to find wall plaques.
One word of caution, many plaques and busts do feature false gods, so you have to be careful what you purchase and bring into your home. Personally over the years, I have had to throw out many plaques and busts, later to find out they were statues of Roman deities. Before you buy, research what you are buying.
I have found many beautiful plaster plaques with fruit and flowers. The larger medallion molds are harder to find, although you can find some beautiful flower styled plaques on ebay which are quite affordable, and look just as nice.
Instead of one large plaque, consider collecting a series of 9, 18, 27 ect smaller plaques which you can feature on your wall.
Here are some examples:
– Set of 2 metal wall hangings, plaques made in England, Found On Ebay, Pinned to Pinterest
– Vintage Fruit Chalk Ware Apples & Plums, Found On Ebay, Pinned to Pinterest
– Vintage Turner Cameo Wall Plaque, Found On Ebay, Pinned to Pinterest
– 10 inch White Resin Cameo Art Nouveau Head, Found On Ebay, Pinned to Pinterest
– Furniture Appliques From Do It Yourself Chic
Swedish Decorating Gustavian Furniture From Lars Sjoberg
Featured On Tweedland & The Gentlemans Club Blog
Swedish Decorating Gustavian Furniture From Lars Sjoberg
Featured On Tweedland & The Gentlemans Club Blog
My Own Molds, Yaley Round Basket and Flower Molds on Amazon, Judges Plaster Mold Ebay
I had planned on featuring a number of shells on the plain molds, which then can be hung onto a piece of painted wood, or even in an oversized frame. You can even cut out black and white photographs into a circle, which then can be glued onto the the shaped molds that I bought here.
Consider Making Your Own Art
–This article has some amazing inspirational photos of what can be produced with the plastic throw away containers and lids from found at your local bakery. In one photo they create a round plaque possibly from plastic margarine containers. Who knew!
– Mid-century plastic plaques can be antiqued by an application of paint. Simply mix together non-sanded grout and white paint and brush on. This look shouldn't give away that your plaque is plastic.
– Make Your Own Round 11 Inch Fireman Maltese Cross Cement or Plaster Mold
– 6 3/4″ round Concrete, Baking, Plaster Plaque
– Dogwood Wall Plaques- here, Architectural Plaques, here
– 3 1/2 x 2 7/8 Square Frame Molds. Mount different shells and hang them on the wall.
– Oval Flower Plaque– Make Your Own Chocolate, or gifts with this Swedish looking mold
– Set of 6 Designs For Chocolate or Plaster Molds Here, and Here
– Perfectcast– The professionals choice for casting medium, PerfectCast is five times stronger than any other regular plaster. It is AP Non-Toxic and it reproduces intricate detail identical to the original mold. The only substance you need to add is water. PerfectCast produces a perfect cast every time
Here are a couple resources found around the net:
-A magnificent Gustavian portrait medallion by Sergel , royal sculpture to King Gustav III of Sweden. These medallions were mounted around the public buildings in Stockholm , Sweden. The portrait is of renowned Swedish composer Sergel. It has a steel hook fixed to the back for easy suspension. $785
-A portrait medallion of the famous Swedish Gustavian musician and writer Belmann. This is a museum casting in plaster as the original is in marble and still attached to Stockholm castle. $785 AUD
-This stunning cameo portrait medallion was made by Wedgwood & Bentley c.1777, modeled by William Hackwood. Wedgwood & Bentley was in operation from 1769-1780 preceding Wedgwood. The highly detailed portrait and is applied to a rich solid blue jasper plaque. The portrait is in quite high relief.
-Portrait Medallions – Set of 5 in blue and white jasper. ArtValue.com
-A portrait medallion in plaster of King Gustav III. Reproduced after an original 18th century medallion. –Real Gustavian
-A plaster medallion of Charlotta De Geer of leufsta Manor house Sweden- Real Gustavian
Noteable Links:
-Lars Sjoberg's Swedish Style- The Swedish Furniture
-Lars Sjöberg and his Swedish manor Ekensberg – Belgian Pearls Blog
– Lars Sjoberg, hero of Swedish Heritage Conservation Tweed And The Gentlemans Club
-Lars Sjöberg Trouvais Blog
-Style I Love: Classic Eighteenth-Century Swedish Interiors- The Style Saloniste
-Decorative plaster – Plaques From www.grandissonstoves.co.uk
-Casting Plaster Plaques-westerntractmission.org
Country Swedish From Veranda Jan 2011
Cecilia Dahlback, owner of Country Swedish, moved to the United States with her parents as a teenager and, after studying international economics and marketing at Georgetown University, discovered that what she really liked was interior design. When the family friends who owned Country Swedish retired, Cecilia saw an opportunity to move into the design business.
The Country Swedish Collection includes a variety of Swedish styled interior furnishings. Their Gustavian reproduction furniture includes a wide selection of chairs, dressers and chests, desks, daybeds, and sofas. Shop some of the finest Swedish wallpaper selections for a quick transformation for that special room in your home.
Gustavian reproductions are made in Scandinavia by craftsmen who continue to preserve the centuries-old traditions of Gustavian Swedish furniture making. The furniture collection begins with beech, birch and pine from Scandinavia. Since most of the pieces are painted, the company has its own paint shop, which guarantees the consistency of the 30 available colors and finishes.
Country Swedish furnishings are sold through designers and architects, but the showroom in Norwalk is open to the public for viewing.

Ekensberg –gal.zhulong.com