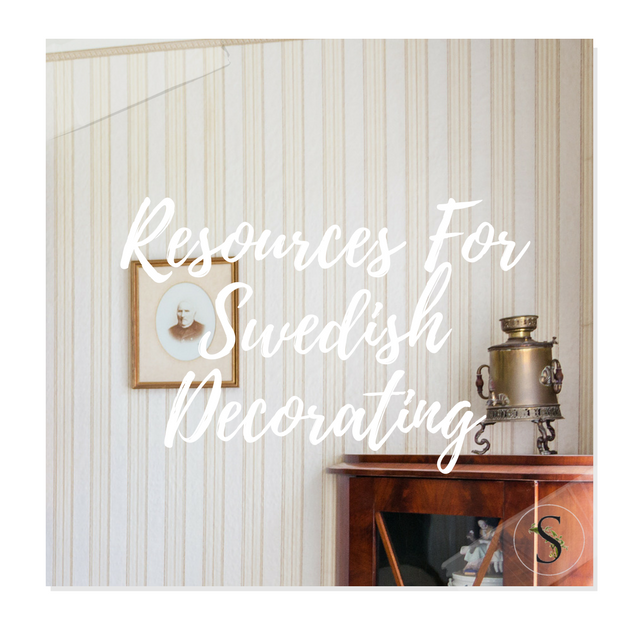 Paint And Paper In Decoration – David Oliver
Swedish furniture has been sensationally popular the last 10 years as a style that is fresh for decorating the upscale home. Gustavian style has appeared in some of the more prominent decorating magazines in the US such as Veranda, Architectural Digest, World of Interiors and even more frequent in European magazines such as Campagne Decoration.
The casual appearance of lighter colored painted furniture has been popular for centuries. France was credited with the influence of the Swedish furniture in the 17th and 18th century. Many of the formal pieces found in the palace of Versailles were made over in the same shape and form, but painted instead of stained wood. The decadence of the French furniture couldn't be copied because it was too costly for Sweden at the time, as well as Sweden has their own taste in mind.
In France, side tables were constructed from the most costliest woods, with decoration that took hours if not weeks to complete. French cabinet makers through the 17th century used techniques such as inlay, (pictures cut from ivory or wood, and set into wood), or marquetry, ( veneer composed of numerous woods, and stained which produced a pictorial mosaic), lacquering and japanning, (the application of numerous layers of varnish) were all costly, and time consuming.
While France had the best of the best, some say Sweden did a better job of re-interpreting the design elements seen in France such as the furniture by scaling down the formality. Linen was used instead of silk, paint was used instead of the stained wood, and faux painting replaced marble walls.
Borrow Interior Design Elements From Sweden For Your Own Home
Marks Of The Swedish Style
1. The Use of Paneled Walls (But In A Different Way)
The French were known for their paneled walls. Paneled walls are well known to be the most expensive and rich form of all wall treatments. Originally they were hand carved out of wood, as labor was inexpensive in the 1700′s. Today much of the decorative baroque looking ornaments are made from plaster. Wood panels once served to insulate a room from the cold stone frame of a building. It is also quite apparent that paneling was installed for decorative purposes as well.
Boiserie is the term used to define ornate and intricately carved wood panelling seen in some of the well-to-do French estates. The earliest known examples of boiseries were unpainted, but later the raised mouldings were often painted or gilded. For a great example of painted paneled walls, look at Charles Spada's Country Home, which gives some great examples of 18th century color combinations. Martha Stewart shows a wonderful example in a green palette. A very formal dining room is done up in blue, and arches painted in oranges and pastel blush tones.
The Gallery, designed by Geoffrey Bradfield
Boiseries were popular in seventeenth and eighteenth century French interior design and the Palace of Versailles. The panels not only appeared on the walls, but were also used to decorate doors, frames, cupboards and armoires as well. Often pictures would be set into the boiseries, the carving framing the picture rather like a conventional frame.
Decorating With Paint -Get This Look For Less….
Many of the wealthier Swedish people borrowed this look for their estate homes. Costly wood paneled walls were a far stretch for many of the Swedish people in that day, as it is for many people today. Paneled walls can cost thousands, and be tremendously time consuming.
Why not fake it with paint?
The Belvedere in the park of the Petit Trianon shows a fine example of what a person could do with paint to simulate the heavy ornamented look of the French style.
In Lars Sjoberg's house featured in Country Style by Judith and Martin Miller featured walls with blue frames around them. Using two painted frames simulates the look of framed walls. Further in the post, you can see many more frames painted on the wall which do a beautiful job of showcasing furniture placed in front of it.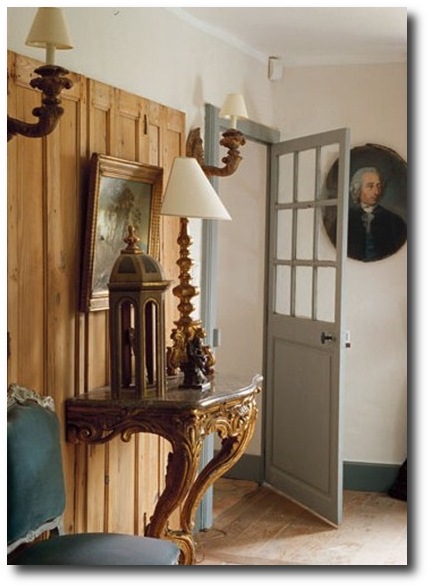 Picture Featured in Campagne Décoration
In the USA we have a chain of stores called Habitat For Humanity – Re-stores which carry all sorts of architectural elements from wood screens, to paint, sinks, and so forth, which are heavily discounted.
Here we see the paneled wall idea made from doors which are positioned side buy side. Consider purchasing similar styled doors in sets of 3, 5, or 7 which can be linked together using door hinges. As you can see here, it works!
Picture Credits– A Special Thanks to Aged And Gilded Blog, TweedlandThe Gentlemans Club, And
Lars Sjoberg's Book- Classic Swedish Interiors
Here are some companies to keep in mind:
1. Decorators Supply– They have over 13,000 designs in their carving library. For over 100 years they have specialized in creating finely detailed composite replicas of the hand carved wood ornaments found in the most extravagant homes.
2. Bailey Interiors.com – Decorative Plaster Ornaments and Claws
3. Beaux-Artes offer decorative wall panels which can be used on walls and ceilings. Their products are cast from historic ornamentation and are available in over 20 different Finishes.
4. Victoria Larsen offers a number of ornamental frame molds which allow you to make dozens of your own molds in the privacy of your home. She also offers raised plaster stencils for the wall in a variety of patterns.
Consider a yearly subscription to Veranda, Architectural Digest, World of Interiors and Campagne Decoration.
We will be discussing accent furniture in Part 2, and Swedish painting techniques in Part 3
Remember this home?
Look at the detail in the background…..
Check out Classic Swedish Interiors for more photos to get a better view of the far room