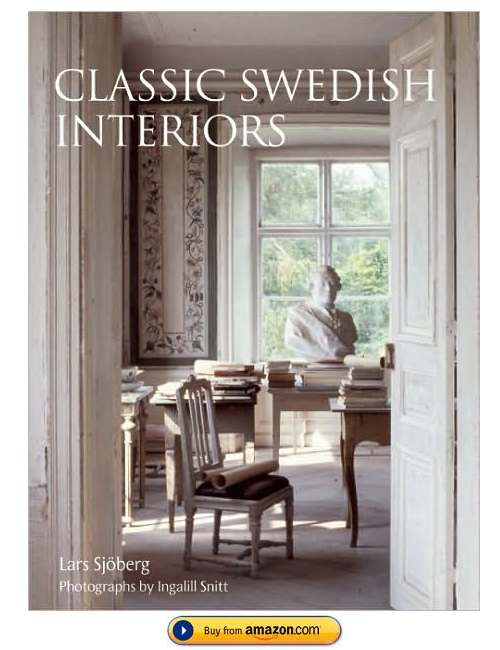 Lars Sjöberg, a former curator at Sweden's National Museum, is a passionate preservationist. Since 1966 he has bought ten magnificent structures—an airy manor, a sulfur quarry's smelting house, and a quaint wooden church among them—and has meticulously scraped away recent renovations to reveal centuries-old wall coverings and other marvels. Through his lively accounts and luminous photography by Ingalill Snitt, Classic Swedish Interiors catalogues the fruits of Sjöberg's labor. And the antiques on view may look familiar: In the 1990s he advised IKEA on its 18th-century furniture reproductions, and several of his own pieces served as inspiration. Proof that history indeed repeats itself.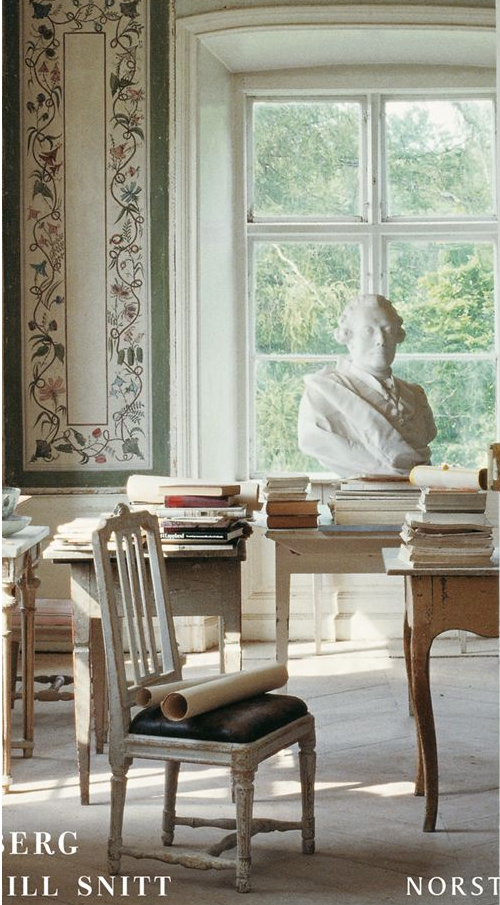 Classic Swedish Interiors-  Lars Sjöberg and Ingalill Snitt– Swedish Furniture and Gustavian Decorating Ideas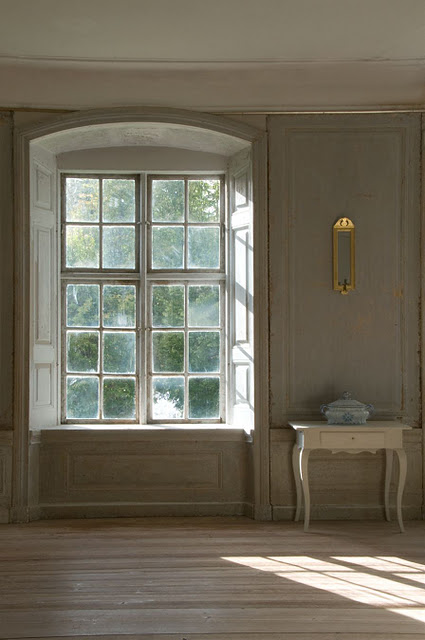 Classic Swedish Interiors -Lars Sjöberg has made it his life's work to understand and preserve the Swedish manor houses of the 17th and 18th centuries. Here, exquisitely photographed by Ingalill Snitt, are the eight houses (and one church) that he has acquired over more than 40 years. The book focuses on Sjöberg's first, most complex project: the manor of Regnaholm. Unoccupied for about 40 years when Sjöberg arrived in 1966, it allowed him to experiment with interior decoration and refurnishing, copying old furniture, reweaving, and reprinting old fabric patterns. His other projects include Ekensberg, a three-story Italianate villa near Lake Mälaren, built in 1788-90, and Salaholm in Västergötland with a garden laid out in the first half of the 17th century. Odenslunda, a small manor from the 1770s with a panelled exterior and a säteritak or manor-house roof, is his family home, while Sörby, a scaled-down early 17th-century manor house, was reproduced in its entirety for an exhibition in Stockholm. Full of insight and inspiration, this is a deeply personal summary of everything Lars Sjöberg has learned in his years of working and living with classic Swedish interiors.
The book tells of the houses origins and history, use and ownership. The pictures detail how interiors have evolved through the centuries and have come to characterize the Swedish interior ideal. Light wooden floors and airy curtains, elegant Gustavian furniture, mirrors with gilt wood frames, floral and striped upholstery and just simply breathtaking and authentic interiors.
Gustavian Decorating – Classic Swedish Interiors From Decorology Blog
Swedish Furniture Gustavian Decorating Ideas From Ingalill Snitt From Sofie Odmann Blog
* 'Inspiring images of rough-edged but strangely regal eighteenth-century farms. Poetic, accessible juxtapositions abound.' New York Times review of The Swedish Room. With properties ranging from 17th century mansions to 19th century two-bedroom dwellings, this makes for an inspiring read. idfx This personal account records in beautiful detail, inside and out, nine of the buildings Lars has rescued – several manor houses, cottages and a church, all brought back to life with the utmost tenderness. World of Interiors Art historian and museum curator Lars Sjoberg is like a knight in shining armour rescuing damsels in distress – except his damsels are building and his steed an old Volvo estate! In producing this beautiful book, in which he lovingly describes all these projects, Sjoberg has the perfect accomplice: photographer Ingalill Snitt. Her snowy exterior views and sun-streaked interiors, whether furnished or hauntingly bare, are exquisite, while Sjoberg's lengthy captions are exemplary in explaining what we see. House & Garden He is a one-man National Trust of Sweden, and this book is fine testimony to his 44 years of devoted work. Spectator A ravishingly beautiful, deeply personal summary of everything Lars Sjoberg has learnt in his many years of working and living with classic Swedish interiors. Period Homes & Interiors
About the Author
Lars Sjoberg had a 36-year career at the National Museum in Sweden, and for many of those years he was Senior Curator in the Department of the Royal Castles Collections. During that time he worked on the exhibitions Empire Style, Thought and Form in Rococo and The Sun and the Polar Star (Stockholm and Paris). Since 1990 he has been a consultant on reproduction 18th-century furniture for the National Board of Antiquities and IKEA. He is the author of over fifteen books, including The Swedish Room. Ingalill Snitt specializes in architecture and interior design photography, and also directs television commercials. Her books of photography include Splendore di Sicilia, Swedish — Light, Shape, Architecture, Living in Norway and two with Lars Sjoberg: The Swedish Room and The Swedish House. Her work is regularly featured in magazines including Elle, Marie Claire, Architectural Digest and The World of Interiors.
Classic Swedish Interiors- Lars Sjöberg and Ingalill Snitt- Swedish Furniture and Gustavian Decorating Ideas Photo Credit Mentar Mentar Blog