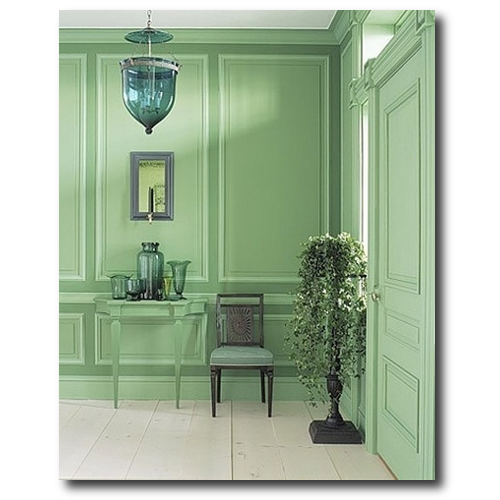 You wouldn't be making a mistake if you choose green to base a room around.   Martha Stewart has brought pastel color tones into the spot light more than anyone else over the last 20 years.   Pastel tones were at their height during Rococo period (1725-1775) which was an 18th century reaction against the grand Baroque style.  Rococo is a lighter, more whimsical version of the Baroque style.   Pastels flurished during this time as the rococo style emphasized lighter based colors, sinuous curves, and patterns based on flowers, vines, and shells.
How to use pastels:
When using pastel colors in the room, it's important to remember that there are  plenty of pastel shades to pick from.
-Base a room around yellow using light yellow on the walls with brighter canary yellow throw pillows and art. Consider contrasting painted black furniture to make a statement.
-Pastel colors work wonderful on the wall because they are light and not over powering.  Layer in darker tones of the same hue with furniture and brigher hues of the same color with accessories.
One simple way of selecting a shade is to use paint sample strips from your local decorating store.  Simply find a darker color on the  paint strip that matches your furniture pieces, then, choose the lightest pastel color on the strip  for your wall paint
-Pale apricot would be a terrific color to put on the walls.  Pair it with blood orange accessories, and light green accents.
– Celery green painted walls would look terrific with brighter colored mint green painted storage containers.  Use a slightly darker green around the trim.
Where do you fall with warm or cold color tones?
A gray can look quite different when it has undertones of yellow, or blue.  Yellow can fall into the warmer category, while the blue is more of a cooler tone.
Pastel Colors
– Warm Red: Permanent red, scarlet, poppy red, Cold Red: Carmine, crimson, madder red
–Warm Green: Permanent and phthalo green, Cold Green: Aquamarine, teal
–Warm Blue: French ultramarine, deep ultramarine, Cold Blue: Cerulean blue, turquoise
Warm Violet: Red violet, Cold Violet: Ultramarine violet or blue violet
– You can find inspiration in the most unusual places.  Here you see a lighter dulled down mint green combined with more of a Kelly green with red accents.  Talk about a great room color scheme!
– Consider collecting green glass which you can use as display or as a vase.
-Use storage furniture that you can paint.  I have painted my cardboard storage boxes in the past to unify my garage space.  Wicker baskets can be painted, along with wall shelves.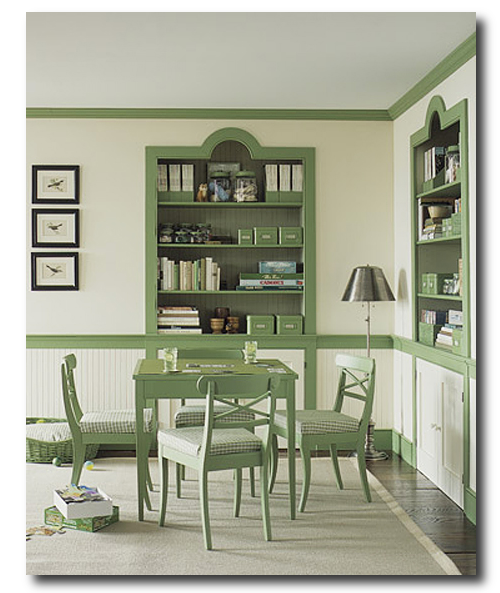 In this photo, you don't see any furniture glazing, or distressing, – just simple hand painted finishes on the furniture and the trim.  It goes to show you that not everything needs to be glazed and antiqued.  Green is used throughout the room in subtle ways.  If you look at the top of the table, the pad is also painted or re-covered in the same color tones.  A green gingham fabric is a perfect combination for this chair; not too busy, but detailed.  Storage boxes and magazine folders match perfectly adding to this custom look.  It is interesting to see how ONE color tone can make such a big impact.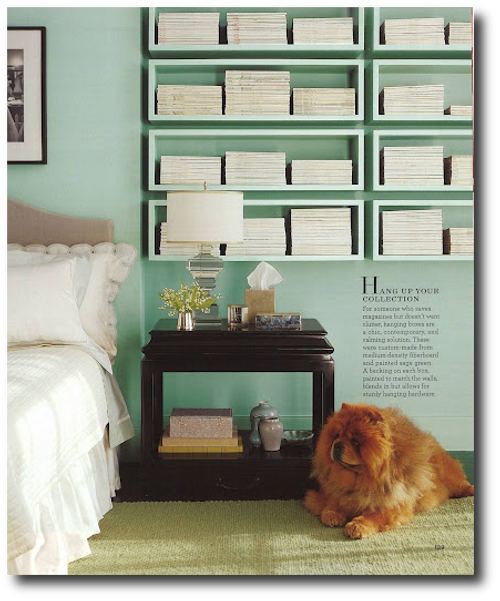 This room which appeared in Martha Stewart is based around pastels.  An asian table painted in black gives a wonderful contrast to the light green pastel.  If you look closely around the dog, you will see the trim is painted in a darker paint shade.  The best thing about this photograph are the lovely floating shelves on the wall that are painted to match the wall color.  White magazines show off an exceptional collection, while at the same time, allowing this look to remain clean and organized.
Consider buying a gallon of green paint, along with a quart of white paint.  When your walls, and furniture are painted, add in some white into the existing green paint to get a very light version of the color that the room is based around.  Paint a childs chair to sit in the corner, or some accessories in light green.  Consider painting the matts of your picture frames with this lighter color tone for a subtle contrast on the walls.