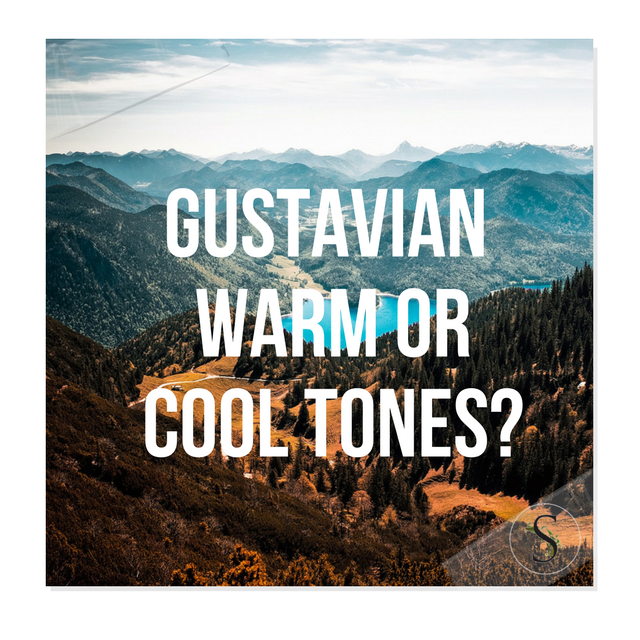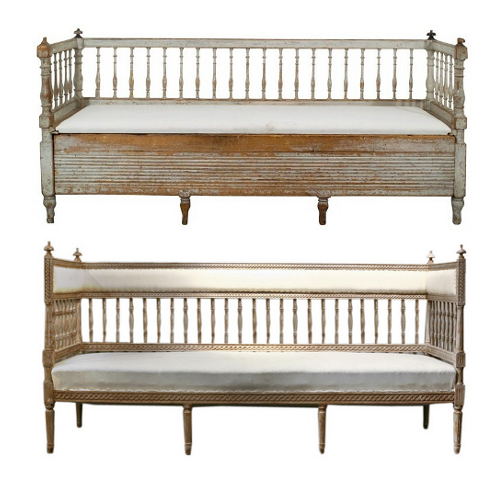 Swedish Gustavian Pine Benches
Gustavian style is all about painted surfaces, intricate wood carvings, distressed wood flooring, and beautiful family heirloom furniture. Gray painted furniture are commonly associated with Swedish interiors. Gray can be both a cold and warm color depending on the hue of the paint. When gray is mixed with yellow, it can take on a color that is more warm, where as mixed with purple, or blue, it can appear on the colder tones. Gray is a staple color in old world Swedish homes, and will work with any color palette. Here are a couple examples of cool and warm color tones:
Cool Tone Examples:
The cool color tones can be very attractive and fresh. Light blue can open up the home, and allow it to appear more spacious.
1. As you can see this home has light blue painted walls, and furniture which is painted in the exact same color tones. Furniture is accented in gold, and other pieces are painted in white.
2. This ad for Tara Shaw is based on the cool color tones. A very light blue floor, and a gray wall with undertones of blue are the perfect back drop for this antique piece of furniture painted in blue-gray. As you can see white washed pine furniture adds a touch of wood, and works with the color palette. See more of the furniture here
Some Tips For Cool Interiors :
– Use several glazes when washing your furniture. Look at the color depth with these chairs- Pair of 18th C. Rococo Gustavian side chairs in the original paint From Marston Luce Antiques. The color is very rich and dark, and would work perfectly with a room based in the lighter blue tones.
– Paint your walls a very light blue and accent with punchy shades of blue such as seen in the table cloth. Add in lots of white painted accent pieces.
– A blue painted wall can go a long way to create a cool interior. Here we see a combination of blue gray and white.
– Brighter whites are used in cooler tones, while beige color washes and upholstery are used for warmer palettes.
Warm Tone Examples:
Warmer tones tend to feature traces of yellow, and brown in the swatches. A warmer palette will make your home appear to be warmer in the winter than a room that is painted in a light shade of blue. Rich yellows work so beautifully with gold, and brass.
This ad for Horchow features an interior bathed in the warmer tones of brown. Wood is washed with brown or beige paint allowing the natural wood to show through.
–Olivier & Chantal's French Home is a great example of a warm color palette. The walls are painted a dark gray, and red painted furniture give an opportunity for color to be apart of this room. Red is also a warm color, making it the perfect choice against the dark gray walls that appear in this room. Untreated wood breaks up the painted surfaces, and allow the eye some rest. Solid upholstery allows this home to remain uncluttered. Simplicity, and clean looks govern the Swedish style. See more of this home here
-This Campagne cover features a Gustavian room with lots of warm tones. Lots of beige is used with a combination of white. Looking closely at the furniture, painted finishes on the clock and the settee reveal exposed warm wood, with beautiful distressed white finishes. See more of this home here.
Some Tips For Warm Interiors:
1. Paint your walls yellow and combine beige and gray into the interior. Work with darker tones instead of light paint colors.
2. Incorporate stone and concrete into a warm interior. Display stone busts or urns on pedestals. Consider leaving the wood raw and untouched without any polishing or lacquer. Add in brass instead of silver.
3. Incorporate black painted furniture into a warm decorating scheme. Black painted furniture often looks terrific against tones of yellow.
4. Consider also working with the darker green color palette. Combine green upholstery with untouched pine frames, or gilt wood frames. Work with a country theme with lots of distressed furniture, or work with brighter Kelly greens such as the colors featured on Lars Scandinavian Design Book. As you can see the secondary color is always beige not white.