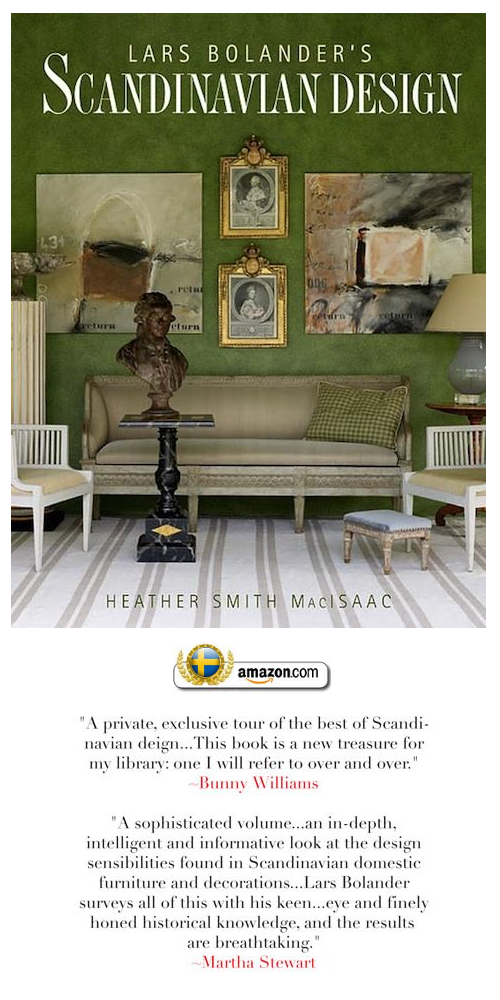 Lars Bolander, along with former House Beautiful editor Heather Smith MacIsaac, Scandinavian Design is a thoughtful and sophisticated work, giving readers an in-depth survey of the best of this celebrated genre. Bolander draws on his extensive design experience and vast historical knowledge to bring readers inspiring interiors and design, both traditional and modern.  Lars Bolander, one of Sweden's most SUCCESSFUL interior designers has been creating the Scandinavian look in homes all over the world for decades!  The book has 192 pages of both 17th and 18th century decorating, as well as modern decorating in the Scandinavian style.
Clean, elegant lines, delicate color schemes, well-proportioned, light-filled spaces, and natural materi­als—the hallmarks of Scandinavian design are unmistak­able. As the trend in residential design continues to move toward pared-down, comfortably elegant, environmentally friendly homes, the Scandinavian aesthetic has become a global influence in interior design. Lars Bolander, one of Sweden's foremost interior designers, has been creating the Scandinavian look in homes all over the world for decades. In this impressively illustrated volume, he and author Heather Smith MacIsaac, a former editor of House & Garden magazine, share their expert knowledge of the very best in Scandinavian design, past and present, offer­ing guidance on how to achieve the Scandinavian look, incorporate the trademark elements into any decor, and mix and match traditional and modern, humble and grand.
Lars Bolander's Scandinavian Design Book Review…Book Review By Made By Girl Blog
Lars Bolander's Scandinavian Design Book Review…By Style Carrot
Lars Bolander's Scandinavian Design Book Review…Luxury For The Home
Lars Bolander's Scandinavian Design Book Review…Orlando Sentinel
Lars Bolander's Scandinavian Design Book Review…Swedish Interiors Blog
Lars Bolander's Scandinavian Design Book Review…Maze Home
Lars Bolander's Scandinavian Design Book Review…Escapade Blog
Lars Bolander's Scandinavian Design Book Review…Wedding Dresses Blog
Watch Lars Bolander Discribe Swedish Furniture on Martha Stewart – A Video
Watch Lars Bolander Make Meatballs on Martha Stewart – A Video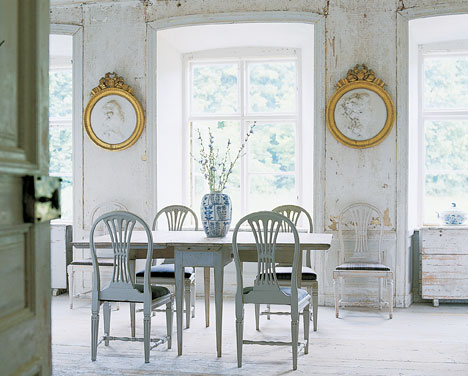 Gustavian Decorating From Lars Bolander's Scandinavian Design From Goodhousekeeping Magazine
Lars describes Swedish design further as "light colors on walls, painted furniture, little floral print fabrics or stripes or checks in cotton or linen, and wood floors." He is known as a pioneer of Swedish style but when he is working for decorating clients, he likes to "mix it up with just about anything including Russian or Chinese furniture and contemporary art. Paintings and books are very important and give a place a cozy feeling. I like it when you can move things around." And though a pale palette is a Scandinavian hallmark, more intense tones may soon be coming into the work of this Swedish icon who reports that, "We went to India last summer and I got into strong color." Whatever the chosen hue, the designer espouses the Swedish attitude of a comfortable and casual approach, and "the feeling that nothing is overdone."
Praise for Lars Bolander's Scandinavian Design:
"A private, exclusive tour of the best of Scandinavian design. . . . This book is a new treasure for my design library, one I will refer to over and over." ~ Bunny Williams
"A sophisticated volume . . . an in-depth, intelligent, and informative look at the design sensibilities found in Scandinavian domestic furniture and decoration. . . . Lars Bolander surveys all of this with his keen . . . eye and finely honed historical knowledge, and the results are breathtaking." ~ Martha Stewart
"From his captivating shops in New York and Palm Beach, Lars Bolander has won an army of converts to his seductive vision of Scandinavian design, antique and modern, rustic and urbane. In this book, he brings that world of style vividly to life with images of some of the most magical and inspiring environments to be found there, from the light-dappled elegance of Gustavian interiors to the inventive purity of the very best in contemporary architecture."
~ Hamish Bowles
Lars Bolander's Scandinavian Design From Bart Boehlert
"Lars Bolander's handsome and intelligent book tells the story of Scandinavian design and its influence—in the past, in the present, and leading into the twenty-first century. A product of a northern world separated to a great extent from Europe, Scandinavian design looked to the styles of the French court in the eighteenth century, but developed its own style with an adaptive simplicity that has given it a place unto itself in the history of design, as beautifully visualized on the pages of this book." ~ David Easton
"Lars has the magic formula for combining the sophisticated Gustavian style with the rustic charm of the Scandinavian countryside. Just perfect!" ~ Juan Pablo Molyneux
"He creates both classic and new looks, as well as bringing the traditional pieces into the 20th century (which I love)!" ~ MadebyGirl
"Lars Bolander is the go-to person for Scandinavian decor in America." ~Veranda
"It's total design porn at its finest." ~ Everything LEB
"Gorgeous." ~ Annechovie
"A visual delight." ~ Swedish Interiors by Eleish van Breems
"A lovely read and must-have reference and inspiration guide for any design library." ~ Hampton Hostess
"One you'll want to add to your library." ~ From the Right Bank
"Wonderful." ~ Rita Konig (interview with A Lovely Being)
Television Star and Famous Painter -Debbie Travis Wrote in the Star:
Recently I came across a gorgeous book, Lars Bolander's Scandinavian Design, written by Heather Smith MacIssac, that renewed my passion for this ageless, yet fresh look. Here are some guidelines that will help you to capture the enduring style.
The most powerful method for instilling light into a home where natural daylight is at a premium is to use a liberal dose of white and pastel hues. It will be even more effective if the paint or fabric has a sheen.
The elegant Swedish dining room shown here features the combination of white and blue and gray highlighting the chinoiserie walls and the panelled door. Dining chairs are painted white. Light from the crystal chandelier and silver candelabras reflects well from these surfaces, creating an airy setting that is both formal and inviting.
Wood is a plentiful natural resource and is the most common material for building and furnishing homes. Scandinavians have always been a pragmatic people and recycling is the norm. A mixed collection of tables, chairs and dressers made from less expensive woods can be renewed and unified with a simple paint job.
Wood can be heavy, particularly when the walls, ceilings and floors are all covered. Paint is often utilized to lighten the load. Bare wood ceilings and floors may be either whitewashed or completely covered in white paint. Wooden chairs and sofas in their natural state are livened up with bright, hardwearing textiles. Colour is introduced with familiar patterns of checks and stripes and small floral designs in blue, green and red, but all have a white background.
Scandinavian kitchens are meant to be efficient above all else, but they are also packed with character. Plate racks and open storage allow everything to be close to hand. Crockery and cookware make up the strong decorative element. Tableware is revered, collected and handed down. Wood tableware, metalware, copper, pewter and the favoured blue and white porcelain are displayed with pride.
Heat is essential, and the wood stove takes pride of place in northern homes that withstand the rigors of long months of ice and snow. In Scandinavian countries, traditional cast iron stoves and brick stoves clad with glazed tiles are the most common as they deliver heat far more efficiently than a fireplace.
Today there are many innovative designs for fireplaces that capture and distribute heat so that we can take advantage of the best product and heat source given where we live.
Why not imbue your home with a little Scandinavian charm? It will help to take the chill out of the air.
Lars Bolander's Scandinavian Design Book Review…Wedding Dresses Blog