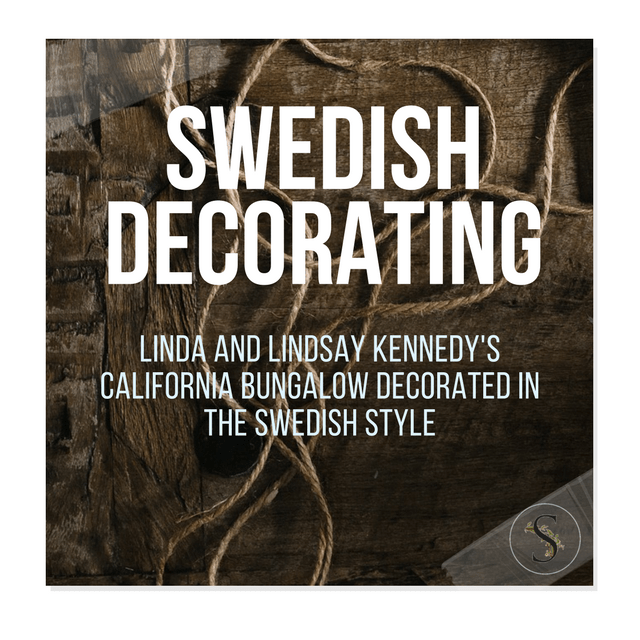 This beautiful California home decorated in the Swedish style was featured in the Country Home September 2004 issue. The article was written by Claire Whitcomb, photographed by Edmund Barr and styled by Jennifer Kope Zimmerman.
Linda and Lindsay, LA designers and antique dealers stumbled on a home they had to have. They immediately loved how much light the home retained, and while they didn't really love the layout, it was located in the right area, and it felt like a piece of the country. They fell in love with the property that they put their own house up for sale, just to be ready to take possession of the bungalow.
The house had already been renovated with vintage wide plank flooring, and the walls had beadboard lined walls, all the markings of the classic Swedish style interior. The couple was getting ready for their baby, and they wanted to be set up to enjoy their life as parents. Linda recalls a life growing up with fond memories of her mother who would drag her to country barn sales…. She started her antique business when her production company closed…and found herself wondering what to do. She took a leap of faith and decided to sell antiques.
"We logged about 8,000 miles on the back roads in order to find affordable antiques" she tells Country Home Magazine. Not considered about names, they opted to find solid beautiful pieces. "The worn woods and the faded blues and creams and grays are what give character to a minimalist setting" she says….
Additional Links:
a beautiful visit with an old friend – Velvet & Linen
Reflections on Swedish Interiors – Page 207 – Google Books
Summer House in Nantucket Restored by Nancy Fishelson
Page 2
Page 3
Page 4
Page 5
Page 5
Page 5
Page 5
Page 6
Page 7
Page 8
Page 9