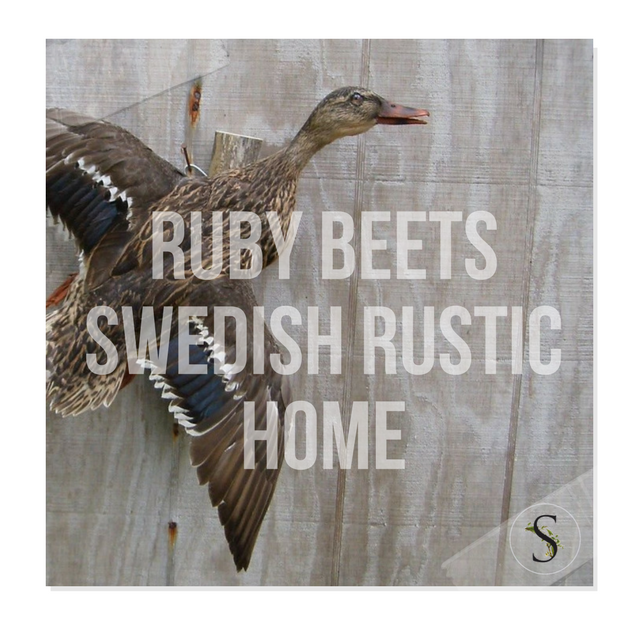 In a corner of the living room, a 1940s mercury glass lamp stands on a rough, round Empire-style table next to two 1920s Scandinavian painted chairs. The graceful wing-backed chaise dates from the 1930s and is upholstered in simple white canvas duck, with natural linen pillows from Ruby Beets.- House Beautiful Magazine
If you haven't ever seen Ruby Beets home, you are in for a treat. Featured in House Beautiful Magazine back in July of '06 , this house has the perfect mix of old world charm,and rustic surprises that make it very interesting to the eye. The raw painted furniture, iron decorative items, wood panels and paint color choices are particular elements of the interior styles found in Sweden.
If you enjoy the country cottage looks, but want something more upscale, borrow ideas from this home. Here are a couple suggestions from this interior.
1. Have Slipcovers Made- Spend the extra money and have tailored slipcovers made that will give you the comfortable feel like this home. Swedish textiles were mostly made from organic materials. Consider materials like muslin, duck, or canvas. Many people are taking drop cloths sold in hardware stores and bleaching them. Today you can buy pure white duck or canvas cloth in off white, and various shades of cream, and blue amongst other colors.
2. Invest in Great Antiques– I am not one of those people who are afraid of touching antiques. My best advice, is if you find a sensational chair, improve it and make it your own. Buy the upholstery fabric that makes you happy. Buy the hardware that you will enjoy looking at day after day. Make it YOU!
It is amazing what a strip job will do for your wood furniture. Taking off the varnish will allow the paint to sink into the wood, that when you do to distress the wood, the overall finish looks so much better than painting it alone. For years I have used a chemical stripper until I bought a heat gun, and I never knew that stripping furniture was soooooo easy and fast! If you want to get a rustic look for your furniture, working with the bare wood is the ticket to high quality Swedish looks.
3. Use Black Somewhere- Swedish interiors are usually based around light colors such as blue, light greens, gray and so forth. You would be amazed how nice black stands out against a lightly colored wall. I used to love black painted furniture, that everything was painted black until I fell in love with lighter painted furniture, and all of our furniture was repainted in white or gray. Our walls in our house are painted a light blue, and after debating what color to paint a hallway floor clock, I decided to plunge for black, and was it ever a great decision! Everyone comments on it, because it sure stands out against the lighter colored walls. Contrast can be a surprise! Black colored furniture looks exceptionally well in lighter interiors. Even if you have just one piece in black, it can look sensational!
Here are some of the comments from Ruby Beets featured in Home Beautiful that were particularly interesting
"I was a vintage clothing dealer in the'70s. I've been buying old stuff forever. Ruby Beets used to be about the found object school of antiques. My partner and I would buy a dresser and it would have peeling paint and we thought that was romantic. But now we want the drawers to work—enough with the drawer bottoms falling out! The new store is a cleaner, more modern and edited version of what we used to do. My house is too. Life is irritating enough at a certain age. Anyway, I like a lot of white, you can see that. All the furniture is slip-covered in muslin or cotton duck so I can remove it and wash it, which I do every six weeks. I guess, unless something horrible happens. I like big graphic shapes. Those white dishes and things in the kitchen cabinets, some are vintage and some are new ironstone, which we carry in the store. That cabinet we
bought from the local hardware store here. It went out of business, and they had 52 feet of glass cabinetry that we took and put in the kitchen. "
"When you walk in, you don't know what age the house is, but it feels like something old. I love it because it feels transparent inside. Hie boards are painted gray like the sea in winter, and because we have no near neighbors we have nothing on the windows—you can see from the front door all the way through to the water at the back. You can see a lighthouse in the distance. The girls used to say they lived in a lighthouse."
"My husband is an obsessed fisherman, but he's catch-and-release. He also collects taxidermy fish. He probably has 50 or 40 in his office."
What is the significance of the name, Ruby Beets?-"Oh. I don't know. I made it up years ago. But it's catchy, right?"